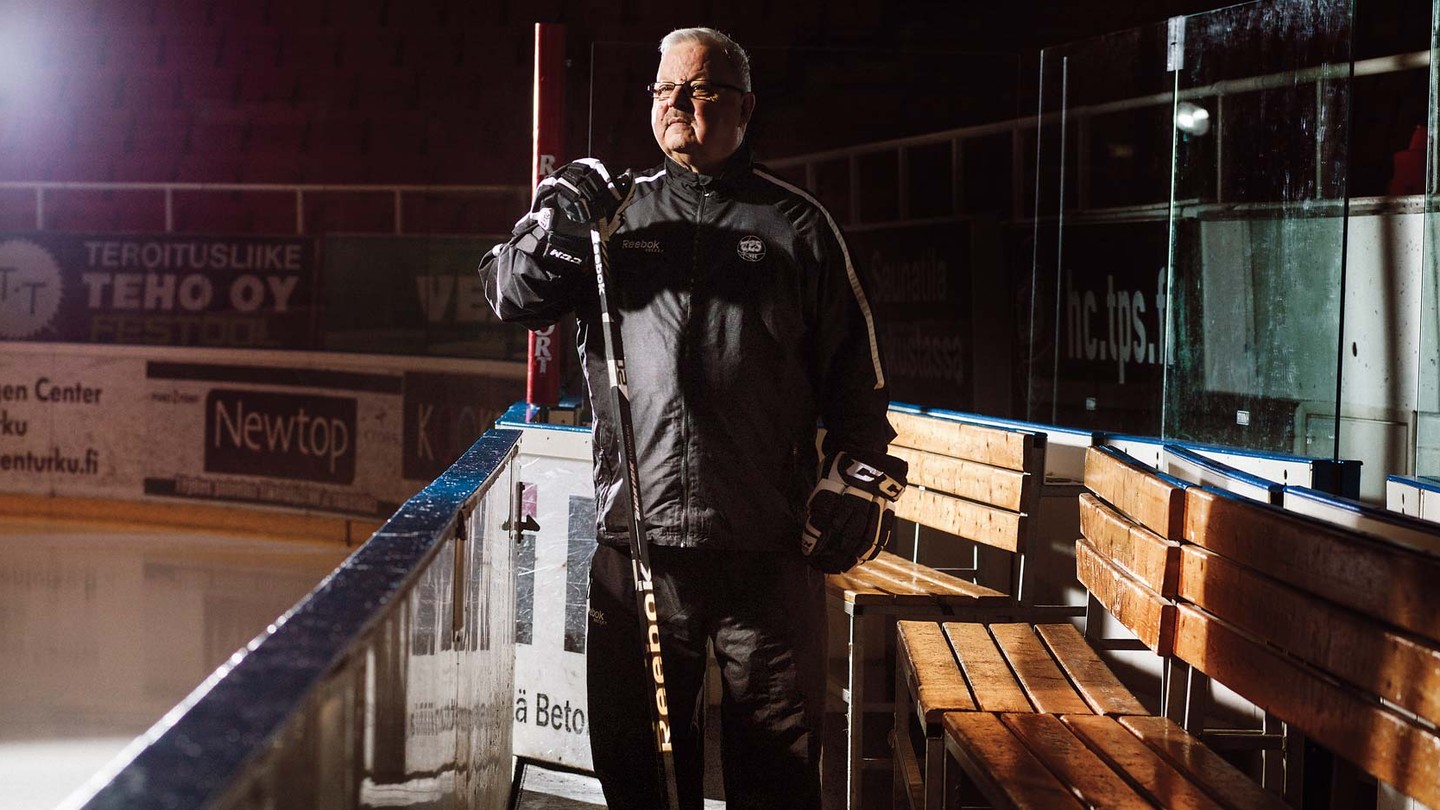 The Oracle of Ice Hockey
How a 70-year-old Finnish goalie coach is transforming a global sport
I. The Ascendance
In Finland not long after World War II, kids would play a street game called ice ball, which had few rules and less strategy. They'd scramble through neighborhoods buried in snow, batting and kicking a piece of cork the size of a tennis ball—graduating, eventually, if they were keen and had money for skates, to a soccer field covered with ice. But some of the more serious kids wanted to play hockey. Back then, teams weren't especially well organized: the worst athlete was usually stuck in front of a net, while the better ones attacked. Until one day, in the early 1950s, a hockey team in Rauma put a kid called Upi, who had been a powerful skater since his ice-ball days, in the net. And his team began to win.
About 10 years later, Upi—emphasis on the oop—moved to Turku, on the southwestern coast, where he found a place in goal for one of the local hockey teams. Like Roy Hobbs, he fashioned his own stick. Turku was a port town, roughly halfway between Stockholm and the Soviet border, the gateway to a 20,000-island archipelago that extends into the Baltic Sea. Its people knew how to fish and build big ships. Few people had TVs. No book about how to be a goaltender had ever been translated into Finnish. And so nobody really knew what a goalie was supposed to do. (The first proper indoor ice-hockey rink in all of Finland wouldn't be completed until 1965.) In this splendid isolation, a school of goaltending was born, with Upi, who today is 70, as its first practitioner and eventual guru.
Until recently, aside from a handful of Americans and Europeans, National Hockey League goalies were overwhelmingly Canadian. But at the turn of the millennium, the Finns began to arrive. In 2002, Pasi Nurminen secured a starting role in Atlanta. The next season, Miikka Kiprusoff led Calgary to the league-championship finals. And then it was as though a dam broke: Vesa Toskala, Kari Lehtonen, Niklas Bäckström, Pekka Rinne, Tuukka Rask. Before 2002, no Finnish goaltender had ever locked down a starting role in the NHL. Suddenly, a country with a population of just more than 5 million people was producing one-sixth of the league's starting goalies, most of them true blue chips. The Finns, who have now won just about everything a goalie can win in the league, are not particularly distinguished at any other position. (One NHL general manager suggested to me that outside of goaltending, no Finnish skater would crack a list of even the top 50 Canadians.) Yet any of Finland's three Olympic goalies could have started for Canada's team this year. How deep is Finland's pool of talent? In 2008, the Chicago Blackhawks signed an undrafted kid who'd only recently started playing in Finland's top professional league—before that he'd been driving a Zamboni in suburban Helsinki to pay his bills. Two years after he was signed, Antti Niemi led the Blackhawks to the championship.
This has unsettled the birthplace of hockey. In any single game, the most important player on the ice is typically the goaltender. For the past quarter century, Canadians like me have been especially smug about what seemed to be an endless supply of elite goaltenders from Quebec. Yet at the same moment that Finland's goalies have glided so effortlessly onto hockey's biggest stages, a crisis of confidence has begun to emerge in Canada. The last great Canadian netminder, Martin Brodeur, is in his 40s. And the pipeline behind him has gone dry.
A bunch of half-cocked theories have emerged to explain how these Finnish goaltenders came to be. People I asked would cite everything from the welfare state to the stoic national character. Then I began to hear too about Urpo Ylönen, the old man who lived on Finland's southwestern coast. People who knew hockey and Finland spoke of him the way Jedis would talk about Yoda or Obi-Wan Kenobi. That they referred to him simply as Upi only added to the mystique. So early one foggy morning, I found myself on a train from Helsinki to Turku, a place I knew only from the back of hockey cards, hoping to meet him—and to figure out what had gone so awry back home.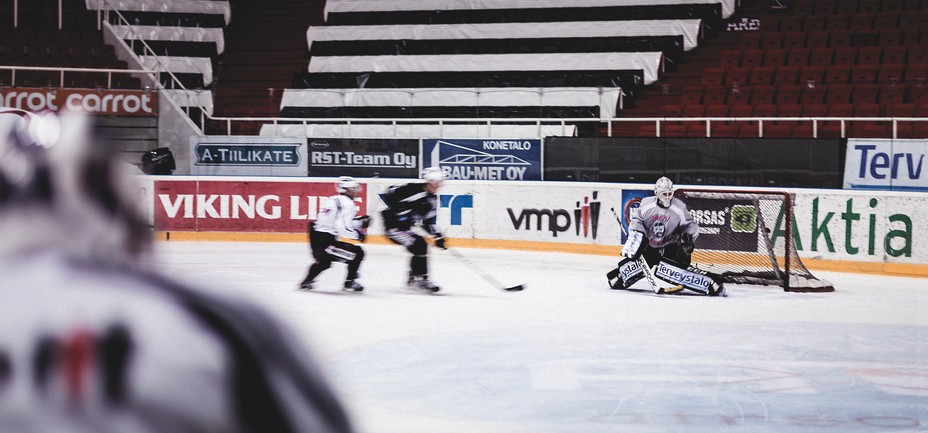 II. The Imbalance of Power
Hockey is possessed by the same sort of mythology as any other major team sport, except there is a deeper yearning for isolation. On a frozen pond somewhere in the prairie in the dead of night, a kid takes off on a breakaway—it happens in slow motion—weaving through tree branches and jagged ruts in the ice, ankles wobbling, an imaginary play-by-play man shouting out the stakes, lines of snot frozen to the upper lip, breath condensing in the air. The mythos in Canada is an overtime goal: Game Seven, sudden death, to win the Stanley Cup (the NHL's oversize tiered championship trophy, which has been referred to as both "the holy grail" and "the most important non-religious artifact in Canada"). Of course, depending on the kid's imagination, there's a goal even bigger, and more essential. For there is, in Canada, a single goal that saved the country.
At the 2010 Winter Olympics in Vancouver, a veteran Canadian power forward named Jarome Iginla set up Sidney Crosby, the game's biggest star since Wayne Gretzky, for a sudden-death overtime goal to win the gold medal against the United States. The closest equivalent is a walk-off home run to win the World Series in extra innings, but that understates the moment. Eighty percent of Canada's population reportedly watched the Vancouver game. Crosby's goal was bigger than any Stanley Cup goal. Because the Winter Olympics come around only every four years, and the final game is seldom decided by one goal, let alone during sudden-death overtime, it was a once-in-a-generation goal. But Crosby's goal was not the goal. That had come some 40 years earlier.
Canada believed it was so utterly, unquestionably dominant on the ice that, until 1964, it didn't even send a national team to international competitions. Assorted club teams—really company teams—would represent the country. The Trail Smoke Eaters became particularly successful in the early '60s, when they went to Europe to play in a series of exhibition games and at the World Championship. One week players were working for a mine in the Kootenays, in British Columbia; the next they were playing along the Iron Curtain against Sweden, Czechoslovakia, and the best of the vaunted Soviet national team. In this era, a Canadian goalie named Seth Martin, who remains largely unknown in his home country, became vastly influential in northern Europe. He'd show up at tournaments with fiberglass masks he'd made in his basement. Seeing him play, Finns and Swedes and Russians would imitate his craft. In the decades before VHS tapes and traveling coaching clinics and YouTube, this was how hockey knowledge spread.
And so other countries slowly improved, most of all the Soviet Union. In 1972, an eight-game series was arranged between Canada's best and the U.S.S.R.'s best. It was billed as a collision of cultures and politics. Canada was supposed to humiliate the Soviets, but an unheralded young goaltender named Vladislav Tretiak emerged as a dark revelation to Canadians, turning aside shot after shot, game after game, as if by some sorcery. After the fourth game, in which the Soviets took a 2–1 series lead, with one tie, Canadian fans were so unsettled that they booed their own team off the ice. The series outcome was decided with only 34 seconds left in the eighth and final game. Canada had trailed by two games, and then by two goals in the eighth, before rallying to tie the score at the Luzhniki Ice Palace in Moscow, and then, magically, to win. America has Alan Shepard hitting a makeshift six-iron on the moon. Argentina has Diego Maradona's two goals (the Hand of God and the Goal of the Century) to beat England in the World Cup, not long after the Falklands War. Canada has Foster Hewitt's voice going hoarse screaming Henderson—the hair on the back of my neck stands on end as I type those syllables, and I hadn't even been born when the goal was scored. "We all squeezed the stick and we all pulled the trigger," a famous Canadian song goes. Paul Henderson was later given the Order of Canada. Henderson scored the goal that saved the country.
The Summit Series (as it came to be called) revealed that Canada was no longer the only hockey superpower. Like Ali when he fought Frazier, the country had suddenly found some context, and a higher stake to play for. As the decades have passed, other countries have surged, at least briefly, and flirted with superpower status. Finland is the most recent aspirant, almost entirely because of its netminders.
What happens on the ice is notably free from religious exhibitionism: players don't kneel in prayer at center ice after a game or cross themselves before a breakaway. The game is the spirituality. And while fans may sense that Sidney Crosby is channeling some divine power when he weaves through a team of the world's best-trained defenders, saucering a perfect pass to a racing teammate amid a maze of skates and outstretched sticks, it is really the almost inhuman movements of a goaltender that come closest to anything like glossolalia. But a goaltender—especially in Canada—occupies the more ominous end of the sport's spirituality. Only the weirdest kid on that prairie pond would ever play the role of preventing the dreamed-of goal. To make a big save, in the parlance of the play-by-play man, is to "rob" the shooter of the moment. And while big saves are remembered initially, their significance fades with time. The goals become the lore.
Consequently, goaltenders have developed a reputation for being odd and dark. Their skills and psychological makeup are completely different from those of their teammates. By stereotype, they are the sort of people who psych themselves up with heavy-metal music and favor masks covered in vaguely satanic 1970s van art. One coach in Finland told me about a goalie who would place a puck on a shelf on the other side of the dressing room before each game, then sit silently in his stall staring at it for hours. Patrick Roy, an all-time great from Quebec, was known for talking to the posts that held the net behind him.
That a country with a profound understanding of isolation would develop a system to support its loneliest calling makes perfect sense.
In all of team sports, there may be no more lonely a position, nor one as fraught. Baseball pitchers seem alone on the mound, but they are in constant communion with their catchers. Soccer, like hockey, is a low-scoring game, so every goal is freighted, but a soccer net dwarfs the goalie: great shots simply cannot be saved. The hockey net, by contrast, is small: every goal might be viewed, on some level, as a goaltending failure.
And so you skate onto the ice and into this net, toward which rugged northern men with missing teeth shoot hard frozen rubber from misleading angles at upwards of 100 mph. Your failure to stop a shot triggers, in very short succession, the flash of a bright-red light—like a police light—directly behind your head, the eruption of a deafening horn, and the jarring rise of 20,000 fanatics above, celebrating your failure and, not infrequently, chanting your name derisively, hoping to instigate your mental breakdown. The psyche of goaltending is such that a promising career can turn on a single bad goal, or certainly a short string of them. "One game can destroy you," a highly regarded goalie coach named Jukka Ropponen told me in Helsinki. "Look at Mikko Koskinen, who was with the Islanders. He got shellacked in his first national-team game, and for the rest of the season he was never back to what he was before that. That one game changed his whole season."
And yet, for these very same reasons, there is no more essential player in hockey than a goaltender. For a long time, Canada had no trouble producing the great ones. In the 1980s, Quebec in particular developed a reputation as the NHL's richest source of elite goalies, and its prevailing movement, known as "the butterfly"—about which more in a moment—proliferated. But now some coaches in up-and-coming hockey nations whisper dismissively about the butterfly's dominance, and young goalies around the world no longer look primarily to Quebec for teaching and inspiration. Pilgrims young and old, players and coaches alike, have beaten a path to Turku instead. How did the southwestern coast of Finland replace Quebec as the world's goaltending factory? Slowly. And then suddenly.
III. High Priest
Because he played without a mask at the beginning of his career, Upi Ylönen tried to catch the puck as often as possible, instead of blocking it, for no reason other than that he didn't want it to break his face. The stick he built had an unorthodox angle that allowed him to crouch closer to the ice without actually falling to his knees, keeping him balanced and mobile. There's something Zen-like about the old black-and-white photos of Ylönen in his tight crouch, compared with images of today's giants, whose jerseys billow almost comically around their oversize pads. Because Ylönen was comparatively small, he relentlessly practiced his skating, the better to move about the crease, the area in front of the net.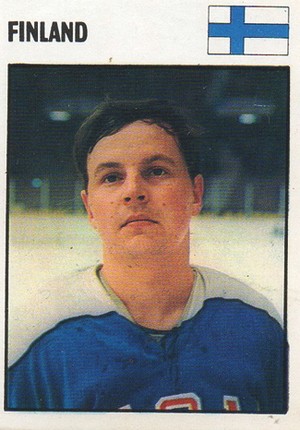 In 1963, at his first World Championship, Ylönen, not yet 20, found himself at the opposite end of the ice from Seth Martin. As the game progressed, he began copying small things that the revered goalie in orange and black did, using his stick like a paddle to block passes through the crease, and inching forward out of his net to challenge oncoming shooters. Ylönen copied all the older goalies, picking up pieces of their game and making them his own. He backstopped Finland's national team for 14 years, which exposed him to every goaltending style of the era. The award for best goaltender in the Liiga, Finland's highest professional league, now bears his formal name: the Urpo Ylönen Trophy. To this day in Finland, Urpo Ylönen is goaltending.
Throughout his career, Ylönen was known for his calm demeanor. His glove hand barely seemed to move. When he talked about making saves, miming the act as one would pick berries from a bush, he said, "You catch the puck; you give it to the referee." Ylönen fine-tuned the low crouch. He wasted no energy reacting to bad goals. By the time he had cemented himself as the national team's starter, a company in Tampere was manufacturing the stick he'd built with the unusual angle. One night after a game in the early '70s, the legendary Russian coach Anatoli Tarasov approached Ylönen, asking for one of the sticks. Later he wrote a letter requesting more. Not long after that, Ylönen faced off against Tretiak, the goalie from Moscow, almost a decade younger, who would come to anchor the Soviet team that dominated international hockey from the 1960s through the early '90s. Tretiak had the same stance as Ylönen; his stick had the same angle as Ylönen's. When Ylönen looked closer after the game, he realized it was exactly the same stick: his name was still on the shaft.
But it's what Ylönen did after he left the ice that would have the furthest-reaching impact on the game. As his playing career wound down through the late '70s into the early '80s, Ylönen was approached by the Finnish Ice Hockey Association to help develop a national goalie-coaching system. Ylönen is modest about his influence, and the program that emerged took on a life of its own. Every region in Finland now has goalie coaches at just about every level of hockey, teaching principles that Ylönen has helped develop, working as passionately with the kid strapping on community pads for the first time as they do with the top-tier pros. Nor is Finland alone. Other nations—notably Sweden—have begun implementing a model similar to Finland's, with impressive results.
Ylönen himself eventually became the goalie coach for the Liiga's 11-time champion, TPS, based in Turku, where he has coached many of the Finns who have subsequently made their way to the NHL. Journeying to the southwestern coast, I thought, would give me some small insight into how Finnish goaltenders are created.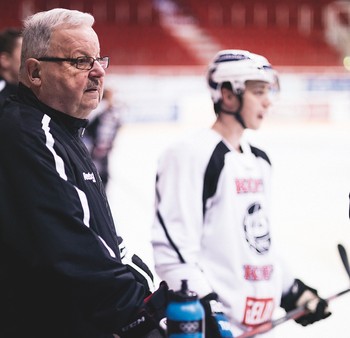 I had been told that Ylönen rarely speaks with the media, and that even if he talked to me, he wouldn't share any secrets. So I was surprised when, in a coffee shop on the second floor of a five-level shopping mall in the middle of Turku's historic center, he just began laying it out there, moving sugar-packet attackers and salt-shaker defenders around a coffee-mug goal, showing me the way goaltending works. He wore round glasses and a soft flannel shirt; his graying chevron mustache was neatly trimmed. He had the unassuming presence of an ice fisherman, and an uncanny way of using his neck and shoulders to physically conjure whatever goaltender came up in the conversation.
The premise of goaltending is to stay between the net and the puck. The puck handler wants to outwait you. Wants you to lose mobility, to fall for any one of an endless series of fakes, so that you go down on the ice and abandon your form. The job gets more complicated when you add a second, third, fourth, and fifth skater to the attack. The goalie needs to keep track of each body, all the while focusing on the one with the puck. Some of these skaters will drift into seams beyond your field of vision; others will plant themselves right in front of you to screen your view entirely. As Ylönen moved objects around the table to illustrate how a goalie should position himself to prevent every kind of scoring situation, the world around him seemed to disappear.
"There are fine differences between the countries," he said. "Finnish goalies are more calm, better at reading the game. Russian goalies are more robotlike; they are stiff, stronger, powerful goalies. The Czechs are acrobatic and moving a lot more using reflexes. One main thing is how you are on your skates. Czech goalies are a lot on the back heel." Finnish and American goalies, by contrast, "are on the front of the blade, and there you are more like a tiger, you can move better, and if you have to go down, you go on your knees, not on your butt."
Ylönen emphasized skating again and again, which might seem absurd to a casual fan. When you watch a hockey game on TV, the goalie barely seems to skate at all. But an elite goalie can switch directions and move from one edge of the crease to the other in the blink of an eye. Some of the movement is vertical, with the goalie rushing out of the net and up the ice to cut down the angle of the attacker.
Since the late 1980s, Canadian goalies—especially those from Quebec—have tended to rely heavily on the butterfly, a move popularized in part by François Allaire, the Montreal Canadiens' first-ever goaltending coach, in which the goalie kneels on the ice and twists out his pads in the manner of a butterfly opening its wings. "The movement of butterfly was always there, but I think we put it under control," Allaire told me, referring to his work with the goaltender Patrick Roy. "With one movement," he added, "you can cover the whole net." Or at least the lower portions of it, where most shots are directed. The butterfly is extremely popular in the NHL, and is taught early on in Canada's youth leagues.
The problem with the butterfly is that it's become, for many young goaltenders, an entire style rather than a single movement in the goaltender's arsenal. The main difference between a goalie who relies on the butterfly and one who stands up or plays what some call a hybrid style has to do with the second and third scoring chances that follow from an unsuccessful first attempt. If the only hockey you watch is ESPN highlights, you might think that every goal is the product of tic-tac-toe passing plays or high-velocity shots "sniped" from afar. However, it's rare for an NHL goalie to be cleanly scored on. Often, goals are scored off rebounds. The goalie blocks the first shot back out onto the ice. Ten players slap at it around the crease; sometimes the goalie can only sense where the puck might be rather than actually see it. The butterfly is a kind of algorithm that maximizes your total physical size so you can take up as much of the net as possible, to stop second and third chances and allow your defensemen to clear the puck away. A hallmark of Finnish goaltending, by contrast, is that there is no second chance. The first shot is caught in the glove or redirected at an angle, far away from the crease.
Jamie McLennan, whose career as an NHL backup spanned more than a decade before he became a goalie coach for the Calgary Flames and later a TV analyst, explained the butterfly to me this way: "Build a wall, point your shoulders to the puck, and be square to the puck." McLennan has made several trips to Turku. "The way they trained was not conventional at all," he said. "They are advanced compared to some of the stuff that's being done over here. If you look at a lot of Finnish goaltenders, their strength is their lateral movement and skating, and also their rebound control. They're very good at catching pucks. That was stressed adamantly by the goaltending coaches over there. They try to teach you to stop the puck, not have it hit you." Finnish goaltenders, he said, are good at the butterfly, and use it at times, "but they're also very good in movement and reactionary play."
Ylönen moved the sugar packets on the table to create a three-on-two attack. "The Finnish goalie always knows what's going on on the other side," he said, indicating the space away from the puck handler. "If there comes the pass, they move with the skates." He looked up from the table, holding my gaze. His eyes twinkled and he said, "Soccer goalies go headfirst, but hockey goalies go legs first," to stay upright and balanced—to remain the aggressor, not merely a passive wall.

IV. The Prodigy
The most important Finnish goaltending export to the NHL is Miikka Sakari Kiprusoff, who dominated the league for almost a decade and then abruptly retired just before this season, at age 36. Kiprusoff started for the Finns in the Vancouver Olympic Games, where they won the bronze medal, and is considered among the most gifted athletes ever to tend goal. In 2004, he led an unheralded Calgary Flames team to the seventh game of the Stanley Cup finals. He has held the modern NHL record for the fewest goals allowed per game in a single season, and in 2006 he won the league's award for best goaltender.
Kiprusoff came to Ylönen at the age of 12, in 1989, and became the first goalie to be taken under his wing. "Guys who work with Upi for many years, we probably look a little bit the same," Kiprusoff told me. "He was huge with controlling the rebounds and controlling the puck, so you have to keep everything," and when you can't catch or trap the puck, you have to precisely direct the rebound. They worked constantly on hand-eye coordination, he said, on "controlling the puck and feeling it."
When Kiprusoff started working with Ylönen, they played badminton, to emphasize the importance of footwork and lateral agility and staying up on one's toes. (Ylönen would later replace badminton with wrestling.) Throughout his career, Kiprusoff was known for miraculous recoveries, his skates shifting and his glove darting to a seemingly unprotected corner of the goal. His most famous save has been named. "The Scorpion" caused hockey blogs and message boards to light up with paeans: "Thought-less reflexes … the essence of a true 'read and react' save," read one post. "Like a stab to the heart."
To the casual observer, it looks like the goalie is at the mercy of those attacking, but elite goaltenders turn the hunter into the hunted. They know every skater's tendencies and adapt accordingly—showing an extra quarter inch of a top corner the way a burlesque dancer will reveal thigh; tricking puck holders into passing when they should shoot; sometimes even forcing a player to hesitate and overthink so that no scoring chance occurs. Kiprusoff was a master at these stratagems. His best saves may have been pure reflex, but he also frequently knew what was coming, because he had engineered it.
And yet arguably, what differentiated Kiprusoff most—at least before his compatriots began arriving in the NHL—was his state of mind. Hockey writers in Canada would regularly refer to Kiprusoff as "aloof," "enigmatic," a "sphinx." When the season ended, he was said to disappear to a remote cabin in the Finnish hinterland. A contact in the Flames' front office told me it was nearly impossible to get hold of him in the off-season (and this was before he retired).
Kiprusoff's temperament was most telling, and perhaps most essential, in the seconds after he let in a big goal. Instead of staying down on his knees, shrunken and penitent, the perpetually unshaven native of Turku would push his mask up over his head and casually grab for the water bottle on the net behind him, his face utterly expressionless. The sheer force of this indifference was so astonishing, you'd find yourself second-guessing whether the puck had even gone in the net. It was a gesture beyond ordinary contempt for one's foe. It suggested that the foe was immaterial, invisible, nothing.
Technique is one thing. Technique can be coached. Angles can be coached. Even skating and flexibility and desperation saves are coachable. But this sort of preternatural invincibility?
Yes, that can be coached too.
V. The System
In his 1995 book, In the Crease, the legendary hockey broadcaster Dick Irvin wrote, "When you talk to the men who played goal in the National Hockey League before the 1980s there is a recurring theme: 'I never had a goalie coach.' That applies to many of the all-time greatest ... They were all self-taught—their coaches didn't help them at all."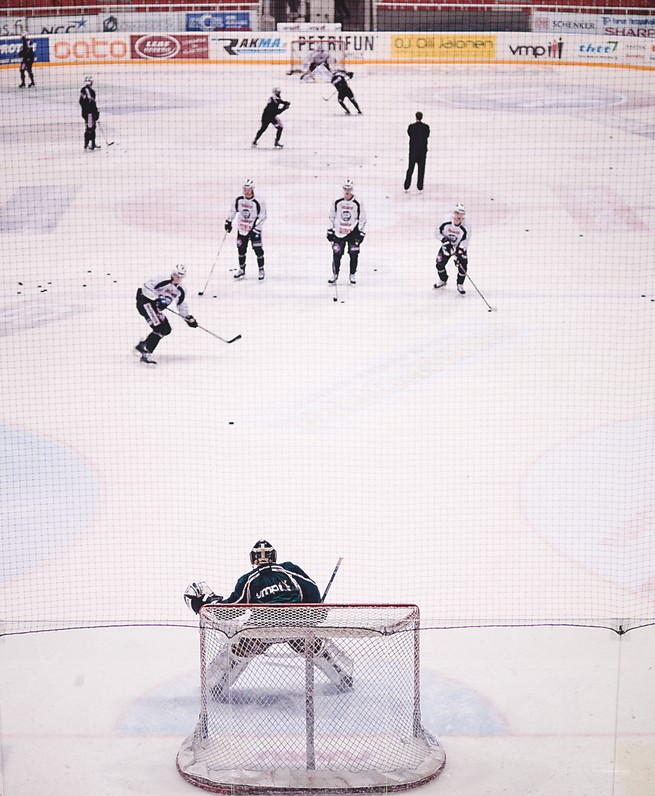 This has been the single biggest change to goaltending in the intervening years—and Finland, in particular, has created an entire system of practice and mentoring to bring out the best in its goalies. Jim Bedard, a Canadian goalie whose career had stalled in North America, made a trip to Turku in 1981. What was supposed to be a two-week stint lasted 14 seasons. One of the things he noticed was that practices in Finland started differently than practices in North America. "The first thing they do," Bedard told me, "is drop the pucks in the high slot"—taking deliberately slow shots from the outside—"and just let the goalie feel the puck." By contrast, practices in the NHL and throughout Canadian youth hockey leagues would typically begin with blistering point-blank slap shots, blasted in rapid succession from every angle at a goalie who had just stepped onto the ice. Shortly after Bedard came home, he was named the goalie coach of the Detroit Red Wings—on its way to becoming the NHL's only modern dynasty—and applied what he'd learned in Finland. "We want the puck to look big for the goalie," he explained. "When you're cold and a couple whiz by you, they get on your irritable side."
Although Ylönen couldn't quite hide his disdain for the pure butterfly, he emphasized that no single style is taught in the Finnish development system: "Just the basics." I repeated the most-basic things I'd heard from other coaches in Finland, everything from controlling rebounds to developing core strength. Ylönen shook his head vigorously, indicating that what he teaches, most of all, is a mind-set. He shared a proverb about sailors and swimmers needing to like the water. "If you go swimming with a baby, later they won't get afraid of water," he told me. "We had one Czech goalie here who was scared of the puck when it came towards his face. We practice that from a young age. We catch the puck from everywhere—and it might even come to your head. You can take it with your head. You don't close your eyes, you don't be afraid."
Jukka Ropponen, who trained a number of Finland's goaltending coaches and has subsequently worked with coaches in Switzerland, Russia, and other countries, said, "The foundation in Finland is probably better than in any other country." He spoke candidly about the difficulties young goaltenders encounter. "One of the big problems today, everywhere in the world, is that young kids are just dropping down in the butterfly, before they can even skate properly. Young kids see their heroes on TV butterflying all the time. Somebody lifts their stick up with the puck and, boom, they're down on their knees." But when overemphasized, the butterfly can be limiting to long-term development. The Finnish system, Ropponen said, is "great for young kids because they have to learn to skate. What I always preach in my system is: We're not training kids to be their best when they're 13. I'm looking at what you need to do as a 13-year-old so you can reach your full potential."
It's easy to dismiss this last point, which has nothing to do with the butterfly, nor with any sort of specific technique, but with patience. "The thing with the goalies—a lot of the goalies—is that they mature later, most of the good goalies. Kiprusoff was the same way," Ropponen said. In Canada, the goalie who physically develops the fastest, whose parents have the money to send him to summer camps and buy the best equipment, and who makes the select touring squads, will get the best coaching. Canada is inadvertently weeding out the kid who would have ultimately become its Olympic starter 15 years down the road.
"In Finland, the muscles develop later than in North America," Ylönen told me. "That's a proven fact. It comes later. When you're 19, 20, then you're starting to build more muscles. If you compare an 18-year-old Finn with an 18-year-old Canadian goalie or player, he's a skinny guy, and the Canadians are already strong adults." This has presumably encouraged teenage Finnish goalies, who cannot rely as much on sheer size early on, to focus on agility and finesse. It has also perhaps contributed to the more patient and inclusive style of youth coaching in Finland. And so, a seeming weakness has been turned into a strength.
A month before Finland announced its Olympic team, I sheepishly asked Jarmo Kekäläinen, the NHL's first European general manager, whether he thought Canadian goaltenders were more afraid of failing than Finns were, because of the pressure put on them from a young age. "I've been thinking about that lately," he said, "whether there's something in the mind-set of the Finns that makes them successful." Finnish people are "calm by nature," he told me. That's important in a position where "every mistake is right on the scoreboard. I always try to look at things as a great opportunity rather than a pressure situation where you can make a mistake." That's "what we try to emphasize, anyway."
Ylönen is a pragmatic man, but he earnestly entertained my most whimsical questions about whether the Finnish terroir simply made for great goalies. A 2008 academic study suggested that the earliest ice-skating happened in southern Finland more than 3,000 years ago, on blades made of bone; it was nothing less than a survival mechanism in a land of lakes and endless winters. "I don't think that the environment affects anything," Ylönen eventually said. He told me that Sweden, which has adopted Finland's youth-coaching system, has already eclipsed Finland as the world's best and deepest goalkeeping nation. We'd see this in the NHL, he said, in the coming years.
Maybe. And yet there still may be something inherent in the Finnish culture—or at least something about the country's sports mythology, with the goaltender as hero rather than oddball—that is helpful to a goaltender's development. And there also may be something about Upi Ylönen himself, as a coach and mentor, that is essential and irreproducible. It can take years for an elite goaltender to truly trust his coach—if he ever does. Ropponen told me that while Finland is loaded with brilliant coaches who can teach technique, few in the world know how to develop that sacred trust. "Upi's one of the few that's really produced a lot of results. That's because he's such a mentally strong guy, a father figure. He can get the most out of his guys, but there's not many guys like that."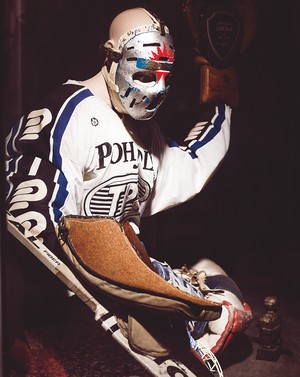 VI. THE SOUL
As spring wanes and the hockey season ends, the goalies trickle back to Turku. Every age. Every ability. They come back from the American South and Midwest, from colleges and junior leagues, from central Europe and the Canadian Rockies and far-flung Russian piss pots. "From the smallest to the professionals, it's been like Upi's private school," said TPS's manager and video coach, Tuomas Liitola.
Turku has grown into one of those northern-European cities where everyone seems to ride a postcard-perfect bicycle and sip exquisitely made cappuccinos beneath riverside linden trees. It's become a tech hub and a cultural capital. In its soul, though, Turku is still a port town. This is where the two largest passenger ships in the history of the world were recently completed. Things travel a great distance from Turku, and leave a wake that is not immediately comprehensible. And yet that wake is now very wide.
As Ylönen and I spoke at the mall back in 2012, a kid who looked like Landry from Friday Night Lights materialized shyly behind him at the table, sneakers untied. The old man leapt to his feet, beaming. Atte Engren had just come home, after spending a frustrating year as a backup for the Milwaukee Admirals, a minor-league affiliate of the NHL's Nashville Predators.
Two years earlier, with TPS, he had won the Urpo Ylönen Trophy, which created expectations overseas. But the Milwaukee experiment wasn't working out, and he would be starting with TPS again the next season. A local 21-year-old named Joni Ortio, who had been playing with TPS, would eventually be going in the other direction: he had been acquired by the Flames.
I later met Engren and Ortio at a coffee shop on Turku's Market Square. The two young goalies were more candid about the Turku school than anyone else I encountered. Though they'd been competitors for years, they completed each other's sentences as though they were a singular entity.
"In Milwaukee, our coach was all about being big," said Engren. "Like, staying huge and not reacting to pucks that much—but here I've always been taught that it doesn't really matter, like, just make the save and react to the puck and be faster on your feet. That was the biggest difference I found in coaching styles."
Ortio continued: "Over there, it's all about being in front of the puck. Don't worry where it's going after the save, just stop the first shot. And then it's up to D-men to clear the puck from in front of the net. The coach here in TPS—"
"—He wouldn't tolerate rebounds at all," said Engren.
Ortio: "Even during the practice, if you catch the puck and you just drop it somewhere close to the net, he would come up to me and say don't do that—"
Engren: "—Use your stick, put it in the corner—"
Ortio: "—Pass it back into the line where the pucks are at."
Engren: "It's just those little things that he's pretty strict about."
Ortio: "If you don't drop pucks in front of the net at practice, it's much easier to transfer that into the games."
We talked about Kiprusoff, too. (In equipment and a mask, Ortio, who is the same height and weight as his hero, and who is now being groomed to play for the same NHL team, could be Kiprusoff's doppelgänger.) I asked them what they thought happened in Kiprusoff's head in those desperate moments after a big goal went in and he pushed up his mask to show an impassive face.
It was the first instant in more than an hour of talking that they both paused. Their voices became hushed, almost frightened. At the exact same moment, each blurted: "I don't even want to know."
Early last year, I found myself at a rink on the outskirts of west Calgary, where various members of the Flames were skating about before practice. Nobody knew it yet, but this season would be Kiprusoff's last. The dominant sound of the first minutes of an NHL practice is a violent clanging—players like to aim for the posts and crossbar of a net—of different pitches, different tones, different levels of aggression. And then Kiprusoff was on the ice—not even anywhere near either net—and the clanging ceased. Maybe that's a coincidence. Or maybe there's something to the idea that he possesses a special aura.
I waited for him after practice for almost an hour, as everyone else left the rink. I asked him about his pregame rituals and whether he listened to heavy metal in the locker room. "It depends if I feel like I need some waking up," Kiprusoff said. "I used to go with Rammstein and some other stuff. But actually, nowadays I don't need that too many times." We talked about his home, how he became a goalie, how he now prepared. And before I could properly spit out the question, he answered what I wanted to know most of all. The answer was: "Nothing—it's empty." After some time he added: "There's the goalies who are real angry. Like, crazy, you know? If they get scored on, they break their stick. That works for them, and it's never worked for me."
Ylönen had told me that Kiprusoff wasn't altogether unaffected by the goals he let in: "Even though he doesn't look like it, he actually watches the goals on the screen—but he doesn't show it."
I remember asking Ylönen whether goalies needed to be a little bit crazy to succeed. "Hey, hey, hey!" he began shouting. "Good habits or bad habits, goalies need to be able to forget it and live in the present situation. Whatever happens, they need to be able to live in the present situation. A goalie only lives from moment to moment. He can't hold on."
Eventually, I realized Ylönen's deepest purpose: to ease the fears of any human being who would subject himself to such a calling.
When I asked Engren why he became a goalie, he replied, "My brother was a goalie. I've always looked up to goalies on the ice because they're pretty much alone out there. Nobody's helping them. I wanted to be that guy."
"Goaltending suits Finns very well," Ropponen had said, citing his nation's other sporting strengths as well. "Why does one country bring the good javelin throwers, Formula One drivers, hockey goalies? They're all individuals, they're all left on their own."
But at the same time, there is something distinctive about the Finnish psyche that yearns to mitigate this solitude. Linus Torvalds created the open-source operating system Linux. It belongs to anybody in the world who wants to use it. Eliel Saarinen, the Finnish architect who influenced modern American design, said, "Always design a thing by considering it in its next larger context—a chair in a room, a room in a house, a house in an environment, an environment in a city plan."
That a country with a profound understanding of isolation would develop a system to support and elevate what may be its loneliest calling makes perfect sense. "Upi walks in, and he makes goalies feel good," Kiprusoff told me. "You know he's there for you. Sometimes coaches are getting crazy, getting mad at the goalie, blaming everything on the goalie, and you know he's backing you up." Eventually, his steady manner wavered, and he said, "I think you can hear me. I can't talk too highly about him." Only then did I realize that this aloof Baltic creature whom I had assumed for so long to be indestructible contained a deep fragility.
I asked Kiprusoff about the uncanny resemblance between him and Ortio, who is now 22 and quickly rising up through Calgary's farm system. He broke out in a grin.
"Actually, I remember him. He was a young kid there, and I was playing already. I remember that little boy there. He's been working his way up to one of the star goalies in the Finnish league, and pushing himself to make it here too ... Yah, he looks good. I think he might be watching me when I played TPS."
That's how Finnish goaltenders are made.