The Elephant Trainer
Christine Toretti is on a quest to make the GOP the party of women.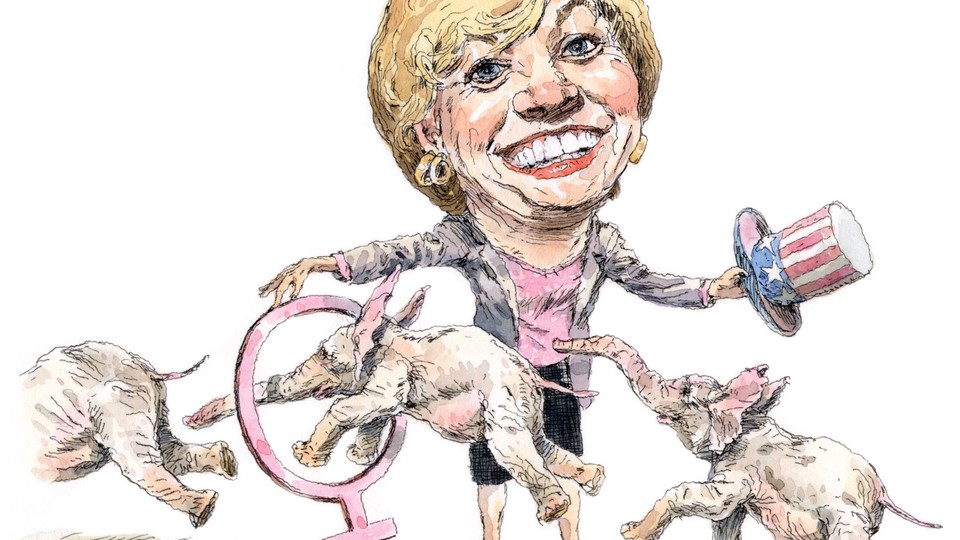 As Christine Toretti tells it, her housekeeper was the one who staged the intervention. After logging tens of thousands of miles and helping raise hundreds of millions of dollars as a finance co-chair for the Republican National Committee leading up to the 2012 elections, Toretti was so depressed by Mitt Romney's failed presidential bid that she retreated to her home in the tiny town of Indiana, Pennsylvania, to nurse her wounds. "Finally, the cleaning lady came in one day and said, 'I'd like to fumigate the sofa that you've been on for two weeks. Would you please get off?' "
Toretti obliged, then spent the next two months coming to terms with what had befallen her beloved GOP, and deciding what to do about it. Especially painful for her was how abysmally Romney, and Republicans generally, had fared with women. Back in 1997, she had been appointed to the RNC by then–Pennsylvania Governor Tom Ridge, who specifically tasked Toretti, then a young oil-and-gas executive, with bringing other women into the fold. Seventeen years later, Toretti cannot believe that she's still on the same Sisyphean mission. "It's like pushing a rope versus pulling it," she told me during a late-September lunch near Capitol Hill.
Petite and blond and brimming with energy, Toretti, who is 56, has a sunny charm. Her words bubble out like uncorked prosecco, and when recounting conversations, she tends to act out both parts. She prides herself on veering too far "off the reservation" for the comfort of some in her party, and she expresses dismay at the perception—even among Republicans—that the GOP "has no place for women."
Nothing threatens to make her head explode more than when a fellow Republican "says one dumb comment," à la Todd "legitimate rape" Akin, the ex–Missouri Senate candidate. "I understand that people feel vehemently about things," she told me, leaning forward over her chopped salad, "but they have a responsibility greater than their own personal agenda!"
Despite the head-smacking moments, Toretti refuses to give up on her party. And so, after a cathartic summer spent visiting friends, hiking, and binge-watching Breaking Bad, Toretti put her money—or rather, other people's money—where her heart is. Last August, she launched a super PAC called Women Lead, devoted to persuading female Republican donors to write fat checks for female Republican candidates.
Likely no one is more frustrated by the GOP's Woman Problem than the GOP's women. Certainly, no one seems more motivated to tackle the issue. Toretti's big-money effort is just one of several projects rolled out in the past year. Over the summer, Republican women in the House started Project GROW (Growing Republican Opportunities for Women) to direct money, mentors, and other aid to female candidates in primary battles. In November, a trio of women strategists opened Burning Glass Consulting, the first firm dedicated to wooing Republican ladies. Among many women in the upper echelons of the party, such efforts are seen merely as the first steps in what needs to be a total overhaul of the GOP's approach to women.
"When you're making phone calls and the wife picks up, don't ask for the husband!"
"Our party has an issue with this," says Lisa Spies, a fund-raiser who ran Women for Romney. "Every four years we say, 'Oh, gosh, we've got to engage women more.' But you can't just engage women in the last six months of the campaign! You have to continually engage them, just like you do with the guys." The party needs a "whole different mind-set," she says. "When you're making phone calls and the wife picks up, don't ask for the husband!"
Toretti has the ideal perspective on what needs to change, according to Spies. "She gets it, because she has been at the head table. At the RNC, she was the woman in the room with all of the guys. She's always been that person."
Christine Jack Toretti has, in fact, spent much of her life proving herself in a man's world. "I grew up the only child of a father who was disappointed to have a girl instead of a boy," she told me with her casual frankness, which can be startling. "I was born into the oil-and-gas industry and worked for my father from 1983 until 1990, when he took his life." (See what I mean?)
Toretti was ill-prepared to take over S. W. Jack Drilling, the company founded by and named for her paternal grandfather. Her father, Samuel W. Jack Jr., was of the mind that drilling sites were no place for a woman, "so while I understood the numbers and the financial end of the business," she says, "I didn't know the operation." But in the wake of her father's suicide, Toretti's mother "was just bereaved enough and crazy enough" to let her try running things.
The first years were brutal. "I was waking up in the middle of the night drenched in cold perspiration, wondering how I was going to make payroll," she remembers. Worse still, she had no one to talk to: "All my friends were stay-at-home moms."
When Governor Ridge recruited Toretti as a national committeewoman for the RNC, she says, "my business was turning around, my kids were preteens and demanding more time, and I had just gone through a divorce. It was a mess. So I said, 'Thank you very much, but no.' " Ridge pushed back, playing the gender card. " 'Do you believe in a two-party system?,' " Toretti remembers him asking. " 'Well, there's no one that looks like you in the party that's at the table.' "
So Toretti began organizing. A few years in, she started an annual leadership program called the Anne B. Anstine Excellence in Public Service Series, which aims to energize and train Republican women to run for office in Pennsylvania. Since 2002, the program has graduated more than 200 participants, about half of whom have run. Of those, Toretti says, 85 percent have been elected. She also launched a similar program in Arizona, where she lived during her brief second marriage.
Women Lead, which is based in Toretti's hometown, promises to be her biggest challenge yet. The organization currently has just two full-time employees: Toretti (who is not paid) and her executive director, Courtney Johnson, formerly the head of Women for Mitt. While they've already collected a few "five-figure checks," Toretti says, the early months have been largely about educating donors and generating buzz.
When I spoke with Toretti again, just before Thanksgiving, she and Johnson had been on the road nonstop, hitting everything from a Republican Attorneys General conference, to a meeting of the Republican Governors Association, to a women's retreat sponsored by the National Rifle Association. They'd also been studying the lay of the electoral land: researching primaries and handicapping candidates. Among those they're planning to support are Representative Shelley Moore Capito, who's running for a U.S. Senate seat in West Virginia, and Martha McSally, a House candidate in Arizona. Toretti is also a huge fan of New Mexico Governor Susana Martinez, whom she has been squiring around to prominent donors.
In November, Campaigns & Elections put Toretti on its list of Top 50 "Influencers" for the 2014 elections. Just what kind of influence she will have, however, remains to be seen. Toretti is well aware of the difference between tweaking how her party talks to women and reevaluating some of its harder-line positions on so-called women's issues; she expresses support for both tactics.
One of the first questions donors and candidates ask about her new super PAC, Toretti says, is "What are your barriers to entry?" Translation: Do you have an abortion litmus test? "That is not what I'm looking at," she insists, noting that West Virginia's Capito is pro-choice. Women Lead is seeking pro-small-government, fiscally conservative gals, and its founder believes there should be room for disagreement on other fronts. "I hate to resurrect Reagan again," she says with a sigh, "but you don't win by dividing." How are Republicans responding to her more flexible stance? "With relief," she says. "Major, major relief."
Looking ahead, Toretti is confident that a viable Madame President will emerge from the ranks of her party—though probably not in time for the next election. Governor Martinez "has the capability and capacity to be a national leader," Toretti says, "but I don't think she'll have the organization in place to move that fast for 2016."
The one cloud that seems to dim her optimistic outlook is the possibility of another White House bid by Hillary Clinton, whom Toretti calls "very formidable." Asked what a Clinton candidacy would do to efforts to get women to vote Republican, Toretti chooses her words carefully: "That's a very tough scenario to look at."