Big in Italy: Miracles
A new tabloid covers saintly celebs.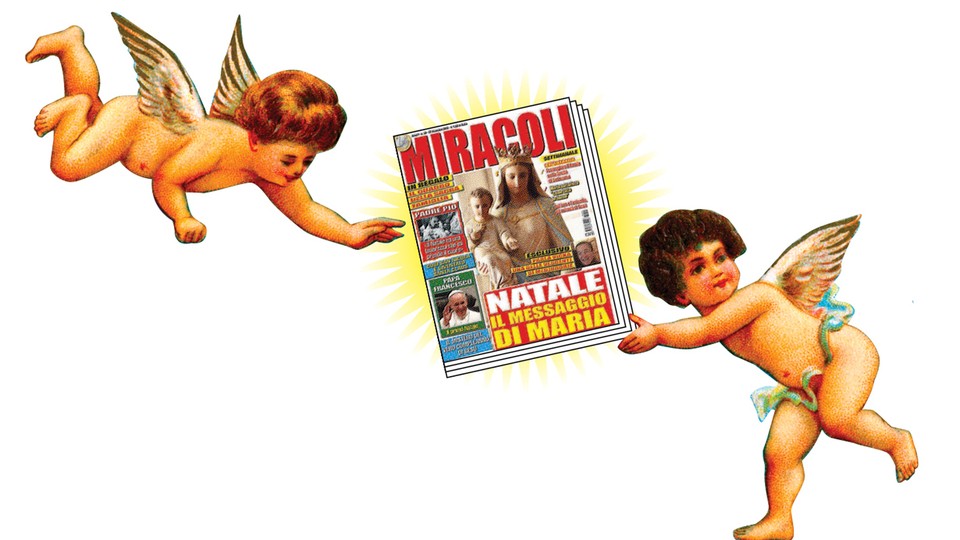 "I believe in angels and I speak with them," Juliette Binoche, the Academy Award–winning actress, told Miracoli, a new Italian tabloid, last July. She isn't alone. Miracoli, which bills itself as "a magazine of hope" and hit a circulation of about 120,000 in its first four months, is competing with some of Italy's top weekly magazines by covering miracles, saints, and the latest Virgin Mary sighting in the bark of a tree with the pulpy flair of a celebrity tabloid. Every Saturday, readers find a star's firsthand account of the miraculous amid tales of spontaneous recoveries from cancer, a horoscope-like Saints of the Week page, pilgrimage itineraries, and saintly centerfolds (including, in one issue, a baroque rendering of Saint John the Baptist, muscular and naked save for a delicately draped cloth).
"I wish you could buy this magazine in churches," a reader named Marietta gushed in a letter to the editor. But so far, it's available only on newsstands. Churches, anyway, would prove a lackluster marketplace: a 2009 study showed that while Italy's overall Sunday Mass attendance is high among European countries, with about 30 percent of Italians attending every week, only 13 percent of 22-to-32-year-olds go to Mass so regularly. Some experts have suggested that miracle mania might be filling the spiritual hole left as church pews empty out. "Often, those you no longer see at mass, you find kneeling at Lourdes or Medjugorje or Fátima," the Catholic journalist Vittorio Messori wrote in 2012, referring to famous holy sites across Europe.
The Catholic Church has made no official comment on Miracoli, though that doesn't mean it's gone unnoticed in the Holy See. Last November, a group of priests with connections to the magazine waited in Pope Francis's receiving line during a general audience and, kissing his hand, passed him the latest issue. The pope took the magazine with a sheepish smile. According to the following week's cover story, he told them, "I'm going to read it!"