What Party Would You Most Like to Have Attended?
The Mad Hatter's tea party? The Kennedy wedding? Or Alexander the Great's 31st birthday celebration?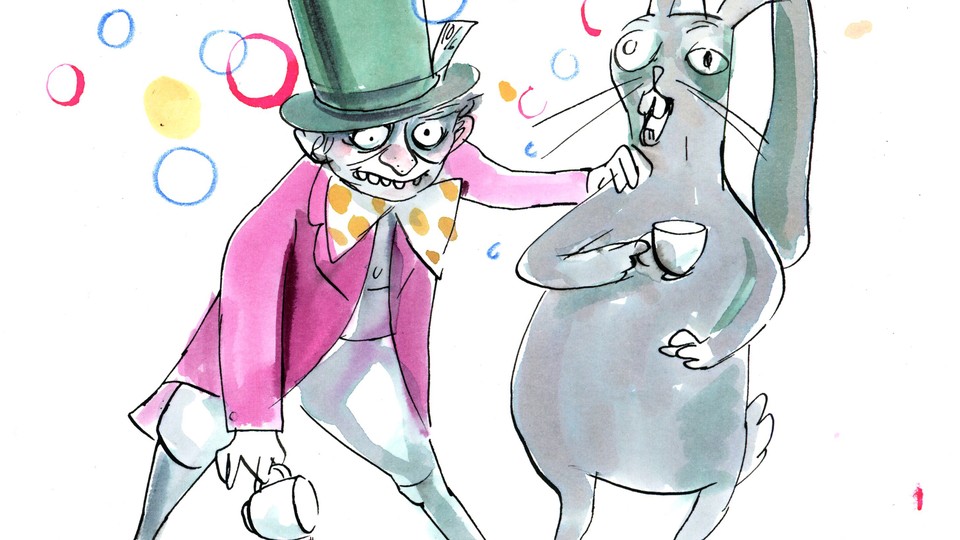 Hugh Hefner, founder and chief creative officer, Playboy Enterprises
A party thrown by Jay Gatsby. I was born in 1926 and grew up during the Depression. I read The Great Gatsby in college, and it became my favorite book. It reflected a lifestyle that I identified with very much, so when I started Playboy, I tried to project a contemporary variation of the Roaring Twenties and Gatsby's lifestyle.
---
Andrew Knowlton, restaurant and drinks editor, Bon Appetit
The party that David Wooderson—Matthew McConaughey's character in 1993's Dazed and Confused—organizes at the moon tower had it all: girls, keg beer, sick music, and stoners explaining George Washington's ties to aliens.
---
Anjelica Huston, actress and author, A Story Lately Told
For sheer power and opulence, Czar Nicholas and Alexandra's 1903 Ball at the Winter Palace. The Grand Duke Alexander Mikhalovich called it "the last spectacular ball in the history of the empire."
---
Cullen Murphy, editor at large, Vanity Fair
In fiction, as a fly on the wall: Lady Metroland's party in Evelyn Waugh's Vile Bodies, which captures a London social world about to be snuffed out by the Depression and war. In real life: Truman Capote's 1966 Black and White Ball—the American Century in a freeze-frame moment.
---
John Landis, director, Animal House
Although it's fictional, I feel that I've actually been to the Mad Tea Party in Lewis Carroll's Alice's Adventures in Wonderland several times.
---
David Tutera, designer and host, David Tutera: Unveiled
John and Jackie Kennedy's wedding, which was full of style, laughter, pomp, and circumstance. Although it was attended by more than 1,000 guests, its outdoor setting still felt personal.
---
Sally Quinn, journalist, The Washington Post
The Last Supper was the most intimate moment of the world's most fascinating man. Did Jesus understand that the bread and wine would one day be the symbols of Communion? Was Mary Magdalene there? It's interesting that Jesus chose, in his last hours, to have a party.
---
P. J. O'Rourke, author, The Baby Boom
The Dionysian revel at Persepolis, when Alexander the Great burned the Persian royal palace. This Animal House moment—Alexander's sole act of pointless destruction—puzzles historians. Plutarch blamed an Athenian courtesan seeking revenge for Xerxes' burning of the Acropolis, while Mary Renault suspected that, "like so many happenings at very successful parties, it seemed a good idea at the time."
---
Waris Ahluwalia, designer, House of Waris
Alexander the Great's 31st birthday, after he'd conquered everything from Macedonia to India, would've been one hell of a party.
---
Mikhail Prokhorov, Russian politician and owner, Brooklyn Nets
The Brooklyn Nets' NBA championship party. Put it on your calendar.
---
Fred Mwangaguhunga, editor, MediaTakeOut.com
The Tao Beach launch party in Vegas, in 2007, served as the unofficial after-party for the Mayweather–De La Hoya fight. Everyone was there: Diddy, Jay Z, Oprah, Denzel, even Bill Clinton. Kardashians were partying with Kennedys—it must have been a blast.
---
Harold Koda, curator, Costume Institute, Metropolitan Museum of Art
At one of Paul Poiret's costume parties in 1911, everyone came dressed in Orientalist splendor and the food and drink were unsurpassed. At midnight, when the hostess was released from her gilded cage and chased through the gardens by a Moor with a scimitar, the "harem" trousers she wore launched a new fashion.
---
Mark Leibovich, journalist and author, This Town
I'd love to do the Running of the Bulls in Pamplona, Spain, again. I barely survived when I did it about 25 years ago (I mean the parties, not the bulls, which I didn't get close to). But if I can't find any flights, I'd settle for John F. Kennedy's Inaugural Ball.
---
Danielle Steel, novelist
I'm not much of a party person, but it would have been fun to attend the recent wedding of Prince William to Kate Middleton, or Princess Diana's wedding to Prince Charles. I don't like weddings either, but those particular ones appeal to my fascination with royalty, and to every little girl's dream of seeing the bride in her fairy-tale dress (and the adult desire to wear a nice dress and a ridiculous hat).
---
Cat Marnell, writer and editor
Kate Moss's The Beautiful and the Damned–themed 30th-birthday-party-turned-(rumored)-cokefest/orgy at Claridge's in London! I mean, I dream of orgies—and you just know Kate throws the best ones.
This is an expanded version of January/February 2014's Big Question. See more answers and submit your own: theatlantic.com/bigquestion