"Mon Dieu, What a Mother!"
Marianne Moore's poetic voice was supremely idiosyncratic—and so was her family life.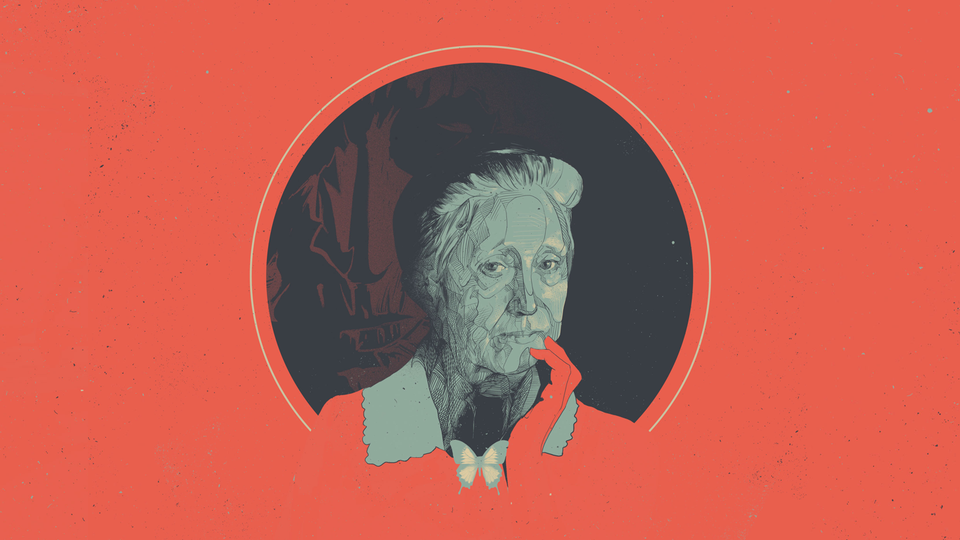 In one of the funny bits in Virginia Woolf's mostly unfunny To the Lighthouse, Mrs. Ramsay half-listens to a graduate student in philosophy droning on about his dissertation. The young man, she gathers, is working seven hours a day on "the influence of something upon somebody." Woolf's satirical swipe at the academic paper is all too pertinent to literary biography. How fervently we hope to explain Somebody's brilliance by invoking the influence of Something! Marianne Moore—one of America's greatest and most idiosyncratic poets—became famous partly on the strength of the theory-resistant contradictions of her character and her creations. But were we to isolate a single Something of influence on Moore, a new biography by Linda Leavell, Holding On Upside Down, suggests that both credit and blame might go to the poet's mother.
In an earlier book on Moore, Leavell argued, not very convincingly, that modernist visual artists were central to Moore's poetic technique. It's true that Moore, born in 1887 in Kirkwood, Missouri, and educated at Bryn Mawr (where she published stories and poems in the literary magazine but excelled in biology class), was a representative and proponent of all that was new, brave, and unsettling in modern literature. Yet she never really fit the contours of the modernist movement. A gloved-and-hatted stickler for propriety, she was a Hoover lover and an FDR hater. She was a New Yorker, mostly a Brooklynite, for much of her life, but this cosmopolitan poet, who delighted in arcane references to Scarlatti or "the staff of Aesculapius," also wrote what Leavell nicely calls "data-dense animal poems."
Moore's view of poetry was that it ought to be clear and simple, but she fooled herself that her love of the precise phrase made her not-difficult. She relished unpredictable conjunctions of diction and discontinuities of tone, while remaining apparently indifferent to the modernist tenet that contemporary life was inherently fragmentary or meaningless. She just found distraction exciting. Her idea of a transition was an aside: her poem "To a Steam Roller" describes, and mimics in its sounds, the crushing action of the machine, and then out of the blue Moore adds, "As for butterflies …" as if answering an interlocutor's irrelevant question. Her idea of an aside was that it might well provide a good ending, fresher than a return to the topic at hand. Here's the final sentence of the poem, in full: "As for butterflies, I can hardly conceive / of one's attending upon you, but to question / the congruence of the complement is vain, if it exists."
In an age that largely eschewed rhyme, she ended lines mid-word, or on unpromising words like the—but rhymed them, and also buried exact rhymes inside her lines. T. S. Eliot praised her for her mastery of "light rhyme," the practice of chiming an accented syllable with a weak one. (Such a rhyme, like know/hero, will in the wrong hands seem merely unskillful.) A talky, pointed awkwardness born of arbitrary-seeming patterns was Moore's hallmark, and arguably harder to achieve than the free verse of such poets as her friends Hilda Doolittle and Ezra Pound. Although Moore was the first American poet to write most of her poems in "syllabics"—a technique in which syllables but not accents are counted—she denied her reliance on syllabics per se. It was for her a means to produce an irregular-looking but pleasing stanza shape tailored to each poem: something beyond the convention Robert Lowell would later call "stiff quatrains shoveled out four-square." (Leavell unhelpfully returns time and again to what she calls, in the singular, Moore's "stanza." No, these were her stanzas—of a manifold variety.)
Moore said, in different ways throughout her career, that she wasn't sure the verse she was writing was poetry. And yet she pronounced confident, often prescient, judgment on her contemporaries' poetry. An influential reviewer and editor for the 1920s journal The Dial, she was proud of her choices for the magazine, publishing the young Hart Crane and the aging Yeats. Throughout the Jazz Age, dressed eccentrically in the fashions of 1907, Moore dined out with the misbehaving bohemians and trust-fund sophisticates she met through her job—and then she took the subway home, to her mother.
"Mon Dieu, what a mother!," one of Moore's literary friends, the suffragist Alyse Gregory, confided in a letter to a friend. The domination of Mary Moore over her daughter—the pair lived together in ostentatious frugality until Mrs. Moore's death in 1947, when the poet was about to turn 60—riveted the New York literary world during their lives. Gregory added that Mrs. Moore was "inexorably, permanently, eternally rooted and not to be overlooked, and remorselessly conversational." Yet Mrs. Moore had her distinguished admirers, too. The artist Joseph Cornell saluted her "almost silent way of saying important things." Edmund Wilson told Allen Tate that Mrs. Moore was one of the most intellectual women he knew.
The first biographer authorized by the Moore estate (the children of the poet's older brother, Warner), Leavell is an uneven explicator of poetry. Yet she trains a useful light on Mary, who turns out to be as mysterious and contradictory a figure as Marianne. Charles Molesworth, the author of the solid Marianne Moore: A Literary Life (1990), was denied permission to quote from previously unpublished Moore family letters. Leavell makes welcome use of their revelations, and notes that both Moore children learned from their mother "the power of precise diction and detail to make their letters vivid." Yet Leavell doesn't seem to appreciate fully the implications for Moore's poetry of hearing Mary's distinctive cadences day by day, for years.
The Moore household was unconventional from the start. Marianne never met her father, a depressive religious fanatic who, two years after Mary left him, literally cut off his right hand; he was confined intermittently to mental institutions, and died in 1925. Mary was sanely devout, self-reliant in a man's world, and determined to advance the educations of her two children on little income. Tough yet sentimental, she created a lastingly childish environment in which she was the first among three equals. The Moore trio addressed one another for decades with names from their favorite book, The Wind in the Willows. Marianne's commonest nickname was Rat. And as Leavell makes widely public for the first time, Mrs. Moore—whose children called her Mole—lived openly with a female lover.
At 38, the surviving letters confirm, she found sexual and romantic fulfillment with 25-year-old Mary Norcross, who stayed with the family for extended periods beginning when Marianne was 12. Norcross left for another woman years later, but long served in a quasi-parental role to Marianne. The partnership of the two Marys was a boon for the family, yet personal liberation was not, apparently, Mrs. Moore's universal dream. She made romantic life for her son nearly impossible—nixing his first, blameless attachments, then writing directly to the blameless woman he was about to wed that the marriage would be "unblessed of heaven."
Marianne felt free to write home about powerful attractions to Bryn Mawr classmates, especially Peggy James (daughter of William), and her mother volunteered gratitude for her own partner's love, "greater than any I had ever known a woman to give to a woman." Yet she made marriage unthinkable for her daughter, who enjoyed no sexual relationship we know of with either gender. (One of Moore's most admired poems, interestingly, is called "Marriage.")
Mrs. Moore could be, let's just say it, a monster: she chloroformed a stray cat to which the 30-something Marianne, away at the library that day, had grown deeply attached. (Would you dare to bring a fiancé home to Mrs. Moore?) Bedeviling Marianne with unwanted snacks and chatter, Mary disrupted her daughter's concentration. Yet as Marianne's literary career advanced, Mary also cooked and cleaned, deposited checks, and attended to practical duties she deemed her daughter incapable of. She also offered wise criticism on drafts of poems, which Moore often credited as essential. Writing to her brother as she revised her book Observations, Marianne complained that their mother "deplored a great deal of it, and investigated me till my very fleas blushed and I had to do over a great deal of the work." Yet this was implicit high praise.
It's clear that mother and daughter developed over the decades a mutually sustaining marriage of minds. Mary had written clairvoyantly of the 9-year-old Marianne: "She dotes on poetry to a perfectly horrible degree. I know we shall yet have a poetess in the family and finish our days languishing in an attic." Just as striking as that greedy our days is the ironic perfectly horrible, in a voice that sounds amusingly like the mature Marianne's. Quotations from Mary's letters show a gift for description. Evidently unaware of how much she contributed to her 30-year-old daughter's feelings of entrapment, she wrote her son: "I am sometimes over-awed by her ascetic graveness—almost grim sternness these past two years … Her little narrow white face with a monk-like severity."
Ascetic graveness and monk-like severity are just the sorts of pithy, rhythmic phrases Marianne would put into poems—and with genuine joy, too: the joy of creation. As she wrote and rewrote her poetry, Marianne Moore surely had the musical phrasings of W. C. Williams or E. E. Cummings, not to mention Edmund Spenser, lodged somewhere in her head. And only a droning graduate student, of the sort Woolf lampoons in To the Lighthouse, would argue that Mary Moore's locutions were the sole Something that influenced her Somebody daughter: after all, greatness is a mystery. Yet the symbiosis of Mary and Marianne Moore created its own melodies, and it's hardly imaginable that Moore's poems would have sounded the same—as wonderfully original—without it.
---
​When you buy a book using a link on this page, we receive a commission. Thank you for supporting The Atlantic.