How T Bone Burnett Plays Hollywood
Getting his folk-musician friends together and making soundtracks, a once-quirky record producer has stirred up a roots-music revival.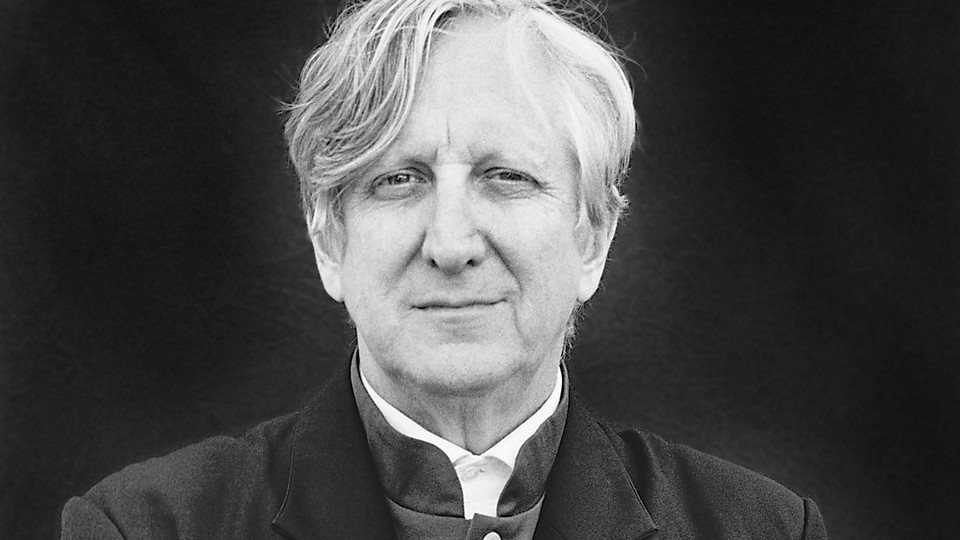 Not so long ago, T Bone Burnett was a musician akin to the Greenwich Village folksinger in the Coen brothers' forthcoming movie, Inside Llewyn Davis—known to everybody on the scene and nobody outside it. He was a brilliantly quirky record producer and a Bob Dylan footnote—he sparked Dylan's interest in Christianity—when the Coens tapped him as the "musical archivist" for The Big Lebowski in 1998. Over the next two years, he and they conceived O Brother, Where Art Thou?, which stirred up a roots-music revival that is still under way. Burnett now moves between producing records by individual artists (Gillian Welch, Robert Plant collaborating with Alison Krauss) and producing movie soundtracks: Cold Mountain, Crazy Heart, Walk the Line, and this year Inside Llewyn Davis, each rendered in evocative lo-fi sound. And the territory occupied by roots music, a k a Americana, now takes in everything from the London-bred Mumford & Sons to ABC's country-music series, Nashville, whose first-season soundtrack Burnett fashioned for the show's producer—his wife, Callie Khouri.
Coens plus Burnett plus folk music: it seems inevitable, and probably was. And yet this latest movie, and Burnett's approach to it, points to a real change in the way a certain kind of music is made. More than anybody, Burnett has kept alive the informal, collective music-making that the folk movement was all about. He's done it by taking the hootenanny to the movies—using Hollywood cash and clout to get people with old-school wooden instruments to make music together.
Joseph Henry Burnett was born in St. Louis in 1948 and started playing music in Fort Worth, Texas. He skipped college to run a recording studio, and he was playing at the Other End in Greenwich Village in 1975 when he met Dylan, who was prowling the Village with a purpose. Ten years after turning from folk music to rock and roll, Dylan was organizing a tour that would recapture the spirit of the old Village folk scene. He invited a couple dozen musicians—from Joan Baez to Scarlet Rivera, a violinist he'd spotted from a car—to join him.
The Rolling Thunder Revue—"a traveling electric hootenanny," as the Dylan biographer Robert Shelton described it—toured into the next year. Cameras were rolling for a feature film (Renaldo & Clara), and Sam Shepard (along to write dialogue) kept a logbook. Dylan and Baez sang separately and together. Joni Mitchell, Arlo Guthrie, and The Band's Robbie Robertson joined the proceedings. And most nights, T Bone Burnett sang a song while people in the audience wondered who he was.
Burnett went on to make a series of records with backup by his widening circle of friends. He produced albums by Los Lobos, Marshall Crenshaw, and Elvis Costello, helping them to complicate their distinctive sounds with country, soul, and blues touches. Then, in 1987, he served as the musical director of a Cinemax special devoted to the singer Roy Orbison. Filmed in black-and-white, the program is mid-century American pop stylized into music that seems to come from a distant past and belong to everybody. Orbison and friends are all dressed in black and white on an Art Deco stage. Tom Waits plays the organ. A baby-faced Elvis Costello plays the harmonica. Bonnie Raitt, k.d. lang, and Jackson Browne sing backup vocals. To Orbison's left, in a black jacket and bolo tie, is Bruce Springsteen, relishing his role as a sideman. Burnett is on camera for just a few moments, a tall man in a baggy suit. But he was in charge, and once the show was rerun a jillion times during public-TV pledge drives, he was A-list in Hollywood.
More than anybody, Burnett has kept alive the informal, collective music-making of the folk movement.
Movies have brought old music to new listeners ever since the American Graffiti soundtrack revived '50s rock and roll in 1973. The Band's farewell concert in 1976, with a Rolling Thunder–inspired group of friends, was filmed by Martin Scorsese as The Last Waltz; drummer Levon Helm took a role in Coal Miner's Daughter, a film of Loretta Lynn's story, with a soundtrack full of country classics.
But Burnett has done something new with the roots soundtrack: he has made it generative rather than retrospective, creating a cache of material that serves musicians today the way Harry Smith's six-LP Anthology of American Folk Music of 1952 served Dylan's circle—as a playlist of possibilities.
For O Brother, Burnett and the Coens got the music together before filming began, and then fit the movie to the music. What sticks is the movie's look: sepia, suspenders, and 5 o'clock shadows brought together to create a vision of what one character calls "that good old-timey music." The soundtrack left as strong an impression as the movie—and sold some 8 million copies. Burnett gathered the musicians for an O Brother concert at the Ryman Auditorium in Nashville, long the home of the Grand Ole Opry. The fiddler Alison Krauss was recognized as the natural wonder she is. Ralph Stanley—the Duke Ellington of old-time—got a contract for his autobiography.
Burnett sought to repeat the effect with soundtracks for Cold Mountain (old-time, featuring Jack White), Crazy Heart (country; Jeff Bridges), and Walk the Line (the young Johnny Cash, played by Joaquin Phoenix). His among-friends approach had become a working method. Mix old legends with new artists, movie stars with masters of the Dobro and the pedal steel. Deploy your feature-film budget to line up everybody on your wish list. Get the proceedings on video. Present the result as an act of discovery, a WPA-style effort to set a levee of traditional music against the rising tide of hits radio.
Once, the movie soundtrack was a place for a musician (or her manager) to park a leftover recording. But at a time of profound changes in the music industry, Burnett has figured out how to make the movie business and production machinery serve his ideals of spontaneity and camaraderie.
Commercial radio has narrowed, leaving little space for older artists (Burnett is 65) or roots music. Full-length albums don't sell the way they once did. Record companies, which used to insist on exclusive rights to "their" artists, lack the motive to keep them from moonlighting. So there are only good reasons for a musician to go to Los Angeles or Nashville to record a fresh version of an old song for T Bone. It's easy and enjoyable, a busman's holiday with friends. And the need to fit the soundtrack sessions into many busy careers means that the musicians must work quickly—thus restoring the straight-up production values associated with great roots records from Otis Redding's Stax singles to Springsteen's Nebraska.
Add in the sudden ubiquity of video. Almost a year before the scheduled release of Inside Llewyn Davis, you could watch the trailer on your phone. So began a rollout that will lead to performances at the Golden Globes and the Grammys and finally the Oscars. In September, Burnett and friends—and guest stars such as Joan Baez and Patti Smith—played music from the movie at the Town Hall in Manhattan, in a concert arranged to evoke the legendary concerts where the Columbia Records producer John Hammond presented folk music to city people. The process has come full circle: the movie gives rise to the folk-music sing‑in and soundtrack, which precede the movie in the marketplace, so that the movie is seen to represent a living tradition, not a fictional one.
Set out that way, the process seems calculated in the extreme. And yet there is still an essential simplicity to Burnett's approach: he gets people in the same room to sing songs older than any of them, and makes it sound like a hell of a good time. Sure, Joaquin Phoenix's version of "I Walk the Line" is inferior to Johnny Cash's classic Sun recording—but so is anybody's. To see musicians and actors on mic together in one of Burnett's concerts is to recognize that those songs are folk music—music that belongs to all of us. Seeing them, hearing them, who wouldn't want to join in?