What Was the Greatest Speech, Historical or Fictional, Ever Given?
From the New Testament to Animal House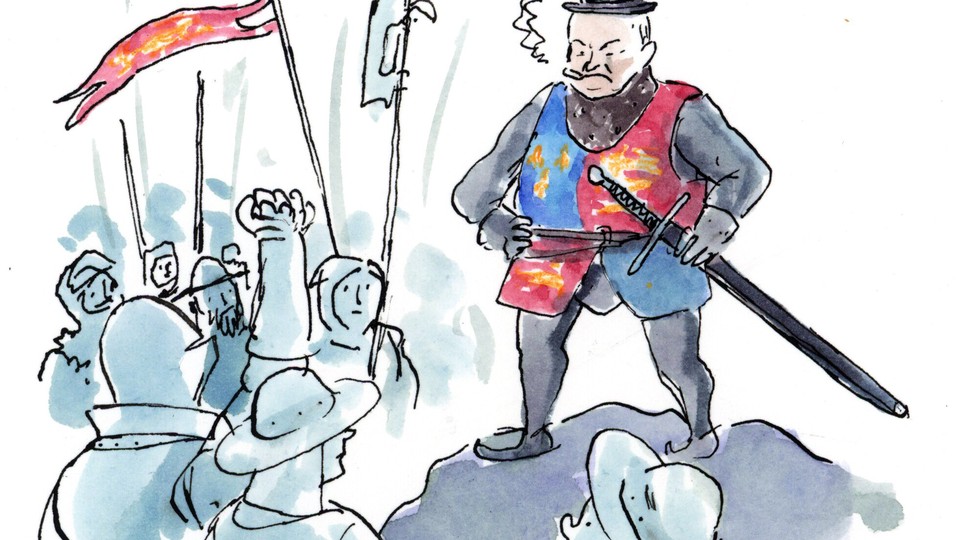 Ben Stein, actor and former speechwriter for Presidents Richard Nixon and Gerald Ford
The "To Be or Not to Be" speech from Hamlet boils down the essentials of life to a few magnificently poetic paragraphs.
---
Harold Bloom, humanities professor, Yale University
The seventh and last of Hamlet's soliloquies, as he watches Fortinbras's army march by him in the snow. The darkness of his insight is absolute.
---
Ted Widmer, former speechwriter for President Bill Clinton
Abraham Lincoln's second inaugural came at a time for self-glorification. But instead of chest-thumping, it offered a profound modesty. Whenever the air is thick with political smugness, it bears rereading.
---
Anthony Weiner, former U.S. congressman from New York
FDR's "Four Freedoms" speech.
---
---
Camille Paglia, author, Glittering Images: A Journey Through Art From Egypt to Star Wars
Pericles' Funeral Oration, as reconstructed by Thucydides, is a celebration of Athenian freedom and justice—plus, it may have been written by Pericles' mistress.
---
Mark Salter, former speechwriter for Senator John McCain
The Sermon on the Mount, for defining humility. Close runners-up are William Faulkner's Nobel Prize acceptance speech, for its confident humility, and Lincoln's second inaugural, for explaining the social necessity of humility.
---
Pat Buchanan, political analyst
The Sermon on the Mount, which includes the Beatitudes, the Lord's Prayer, and the divine instructions on how men ought to live, if they wish eternal life.
---
Representative John Lewis (D-Georgia)
If humankind would only live by the words of Jesus in the Beatitudes, the world would finally be at peace with itself. That great speech is from another time, but its words ring true from generation to generation.
---
Robert Schlesinger, author, White House Ghosts: Presidents and Their Speechwriters
For sheer reach and influence, it's hard to argue against Jesus' Sermon on the Mount. It's perhaps the central teaching of one of the world's great religions, still studied and recounted not just in academia and religious institutions but by lay people all around the world.
---
James Carville, former campaign manager for President Bill Clinton
Although it does not have the same cache as the Sermon on the Mount, the Sermon on the Plain is a shorter and more cogent speech. Jesus was talking to people at his same level, rather than to people down the mountain.
---
Herman Edwards, football analyst, former NFL player and coach
I can remember watching Martin Luther King's "I Have a Dream" speech on television when I was 9 years old. King educated and inspired not just the people who were at the March on Washington, but America in general.
---
Melinda Gates, co-chair, Bill & Melinda Gates Foundation
Martin Luther King Jr.'s "Remaining Awake Through a Great Revolution" combines the beauty and power we associate with King's oratory and a visionary argument about technology and morality.
---
Jim Harbaugh, head coach, San Francisco 49ers
For speeches of leadership and valor, there are none better than Winston Churchill's speech before the House of Commons on June 4, 1940—"We shall never surrender!"—or Shakespeare's Saint Crispin's Day speech, delivered by Henry V before the Battle of Agincourt: "We few, we happy few, we band of brothers; for he today that sheds his blood with me shall be my brother."
---
Mary Beard, classics professor, University of Cambridge
Cicero's first speech against his political rival Catiline, in 63 B.C., has been a model for orators and protesters ever since. In fact, its first words—"How long will you abuse our patience, Catiline?"—were seen on opposition banners in Hungary less than two years ago.
---
Chris Anderson, TED curator
The best talk ever given at TED, judging by the length of the standing ovation, was the human-rights lawyer Bryan Stevenson's "We Need to Talk About an Injustice." In the 10 minutes after Stevenson finished, audience members committed $1 million to his advocacy organization by show of hands.
---
Steve Duck, professor of rhetoric, University of Iowa
For its effect at the time and its ability to speak to us today about leadership and bravery, the greatest speech has to be the one given by Queen Elizabeth I at Tilbury Docks in 1588 as she faced the Spanish armada and stirred her troops to England's defense: "I know I have the body of a weak, feeble woman; but I have the heart and stomach of a king."
---
Colin Quinn, comedian and writer
Karl Malden's speech in On the Waterfront, because his character is based on a real priest from the Chelsea waterfront who chain-smoked and tried to help fight the mob. When Malden gives his speech, it's over a dead body in the hold of a ship, with the mob henchmen throwing vegetables and cans at him.
---
Matthew Scully, former speechwriter for President George W. Bush
Even two generations after John F. Kennedy's inaugural address, a collaboration between him and Theodore Sorensen, not a line seems dated or stilted. From "man holds in his mortal hands" to "knowing that here on earth God's work must truly be our own," it is a work of perfection.
---
Gabby Giffords, former U.S. congresswoman from Arizona
As the spouse of a former NASA shuttle commander, I'm inspired by Kennedy's speech at Rice University in 1962. We choose to go to the moon, he said, not because it is easy, but because it is hard. He touched on what makes America so great: we dream big.
---
General Stanley McChrystal, former commander of American forces in Afghanistan
Great speeches can inspire nations, armies, and teams to win against the odds and to take action when things seem hopeless. In that tradition, an entire generation can recite the simple message delivered by a slovenly fraternity brother: "What? Over? Did you say over? Nothing is over until we decide it is! Was it over when the Germans bombed Pearl Harbor? Hell no!" — Bluto, Animal House
---
This is an expanded version of October 2013's Big Question. Readers have been sharing their answers online—here are some of our favorites.
From Twitter:
@MerrittJennifer: Gettysburg Address. Still gives me chills. Or Jack Nicholson's "You can't handle the truth..." - A Few Good Men
@philsmithwrites: Margaret Chase Smith's denunciation of Joseph McCarthy at height of his popularity.
@shakyside: Mr. Rogers' appearance before Congress is up there for sure.
@exentricone: Charlie Chaplin final speech in The Great Dictator
@jenniebrand: "Your Father's Watch", Christopher Walken, Pulp Fiction
@EeeVeeGross: Liam Neeson's threat over the phone to the Albanians that just kidnapped his daughter and her friend
From Facebook:
Thomas Izaguirre: I want to put in a word for speeches of infamy, which by eloquently stating the worst of human impulses have shown more mirror-like honesty than nobler orations. We deny and ignore them at our peril, as history shows. In that regard, there is the heinous "Cornerstone Speech" delivered by the Vice President of the Confederacy. Its candor and thoroughness in exalting and justifying racism on religious, political, ethical, and scientific grounds remains a stain on the nation and underscores the ultimate moral decay the dissent of the seceding states tried to obscure. It is the opposite of Lincoln's Gettysburg Address in every possible way.
Felipe Enrique: Julius Caesar, to his troops just north of the Rubicon River in northern Italy. After years campaigning in Gaul and Germania, he had to convince his war weary troops that they could no longer return home and rest or retire but they would have to fight to preserve what they believed in and that the enemies of Rome lie within. Once they crossed the Rubicon they would be considered enemies of the state and only victory in a civil war would ensure their freedom. "Alea iacta est" - the die is cast, one of so many lasting impressions from the great Caesar.