The Global Dominance of ESPN
Why hasn't anybody figured out how to beat "The Worldwide Leader in Sports"?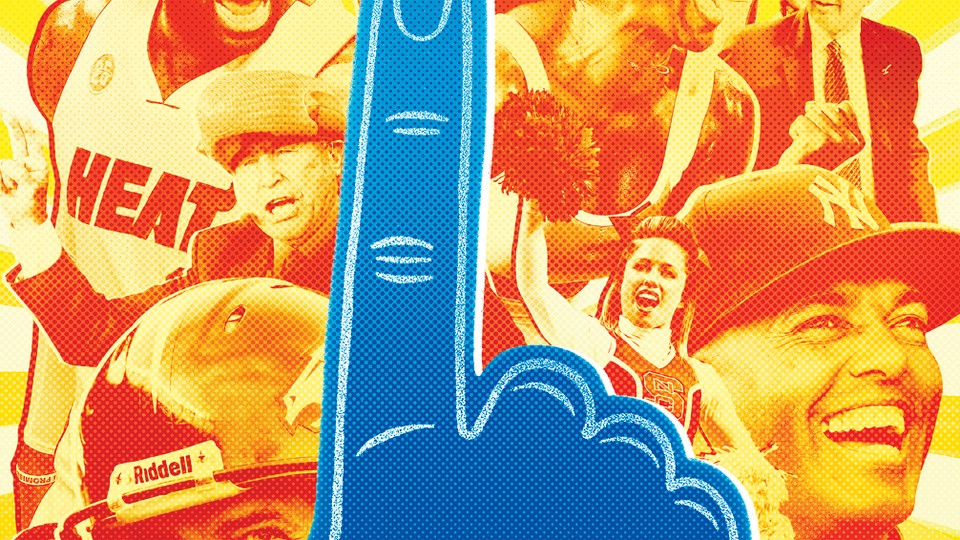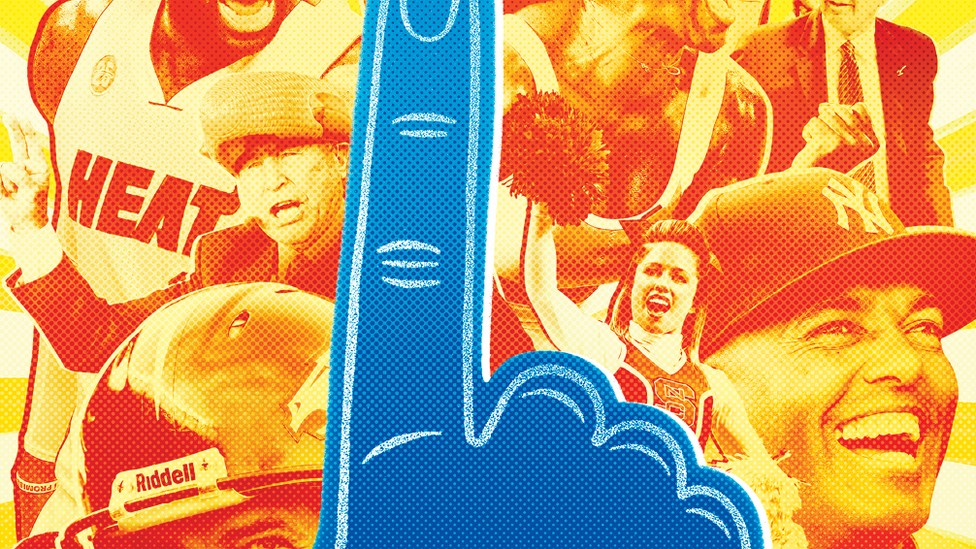 "This is the chart I was talking about. This is powerful."
Artie Bulgrin, ESPN's director of research, is hunched over an iPad in a wood-paneled conference room at the network's New York City headquarters, on West 66th Street, swooshing through the slides of a presentation he's prepared annually since 1998. Every year, in the second week of September, the company asks hundreds of random subjects for three "must have" TV networks. And every year, ESPN relearns just how much America loves ESPN.
Bulgrin swivels his iPad and shows me the money chart. "Men have named us their favorite channel for 14 straight years," he says matter-of-factly. "Other networks need to create hits. We don't. We are a destination network, not a network with destination programming. People tune in to ESPN without even knowing what's on."
Some critics sneer at the company's boastful tagline—"The Worldwide Leader in Sports"—but it is unquestionably apt. Although the network didn't pay to air a single minute of the 2013 men's college-basketball tournament, 8.15 million people—about the population of Virginia—filled out a bracket on ESPN.com in March. And although the network doesn't broadcast any daytime NFL games, its digital platforms still average 800,000 viewers for each minute of game time on Sundays. That rivals the typical viewership for an episode of HBO's Girls.
ESPN's cable channels collect more than $5 a month from each of the nearly 100 million American households that subscribe to pay-TV, more than any other channel by far. That comes to about $6.5 billion in revenue, without even considering advertising. With an estimated value between $40 billion and $60 billion, ESPN is at least 20 times bigger than the New York Times Company, or five times bigger than News Corp. As a single asset, ESPN could be worth as much as all the other parts of its majority owner, the Walt Disney Company, combined.
In short, the 34-year-old project out of Bristol, Connecticut, is likely the most valuable media property in the United States.
The business model seems gobsmackingly obvious: buy the rights to show sports; show sports; discuss sports; repeat. What's more, ESPN seems like just the kind of media business our increasingly atomized culture should unravel—and indeed, a vast array of single-sport channels, local sports networks, and team-specific Web sites have proliferated in recent years, many offering deeper, more finely targeted sports coverage. And yet ESPN seems to only grow stronger from year to year. Why has no one found a way to bring it down, even incrementally? The answer lies partly in a decision made nearly a decade ago, when ESPN, caught in a ratings slump nobody foresaw, guessed right in a billion-dollar version of the simplest sport there is: heads or tails.
The American sports fan is a motley species. In 2011, an annual survey by Harris Poll identified 16 sports that at least 1 percent of respondents called a "favorite," from pro football (the most popular) to bowling. Opportunities for serving different fans through specialized coverage would seem to abound. In 2004, Wired's editor in chief, Chris Anderson, famously advised media tycoons that the age of mass consumption was ending and that the future of entertainment belonged to companies that cultivated a "long tail" of small-market products for niche consumers.
Essentially, ESPN is in the business of building athletes into superheroes, because, like Walt Disney Pictures, it is in the business of building blockbusters.
But a decade of evidence suggests that Anderson had it backwards. It turns out that when consumers have more access to content, the superstars get more super and the big bets from media companies pay off bigger. "Demand isn't moving to the tail; it's moving to the head," said Anita Elberse, a professor at Harvard Business School who skewers Anderson's theory using evidence from television, movies, and music in her upcoming book, Blockbusters. "Movie studios are producing fewer movies, and they're spending more per movie. It's the equivalent of ESPN saying 'Let's make a larger bet on the most popular content.'"
In fact, that's exactly what ESPN has done. John Skipper, the current president of ESPN, took over as the director of TV content in 2005, a year after Anderson's Wired essay was published, following a turbulent time for the worldwide leader. Ratings had declined as the network wandered into the wilderness of sports esoterica, company executives told me. "We had strayed to food eating and gaming and salsa and horse racing and figure skating, and it just didn't perform for us," Skipper said. His plan to restore the network's glory was so simple, it could have fit on a napkin. "I had this quadrant with two axes: young versus old, and male versus dual audience." Skipper pushed the programming to the upper-left quadrant (young and male) with an emphasis on live sports, especially red-blooded fare like big-time college sports and obsessive summer coverage of baseball.
"We're not looking for niche audiences," Skipper told me. Instead, ESPN's flagship channel seeks to maximize the odds that whenever a middle-American male tunes in, he'll see either a major sport, or coverage of a major story line on one of ESPN's rapidly multiplying talk shows. Once the network put this strategy in place, Artie Bulgrin told me, ratings "started to change rather dramatically."
This narrowing of focus may seem obvious in retrospect, but it wasn't without risks. Regional big-sports networks were sprouting across the country, and the biggest leagues, like the NFL and Major League Baseball, had started their own television channels. ESPN's decision to double down on these same sports could have left it vulnerable to competitors with more-comprehensive coverage of individual teams or leagues. But the gambit worked, in large part because of the way long tails and fat heads interact. One of Elberse's most striking points is that while the most-passionate fans are drawn to obscure subjects in their sphere of interest—whether it's unknown bands or meticulously detailed play-by-play analysis of last week's football games—that doesn't stop them from listening to Top 40 songs or tuning in to mainstream coverage. In fact, studies show that these connoisseurs appreciate and seek out the popular entertainment as much as the obscure fare. In that light, the NFL Network and its ilk are best seen less as competitors than as complements to ESPN. If they can turn casual viewers into hard-core fans, ESPN could grow stronger.
One of the loudest criticisms of ESPN is that its aggressively mainstream approach creates a sycophantic celebrity culture built around the biggest stars and juiciest plots, from the agonies of the L.A. Lakers, to the scandals of Tiger Woods, to the postmodern dramedy of Tim Tebow. But according to Elberse, the company's superstar culture is the best strategy for a fat-headed world.
"It's not different from People realizing that there are only five celebrities who really sell [magazines], so why put anyone else on the cover?" she said. "It's Hollywood making more movies with Marvel characters. It reduced the risk, and it works." The company's core strengths stem from a superstar-first approach to sports news. Essentially, ESPN is in the business of building athletes into superheroes, because, like Walt Disney Pictures, it is in the business of building blockbusters.
In the past year, sports rights have grown to surpass half of all TV programming costs. Analysts insist that this is no bubble: sports has been "the most consistent ratings performer in TV, and it's a live audience that advertisers can count on," says David Bank, the managing director at RBC Capital Markets and an expert in the sports-entertainment business. And the potential of expanded sports programming has become impossible for the big networks, otherwise struggling, to ignore.
At a presentation for potential advertisers this May in New York City, Skipper began with a little joke for the Best Buy Theater's audience. "I'd like to address the elephant in the room," he said, pausing for the crowd to acknowledge Big Al, the long-trunked mascot from the University of Alabama, who stood beside him on the stage. Sparse laughter subsided as the audience waited for him to address the less cuddly actor trying to upstage his company—a brand-new sports channel, called Fox Sports 1, which launched in August.
Fox's portfolio of sports rights across its cable channels, its regional sports networks, and its flagship broadcast channel offer some of the most coveted games in pro football, major-league baseball, college football, and auto sports. With its ability to pool some of these rights into a new 24-hour sports channel, and its track record of personality-driven game analysis, Fox could become the most serious multiplatform challenge ever to ESPN's dominance, David Bank told me. "Until the rise of FS1, there was no other source for aggregating, in a single place, premium sports programming." Head-to-head: in the current environment, that's the only matchup ESPN could really lose.
But even Randy Freer, a co-president of Fox Sports Media Group, acknowledges that taking on the reigning champion is a long-term challenge. "ESPN has a 30-year head start and an astronomical revenue stream," he told me. "They're clearly the most established."
And clearly the most inescapable. "We are not a television company," Skipper said in 2005. "We are a sports media company. We're gonna surround consumers with media." That claim turned out to be both half wrong and entirely right. ESPN is a television company: 91 percent of its revenue still comes from its networks. And yet, it's impossible not to feel surrounded. On your computer, on your phone, on your magazine stand, and on the radio, the worldwide leader is everywhere. For better or worse, that's unlikely to change anytime soon.