Who Was the Greatest Athlete of All Time?
Shaun White's versatility, Bo Jackson's phenomenal speed, Geronimo's nimbleness, and more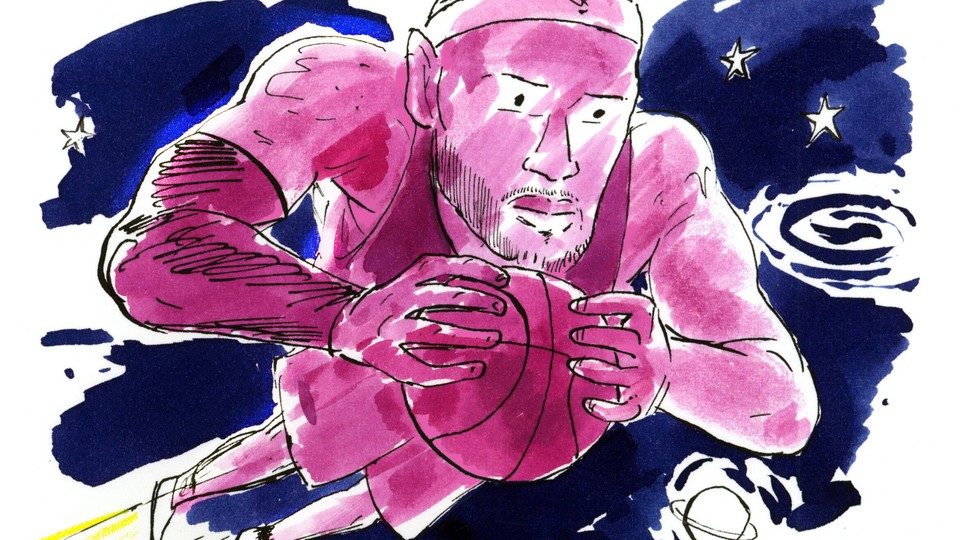 Gay Talese, writer
Boxing is the most physically demanding of athletic disciplines. No other athletes are so confronted with the physical demands, the heart, the endurance, the perseverance, and the confidence of winning prizefighters. So Muhammad Ali is my guy.
---
Twyla Tharp, dancer and choreographer
Muhammad Ali: courage, prowess, dignity.
---
Benjamin Cheever, author, Strides: Running Through History With an Unlikely Athlete
Before Roger Bannister ran through spitting rain on May 6, 1954, no man could run a mile in less than four minutes.
---
Kareem Abdul-Jabbar, former NBA player
I don't think I'll see a performance like Bo Jackson's again in my lifetime. One year, he scored 32 home runs as an All-Star left fielder for the Kansas City Royals before finishing out the football season with the Los Angeles Raiders. The next year, he was selected as the Pro Bowl running back for the American Conference.
---
Bill James, baseball statistician
Bo Jackson was both phenomenally strong and phenomenally fast, which enabled him to do things that no other human being could do, like run straight up vertical walls and throw a baseball nearly 400 feet at something close to 100 miles an hour—occasionally even on target. Plus, he had the ego to sustain his performance.
---
J. C. Watts Jr., former congressman from Oklahoma and college-football player
Great athletes perform extremely well in the "right-now moment." But every time Jackie Robinson took the field was a right-now moment, and he always performed exceptionally well.
---
Martina Navratilova, former professional tennis player
Babe Didrikson takes the cake. To dominate two completely different athletic fields—first track and field, then golf—is simply astounding.
---
Mark Bowden, Atlantic national correspondent
No one has ever dominated a sport the way Michael Jordan did. And basketball is easily the sport that demands the most all-around athletic ability: size, strength, stamina, skill, grace, intelligence, creativity. If Jordan is not a surprising pick, that's because he's an irrefutable one.
---
Buzz Bissinger, author, Friday Night Lights
LeBron James is the best physical athlete since Jim Thorpe and a better passer and rebounder than Michael Jordan. Plus, nobody in sports has better lived up to the hype that's been his burden since he was 16.
---
Hannah Teter, professional snowboarder
Shaun White has fully mastered two separate sports. What he's been able to accomplish in snowboarding has been monumental, and he's also one of the best skateboarders in the world. The guy is a freakin' animal!
---
Al Michaels, play-by-play voice of NBC's Sunday Night Football
It's easy to overlook Jim Thorpe, because his career predated the advent of television. Thus, a man who would have been an almost nightly staple on SportsCenter—who was gifted enough to win Olympic gold medals and play professional football and baseball—can be appreciated only through the written word.
---
Brandi Chastain, former professional soccer player
Jim Thorpe must be considered the best and most complete all-around athlete of the modern era. His ability in multiple sports makes him second to none.
---
Heath Shuler, former congressman from North Carolina and NFL player
To struggle with racial inequality as a Native American, as Jim Thorpe did, and still achieve so much over such an extended period of time is truly remarkable.
---
Christopher McDougall, author, Born to Run
Geronimo was a master of hand-to-hand combat and ultra-running who could outpace, outride, outshoot, and out-strategize the U.S. Cavalry, the Mexican army, and hordes of vigilantes.
---
Bob Costas, NBC Sports host and commentator
Athletes must be judged in context, against contemporaries. While Babe Ruth, Michael Jordan, Wayne Gretzky, or Michael Phelps may not have been as great an all-around athlete as Jim Thorpe, Jackie Robinson, Babe Didrikson, or Carl Lewis, each might well have been better at his particular sport than the others were in any of their various sports. In other words: I have no real idea.
---