Murder by Craigslist
A serial killer finds a newly vulnerable class of victims: white, working-class men.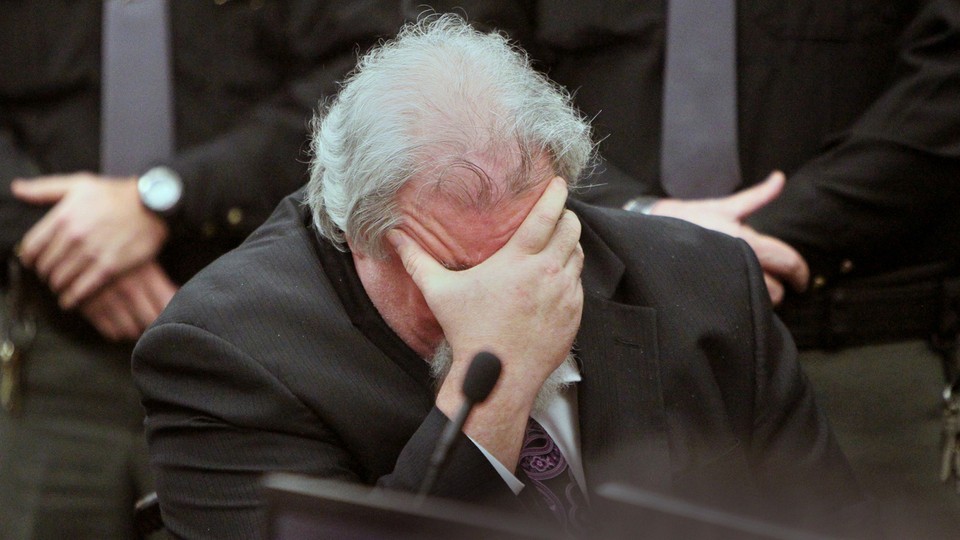 Wanted: Caretaker For Farm. Simply watch over a 688 acre patch of hilly farmland and feed a few cows, you get 300 a week and a nice 2 bedroom trailer, someone older and single preferred but will consider all, relocation a must, you must have a clean record and be trustworthy—this is a permanent position, the farm is used mainly as a hunting preserve, is overrun with game, has a stocked 3 acre pond, but some beef cattle will be kept, nearest neighbor is a mile away, the place is secluded and beautiful, it will be a real get away for the right person, job of a lifetime—if you are ready to relocate please contact asap, position will not stay open.
Scott Davis had answered the job ad on Craigslist on October 9, 2011, and now, four weeks later to the day, he was watching the future it had promised glide past the car window: acre after acre of Ohio farmland dotted with cattle and horses, each patch framed by rolling hills and anchored by a house and a barn—sometimes old and worn, but never decrepit. Nothing a little carpentry couldn't fix.
Davis rode in the backseat of the white Buick LeSabre; in the front sat his new employer, a man he knew only as Jack, and a boy Jack had introduced as his nephew, Brogan. The kid, who was driving the car, was only in high school but was already a giant—at least as tall as his uncle, who was plenty tall. Jack was a stocky, middle-aged man; Davis noticed that he'd missed a couple of spots shaving and had a tattoo on his left arm. He was chatty, telling Davis about his ex-wife, his favorite breakfast foods, and his church.
Davis, 48, had left his girlfriend behind in South Carolina, given away the accounts for his landscaping business, and put most of his equipment in storage. He'd packed his other belongings—clothes, tools, stereo equipment, his Harley-Davidson—into a trailer, hitched it to his truck, and driven to southeastern Ohio. He'd told everyone that he was moving in part to help take care of his mom, who lived outside Akron and whose house was falling apart. Moving back home at his age might seem like moving backward in life. But the caretaker job he'd stumbled across online made it seem more like he'd be getting paid to live free and easy for a while—a no-rent trailer plus $300 a week, in exchange for just watching over a farm with a few head of cattle outside the town of Cambridge. Jack had reminded him in an e‑mail to bring his Harley because there were "plenty of beautiful rural roads to putt-putt in."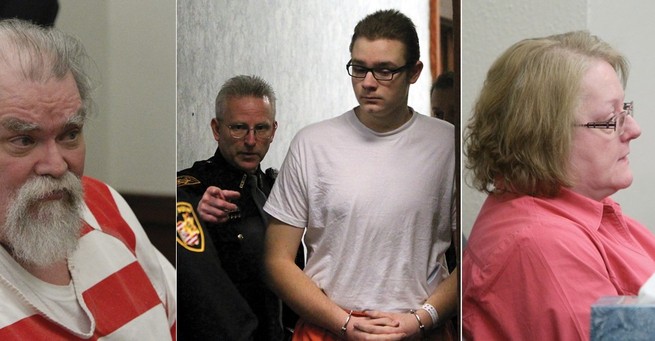 Jack and Brogan had met Davis for breakfast at the Shoney's in Marietta, where Jack had quizzed his new hire about what he'd brought with him in the trailer. Davis boasted that it was "full from top to bottom." After breakfast, Davis followed Jack and Brogan to the Food Center Emporium in the small town of Caldwell, where he left his truck and trailer in the parking lot, to be picked up later. Jack told Davis that the small road leading to the farm had split, and they'd have to repair it before bringing the truck up. They'd been driving for about 15 minutes, the paved road giving way to gravel, and then the gravel to dirt, while Davis watched the signal-strength bars on his cellphone disappear.
On a densely wooded, hilly stretch, Jack told his nephew to pull over. "Drop us off where we got that deer at last time," he said, explaining to Davis that he'd left some equipment down the hill by the creek and they'd need to retrieve it to repair the road. Davis got out to help, stuffing his cigarettes and a can of Pepsi into the pockets of his jean jacket. He followed Jack down the hill, but when they reached a patch of wet grass by the creek, Jack seemed to have lost his way and suggested they head back up to the road. Davis turned around and started walking, with Jack following behind him now.
Davis heard a click, and the word fuck. Spinning around, he saw Jack pointing a gun at his head. Where we got that deer at last time. In a flash, it was clear to Davis: he was the next deer.
Davis instinctively threw up his arms to shield his face. The pistol didn't jam the second time. As Davis heard the crack of the gunshot, he felt his right elbow shatter. He turned and started to run, stumbling and falling over the uneven ground. The shots kept coming as Davis ran deeper into the woods, but none of them hit home. He ran and ran until he heard no more shots or footsteps behind him. He came to the road and crossed it, worried that if he stayed in the open he'd be spotted by his would-be killer. He was losing a lot of blood by now, but he hid in the woods for several hours, until the sun was low, before he made his way back to the road and started walking.
Jeff Schockling was sitting in his mother's living room, watching Jeopardy, when he heard the doorbell. That alone was strange, as he'd later explain on the witness stand, because out there in the boondocks, visitors generally just walked in the front door. Besides, he hadn't heard a car drive up. Schockling sent his 9-year-old nephew to see who it was, he testified, and the kid came back yelling, "There's a guy at the door! He's been shot and he's bleeding right through!" Schockling assumed his nephew was playing a prank, but when he went to the door, there was the stranger, holding his right arm across his body, his sleeve and pant leg soaked with blood. The guy was pale and fidgety and wouldn't sit down at the picnic table outside. But he asked Schockling to call 911.
Sheriff Stephen Hannum of Noble County arrived after about 15 minutes. He would later describe Davis as remarkably coherent for a man who had been shot and was bleeding heavily. But what Davis was saying made no sense. He claimed that he'd come to the area for a job watching over a 688-acre cattle ranch, and that the man who'd offered him the job had shot him. But Hannum didn't know of any 688-acre cattle ranches in Noble County—nothing even close. Most of the large tracts of land had been bought up by mining companies. Davis kept going on about a Harley-Davidson, and how the guy who shot him was probably going to steal it. The sheriff sized Davis up—middle-aged white guy, puffy eyes, long hair, jean jacket, babbling about a Harley—and figured he was involved in some kind of dope deal gone bad. Hannum made a few calls to his local informants, but none of them had heard anything. Then he located the truck and trailer in the Food Center Emporium parking lot, and they were just as Davis had described them. "It was beginning to look," Hannum later recalled, "like Mr. Davis truly was a victim rather than whatever I thought he was at the beginning."
Davis wasn't the only person to answer the Craigslist ad. More than 100 people applied for the caretaker job—a fact that Jack was careful to cite in his e-mails back to the applicants. He wanted to make sure that they knew the position was highly sought-after. Jack had a specific type of candidate in mind: a middle-aged man who had never been married or was recently divorced, and who had no strong family connections. Someone who had a life he could easily walk away from. "If picked I will need you to start quickly," he would write in his e-mails.
Jack painstakingly designed the ad to conjure a very particular male fantasy: the cowboy or rancher, out in the open country, herding cattle, mending fences, hunting game—living a dream that could transform a post-recession drifter into a timeless American icon. From the many discarded drafts of the ad that investigators later found, it was clear that Jack was searching for just the right pitch to catch a certain kind of man's eye. He tinkered with details—the number of acres on the property, the idea of a yearly bonus and paid utilities—before settling on his final language: "hilly," "secluded," "job of a lifetime." If a woman applied for the job, Jack wouldn't bother responding. If a man applied, he would ask for the critical information right off the bat: How old are you? Do you have a criminal record? Are you married?
Jack seemed drawn to applicants who were less formal in their e-mail replies, those who betrayed excitement, and with it, vulnerability. "I was raised on a farm as a boy and have raised some of my own cattle and horses as well," wrote one. "I'm still in good shape and not afraid of hard work! I really hope you can give me a chance. If for some reason I wouldn't work out for you no hard feelings at all. I would stick with you until you found help. Thank you very much, George."
If a candidate lived near Akron, Jack might interview him in person at a local Waffle House or at a mall food court. He'd start by handing the man a preemployment questionnaire, which stated that he was an equal-opportunity employer. Jack and the applicant would make small talk about ex-wives or tattoos, and Jack, who fancied himself a bit of a street preacher, would describe the ministry he'd founded. He'd ask about qualifications—any carpentry experience? ever work with livestock?—and provide more details about the farm. Jack explained that his uncle owned the place, and he had six brothers and sisters with a lot of kids and grandkids running around, especially on holiday weekends and during hunting season. The picture Jack painted was of a boisterous extended family living an idyllic rural life—pretty much the opposite of the lonely bachelor lives of the men he was interviewing.
Schockling went to the door, and there was the stranger, holding his right arm across his body, his sleeve and pant leg soaked with blood.
If the interview went well, Jack might tell the applicant that he was a finalist for the job. But if the applicant gave any sign that he did not meet one of Jack's criteria, the meeting would end abruptly. For one candidate, everything seemed on track until he mentioned that he was about to get married. Jack immediately stood up and thanked him for his time. George, the man who'd written the e-mail about being raised on a farm, told Jack that he'd once been a security guard and was an expert in martial arts. He figured this would be a plus, given that he'd have to guard all that property when no one else was around. But the mood of the interview immediately changed for the worse. Jack took the application out of George's hands before he even finished filling it out and said he'd call him in a couple of days. If George didn't hear anything, he should assume that "someone else got it."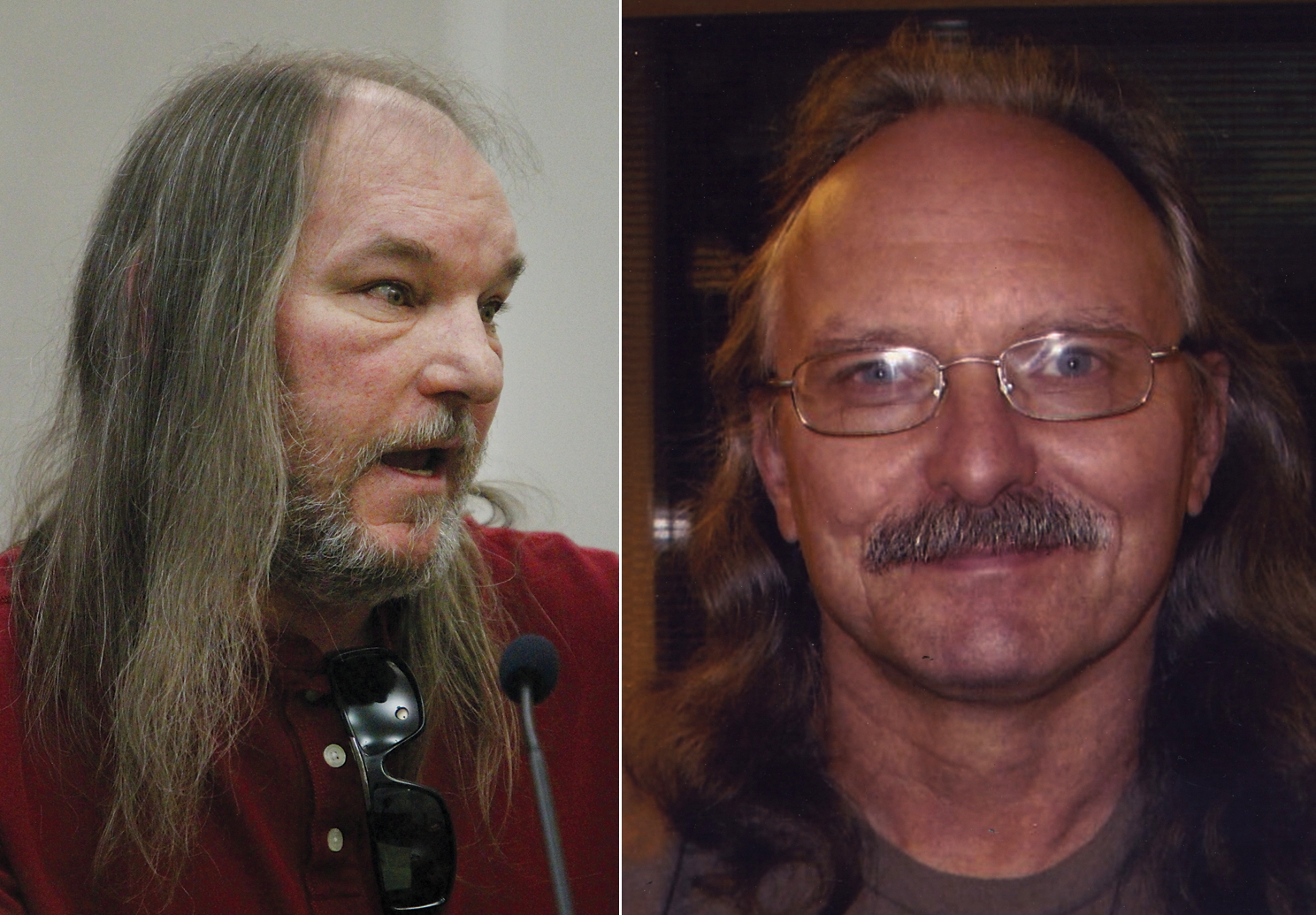 Scott Davis (left) and David Pauley (right), two of the men who had the misfortune of answering the Craigslist ad placed by the mysterious "Jack"
David Pauley was the first applicant who met Jack's exacting criteria. He was 51 years old, divorced, and living with his older brother, Richard, in his spare bedroom in Norfolk, Virginia. For nearly two decades, Pauley had worked at Randolph-Bundy, a wholesale distributor of building materials, managing the warehouse and driving a truck. He married his high-school sweetheart, Susan, and adopted her son, Wade, from an earlier marriage. For most of his life, Pauley was a man of routine, his relatives said. He ate his cereal, took a shower, and went to work at precisely the same times every day. "He was the stable influence in my life," says Wade. "I grew up thinking everyone had a nine-to-five."
But Pauley grew increasingly frustrated with his position at Randolph-Bundy, and finally around 2003 he quit. He bounced around other jobs but could never find anything steady. He and Wade often had disagreements, and in 2009 he and Susan got a divorce. Now he found himself sitting on his brother's easy chair, using Richard's laptop to look for jobs. Mostly he'd find temp stuff, jobs that would last only a few weeks. Sometimes he had to borrow money just to buy toothpaste. He got along fine with Richard and his wife, Judy, but their second bedroom—with its seafoam-green walls, frilly lamp shades, and ornate dresser—was hardly a place where he could put up his poster of Heidi Klum in a bikini or start enjoying his post-divorce freedom.
Pauley was cruising online job opportunities when he came across the Craigslist ad in October 2011. Usually Pauley looked for jobs only around Norfolk. But his best friend since high school, Chris Maul, had moved to Ohio a couple years earlier and was doing well. He and Maul talked dozens of times a day on the Nextel walkie-talkies they'd bought specifically for that purpose. If Maul, who was also divorced, could pick up and start a new life, why couldn't Pauley?
And the Craigslist job sounded perfect. Three hundred dollars a week and a rent-free place to live would solve all Pauley's problems at once. On top of that, his brother, an ex-Navy man, was always pestering Pauley to cut his long hair before job interviews. With a gig like this, who would care whether he had long hair—the cattle? Pauley sat down and wrote an e-mail to Jack.
Well about me, I'm fifty one years young, single male, I love the out doors, I currently live in virginia have visited ohio and i really love the state. Being out there by myself would not bother me as i like to be alone. I own my own pick up truck so hauling would not be a problem. I can fix most anything have my own carpentry tools.

If chosen i will work hard to take care of your place and treat it like my own.

I also have a friend in Rocky River, Ohio. Thank you, David.
A few days later, Pauley got an e-mail back from Jack saying that he had narrowed his list down to three candidates, "and you are one of the 3." Jack asked his usual questions—was Pauley married? had he ever been arrested for a felony?—and told him that if he was chosen, he'd have to start immediately.
Richard remembers his younger brother being energized in a way he hadn't seen in months. Pauley called Jack several times to see whether there was anything else he could do to help him decide. Jack promised that he'd call by 2 p.m. on a Friday, and Pauley waited by the phone. When 2 o'clock came and went, he told his brother, "Well, I guess the other person got chosen above me."
But early that evening, the phone rang. When Pauley got on the line, Richard recalls, his whole face lit up.
"I got it! I got the job!" he yelled as soon as he hung up. He immediately called his friend Maul on the walkie-talkie and started talking a mile a minute. He swore that this was the best thing that had ever happened to him and said he couldn't wait to pack up and go. To Maul's surprise, he found himself in tears. For the past few years he'd been worried about Pauley, whom he'd always called his "brother with a different last name." Maul remembers, "It was like, maybe this is the turning point, and things are finally going the right way." They made a promise to each other that on Pauley's first weekend in Ohio after settling in, Maul would bring down his hot rod and they'd drive around on the empty country roads.
Next Pauley called his twin sister, Deb, who lives in Maine. She told him that she hated the thought of him sitting alone on some farm for Christmas and made him promise that he'd come visit her for the holidays. He told her that his new boss was a preacher and said he felt like the Lord was finally pointing him toward the place where he might "find peace."
That week, Pauley went to the men's Bible-study group he'd been attending since he'd moved into Richard's house. For weeks he'd been praying—never to win the lottery or get a girlfriend, always for steady work. Everyone there agreed that God had finally heard his prayers.
The church gave Pauley $300 from its "helping hands" fund so that he could rent a U-Haul trailer. He packed up all his stuff—his model trains, his books and DVDs, his Jeff Gordon T-shirts and posters, his Christmas lights, and the small box containing the ashes of his old cat, Maxwell Edison—and hit the road.
Pauley arrived at the Red Roof Inn in Parkersburg, West Virginia, on the night of Saturday, October 22, 2011. It was not far from Marietta, Ohio, where he was supposed to meet his new employer at a Bob Evans for breakfast the next morning. He called his sister, who told him that she loved him and said to call back the next day.
Then, just before going to bed, he called up Maul, who told him, "Good luck. As soon as you're done talking to them tomorrow, let me know. Give me an exact location so I can come down Saturday and we can hang out."
The next day came and went with no call from Pauley. Maul tried him on the walkie-talkie, but there was no response. He then called Richard and got the number for Pauley's new employer, Jack, whom he reached on his cellphone. Yes, everything was all right, Jack told Maul. He'd just left Pauley with a list of chores. Yes, he would pass on the message when he saw him the next day. But a few more days went by without a call, so Maul dialed Jack again. This time Jack said that when he showed up at the farm that day, Pauley had packed all his things in a truck and said he was leaving. Apparently he'd met some guy in town who was headed to Pennsylvania to work on a drilling rig, and he'd decided to follow him there.
There was no way, Maul thought to himself, that Pauley would take off for Pennsylvania without telling him. The two men had been best friends since high school, when they'd bonded over their mutual distaste for sports and love of cars. Over the years they'd moved to different cities, gotten married, gotten divorced, but they'd stayed "constantly in touch," Maul said.
They kept their walkie–talkies on their bedside tables and called each other before they even got up to brush their teeth in the morning. They talked, by Maul's estimate, about 50 times a day. "Most people couldn't figure out how we had so much to talk about," Maul said. "But there'd always end up being something." But after Pauley reached Ohio? Nothing.
Early in November, about two weeks after he'd last spoken to Pauley, Maul called his friend's twin sister. Deb hadn't heard from him either, and was also worried—a habit she'd honed over a lifetime. When she and her brother were 14, their mother got emphysema. Since their father had left the family and their older siblings were already out of the house, Deb quit school and, as she put it, "basically became David's mother." Years later, she moved to Maine with her second husband and Pauley stayed in Norfolk, but the twin bond remained strong.
By the time she received the concerned phone call from Maul, Deb had already spent several days sitting with her laptop at the kitchen table, in her pajamas, looking for clues to explain why she hadn't heard a word from her brother. With a red pen and a sheet of legal paper, she'd made a list of places to call—the motel in Parkersburg, the U-Haul rental place—but she'd learned nothing from any of them. It wasn't until Friday night, November 11, nearly three weeks after Pauley had left for Ohio, that she remembered something else: Cambridge, the town where he had said the farm was located. She typed the name into Google and found the local paper, The Daily Jeffersonian. She scrolled through the pages until she landed on this headline, dated November 8: "Man Says He Was Lured Here for Work, Then Shot." There was no mention of the man's name, but there was one detail that sounded familiar: he said he'd been hired to work on a 688-acre ranch. The article cited the Noble County sheriff, Stephen Hannum. Deb called his office right away.
After picking up Scott Davis five days earlier, Hannum and his team had been following up on his strange story, but not all that urgently. They had Davis's explanation about the Craigslist ad, and they'd located security-camera footage from his breakfast meeting with his "employers." But Deb's phone call lit a fire under Hannum's investigation. She told Jason Mackie, a detective in the sheriff's office, that Pauley had talked with his friend Maul 50 times a day and then suddenly stopped. Although no one said it explicitly at the time, a sudden drop-off like that meant a missing person, and that in turn meant there might be a body.
The next day, a Saturday, the sheriff's office called an FBI cyber-crimes specialist to help them get information about who had written the Craigslist ad. They also sent a crew with cadaver dogs back to the woods where Davis had been shot. One FBI agent would later recall the "torrential downpour" that day and the sound of coyotes howling. A few hours before dark, the investigators found a patch of disturbed soil overlaid with tree branches. They began digging with their hands, until they found blood seeping up from the wet earth and a socked foot appeared. The body they discovered was facedown, and one of the items they removed from it was a corded black-leather bracelet with a silver clasp. Mackie telephoned Deb and described the bracelet. Yes, it was her brother's, she told them. The investigators also found a second grave, this one empty. They later learned it had been meant for Davis.
Now the investigators knew they were looking for a murderer. By early the next week, they had identified the man in the breakfast-meeting footage as a local named Richard Beasley. Additionally, the cyber-crimes specialist had received enough information from Craigslist to trace the IP address of the ad's originating computer to a small house in Akron. When the investigators arrived at the house, its occupant, Joe Bais, said he'd never written any ads on Craigslist and he didn't know anyone named Richard Beasley or Jack. But when they showed him a picture, he recognized the man who'd called himself Jack. It was someone he knew as Ralph Geiger, who until recently had rented a room from Bais for $100 a week. "Real nice guy," Bais would later recall on the witness stand. "He didn't cuss, didn't smoke, didn't drink … First Sunday he was there, went to church." As it happened, Geiger had just left him a note with his new cellphone number. The landlord called Geiger and kept him on the line as investigators traced the call. On November 16, an FBI SWAT team arrested the man outside another Akron house, where he had been renting a room after leaving Bais's place. The suspect's name was, in fact, Richard Beasley. Although investigators didn't know it yet, Ralph Geiger was the name of his first victim.
Tracking down the teenager who had been with Beasley/Jack when he drove Scott Davis out into the woods proved easier. Just as Jack had said, his name was Brogan, Brogan Rafferty to be exact, and he was a junior at Stow-Munroe Falls High School. A detective and an FBI agent drove to the school and interviewed Rafferty in the principal's office, while another set of investigators searched his house. Rafferty later told his mother that before he left school that day, he had found a girl he liked and kissed her, even though her boyfriend was nearby. He had been worried that he'd never see her, or anyone else from his high school, again. He was right to worry: that evening, police arrived with a warrant, and he was taken into custody.
Richard beasley, aka Jack, was born in 1959 and raised in Akron primarily by his mother, who worked as a secretary at a local high school, and his stepfather. He was briefly married and had a daughter, Tonya, who was about Rafferty's age. Over the years, he worked as a machinist, but his job record was interrupted by spells in jail. He served from 1985 to 1990 in a Texas prison on burglary charges and, starting in 1996, another seven years in a federal prison for a firearms offense. When he went on trial for the 2011 Craigslist murders, the photo favored by newspapers made him look deranged, with wild eyebrows and hair and a crumpled mouth. But during the trial, with his white hair combed and his beard trimmed, he looked almost like Santa Claus, especially when he smiled.
In the mid-2000s, a dump truck hit Beasley's car and he suffered head, chest, and spinal injuries. He had recently returned to Akron from federal prison, where, he told everyone, he'd found God, and he'd begun spending a lot of time at a local megachurch called the Chapel. After the accident, he started taking opiates for back and neck pain and stopped working steadily.
But Brogan Rafferty's father, Michael, who knew Beasley from the local motorcycle circuit, told me that even before the car wreck, Beasley had been "lazy." He was known as someone who always had "a little bit of an angle going," like a "scam artist," Michael Rafferty said. People in their motorcycle clubs knew Beasley had a criminal record, but to Michael Rafferty he seemed harmless, like he was "all talk." Michael Rafferty said he'd never once seen Beasley lose his temper in the 20 years he knew him.
Beasley didn't drink or smoke much, and he spent a lot of his free time at the Chapel, where he went to Bible study and worked in a soup kitchen. So when, at age 8, Brogan Rafferty said he wanted to start going to church on Sundays, his dad said it was okay for him to go with Beasley. It was only church, after all. And Michael Rafferty, a single parent who was working long shifts at the time, hated waking up early on Sundays anyway.
For the next eight years, Beasley was a regular presence in the Rafferty house on Sundays, coming by early to get his young charge, who'd be waiting in a slightly rumpled suit. Sometimes when he took Rafferty to church, Beasley would bring along his daughter, Tonya, or Rafferty's half-sister Rayna, who was three years younger than Rafferty and shared the same mother but, like Rafferty, lived full-time with her own father. (Rafferty's mother, Yvette, was a crack addict who didn't have custody of her four children and was rarely around when they were young.) Beasley was a mentor to Rayna and her brother, Rayna recalls. After Bible study, he'd sneak them leftover donuts or take them to McDonald's and talk to them about the importance of school or the danger of drugs. "The Bible is the key to peace of mind, and a road map to salvation," he wrote in the Bible he gave Brogan.
Around 2009, Beasley founded what he told friends was a halfway house to help reform addicts, runaways, and prostitutes. Beasley would cruise the streets of Akron at night, picking up strays and bringing them back to the house. If they were in trouble with the law, he would vouch for them in court, saying they had turned their lives over to Christ. A few times, Rafferty asked Beasley whether they could go out and look for his mother, Yvette, who Rafferty always worried was in trouble.
But there was another side to Beasley—and to his halfway house. Amy Saller, who later described herself on the witness stand at Rafferty's trial as a former crack addict and prostitute, lived at the house on and off for more than two years from 2009 to 2011. Beasley had picked her up one night, and she came to stay with him because he told her his mission was to "save all the girls that are on the streets," she testified. "I pictured him as a savior, somebody that was trying to help me." There were four or five other prostitutes in the house, Saller recalled, and Beasley got them all cellphones. Soon, instead of being their savior, he became their pimp. He began advertising their services online and driving them to meet johns. Saller said that Beasley would "do anything in his power" to keep the girls at the house, including buying them drugs. Saller said she never saw Beasley get violent, although she added that she was nonetheless afraid of him.
In February 2011, Beasley was arrested in Ohio on a variety of drug-related charges. While he was in jail, investigators were building a prostitution case against him. He was released on bond in mid-July. But after he failed to check in with authorities in Texas, where he was still on parole for his earlier crimes, the state issued a warrant for his arrest, and he was deemed on the run from the law.
Beasley wanted to disappear. The key, he realized, would be to assume a new identity, and it wasn't long before he came up with an idea. Whereas once he had preyed on prostitutes, now he would target a member of a new class of vulnerable citizens drifting at the margins of society: unemployed, middle-aged white men.
This will be the fourth time we've talked to you. And each time we get a little bit more. But tonight it all needs to come out, 100 percent. All right?
One week after arresting Brogan Rafferty, investigators made a deal with their 16-year-old suspect. If he agreed to testify against Beasley, he would be charged only with complicity to murder and attempted murder, respectively, in the cases of David Pauley and Scott Davis. He would not be charged with two other homicides that had by now been uncovered. Later, Rafferty would back out of the deal, but the plea-deal interview was recorded and the judge allowed it to be played at Rafferty's trial.
The story Rafferty told began in the first week of August, when Beasley told Rafferty that he was on the run from the law. He was determined not to go back to jail, and he suggested to Rafferty that "he needed [his] help to survive."
The first thing Beasley wanted was a new identity, and he began hanging around a local homeless shelter searching for someone who looked like him. He had by now come up with the perfect lure for a male victim in post-recession America: he would present himself as a beneficent but exacting employer, one with the power to alter a man's fortunes by granting him the "job of a lifetime" as the caretaker of a sprawling farm.
It wasn't long before Beasley met a man named Ralph Geiger, who for many years had run a thriving maintenance business, but for whom jobs had gradually dried up. Geiger, 56, was staying at a shelter and looking for work, and Beasley told him about the caretaker job he'd invented. Geiger had lived on a farm when he was younger, and he leapt at the opportunity. Rafferty remembers Beasley quizzing Geiger about his size and appearance: How much do you weigh? You look a lot like me, except your hair is a little bit darker.
At what other moment in history could a serial killer identify middle-aged white men as his most vulnerable targets?
Whether Rafferty knew that Beasley intended to kill Geiger would later become a key point in the teenager's trial, and he told different versions of his story at different times. In his plea-deal confession, Rafferty told the investigators that Beasley "said that he needed a new identity. And that this guy looked similar to him. And he said that he needed to somehow murder him." Later, though, Rafferty would tell the jury that he'd had no idea what was coming. The first time he realized that Beasley was anything other than a "very nice man," he claimed, was on August 9, when they drove Geiger to the same wooded spot where they would later take David Pauley and Scott Davis. After they got out of the car, Beasley raised a pistol and shot Geiger in the back of the head. "It was as if somehow I immediately slipped into a dream or something," Rafferty told the jury. "Like I had ice in my veins." From then on, Rafferty said, he lived in a state of fear and panic, terrified that Beasley would kill his mother or half-sister Rayna if he told anyone what had happened, or that maybe on their next run Beasley would kill him.
"He was just scared and he didn't see a way out," Rafferty's father, Michael, told me. "Heroes aren't born at 16."
Rafferty didn't tell anyone about Geiger's murder, but he did describe it in a poem dated August 16, 2011, that was later found on his hard drive. It was titled "Midnight Shift":
We took him out to the woods on a
humid summer's night.
I walked in front of them.
They were going back to the car.
I did'nt turn around.
The loud crack echoed and I did'nt
hear the thud.
The two of us went back to the car
for the shovels.
He was still there when we returned.
He threw the clothes in a garbage
bag along with the personal items.
I dug the hole.
It reached my waist when I was in
it, maybe four feet wide.
We put him in with difficulty,
they call them stiffs for a reason.
We showered him with lime like a
Satanic baptism
it was like we were excommunicating
him from the world
I thought there would be extra dirt,
he was'nt a small man.
There wasint. I don't know how.
We drove out of there discarding
evidence as we went
felt terrible until I threw up
in the gas station bathroom where
I was supposed to throw away the bullets and shell.
I emptied myself of my guilt, with
my dinner, but not for long.
When I got home,' took a shower hotter than hell itsself.
prayed like hell that night.
Rafferty grew moody that fall, according to his parents and friends, but they figured it was just hormones or girl trouble. He later told his mom that after homecoming, while the other kids were having fun, all he could think about was crashing the Buick his dad had bought him, so that he could join Gram Rita, his beloved grandmother who'd died a few years earlier. But he didn't wreck the car. He just stayed in his room and waited for Beasley to call.
Beasley, meanwhile, was constructing a life as Ralph Geiger. He dyed his hair brown and found a room to rent. He went to a doctor to get prescription painkillers for the injuries he'd sustained in his car accident. In September, he landed a job as a quality inspector at a company that made liftgates for trucks. But it didn't last long. Beasley's back still hurt, and he became worried that parole officers would somehow catch on to him. Still, he couldn't survive without a steady income. Perhaps that's when the idea came to him. The Geiger killing had gone so smoothly that he could turn it into a career of sorts, preying on other men who'd fallen out of the economy.
Instead of trolling the shelters, as he'd done to find Geiger, Beasley came up with the strategy of placing an ad on Craigslist. After all, he didn't want his victims to be completely down and out. He needed men on the margins, yes, but not so marginal that they didn't have some possessions worth killing for: a truck or a TV or a computer or even a motorcycle.
On Sunday, October 23, as David Pauley was driving his U-Haul full of stuff to the breakfast meeting with his new employer, Rafferty woke up early. He fed his cats, tidied his room, and told his father he was heading out for a job digging drainage ditches. "I love you, Dad," he said as he left to pick up Beasley. Before driving to the Bob Evans in Marietta, Beasley and Rafferty went to Kmart and bought a couple of shovels. Then they drove to a spot not far from where Geiger was buried, and Rafferty dug the grave intended for Pauley. Before they left, Beasley put a $20 bill under a nearby rock: if it was gone when they came back, he'd know someone had been there.
After breakfast with Pauley, Beasley had his new hire follow him to the Emporium in Caldwell, to park his truck and trailer. He told Pauley the same story about the road to the farm being split that he would later tell Davis. On the subsequent drive in the Buick, Pauley asked about the job and Beasley told him not to worry: "You get an honest day's pay for an honest day's work." When they pulled over near the creek, Beasley asked Rafferty and Pauley to follow him up a hill, but Rafferty said he had to go to the bathroom. "And then, as I finished and turned around," Rafferty told investigators, "I heard a crack." Pauley was lying facedown. Somehow his cowboy hat had ended up hanging on a nearby branch.
Back in Akron, Beasley began to improvise. He'd heard from a friend about the reality-TV show Storage Wars, in which people bid on abandoned storage units hoping that there might be valuable items hidden inside. Beasley told people he was involved in that kind of thing, and began to unload Pauley's stuff: he returned the U-Haul, sold Pauley's truck for $1,000, and sold the other belongings—the Christmas lights, the model trains, some tackle boxes, the Jeff Gordon memorabilia—to neighbors or at flea markets.
The Pauley money quickly dwindled, but Beasley wasn't all that concerned. He already had a still-better victim lined up in Scott Davis. Before Davis had even hit the road for Ohio, Beasley told his landlord that he'd won a bid on a fantastic storage unit that contained a flat-screen TV, a computer, some lawn-care equipment, and, best of all, a Harley. He told Rafferty that he thought he could net $30,000 on this kill, enough for him to make it through the winter.
But at Beasley's moment of anticipated triumph, his gun jammed. Rafferty was waiting in the car when he saw Beasley hustling back toward him. "He got away," Beasley said, breathing hard as he climbed back into the Buick. If they saw Davis along the road, Rafferty told the investigators, "I was to hit him with my car." But they didn't find him, so they headed back out onto the highway. Beasley started madly tossing things out of the car—the shovels, a leather jacket, the air freshener, even his own laptop. If Davis made it to the police, he didn't want the Buick to be easy to identify. Rafferty went along, but he refused to toss out the rosary beads hanging from the rearview mirror. They were a gift from his Gram Rita.
Eventually, they made their way back to Akron, where, as Rafferty saw it, any logic or purpose to Beasley's actions went out the window too. Following a botched murder like Davis's, you'd think Beasley would lie low. But he'd been counting on that haul, and now that it had fallen through, he recklessly pursued another. Though police were already talking with Davis and beginning to track down leads, they didn't move quickly enough to save Beasley's fourth and final victim. On Sunday, November 13, exactly a week after the attempt on Davis's life, Beasley and Rafferty picked up a man named Timothy Kern in the parking lot outside a pizzeria in Canton, where he'd spent the night sleeping in his car. Kern was from the Akron area, 47 years old and divorced. He'd recently lost his job as a street cleaner.
Beasley had a mental inventory of the items he thought Kern was bringing with him, and almost as soon as they got into Rafferty's Buick, Beasley began questioning him. Did he have that laptop he'd mentioned? Kern said no, he'd left it behind with his sons Zachary and Nicholas. The flatscreen TV? Same story: Zach and Nick had it. Instead, Kern had brought an old TV. Apart from that, he just had a couple of garbage bags full of clothes and cassette tapes, which fit easily in the back of Rafferty's car. That, and the late-'80s sedan that he'd abandoned in the pizzeria parking lot because it barely ran.
"I get half a pit in my stomach," Rafferty later told the investigators, "because as the story goes on and on, I'm realizing that I'm about to help Beasley do this for no reason at all. Not that I even wanted to do it at all. But it takes, like, all the minimal sanity and reason out of doing this … It would be like if a lion killed a zebra just to kill it … Just 'cause it wanted, like, its hoof or something. The man literally I think had $5 in his pocket." One other thing struck Rafferty at the time—enough so that he mentioned it to the investigators more than once: Timothy Kern had given everything he had of value to his sons, who were just a little older than Rafferty himself. It was clear that Kern's family had broken up, but just as clear was that "he loved his kids," Rafferty told the investigators.
In his e-mails to Jack, Kern had described himself as single and "available for immediate relocation," but hadn't said much about his sons. In truth, Kern was ambivalent about the caretaker job he'd been offered—he described it on his Facebook page as a "good offer" but with "drawbacks," because he would be more than two hours away from his sons and wouldn't have cellphone service. Kern and his ex-wife Tina had divorced in 1997, and Zach and Nick were already 19 and 17. But Kern made a point of seeing them nearly every day, even if that meant waiting around the corner from their house until after Tina left for work.
Kern's marriage wasn't the only thing in his life that had fallen apart. In the 1990s, he'd worked as a sound engineer at a local club, but when he lost that job in 2000, he had trouble finding a new one. He lived with his parents for a few years, but then his father kicked him out, and after that no one was sure where he slept. Maybe in his car.
But despite all that, or maybe because of it, he was never unsteady in his commitment to Zach and Nick. He focused on his children in the intense way certain divorced dads do when they're cut off from the daily routines of their families. (He had another son from an earlier marriage, whom he didn't see much, and that might have played a part, too.) "He only cared about these two. I mean, that was his purpose, that was his thing," his ex-wife told me. It sometimes drove her crazy that he'd spend his last penny on cellphone bills to make sure he could stay in touch with the boys—instead of, say, keeping up with his child-support payments. "All day, texting, every day," Tina said.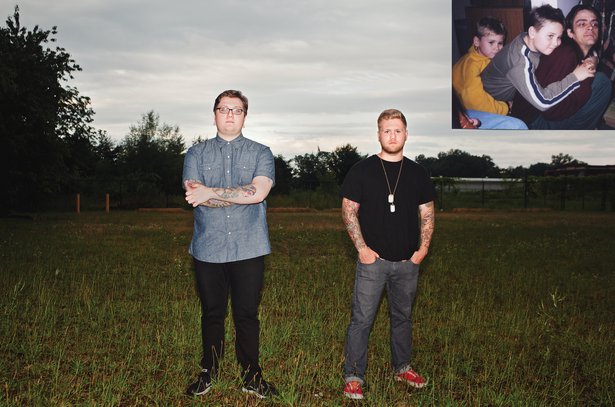 Inset: Victim Timothy Kern with his sons Nick and Zach around 2001 (Courtesy of the Kern family). Large photo: Zach and Nick today (Gregg Ruffing).
Zach and Nick present themselves to the world as pretty tough—they're both covered in tattoos, and Zach plays in a heavy-metal band—but they had remarkably tender relationships with their father. They knew, for instance, to always answer his texts quickly, so that he didn't get his feelings hurt and follow up with Oh, I see you're busy or 2 cool 4 dad. The day Kern left for Ohio, Nick, who was a senior in high school, lent him $20. That night, Nick texted him before going to a party: I love you. I miss you. I'm proud of you. Good luck. When Kern got up the next morning, he wrote Nick: Text me when you wake up. Love you. Leaving soon.
Rafferty knew that they weren't taking Kern to the same spot where they'd shot Geiger, Pauley, and Davis—not even Beasley was that crazy. Instead, their destination was a narrow wooded area behind a mall on the western edge of Akron, where Beasley had had Rafferty dig a grave the night before. He'd done a sloppy job: it was barely two feet deep and uneven, but Beasley no longer seemed to care. It was a Sunday, and the mall was empty. Locals refer to the place as a "dead mall" because every store had gone out of business during the recession, except for a mattress-and-furniture liquidator, where desperate families went to sell their belongings. The other storefronts were suspended in a last moment of forced cheer, with neon signs in the windows still reading Everything must go and Wall to wall savings.
They parked, and Beasley told Kern that they had been there squirrel hunting earlier and he'd lost his watch. Kern followed Beasley into the woods behind, which were littered with plastic cups and beer cans from a party. Rafferty kept his distance, he told the investigators, and then "heard a pop." He saw Kern on his knees, holding the side of his head. He kept taking "enormous gulp[s] of air." Three shots later, he was still gulping. Finally, on the fifth shot, he stopped.
That night, Nick tried to call his dad and got no answer, but he figured he was just getting settled. Then a couple of days went by and Nick started to get worried. "I called him like 2,000 times. Because he would contact us like every hour of every day. And now nothing?" Nick began sleeping with his phone in his hand and waking up to listen to the messages, even though no new ones had registered. The next Sunday, a week later, he was at a friend's house watching a football game when his mom called and told him to come home immediately—she had something she needed to tell him.
"Tell me now!" he screamed into the phone. "Tell me right fucking now!" As he explained to me, "I knew. Because that would be the only explanation for him not calling us."
I was initially drawn to the story of the Beasley murders because I thought it would illuminate the isolation and vulnerability of so many working-class men, who have been pushed by the faltering economy from one way of life—a nine-to-five job, a wife, children—into another, far more precarious one: unemployed or underemployed, single or divorced, crashing on relatives' spare beds or in the backseats of cars. At what other moment in history would it have been plausible for a serial killer to identify middle-aged white men as his most vulnerable targets?
But what I discovered in the course of my reporting was something quite different. As traditional family structures are falling apart for working-class men, many of them are forging new kinds of relationships: two old high-school friends who chat so many times a day that they need to buy themselves walkie-talkies; a father who texts his almost-grown sons as he goes to bed at night and as he wakes up in the morning.
Christians often talk about a "God-shaped hole," a need inside us that can be filled only by faith. But perhaps we share a "family-shaped hole." When the old structures recede for men, they find ways to replace them with alternative attachments, bonds with one or two people that offer the warmth and intimacy typically provided by a wife or significant other. If anything, these improvised families can prove more intense because they are formed under duress and, lacking a conventional domestic routine or a recognized status, they must be constantly tended and reinforced.
While researching a recent book she co-wrote about working-class fathers, Doing the Best I Can, the sociologist Kathryn Edin noticed something surprising. The men she spoke with were exceptionally emotional when it came to their children—children whom many of the men did not live with and were not steadily providing for. They had taken the ethos that fathers should be involved with their children and "kind of gone overboard with it," Edin explained to me, "so they were even more expressive than middle-class men." Often this emotiveness spilled over into other areas or landed on children who were not their own, or even on other adults—a sibling or cousin, a childhood best friend—as if the men were inventing a new language of intimacy. In some cases, when a man was courting a woman, Edin found that he would court her child so intensely that it seemed "the child was the main audience for his affections," not the mother.
Edin concluded that for men who are failing the traditional tests of marriage and parenting, this kind of intense emotional connection "is the last form of identity available." It's a way to maintain a sense of family if you can't be a reliable breadwinner, or even keep up with child support.
David Pauley had his friend Chris Maul and his twin sister, Deb. Timothy Kern had his sons Zach and Nick. Scott Davis was fortunate enough to live to tell his own story, but even if he hadn't, his mother was eagerly waiting for him to arrive in Ohio to help fix her house. Of all Beasley's victims, the one it took me the longest to learn much about was the first, Ralph Geiger. He had some family in California and Atlanta, but unlike the relatives of the other victims, they did not attend the trials of Beasley and Rafferty. After Geiger was cremated, his ashes were delivered to a young woman named Summer Rowley. Though she was not a relative of Geiger, she did attend the trials, and I visited her at home one day. She mentioned that she was afraid of what people might think about Geiger's relationship with her, that he was just "hitting on the pretty young girl. But he would never do that."
Rowley met Geiger in 2004, when she was 19 and he was 49. A friend had set her up with a job cleaning his house, and after a few visits he asked her whether she wanted to try painting some drywall. Rowley didn't know how to do that, but Geiger taught her, and after a while they began working together regularly. He taught her how to fix a drain, caulk a hole, and perform various other plumbing tasks. He taught her how to cook a roast and make soup. "He was like a father," Rowley told me. He helped change her from a wild teenager into a young woman who was ready, at 25, to have a baby with her fiancé. When her daughter was born, she presented Geiger as the little girl's "pa-pa." On the mantle beneath Rowley's TV is a picture of Geiger nestling the infant, barely a week old, against his big chest.
Richard Beasley had believed that no one would come looking for the divorced, unsettled, middle-aged men he was targeting. But he should have known better. Like his victims, Beasley was himself divorced, and lived apart from his child, and was only sporadically employed. And like them, he too had created an intense surrogate family relationship, with Brogan Rafferty.
When prosecutors interviewed Beasley's daughter, Tonya, she said that when she saw her dad and Rafferty together on Sunday mornings, they seemed like father and son—much closer to one another than she and her dad had ever been. On the stand, Rafferty described Beasley as "the one person that I could go to … about anything," "a father that I never had."
Rafferty, of course, did have a father, one with whom he lived and who provided for him—right down to the white Buick LeSabre. But long before the murders, Rafferty would complain to his half-sister Rayna about how tough his dad, Michael, was on him. Michael hardly had an easy situation himself. When Brogan was not yet a week old, Michael came home from work one day to discover that his wife, Yvette, and his infant son were gone. It was bitterly cold that week—Brogan was born on Christmas Eve—and Michael searched for 48 hours before Yvette came back home. He assumed she was doing drugs again, and as much as Michael loved her, he decided to kick her out and raise Brogan alone, with the help of his own mother, Rita.
At the trial, the local press seized on the story of how, at age 5, when he was in kindergarten, Brogan would eat breakfast alone, get himself dressed, and make his own way to the bus stop. "He raised himself, in my opinion," one grade-school counselor who knew him told the jury. But things weren't quite so simple: Michael explained to me that he worked an early shift at a machine shop and had to leave the house by 6:30 a.m. Before he left, he laid out clothes for his son, poured his favorite cereal in a bowl, and left him a little pitcher of milk. Then he gently woke him up and left for work.
That said, Michael allows that "I put a lot of responsibility" on Brogan, because it was "just the two of us." Michael is regimented and strict and has a fierce temper. He had been raised to believe that boys don't cry, and he raised Brogan the same way. Rayna believes that Brogan drifted toward Beasley because he was a little scared of his father, and Beasley was "like an escape."
Rafferty's lawyers wondered whether Beasley and the boy had a sexual relationship. Rafferty's dad wondered too. How else to explain a bond so intense it led Rafferty to pick up a shovel and dig four graves? But Rafferty rolled his eyes when his dad asked and said, "It wasn't like that at all." The real explanation seems less complicated. Michael represented an old vision of fatherhood: strict, manly, and reliable, working the early shift to put food on the table but coming home worn and agitated. Beasley, by contrast, had no such parental obligations and was free to represent a newer and in some ways more appealing vision: expressive, loving, always around to listen and give advice. It was easy for Beasley to be a hero to Rafferty—and, to a lesser degree, to Rayna and the other kids at their church. He did what their distracted, overworked, and somewhat traumatized parents couldn't do, Rayna says, which was "really connect to us."
In November 2012, a jury convicted Brogan Rafferty of two dozen criminal counts, including murder, robbery, and kidnapping. Judge Lynne Callahan told Rafferty that he had been "dealt a lousy hand in life" but that he had "embraced the evil," and sentenced him to life without parole. In April 2013, Richard Beasley was also convicted of murder and was sentenced to death. Throughout his trial, he maintained that he was innocent. (Both Beasley and Rafferty are appealing their convictions.)
In letters to his father now, Rafferty sometimes sounds like a kid and sometimes like a damaged man: "I'm sorry … I left my room a mess when I left. I'm sorry for disgracing you and the family name," he wrote from jail. He reads books from the library straight out of a high-school curriculum—The Grapes of Wrath and Catcher in the Rye and Treasure Island. He identifies with All Quiet on the Western Front, he wrote, because prison life is like war: "Each man fights his own battle, and each with an invisible enemy." He has admitted to his dad that he used to resent him for being so strict, but now he's grateful, because thanks to all the rules and the chores and the premature independence, he knows how to take care of himself.
Mostly, though, his letters are full of longing for family, for his dad and his half-sisters, his dog, Whiskey, and his cats, Cow and Monkey, his mom and his grandma and grandpa and his aunts and uncles. The Raffertys are an old Irish clan, with a coat of arms hanging in the living room. Rafferty draws that coat of arms sometimes in prison, along with the two tattoos he wants to get, one that says Dad and another that says Rita.
I deserve to be here, but I don't deserve to sit in a hole while my loved ones and pets die around me. That's Hell.

I love you Dad, and I always will.