When RFK Played the What-If Game
In 1966, The Atlantic assigned the NBC News correspondent Douglas Kiker to take the measure of the late president's brother and political heir, who, seeing the presidency as his destiny and his due, was biding his time until Lyndon B. Johnson was out of the way.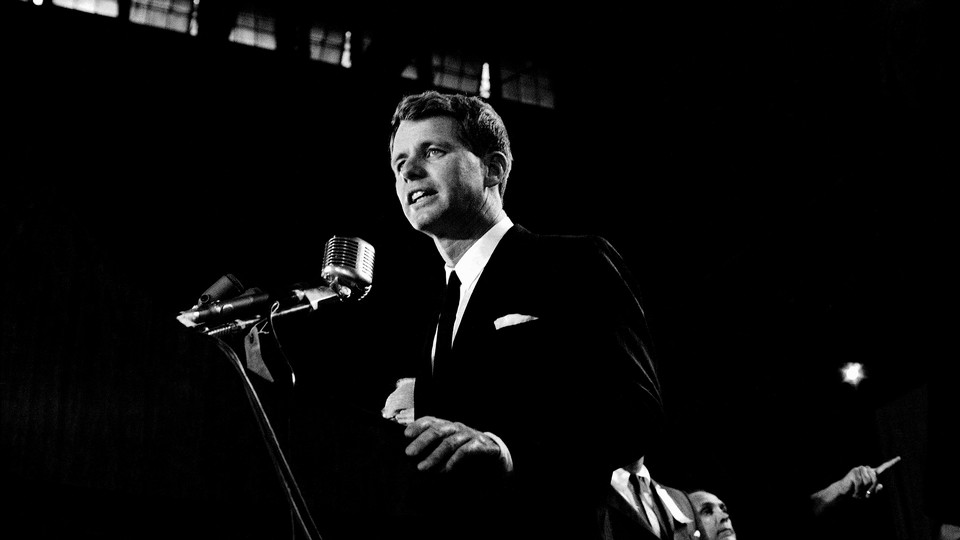 The singularly most impressive feature about Robert F. Kennedy is that at the age of 40 he possesses the casual confidence of a man who knows that one day he is going to be president of the United States. It might not happen in 1968, and it might not happen in 1972 either. But Kennedy knows it is going to happen one day …
Kennedy grins. He receives 5,000 letters and 300 speaking invitations every week. Kennedy shrugs and says, believe it or not—it's up to you—he just doesn't think about the next six years. He agrees with a melancholy nod when it is suggested that he is a fatalist. "I just think there's one time around, and you don't know when it's going to end, so it's better to do what you can that's productive now," Kennedy says. "Kennedy is a fatalist, but one who won't let anything interfere with his fate," a White House assistant [to Lyndon B. Johnson] suggests. "Yes, I think that's right," Kennedy says softly, after long silence for thought, with a faraway look in his eye …
Yes, he has friends. In fact, at 40, Robert Kennedy has everything: He has money. He has youth. He has a power base. He has vast political experience for a man of his years. He has his brother's name, and the older he gets, the more he resembles him—or is that fancy moving forward to capture the mind as memory slowly retreats? He has ambition ("Bobby, I appreciate your desire to lead this country," Johnson once said sarcastically to him). He has a sense of duty. He has great intelligence. There is nothing he does not have except the presidency, and he even has the inner knowledge that this inevitably will be his too.
But he seems to stand amid all this like some troubled young man in white flannels, gazing at the grounds of his vast inherited estate, vaguely troubled and not knowing why. It seems to give him no sense of excitement, no real challenge, and it may be something which he feels deep within is not rightfully his own. He is his brother's heir.
He is heir to the Kennedy glamour; Johnson is the nation's first public figure, but Kennedy is its first public male celebrity.
He is heir to the tragedy of Dallas, to the fact that the American people feel guilt over John F. Kennedy's death and must make retribution for it.
He is heir to what is apparently an unlimited treasure of public goodwill; the American people will forgive him anything. His national image, at this point, is golden and unassailable.
He is heir to a political party being administered in trust for the moment, consisting of a network of senators, congressmen, governors, mayors, state and county chairmen, and vast hordes of volunteer workers, many of whom came to power with his brother and wait now to serve him.
He is heir to the nation's young, over 23 million of whom will come of voting age between now and 1972. He is heir to the very aura and mystique which surround such political riches, for there are few in the Johnson administration today who would deliberately offend a possible future president. He is heir to all of this, but it doesn't seem to give him much satisfaction. He is heir to the White House, and he plans to claim it one day, but he appears to be able to wait for it.
It is this sublime confidence, this coolness, this disdain (many others have called it arrogance), that is most striking about the man. The political estate he has come into might not give him vast happiness and satisfaction, but—to the manner born—he has assumed ownership of it with assurance and deft control. That it belongs to him is a fact he takes for granted. He truly does want to be president, and he is moving toward it.