Knifed
How a Kennedy brother-in-law, Sargent Shriver, fell victim to the jealous acolytes of a political dynasty in mourning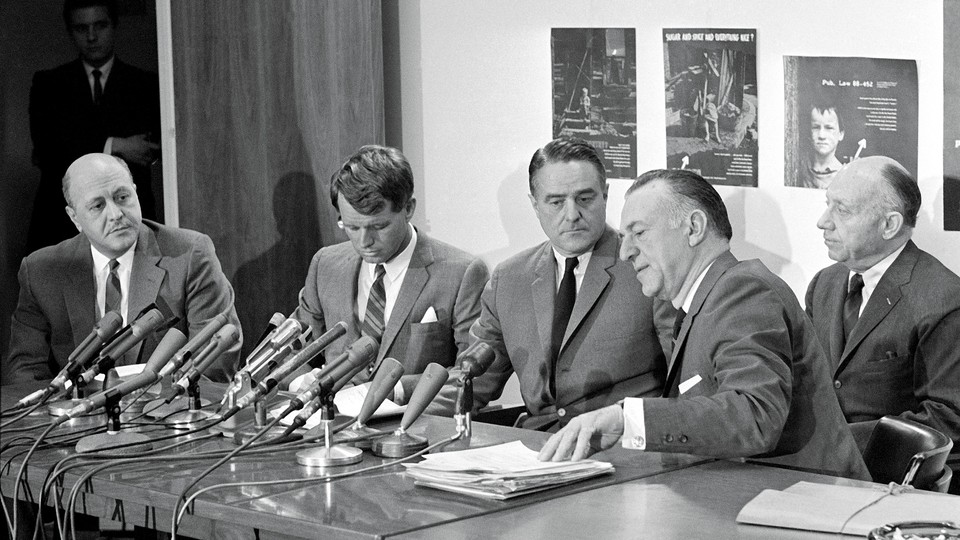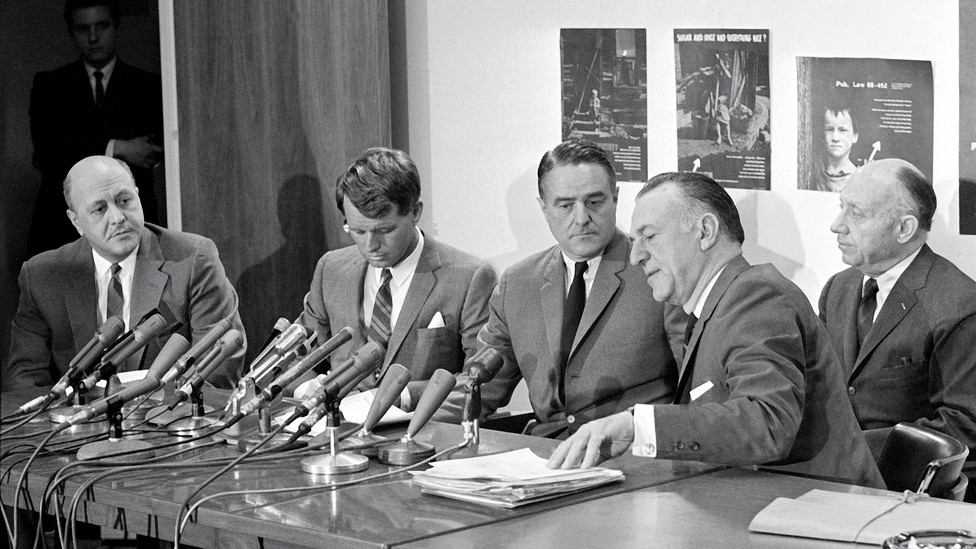 In the spring of 1968 Sargent Shriver—the founding director of the Peace Corps, the head of [President Lyndon B.] Johnson's War on Poverty, and, as the husband of Eunice Kennedy, a brother-in-law of John, Robert, and Edward Kennedy—was appointed U.S. ambassador to France. His appointment was not without controversy in the upper reaches of the Democratic Party—and in his own extended family.
The problem was that during the fall of 1967 Bobby Kennedy had begun contemplating challenging Johnson for the Democratic nomination. Kennedy had been increasingly opposed to LBJ's handling of Vietnam, and he and Johnson had never had much use for each other; Kennedy had to stifle his distaste when his brother selected LBJ as his running mate in 1960. Even though their mutual dislike was no secret, for the most part the two had maintained an outward truce, and Kennedy had resisted seeking the nomination for fear of creating a damaging rift within the party. Late in 1967, however, Senator Eugene McCarthy, of Minnesota, began his own campaign; now RFK could not be held solely to blame for any rift.
In late January of 1968 the Tet Offensive destroyed any remaining credibility LBJ had with liberal Democrats and lost him the support of the American people generally … Kennedy knew if he wanted to make a move, he had to do it soon.
The president had offered the ambassadorship to Shriver earlier that winter. So while Kennedy was considering whether to run against Johnson, Shriver was considering whether to go to Paris. Shriver monitored Kennedy's deliberations closely. It clearly bothered Kennedy that his brother-in-law had remained in the Johnson administration long after many other former JFK aides and Cabinet members (including RFK himself) had left. But as long as the veneer of a truce existed between LBJ and RFK, Shriver could stay with impunity. If that truce were broken by Kennedy's entering the Democratic race, however, Shriver would be seen as sleeping with the enemy if he continued to serve the administration in any capacity.
It was a no-win situation. Ever since John F. Kennedy's assassination, when Johnson had reached out to him in an effort to signal continuity with the Kennedy administration, almost anything Shriver did (or didn't do) for Johnson had been fraught with symbolic weight. For good or ill, both sides saw him as The Kennedy in the Johnson administration. Shriver had always supported the Kennedy family's political aspirations, but he was still working for Johnson, and he believed it was his patriotic duty to serve the president's interests. Meanwhile, although he remained unwaveringly devoted to the anti-poverty program, that wasn't enough for the president, who pressured him to accept the Paris appointment … He wanted Shriver out of the country—and out of RFK's orbit.
In the second week of March, Shriver told Johnson he would accept the ambassadorship, pending the approval of the French government. Then he left with Eunice for a vacation in Spain. A few days later, on March 16, LBJ's fear was realized: Bobby Kennedy announced that he would seek the Democratic presidential nomination. On March 22 Secretary of State Dean Rusk called Shriver in Madrid seeking reassurance that Shriver still wished the president to submit his name to the Senate for confirmation; he and Johnson were worried that Kennedy's announcement might have caused Shriver to reconsider. But Shriver had made up his mind: he would go to Paris.
Although Shriver accepted the appointment without any malign intent, some of those close to RFK saw his decision as an insult to their candidate. What's more, Shriver, citing his diplomatic obligations, declined to work for the Kennedy campaign—even after Johnson withdrew from the race, on March 31. To some in the Kennedy circle, this was an unforgivable violation of the family code.
Nor was it his first. In early 1964 Johnson had leaked word to the press that Shriver topped his list of potential running mates for that year's election. LBJ believed that in making this known he could keep Bobby Kennedy off the ticket (there was considerable pressure to put him on it) and inoculate himself against attacks from Kennedy's wing of the party. But to Kennedy, for one of his in-laws to even contemplate joining LBJ's ticket constituted a betrayal …
Then, tragically, everything changed. A few minutes after midnight on June 5, 1968, moments after he had given a speech in the ballroom of the Ambassador Hotel in Los Angeles, celebrating his victory over Eugene McCarthy in the California primary, Bobby Kennedy was shot. He died in the hospital the next day. LBJ sent Air Force One to transport Kennedy's body to New York, and the Shrivers flew to LaGuardia to join family members and Kennedy's aides. When Shriver tried to help unload the casket from the plane, some of the aides pushed him away, bitter in their grief.
The order of succession—which had previously run from Joe Jr. to Jack to Bobby to Ted—was no longer clear.
Kennedy's former advisers soon dispersed to the campaigns of the remaining candidates for the Democratic nomination, among whom the two leading contenders were now McCarthy and [Vice President Hubert] Humphrey. But the "Kennedy movement," as the journalist Theodore White called it, longed for Ted Kennedy to enter the race, or at least to make himself available as a running mate. The American people, especially Democrats, craved a Kennedy on the 1968 ticket. If Ted was not going to step forward, however, the order of succession—which had previously run from Joe Jr. to Jack to Bobby to Ted—was no longer clear. For Kennedy supporters outside Bobby's inner circle, the next best alternative was Shriver: a Kennedy in-law who shared RFK's commitment to social programs and who had something of JFK's dash and style. By the third week in June newspapers were reporting that Shriver was one of Humphrey's top choices for a running mate. On June 21 Humphrey told reporters that he was "very interested" in allying himself with Shriver.
A Shriver nomination would be politically tricky, because no one knew exactly what the Kennedys wanted and whether or not they would approve. Nevertheless, the first signs were positive …
[In late summer] Ted Kennedy weighed in. He talked to Shriver by phone in France for about half an hour. On the question of whether the family would support Shriver on the Humphrey ticket, Kennedy was ultimately inconclusive. But the substance of the conversation, as Shriver described it the next day in a letter to one of his closest friends, was revealing. Shriver wrote, "Many K[ennedy] boosters really are sore at me—even bitter—because I didn't help more [on RFK's campaign]." Ted agreed to "keep in close touch" with Shriver through the convention and said that if [Kennedy brother-in-law] Steve Smith was the source of negative comments about Shriver, he would "slow him down or shut him up." Shriver now realized, however, that there was a fundamental problem: "Those who had staked most of their personal hopes on RFK are extremely frustrated—& the prospect of anyone 'in the family' who didn't impale him—or herself—on a picket fence without regard to the consequences—suddenly being in a position to pick up all the marbles—that prospect is galling!" Shriver concluded his letter with uncharacteristic bile: "Clearly … the same clique who opposed [the Peace Corps] as an independent agency—the same palace guard (now without a palace) (or a pretender) find it hard to accept the prospect of a prodigal in-law (let alone son) sitting down to their feast."
"All I asked Teddie was for neutrality," Shriver wrote …
Humphrey was evidently convinced that Shriver had all the qualifications he was seeking in a running mate; [Humphrey confidant] Max Kampelman recalled in a memoir, "Hubert was very fond of Sarge, whose genial and charming exterior hid a strong sense of principle, personal integrity, and stubborn independence." But he felt he could not choose him without the Kennedy family's unequivocal blessing …
The convention opened on Monday, August 26. By Wednesday morning it looked as though Humphrey had the nomination sewn up …
Over breakfast with Humphrey on Wednesday morning, [Chicago Mayor Richard] Daley—having finally accepted that Kennedy would not run for vice president—had strongly urged him to pick Shriver. The Chicago Daily News that day enthusiastically trumpeted Shriver's qualifications. In Paris, Shriver had been meeting with Averell Harriman and Cyrus Vance, LBJ's leading negotiators in the Paris peace talks, to discuss what sort of peace plan he would urge on Humphrey if offered a place on the ticket. He began thinking about how, if nominated, he would proffer an olive branch to the peace movement generally, and to the protesters who had been beaten and jailed in Chicago in particular.
But late Wednesday night, as Harris Wofford, who had worked for JFK in the White House and for Shriver at the Peace Corps, recorded in a memoir, Senator Walter Mondale, of Minnesota, called him from Humphrey's suite to say that "Kennedy family opposition to Shriver's nomination was weighing heavily against his selection." (Wofford suspected that [longtime JFK aide] Kenny O'Donnell was speaking in the family name, "perhaps without prior authority." Indeed, as Kampelman later recalled, O'Donnell made clear to Humphrey during the convention that "the family would consider it an unfriendly act" if he were to select Shriver.) Wofford told Mondale that this "former Palace Guard" had "no monopoly on the Kennedy legacy." Besides, he asked, did Mondale really think that a man as decent as Ted Kennedy would impede the electoral aspirations of his own brother-in-law?
In fact, it seems, Kennedy already had. Earlier in the day, according to Humphrey's aides, he had called Humphrey and promised his support. But notes [Shriver's friend Bill] Josephson took on a conversation with Kampelman that September make clear that the support did not extend to Shriver. According to the notes, which I obtained from Josephson recently, Kampelman recalled Humphrey's exact words after getting off the phone with Kennedy: "I sensed Teddy was not adamant [in his opposition to Shriver], but led [me] to believe better not."
Reflecting on these events nearly 40 years later, Ted Kennedy acknowledges having been disappointed at Shriver's decision not to participate in RFK's campaign. But he insists that he did not veto Shriver's nomination for vice president. He says that he does not clearly recollect the telephone conversation with Humphrey about Shriver, but that he will never forget how he felt at the time. His brother Bobby's death had been devastating to him; he was in a state of physical and emotional exhaustion. Having had two brothers assassinated while campaigning, Ted wanted to get as far away from politics as possible until his wounds could heal. His distress and his desire to retreat from politics, Kennedy believes, account for any negative vibrations Humphrey may have received when they spoke.
Whatever Ted intended, on Thursday morning Humphrey's people let Shriver's people know that the choice for VP was down to [Oklahoma Senator Fred] Harris and [Maine Senator Edmund] Muskie. (Ultimately Humphrey chose Muskie.) "We needed the good will of the Kennedys more than we needed Sarge," one of Humphrey's advisers said at the time. "His name was effectively vetoed" …
Two years after the 1968 convention Max Kampelman had lunch with Shriver in Washington. As Kampelman recorded in a letter soon afterward, "We … talked about 1968 and Chicago. I again made it clear to [Shriver] that he was knifed and I believe he knows that. I believe he also knows who did it."