JFK's New Industrial State
As New England's textile-mill business and other industries fled to the low-wage South, a freshman senator from Massachusetts suggested a solution.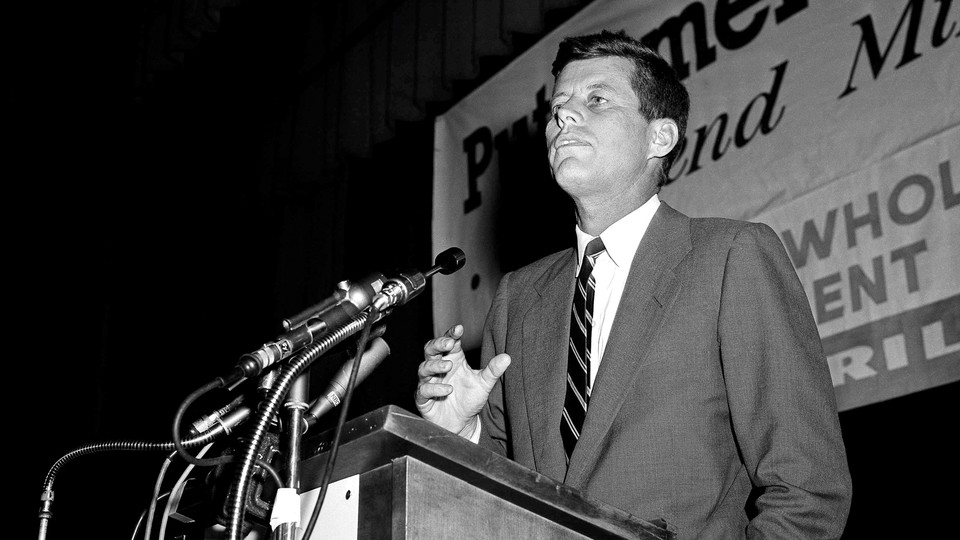 After three terms in the U.S. House of Representatives, JFK became a senator in 1953, at age 35. The following year, he published a cover story in The Atlantic that delved into the eco­ nomic disaster facing his home state and region as—propelled by federal policies—mainstays of their manufacturing base slipped southward. The article was almost certainly the work of Theodore Sorensen. Sorensen had left the staff of the joint congressional committee on railroad retirement to work for Senator Kennedy—induced by the thought, Sorensen said later, that Massa­ chusetts "had neither responded to the growing competition of other regions nor made the most of postwar industrial developments." Sorensen became Kennedy's legislative assistant and, in the White House, a valued counselor and his finest wordsmith.
Nearly 14,000 employees working for the John Doe Company, a New England textile concern, lost their jobs in the period following World War II because of the liquidation of 13 of their mills. During the same period, the same company opened a large number of new plants in the South. It had "migrated." Why? To what extent was it influenced by natural advantages, by unfair practices, or by the policies of the federal government?
For one southern operation, the John Doe Company bought a surplus naval factory at a low price; and for another, it obtained an accelerated tax-amortization certificate from the federal government, authorizing it to depreciate its plant within five years rather than the normal period of 20 to 25 years. It also utilized a federally tax-exempt charitable trust in order to avoid taxes on several of its new southern operations, and negotiated with three southern communities for the building and equipping of more new plants through the issuance of municipal revenue bonds that are exempt from federal taxation.
Not a single one of the John Doe Company's southern plants has been organized by a labor union, although attempts at unionization have been made for more than 10 years. Injunctions, employer propaganda, and procedural delays under the Taft-Hartley Act have prevented the union from keeping any foothold gained through representation elections. Partly as a result of these maneuvers, the wage scales at the southern plants are all considerably lower than the prevailing union wage scale in the liquidated New England mills …
The board chairman of John Doe testified before a Senate subcommittee comparing the cost of his southern and New England operations. Power cost per kilowatt-hour was 7.4mills at his Alabama plant as compared with 17mills at his Rhode Island plant. Transportation rates were one-third lower for equal distances, unemployment-compensation taxes were half as great, and employee pension and vacation plans in operation at northern plants were not customary in southern plants.
One may think that this hypothetical case— which is actually a combination of two true cases—is an extreme example. But it is by no means untypical in revealing the pattern of industrial migration from New England to the South. Since 1946, in Massachusetts alone, 70 textile mills have been liquidated, generally for migration or disposition of their assets to plants in the South or other sections of the country. Besides textiles, there have been moves in the machinery, hosiery, apparel, electrical, paper, chemical, and other important industries …
In only a small number of cases does direct migration take place through closing New England plants and transferring their operations to southern plants. More often, firms start by operating mills in both New England and the South, then tend to abandon their northern plants in periods of decline and later expand their southern operations when prosperity returns …
Why do industries move south, with all of the attendant consequences to their employees and community?
It would be unfair to imply that the South's natural advantages have not been responsible for a large share of this industrial migration. Perhaps most important of all, the South has a much larger supply of labor, primarily from the farms, to draw upon for industrial employment, thus enabling employers to select the youngest and most adaptable. Pure, fresh water; nearness to raw materials and production factors; greater space; a milder climate; and the hospitality shown new industries in new areas are also southern advantages which should not be denied. Nor should we seek to hamper the rapid efforts of the South to obtain some of New England's many and well-known advantages, in skilled labor, research, markets, and credit facilities …
But the final reason for migration, with which I am particularly concerned, is the cost differential resulting from practices or conditions permitted or provided by federal law which are unfair or substandard by any criterion. Massachusetts manufacturing industries in May of 1953 paid an average hourly wage of $1.64; but because the federal minimum is only an outdated 75 cents an hour, many industries migrating to the rural communities of Mississippi pay workers only that less-than-subsistence wage … Practically all New England woolen textile mills pay a wage of at least $1.20 an hour; but … the New England mills must bid for government contracts against southern mills paying only $1.05 an hour. Labor organizations in highly unionized New England have achieved not only better wages but pension and fringe benefits as well. In the South, however, unionization of competing plants has been virtually halted since enactment of the Taft-Hartley law.
Without adequate federal standards for social security or unemployment compensation, many employers who move south support a level of benefits far below those paid by New England industry … One of the most obviously unfair inducements offered to those considering migration is the tax-free plant built by a southern community with the proceeds of federally tax-exempt municipal bonds.
It is therefore an unfortunate conclusion that the southward migration of industry from New England has too frequently taken place for causes other than normal competition and natural advantages …
The answer lies neither in prohibiting federal power and other programs aiding the South, nor, as some have maintained, in cutting wages or social benefits in New England or meeting subsidy with more subsidies; for in the end all of us are harmed and our problems still remain unsolved. Instead positive action is required. For this reason I presented to the Senate in May of 1953 a comprehensive program calling for federal legislation aimed at the correction of these abuses …
The proposals I have made should not be regarded as posing an antagonistic issue between North and South … The competitive struggle for industry will and must go on, but it will be a fair struggle based on natural advantages and natural resources, not exploiting conditions and circumstances that tend to depress rather than elevate the economic welfare of the nation.