A Dad, a Cad
JFK was a loving family man who doted on his children—and a philanderer who seduced an intern in his wife's bed.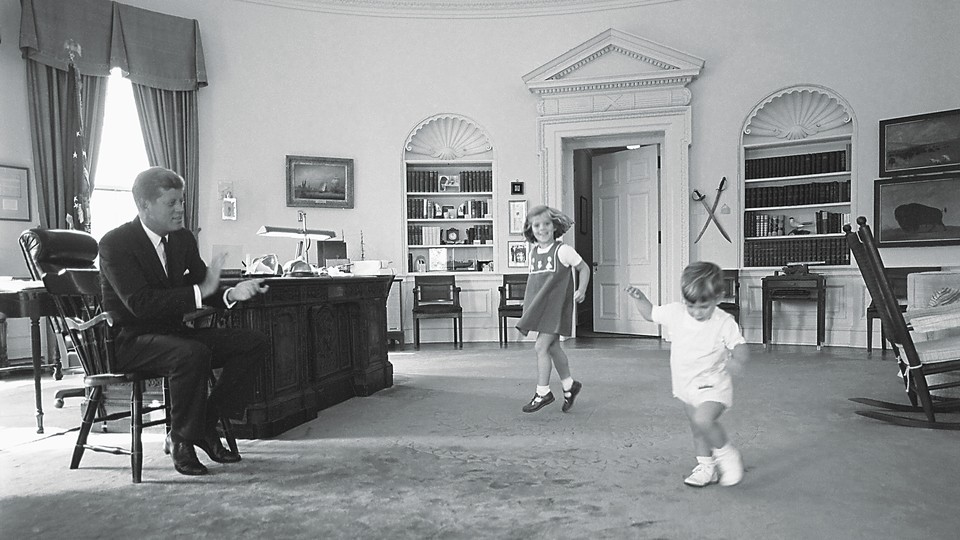 In 2011, Caroline Kennedy appeared on the David Letterman show, her first visit, and Dave was thrilled, almost starstruck, to have this singular woman sitting beside him. There were any number of things they could have talked about, but what Dave was dying to do was look at some of those old pictures with her. He'd had two of the most famous of them mounted on black cardboard, and before he held them up to the camera, he apologized for taking up her time with them.
"These are pictures you've had all your life," he said, tapping the stack eagerly and grasping for words. Maybe, in fact, she was tired of looking at them—"but do you mind if I show these?"
"No," she said graciously, laughing in her easy, appealing way, conducting perfectly the job she was born to and has never shirked; "but everybody else is probably tired of looking at them."
Hardly …
Pictures of two children playing in their father's office: John crouching under the big desk, peeking out from the secret panel; Caroline and her brother dancing on the lush carpet. In the background, their delighted father looks on, clapping his hands, as though nothing on his agenda could be more pressing than these hijinks.
Suffer the little children to come unto me is the unwritten caption of all these saintly images. The Soviets can kiss off for five minutes; the blacks can hold their water. John-John has an adorable new hiding place, and the most powerful person in the world is fully absorbed by it. These pictures represent the pure distillation of what the word father means in the deepest imagination of many people, even (especially) those who have never lived with or even known their own. It's the father as a person of great importance in some vaguely apprehended larger world where the grown-ups live, and where he takes care of essential and necessary matters but will gladly put all of that aside to spend an extra moment with his precious children …
[In Historic Conversations on Life With John F. Kennedy, taped interviews with the historian Arthur M. Schlesinger Jr.,] Jackie describes a man whose deep affection for his children was central among the many pleasures of his life. He liked having them underfoot, and he complained bitterly when Jackie delayed moving them to the White House until their rooms were painted. He was forever opening the door of the Oval Office to them, or catching sight of them playing outside and sneaking them candy. In the morning, as his wife dreamed on in her own bedroom, he would eat breakfast from a tray in his, while the children sat near him, blasting cartoons or Jack LaLanne on the television. He would be in his rocking chair, dressed in his shirtsleeves and boxer shorts as he read the day's newspapers and briefings, but he would pause to watch them tumble and chatter, not irritated but invigorated by their noisy, energetic presence. He was hugely proud of them …
As for the marriage … it clearly was not a cold or mercenary arrangement. Their time together was unsullied by domestic drudgery, enriched by their shared love of reading and gossip, made meaningful by the joy of raising two children and the sorrow of losing two others. Their homeliest routines were those of rich people from an earlier era, and so seem novelistic and appealing in descriptions. He loved to give her gifts of the antiquities and watercolors she adored, and sometimes he'd be so unsure of what to choose for her that he'd have the New York dealers send him 50 different items so she could take her pick …
Most of all, you get the sense of a young couple busy with children and with figuring out, as all young couples must, how to occupy and distract them. "You've got to get me some books, or something. I'm running out of children's stories," he once told Jackie after trying to make up yet another story for Caroline. Another time he asked her to buy some toys for his bathroom, because John would wander in while he was bathing and he had nothing to entertain him with. So Jackie bought some rubber ducks, which led to a fond family story—the bathroom that male dinner guests had use of was JFK's, causing Jackie to imagine what in the world they would think when they saw all those rubber ducks lined up on the edge of the president's tub …
Can you imagine? The president of the United States collected rubber ducks.
And it was right then—with the description of the rubber ducks, and the way they evoked the closeness of father and son, the intimacy of husband and wife, and the essential nature of married life—that I got back together with John Kennedy. We had been broken up for a few years, at least; I'd lost track. What busts us up is never a revelation about the bungling and risky behavior that marked so much of his brief presidency; what does it is each new revelation about his womanizing and the way these revelations impugn the photographs for which David Letterman and so many other people—myself included—have such strong feelings. Those pictures make me realize anew what a patsy I've been. How could they be anything more than a shrewd campaign, one that plays on the very sentiment—an essentially bourgeois regard for what is nowadays called "the sanctity of marriage"—for which JFK himself had such obvious contempt? I'll swear to myself that I'll never backslide again, but then I'll catch sight of one of those pictures, or—in this case—listen to Jackie's beautiful story about the well-loved children, the besotted father, the romance at the heart of the operation, and once again, I'm sunk.
And so there I was, back in my happy dream, until, just a scant few months after encountering the Historic Conversations, I read a book that is in many ways its evil twin: Once Upon a Secret. It was written by Mimi Alford, who as a 19-year-old college student began both a summer internship at the White House and an affair with John Kennedy that would last 18 months. The details of this affair reveal that no matter what Jackie may have believed about the inviolability of her refuge—the "hermetically sealed" nature of the compartment John shared with her alone—not one inch of it was sacred to her husband. Not the bedrooms, not the bathrooms. Not even the rubber ducks.
The relationship began on Alford's fourth day on the job, when she was asked to the Kennedy residence for a new-staffer cocktail party. [The Kennedy aide] Dave Powers escorted her up to the deserted apartment, and she kicked around with a couple of other office girls, drinking daiquiris, nibbling cheese puffs, and waiting for the president. Within seconds of his arrival—signaled by the partygoers' jumping formally to their feet, for this was part of the thrill of being in the inner circle: the fun and debauchery of the endless party, and the awesome formality of the American presidency—Mimi was in his thrall. When JFK invited her on a private tour of the joint she eagerly agreed, and before she knew it they were standing alone together at the open door to Jackie's bedroom.
"This is a very private room," John Kennedy said to her, and as she tried to comprehend what he meant by that puzzling remark, he maneuvered her smoothly into it. And then he nailed her—a virgin, a Wheaton sophomore, a girl who wore a circle pin and a side part, and who had ordered two drip-dry shirtdresses from the Johnny Appleseed's catalog before coming to Washington—right there on his wife's bed. The one with the horsehair mattress and the stiff board to accommodate his bad back …
It was in many ways a giddy year and a half, marked by a variety of physical pleasures, and the 35th president schooled Mimi in all the skills a mistress must know, from performing fellatio to making scrambled eggs …
Kennedy made us feel good about ourselves; he inspired us. Toward what? Mostly toward him.
Above all, she reports, he was playful. The two lovers especially enjoyed getting it on in his bathroom, which they turned into their own "mini-spa," outfitted as it was with "thick white towels, luxurious soaps, and fluffy white bathrobes embossed with the presidential seal." But there was something else in that wonderful, elegant bathroom of his that Mimi thinks reveals so much about his true nature, something she wants to tell us about for the unique insight it gives into the man. In addition to all the grown-up accoutrements, he also had his very own collection of—wait for it—rubber ducks! Can you imagine? The president of the United States collected rubber ducks. It turned out a buddy of his had sent them as a gag gift. And Mimi—unlike super-sophisticated Jackie—knew how to have fun with something like that. That was one of the special things she was able to bring to the relationship. She and Jack gave the ducks funny names, and they had bathtub races with them, and it was like a sexy playdate.
Every affair is a series of betrayals, some so huge that the betrayed can barely take them in, others so inconsequential that they would seem the simplest to dismiss when the bill finally comes due—yet in many cases these are the ones that hurt the most. On the one hand, once Jack Kennedy had begun a long-standing physical relationship with this girl, one that began on his wife's bed and included flying her around the country along with his baggage so that he would have access to her whenever he wanted, telling her a fib about the how and the why of those rubber ducks is hardly a significant matter. Maybe it even constituted a weird bit of loyalty, keeping his wife and son entirely out of things. But I have to say that when I came across Mimi's gushing account of the ducks, so soon after hearing Jackie explain how they symbolized something significant and lovely in her marriage, my first reaction was "What a bastard" …
Throughout the marriage, John always had girls: there were girlfriends and comfort girls; call girls and showgirls; girls on the campaign trail and girls who seemed to materialize out of thin air wherever he was. There was also the occasional wife of a friend, or the aging paramour of his randy pop, for those moments when the fancy ran to mature horseflesh or masculine competition. His penchant for prostitutes demoralized the agents assigned to protect him …
What did he do for us? He started the Peace Corps and the Vietnam War. He promised to put a man on the moon, and he presided over an administration whose love affair with assassination was held in check only by its blessed incompetence at pulling off more of them …
But most of all, he made us feel good about ourselves; he inspired us. Toward what? Mostly toward him. All these years later—half the time hating ourselves for it—we're still as thrilled by him as Mimi Alford was. He had a singular masculinity, and his very callousness and recklessness with women don't blight his appeal; they enhance it. The typical progressive woman thinks she is drawn to him because of his groovy, feel-good work on behalf of civil rights, but that's an assertion that doesn't bear 15 minutes' exploration. John Kennedy voted against Eisenhower's 1957 Civil Rights Act; he made lofty campaign promises that assured him the black vote but then sat on his hands for all of 1961; his nickname for James Baldwin was "Martin Luther Queen." The reason so many women love him really has nothing to do with his actual accomplishments and everything to do with his being the kind of man whose every inclination runs counter to their best interests …
JFK was a man whose sexual life remained a central fact of his existence, who did not allow it to be diminished by anything—not his political ambitions, not issues of national security, not his Catholicism, not loyalty to his friends and his male relatives, not physical limitation or pain, not the risk of infecting any of his partners with the venereal disease that regularly plagued him, not fear of impregnating someone, not the potential for personal embarrassment, and certainly, certainly, not his marriage …
I recently came across a Kennedy photograph I'd never seen before. The family is entering the White House for the first time, John-John wrapped in a blanket in his mother's arms. JFK's hands are in the pockets of his overcoat, his eyes glued to the precious head of his new baby boy—and I was gone. Let him have the girls, I thought; he could handle the girls and still put in an ace performance as Father of the Century.
John Kennedy was the kind of guy who could get his PT boat rammed in half by a Japanese destroyer, losing two of his men, and end up not with a court-martial but with a medal. He was a winner, and we like winners. He'll get out of every scrape history can serve up. All the aging hookers and cast-aside girlfriends with book contracts better take notice: We don't care about you. JFK is more important to us than you can ever be, so you might as well keep quiet. The cause endures, sweetheart. The hope still lives. And the dream will never die.