How Yelp Might Clean Up the Restaurant Industry
Ever wonder about the risk of vermin infection at your favorite eatery? The review site is teaming up with public-health officials to make health ratings count.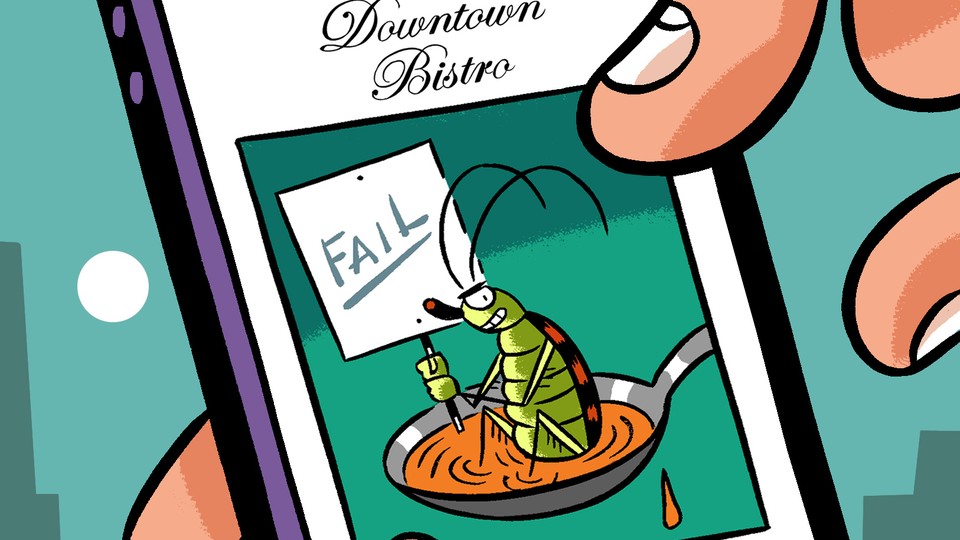 In January of 1998, Los Angeles County began requiring restaurants to publicly post their hygiene grades. Eateries with nary a rat dropping in sight got to tout their A's on the front door. Poor performers had to do the same with their C's. The impact was immediate: researchers from Stanford and the University of Maryland later calculated that, by year's end, consumers were rewarding cleaner establishments with their business (restaurants displaying A grades earned about 5 percent more revenue than they had previously); restaurants were responding to consumer demand (health-inspection scores for the worst offenders improved dramatically); and hospitalizations for food-borne illnesses dropped by a stunning 20 percent.
And yet, in 2010, when New York City began implementing a similar policy, initial reports did not show the same results. Why? Michael Luca, a Harvard Business School professor who studies consumer decision making, says that the way we choose restaurants has changed in the past 15 years—now we tend to check out menus, reviews, even photos ahead of time, online. "People aren't looking at doors the way they used to," he told me. "The digital version of posting grades on doors is trying to post on something like Yelp."
Earlier this year, San Francisco started doing just that, working with the review Web site Yelp to translate the raw minutia of municipal restaurant inspections into something more comprehensible. Considering La Palma Mexicatessen in the Mission? It's got four and a half stars; the chile verde is apparently excellent (thanks, Josh K.); and as of this writing, its most recent health score is 81 out of 100, with inspectors noting, among other violations, a "moderate risk of vermin infestation" on June 6, 2012. More than a dozen cities, including Austin, Philadelphia, and Chicago, are looking at following San Francisco's lead, some as soon as this year.
Information like this was already available online—San Francisco has been publishing health-inspection scores on a drab government Web site since 2007, while New York City has its own app, called ABCEats. Not surprisingly, diners don't seem to be going out of their way to look up the data. But when cities make information that's already technically public really public on a consumer platform, it becomes instantly more visible (to the dismay of some restaurants). Cities have already learned this with public-transportation data: because many transit agencies publish data feeds from their bus and train routes, Google Maps and other applications can plot your trip across Manhattan not just by car, but also by subway. In the future, the same type of data sharing could bring building-code violations to Craigslist, or parking-meter rates to your GPS.
Meanwhile, if Yelp's experiment takes off, cities may eventually be moved to sign on to a uniform national standard for restaurant inspections.
Other outcomes are possible as well. Imagine if city governments didn't just export data to the Web, but also harvested data from the Web. Various researchers have already trained algorithms to scan TripAdvisor and Yelp for the subtle fingerprints of fake reviews. Michael Luca believes computers could also be used to mine sites like Yelp for indications of unsanitary conditions. Working with Yejin Choi, a Stony Brook University computer scientist, he is developing an algorithm that figures out which words in a Yelp review predict bad health-inspection grades (see below). As he puts it, "Some are directly hygiene-related; others are not." Perhaps in the future, your cranky reviews—"I found a hair in my risotto" or "I spent the night curled around my toilet"—could help health inspectors identify suspect kitchens before even entering them.
---
DIRTY WORDS: In a working paper by Michael Luca and Yejin Choi, online restaurant reviews featuring the following words and expressions were associated with bad hygiene grades: Dirty, Inspection, Violation, Smell, Sticky, Moldy, Sanitary, Hygiene, Pee, Smoking, Oozing, Toilet, Stomach, Sick, Pain, Cold, Soggy, Sour, WTF, OMG