Reinventing the Wheel: Here's One You Can Fold
Witness the most awesome wheelchair yet.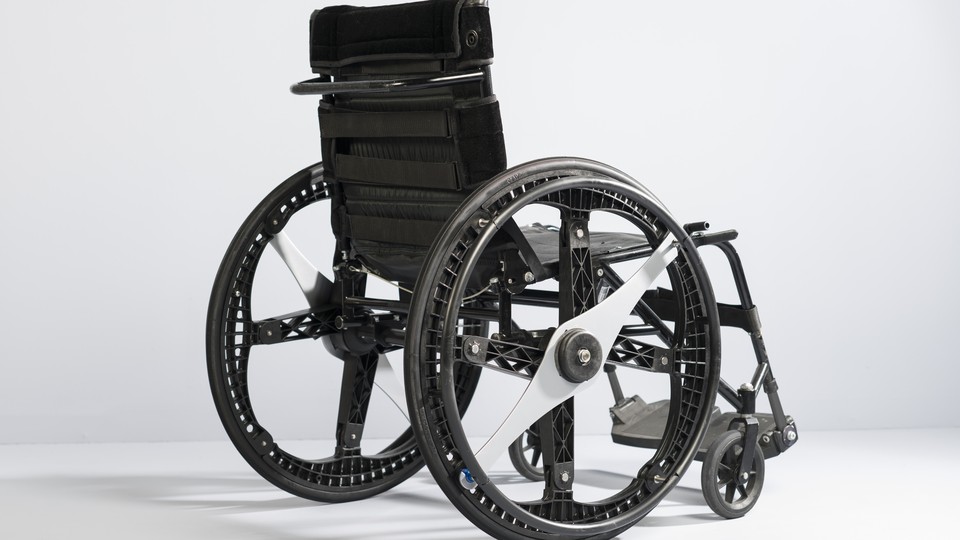 As the wheel has gotten lighter, faster, stronger, and sleeker since its invention some 7,000 years ago, it has been limited by one immutable design element—roundness. By taking a flexible approach to this quality, the designer Duncan Fitzsimmons has created a truly reenvisioned wheel: one that folds. A cycling enthusiast, Fitzsimmons wanted to improve upon the foldable bicycle, which can shrink only as small as its tires. He soon recognized a similar limitation in wheelchairs.
Today's wheelchairs are customizable for individual needs and activities, but when they're not in use, their large and often spoked wheels are cumbersome. In partnership with Maddak, a manufacturer that specializes in products for the disabled, Fitzsimmons designed Morph Wheels, which fold down from 24 inches wide to nearly half that size—narrow enough to fit in an airplane's overhead bin, for example, or the back of a taxi. They are made of glass-filled nylon and fit any chair with a quick-release axle, allowing users to easily detach and swap out their wheels.