What Was the Most Influential TV Show Ever?
All in the Family, SNL, 60 Minutes, and more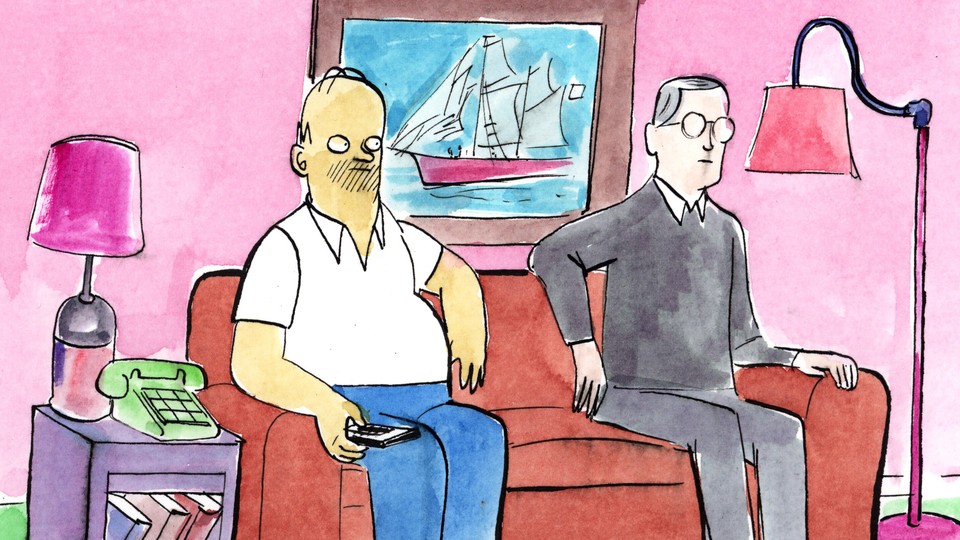 Q: What was the most influential tv show ever?
---
James Lipton, host, Inside the Actors Studio
All in the Family gave us not stereotypes but archetypes—Archie, Edith, Meathead—and drew a line between all TV comedy that went before and everything that has come after.
---
Jason Katims, co-creator and show runner, Parenthood
The triumph of All in the Family wasn't that it introduced a racist character we could shake our heads at and disdain. The triumph was that it introduced a racist character we loved. The show paved the way for complexity on scripted television. It's when TV started to grow up.
---
Adam DiVello, creator, The Hills
All in the Family was the first time I felt like I was invited into someone's living room each week, whether I was supposed to be there or not. It would work as perfectly today as it did then, only now it would be a reality show. How great would it be to see Edith or Meathead cut in with an interview bite after Archie drops one of his unforgettable lines?
---
Liz Meriwether, creator and co–show runner, New Girl
Obviously, without a doubt, absolutely Saved by the Bell. Its influence on taste, fashion, and politics has reverberated throughout history and across the globe. Second only to Hey Dude, which aired during the Nickelodeon renaissance of the late '80s and early '90s.
---
Darlene Hunt, creator and show runner, The Big C
As a writer, I was most influenced by M*A*S*H. I watched it in real time when I was a kid, and watched reruns for years afterward. It molded my "laughter through tears" writing sensibility. If somebody ain't dyin', I ain't laughin'.
---
David Benioff, co-creator and co–show runner, Game of Thrones
Hill Street Blues changed everything. The cops were flawed; the story lines were not resolved in a single episode; characters you loved died while having sex. It showed a generation of writers how ambitious television drama could be.
---
Dick Wolf, creator, Law & Order
60 Minutes has covered many of the most enlightening stories—and some of the most egregious scandals—of our time. Its mandate has always been to both tell the truth and entertain, which changed the way news was reported to a mass television audience.
---
Vince Gilligan, creator and show runner, Breaking Bad
Try to picture the world without The Simpsons: Doh wouldn't be in the OED; Fox would've gone the way of the passenger pigeon and UPN; TV dads might still be more Ward Cleaver than Tony Soprano.
---
John Langley, co-creator, Cops
Walter Cronkite's "we are mired in stalemate" broadcast of February 27, 1968, during the Vietnam War. Public opinion followed Cronkite's assessment, leading President Johnson to observe, "If I've lost Cronkite, I've lost Middle America."
---
Beau Willimon, creator and show runner, House of Cards
Deadwood was the first show that made me think television could be a high art form. It took big risks, told bold stories, and employed elevated language—a revelation.
---
Andy Cohen, executive vice president, Bravo
I Love Lucy. One of the first three-camera sitcoms, it revolutionized the genre, and is still relevant and funny today.
---
Chuck Lorre, co-creator, The Big Bang Theory and Two and a Half Men
Personally, it's a tie between The Tonight Show Starring Johnny Carson and The Ed Sullivan Show. Both were windows through which I could see the best singers, dancers, musicians, comedians, vaudevillians, raconteurs—and, of course, the Beatles. In my otherwise cloistered world, it was hugely impactful to have the opportunity to see mastery up close.
---
Greg Daniels, creator and show runner, The Office
Saturday Night Live, both for the breadth of its impact on the culture and for the depth of its impact on thousands of 12-year-old nerds like me who made friends by repeating sketches verbatim.
---
Mike Schur, co-creator and show runner, Parks and Recreation
If you didn't write or perform on Saturday Night Live, you watched every episode, and it made you want to write or perform.
---
Jessica Walter, actress, Arrested Development (Lucille Bluth)
As the first 24-hour-news network, CNN changed what it meant to be informed, and gave us instant access to breaking events. Just think of 9/11 without it.
---
Lauren Zalaznick, executive vice president, NBCUniversal
Maude dared to portray a graying, three-times-divorced woman who wore a pantsuit and uttered the word abortion on national TV. Maude even scooped my beloved reality genre when both Bea Arthur and her character got a face-lift—all of this 40 years ago, on broadcast television, during prime time.
---