Big in Japan: Steve Jobs
An American icon finds immortality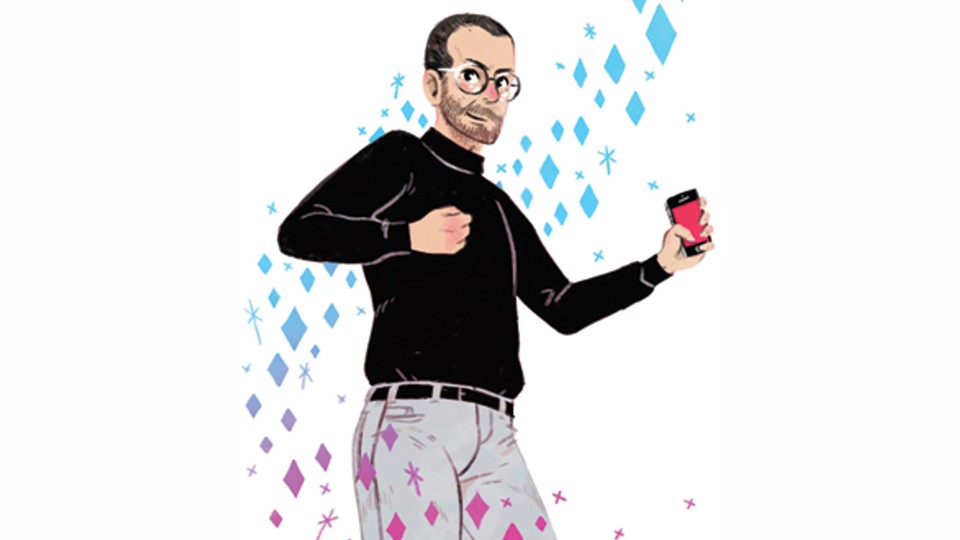 A year and a half after Steve Jobs died, his Japanese fans remain singularly devoted to his memory. We're not talking everyday Apple fandom, though Japan has that, too: Apple stores in Ginza and Osaka were wreathed with flowers after Jobs's passing, just like the ones in Los Angeles and London; Tokyo's subways remain as crammed full of commuters with white earbuds and glazed eyes as any other city's.
What distinguishes the Japanese cult of Jobs is its creative output. Take Chocolate Apple 1991–2011, a comic book self-published in December 2011, which reimagines Jobs as a cute woman with what AnimeNews calls "an eye for detail and execution" and a "sometimes volatile personality." Or the meticulously detailed 12-inch Jobs figurine released by Tokyo's Legend Toys in December. Most recently, in May, the Japanese magazine Kiss began publishing a serialized manga version of Walter Isaacson's Jobs biography, illustrated by the artist Mari Yamazaki. In it, Jobs is depicted first as a doe-eyed child, then as a precocious teen, and finally as a rebel who experiments with marijuana—taboo in Japan. "Yamazaki swiftly transforms him," one reviewer notes, "into the type of character any teenage reader could fall in love with."
Whatever the source of this affinity for Jobs, the feeling was apparently mutual: Jobs loved Japan right back. He practiced Zen Buddhism and considered the Japanese monk Kobun Chino Otogawa his spiritual teacher. He adored Issey Miyake, the maker of his iconic black turtlenecks. And he once sent Apple's corporate chef to study authentic sobamaking in Tokyo.