When Secretary of Defense Leon Panetta lifted the military's ban on women in combat in January, some critics revived a long-standing argument against such a move—namely, that women are no match for the physical demands of combat, and will endanger fellow soldiers' lives. "There are certain anatomical facts about upper-body strength," George Will said. "It's relevant." Just how relevant is debatable, for a couple reasons.
For one thing, the Pentagon insists that fitness prerequisites for ground-combat units won't be lowered for women. For another, advances in robotics may make upper-body strength less important on the battlefields of the future. Both Raytheon and Lockheed Martin are developing Iron Man–like exoskeletons for use in combat; Lockheed's version, the hulc, supports up to 200 pounds of cargo. Boston Dynamics' Legged Squad Support System (or LS3, pictured here), funded by darpa and the Marine Corps, is a rough-terrain robotic "mule." In video footage, it appears to move with the twitchiness of a cockroach—but unlike a cockroach, it can carry a 400-pound load.
It's not clear that creations like the LS3 will see combat anytime soon, if ever. But in the future, heirs to these robotic prototypes could take quite a load off soldiers, female and male alike. "Both men and women soldiers in Afghanistan are being crushed under heavy battle gear," points out P. W. Singer, a defense expert at the Brookings Institution and the author of Wired for War: The Robotics Revolution and Conflict in the 21st Century. "If a new technology helps lift burdens or reduce the manpower requirement, then who cares whether it's a man or a woman benefiting from it?"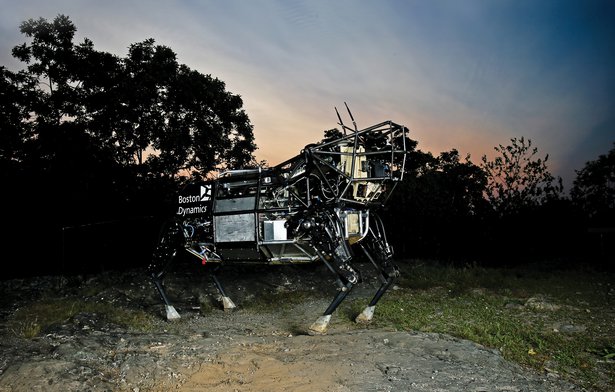 Courtesy of Boston Dynamics
We want to hear what you think about this article. Submit a letter to the editor or write to letters@theatlantic.com.