War Machine: Iron Man–Like Exoskeletons and the Army of the Future
Technical advances may make upper-body strength less important in combat—and level the playing field for women.
When Secretary of Defense Leon Panetta lifted the military's ban on women in combat in January, some critics revived a long-standing argument against such a move—namely, that women are no match for the physical demands of combat, and will endanger fellow soldiers' lives. "There are certain anatomical facts about upper-body strength," George Will said. "It's relevant." Just how relevant is debatable, for a couple reasons.
For one thing, the Pentagon insists that fitness prerequisites for ground-combat units won't be lowered for women. For another, advances in robotics may make upper-body strength less important on the battlefields of the future. Both Raytheon and Lockheed Martin are developing Iron Man–like exoskeletons for use in combat; Lockheed's version, the hulc, supports up to 200 pounds of cargo. Boston Dynamics' Legged Squad Support System (or LS3, pictured here), funded by darpa and the Marine Corps, is a rough-terrain robotic "mule." In video footage, it appears to move with the twitchiness of a cockroach—but unlike a cockroach, it can carry a 400-pound load.
It's not clear that creations like the LS3 will see combat anytime soon, if ever. But in the future, heirs to these robotic prototypes could take quite a load off soldiers, female and male alike. "Both men and women soldiers in Afghanistan are being crushed under heavy battle gear," points out P. W. Singer, a defense expert at the Brookings Institution and the author of Wired for War: The Robotics Revolution and Conflict in the 21st Century. "If a new technology helps lift burdens or reduce the manpower requirement, then who cares whether it's a man or a woman benefiting from it?"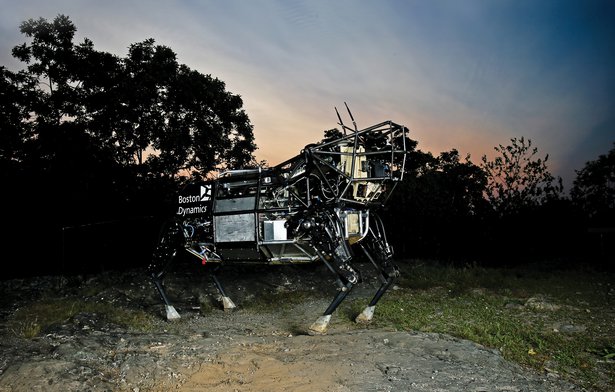 Courtesy of Boston Dynamics