Elegy for the Minibar
What has happened to my most trusted traveling companion?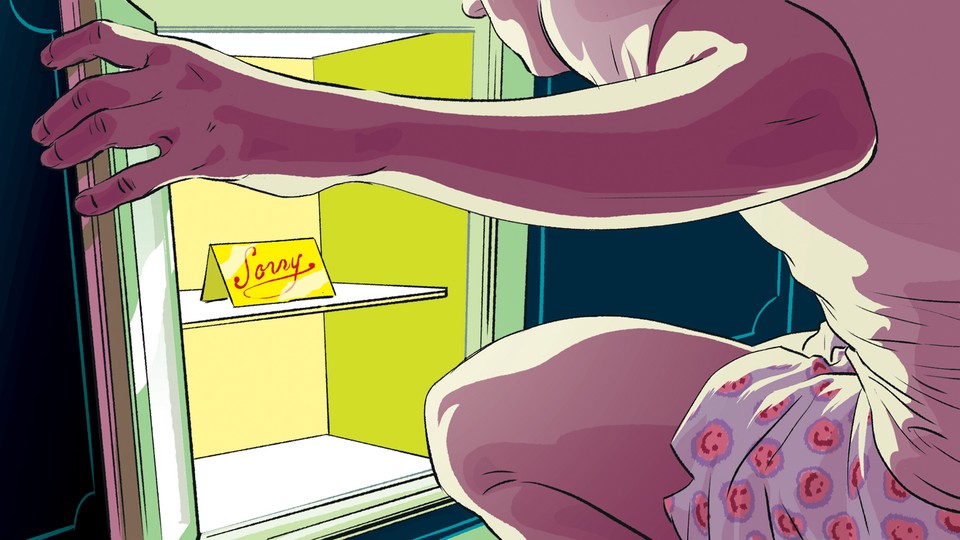 One of the most enduring mysteries of love is how it can burn so brightly and then die out. Sifting through the ashes provides work for poets and psychologists. The rest of us seek solace where we can. In my case, that often means a rented room in a faraway city, stocked with liquor, candy, and other plausible substitutes for human kindness provided by my favorite travel companion and muse, the refrigerated minibar.
Hotels like the Albergo in Beirut, the Bristol in Warsaw, the Mercer in New York, the Beverly Hills Hotel in Los Angeles, and the Hay-Adams in Washington, D.C., offer enough loving convenience and atmospherics to do the work of the minibar on their own. Yet even in those places, the minibar is an essential part of being alone, which is what hotels are about—the high-end toiletries and the pictures of exfoliated women in spa brochures being more or less obvious distractions from the shades of hundreds of faceless travelers who have peed in the toilet and tossed and turned and done God-knows-what-else in the same bed you have rented for 24 or 48 or 72 hours.
While I am hardly a romantic when it comes to hotels, I have a great deal of appreciation for those who toil there. I have an aunt in the hotel business in Boston, and I even once helped open an establishment that rented rooms in North Miami Beach with a woman to whom I was subsequently engaged; neither the engagement nor the hostelry survived. I feel a respectful kinship with the managers, the bellhops and maids, and the room-service waiters, who push heavy steel carts that seem made for the deck of a destroyer down endless corridors to the doors of tetchy souls like me, with our complaints about overcooked spaghetti or cold English muffins.
I should also mention that I spent even more time in hotels than usual this past year because of what a gentle therapist might call "a time of transition," or what my trusted attorney and former college classmate, Sean O'Brien, might term "a patch of bad weather" in my personal life, which left me with the use of a broken couch in a rented office three blocks from the apartment where I had formerly lived. Because sleeping in my office was forbidden by the terms of my lease, I made sure to leave there at a normal hour, eat dinner somewhere, and then reenter the premises under cover of darkness, with an alarm set so I could safely exit by 7 a.m. When the stress of these arrangements got to be too much for my nerves or my back, I would rent a room at a good hotel, where I could sleep as late as I wanted and an abundance of water pressure might make me feel like a new man before meeting my long-lost children at the playground.
To distract myself from my emotional trauma, and to pay my mounting bills, I took on an unusual number of reporting assignments that required significant amounts of travel. I went to Los Angeles for the Grammys. I went to a Jewish film festival in Toronto. I went to Washington to speak with high state officials. I flew to Beirut and to Rio.
Suffice it to say that anyone who has ever spent time on the road, let alone parented two small children part-time while dealing with lawyers, knows the pleasures of a package of peanut M&M's plus a miniature bottle of Ketel One when no other forms of solace are available. So imagine my disappointment upon arriving in room after room to find that the familiar refrigerated cube was absent.
The first time I realized my room was missing its minibar, at a Hilton in Chicago, I thought it was peculiar. By the time I checked into the Mercer, I knew enough to call ahead and order some bread, chocolate, and artisanal cheese from Dean & DeLuca, along with a copy of Anna Karenina. I took a bath, then wandered down to the restaurant in the lobby, where I ate Jean-Georges tuna spring rolls in the company of French models who gestured with their long fingers while I texted about my kids with their nanny. When I came back to the room, I found all the place-giving, sense-making things I had ordered, plus an actual minibar cleverly concealed inside a cabinet.
Yet my sense of being powerfully comforted and protected by hotels proved to be short-lived. Sometime after midnight at the Sutton Place Hotel in Toronto, I opened the door to the minibar cabinet only to find a rat's nest of disconnected wires. On top of the cabinet, I found a laminated card that regretted the end of the hotel's minibar service. If I wanted something, I was welcome to call the front desk, and the item I requested would be brought to my room. I called and ordered a Coke with ice. Half an hour later, my order still hadn't arrived.
"I ordered a Coke," I told the hotel operator. "There's no minibar anymore."
"That's our policy," the operator said brightly.
Fifteen minutes later, I complained again. "You can order anything you want from the front desk," the operator repeated, ignoring my protests that my Coke with ice had never arrived. Then I had a bright idea.
"I'd like to order a minibar," I requested. But my hopes were in vain.
There was no minibar at the Hyatt where I stayed in San Francisco, or at the boutique hotels I visited in Kansas City and New Orleans, either. Somewhere during my valedictory tour, I forgot all about the stale potato chips, the outrageous bar charges, the lonely condom packets, the legions of guardian sensors that charged me $8.95 for moving a bottle of orange juice from its motion-sensing pad. I forgot the impacted emptiness and displacement. Despite its shortcomings, the minibar was a faithful sentry that had stayed up late and kept me company in times of danger and personal sorrow. It had never failed to deliver something—liquor, candy, clean T-shirts, fresh socks—that made me feel less alone.
The minibar was a faithful sentry that had stayed up late and kept me company in times of danger and personal sorrow.
The stages of my mourning—denial, anger, bargaining, depression, acceptance, and late-night snacking—were eventually overtaken by my curiosity. I learned that the refrigerated minibar was invented in the early 1960s by a German company called Siegas, and first attained fame in 1963—as the world was recovering from the Cuban missile crisis—with the opening of the Madison Hotel in Washington, D.C. The brainchild of the globe-trotting developer Marshall Coyne—a friend to U.S. senators and a collector of historical documents and Sotheby's-quality china—the Madison was built to be the capital's most sophisticated hotel. Offering foreign television broadcasts and other amenities of the time, the Madison became a favorite destination for D.C. political heavies, as well as for prominent Soviet officials, like Georgi Arbatov, who turned their hotel rooms into an annex of the Kremlin, thus pioneering what might be called minibar diplomacy.
According to potted histories of this sort of thing, minibars went global in 1974, when the Hong Kong Hilton introduced liquor-stocked refrigerators into all 840 of its rooms, leading to a 500 percent increase in room-service drink sales and an estimated 5 percent boost to the company's bottom line. But hoteliers later claimed that once labor, spoilage, and theft were factored in, minibars were a selfless gift to travelers. Meanwhile, companies like eRoomSystem Technologies tried to monitor stock with infrared sensors and other devices that eventually transformed Marshall Coyne's dream of grown-up hospitality into a supermax prison for sodas and candy.
Other vending companies tried less oppressive efforts to make the minibar pay off. As the Cold War drew to a close (thanks in part to Mikhail Gorbachev's 1987 visit to Washington, D.C., where his coterie enjoyed minibar service at the Madison), Wanda Jones and Michael Amrose founded In-Room Plus, a company based in upstate New York, dedicated to expanding and updating the norms of minibar stocking. Every hotel minibar, the company decreed, should offer the proper balance of sweet, salty, healthy, "signature," branded, and need-fulfilling items, each with a minimum shelf life of six months, in order to generate profit and stave off crippling anomie. In-Room Plus's philosophy manifested itself with increasing force throughout the '90s, leading to offerings such as Pez, dog biscuits, chocolate-covered pretzels, flavored condoms, and $6 blues harmonicas on which lonesome travelers might ignite the kinds of unreasoning hatreds in their neighbors that, once kindled, last for life.
Yet for some hotels, neither high-tech rabbit traps nor promises of new flavors of condoms seems to have been enough. In 2004, the management of the Marriott Marquis in Times Square pulled refrigerated minibars from all of the hotel's 1,946 rooms. Hilton and Hyatt pulled minibars from many of their hotels, too. While reliable numbers are hard to come by—in part because of the changing definition of minibar, which may now include trays of gourmet snacks in addition to the iconic refrigerated unit—the upper-tier hotels to which I have often turned for solace seem to be forsaking the minibar, while most of the cheap hotels where I've passed out after long days on the road never had them to begin with. Travelers like me, dismayed to find themselves in a room without a minibar, are now expected to order room service or buy a soda from a vending machine or a nearby 7-Eleven. Hotel bean counters prefer the Internet—an in-room amenity that never spoils or requires restocking.
Whatever the virtues of Facebook and Twitter and other late-night pleasures of the Web, I remain loyal to the minibar, which babysat me through major and minor traumas. Yes, the charges were often outrageous, and sometimes hard to explain to my employers. But I still believe in the promise that the minibar offers. Not the miracle of instant and endless communication, but a much more limited promise of companionship by whatever means necessary in the midst of the loneliness and displacement that are part of the traveler's lot. It is in our discomforts that we come to know what we are afraid of—and what we are looking for.