Enter the Dragons
In the hottest year of the Chinese zodiac, how's a mother-to-be supposed to find a hospital bed in Shanghai?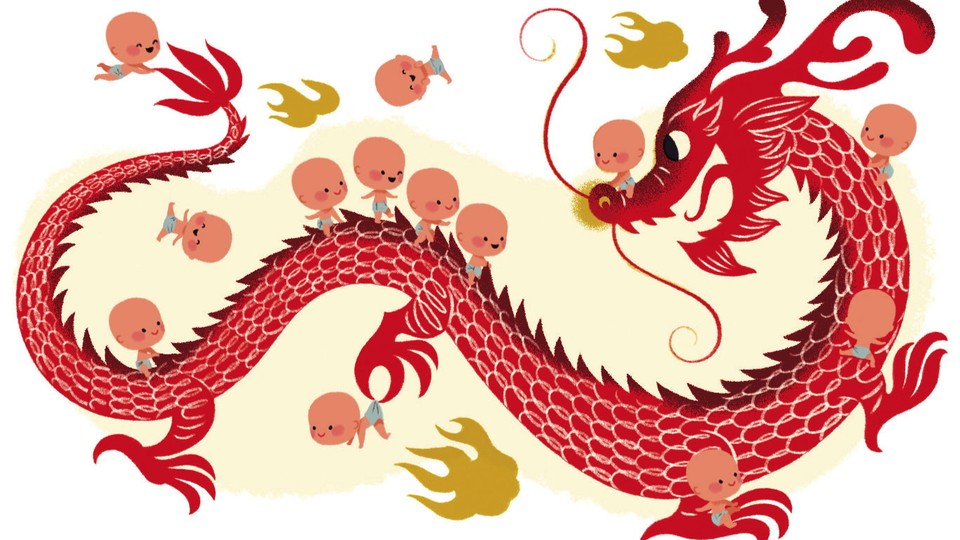 "Do you want a C-section or a natural birth?" snapped the receptionist. It was June, and I had just dialed up the VIP ward at one of Shanghai's best maternity hospitals.
"Shunchan," I said, taken aback. Natural birth.
"When are you due?" I didn't know. I guessed I was maybe six weeks along. "Okay," she said. "But if you don't reserve with us by the end of the first trimester"—by reserve she meant put down cash—"there won't be a spot for you."
Pregnant women have heard similar refrains in hospitals across China this Year of the Dragon, which started last January and ends in February. A symbol of power once associated with the emperor, the dragon is the lone mythical creature of the Chinese zodiac and is by many accounts the 12-year cycle's single most auspicious sign. What expectant parent wouldn't prefer a heavenly totem to a rat, a snake, or—my own sign, which a Chinese friend once gently described to me as a "work animal"—a sheep?
As we visited maternity wards, though, my partner and I began to think our luck was, in fact, not so good. At our first stop, couples lined the walls of the waiting area. To make my way to the ultrasound room, I had to push through a mob of women with swollen bellies, men gazing intently at smartphones, and hovering grandmothers-to-be. The scan itself took only five minutes. Afterward, a technician handed me a printout with characters that translated to "living fetus," and ushered me out of the room. Case closed: I was having a dragon baby.
In Taiwan, between January and September 2012, births were up 14.5 percent versus the same period in 2011. Vietnam saw an additional 61,375 babies born in the first five months of 2012—a spike of 13.5 percent from the previous year. Similar statistics are not yet available for China, but a dip in the birthrate in 2011—a mere rabbit year—suggests that couples may have been postponing procreation, says the University of North Carolina demographer Cai Yong (whose own dragon baby was born last February). Tang Hui, the director of obstetrics and gynecology at the largest hospital in Nanning, the capital of Guangxi province, told me when I visited her hospital that deliveries there had gone from about 200 a month in years past to between 270 and 280. "Just look at how many people are here," she said, gesturing to the rows of expectant women in uncomfortable plastic chairs.
Some maternity wards have added beds; others are housing new moms in pediatric wards. In Vietnam, women have even had to share beds. Hospitals have turned away women in labor. One mother-to-be, Xie Mingqin, was told her situation wasn't yet urgent. She promptly gave birth in the parking lot. At least that will not be my fate, come my January due date: heeding the receptionist's warning, I managed to book a spot at a hospital catering to expatriates and wealthy Shanghainese.
The future that awaits our dragon baby, however, is less certain. Although China's birthrate remains precipitously low—one dragon year will not reverse the consequences of the decades-old one-child policy—officials warn about a squeeze as dragon children grow up. Blessed at birth, they may be cursed in life, forever paying the price for their parents' calculations, in crowded schools, fierce rivalry for university places, cutthroat battles for first jobs.
Some childless couples, Cai tells me, are now talking of waiting for a less lucky year to conceive.