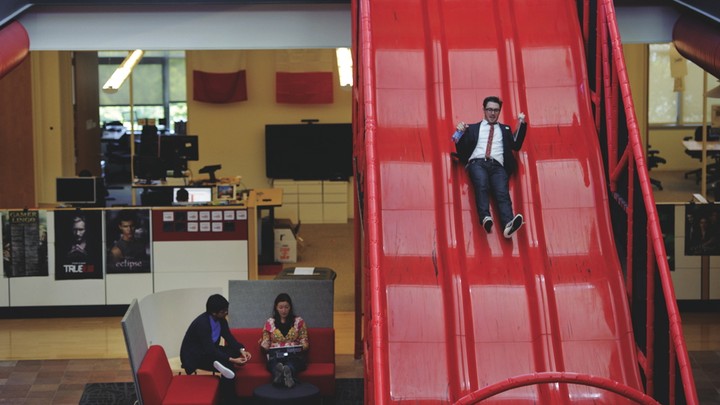 Evernote has a new vending machine. It sits next to a shelf of cereal dispensers in the glass-walled great room of the software company's airy new offices in Redwood City, California. The machine is activated not by coins, but by employees' ID badges. And it dispenses, instead of candy, computer accessories. Slot 69: an Apple mouse. Slot 59: a MacBook power adapter. Slot 43: a wireless keyboard. On the day I visited Evernote's offices, someone had put an iPhone 5 box into Slot 35 as a joke. A staffer, soliciting Sven for an iTunes card to test an app she'd been working on, glanced at the box and laughed. "People have been trying all day to get that thing out."
Considering that Evernote is a Silicon Valley start-up, and considering as well that Silicon Valley start-ups tend to be both famous and infamous for the quirk of their workspaces, a vending machine that spits out Apple accessories is at best a modest innovation. Especially when you compare it with features at Evernote's fellow firms in the Valley and nearby San Francisco. There's Twitter's rooftop garden, a sod-and-cement expanse studded with turquoise couches. And Dropbox's music room, complete with a piano and guitars. And Skype's pool-and-foosball room, its walls upholstered with cheeky (and sound-minimizing) Astroturf. And YouTube's indoor slide: one story high, three lanes wide, fire-engine red.
These features are physical manifestations of what Valley denizens refer to, only half ironically, as the "perks arms race." Google's long-standing offerings—its catered meals and on-site hair salon and volleyball courts—have trickled up and down the Peninsula, to companies both scrappy and established. While Valley offices do what offices have always done—direct employee behavior, enforce corporate culture—they also make a sales pitch to those same employees. Keeping workers happy and healthy, the firms reason, is the best way to keep them productive. And with tech talent in constant demand, it is also, the firms figure, the best way to keep them around.
So while massages (Eventbrite), intra-office scooters (Dropbox), and treadmill desks (Facebook) may inspire envy among some outsiders—myself, I'll admit, included—they are perks, in the end, with a purpose. Evernote's vending machine will save its busy IT department time. The roving, Webcam-enabled robot that Phil Libin, Evernote's CEO, uses to check in with employees is a practical (if beady-eyed) way to facilitate worker-boss communication when Libin is out of town. Even the office feature that might win the award for Most Outlandish—the goats that have been known to roam Google's sprawling campus—is practical: the creatures are a relatively low-cost way to keep the grounds free of weeds.
In a business environment keenly aware of its own history, these perks also represent a defensive strategy. Though the Valley may be, in a very '90s way, flooded with money—its start-ups raised $3.2 billion between April and June alone—we are not merely witnessing, Valley firms insist, Web 1.0, version 2.0. Venture-capital firms are more discerning than they once were. There are incubators and accelerators to help fledgling founders make savvy choices. "I haven't been to many client meetings where they haven't mentioned the dot-com with cautionary-tale trepidation," says Melissa Wallin, whose firm, Design Blitz, designed Skype's offices, as well as spaces for Square, RockMelt, and Khan Academy. "People are really sensitive to that." Back in the '90s, the Web was a gamble. Now it's business. That business just tends to be conducted in jeans and Chuck Taylors.
Offices play an important role in articulating that evolution to the rest of the world. Google has a YouTube channel, Life at Google, that offers video tours of its office spaces. Katie Couric recently visited Twitter's San Francisco headquarters for an episode of her new talk show. Firms' employees regularly post tweets and videos and Instagrams of their offices. In the age of social media, workplaces are brand extensions. As David Pierce, who designs furniture and layouts for Valley start-ups, puts it: "You can't get away anymore with the Ping-Pong table and the fridge full of Red Bull."
With all this in mind, start-ups strive to move their office spaces from behind the scenes to, simply, scenes. Much of the funding game, says the innovation consultant Alasdair Trotter, is about setting expectations. Much of it, as well, is about persuading investors to stay with you through the ups and downs of a volatile market.
And few gestures say "We're here to stay" more forcefully than building a sprawling headquarters of brick and mortar right in the heart of the Valley. Facebook's still-under-construction campus in Menlo Park will be anchored by a 42,000-square-foot, Frank Gehry–designed main building and will feature restaurants, pubs, a bike shop, and a health clinic. It will teem with some 6,000 workers, and it will function like the very thing it's being designed to mimic: a city. One that will serve a population that skews young and single and that appreciates extracurricular amusements. While the workforce at large chases the hazy ideal of "work-life balance," Facebook and fellow firms emphasize the blur between the two. It's not "work" and "everything else," these offices propose; work is everything else.
One of the first things I saw at Airbnb's sunlit headquarters in San Francisco—after the nap area decorated like a tree house—was a series of long communal tables where employees eat lunch together. The firm hosts, among other activities, regular happy hours and theme-dress days. I happened to be there on "Nautical Day," which involved employees sporting not only sailor caps and striped shirts but also head-to-toe pirate garb (or, rather, garrrb). There's a brute social efficiency to the camp/campus/cruise–like atmosphere encouraged by these firms: they're attempting to serve, level by level, their employees' hierarchy of needs.
Should the rest of us be a little jealous of that? On the one hand, definitely. (My own office features wonderful coworkers, sun-soaked work areas, and unlimited coffee. It does not, however, have a slide.) On the other hand, these spaces suit a very particular type of worker—someone who is not just creative but also social. Susan Cain, the author of Quiet: The Power of Introverts in a World That Can't Stop Talking,has warned about the perils of oversocialized workspaces. Offices overall, she says, have been optimized for the extroverted. Open floor plans, constant stimulation, an emphasis on spontaneous collaboration—all of these things prevent the kind of quiet, thoughtful mindfulness that introverts need in order to do their best work. Touring office spaces that, in a couple of instances, resembled toy stores, I wondered whether we would all thrive in an atmosphere that so insistently merges productivity and sociability.
Some of us may get a chance to find out. The industrial designer Yves Behar says that his larger, more corporate clients "are looking at start-up culture as something they want to imbue their own work environments with." And Trotter told me that some established corporations now visit start-up spaces for inspiration. So while Valley firms are known mostly for creating the spaces where we live our digital lives, they could, less directly, end up influencing our physical surroundings as well.
Of course, this does not necessarily mean that Webcam robots and indoor slides and outdoor goats are in our future. More likely, companies will find their own ways to embrace the proposition that work does not need to be drudgery—that something as office-ordinary as a vending machine can dispense whimsy.
Evernote's gadget dispenser, its employees tell me, has added some new items in response to employee requests—Tide stain-removal pens, breath mints—since my visit. The machine, like its surroundings, is a work in progress. Some day, one staffer mused, it might even dispense candy.
We want to hear what you think about this article. Submit a letter to the editor or write to letters@theatlantic.com.