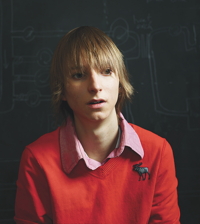 Nuclear Scientist
When he was 14, Wilson built a nuclear-fusion reactor. Then, a bomb-sniffing device that impressed even the president. Now 18, the prodigy is skipping college and using a $100,000 Thiel Fellowship to try to crack the riddle of harnessing energy from nuclear fusion—a feat that plenty consider impossible.
I was about 10 when I got into nuclear science. That was when that spark hit me. It took a few years of research, but when I was 14, I produced my first nuclear-fusion reaction.
Since then, the areas where I've made a lot of innovation are counterterrorism and nuclear medicine. I've been focused on detecting nuclear terrorism at ports, in cargo containers, and I developed and built detectors that are extremely cheap and also very sensitive. My other big development is a system to produce medical isotopes that are injected into patients and used to diagnose and treat cancer. It's a design that costs less than $100,000 and wheels right into a hospital room—replacing multimillion-dollar, warehouse-size facilities.
That's all blossomed into an interest in fusion energy, which I'm convinced is our energy future. The joke in fusion is, it's 30 years away, and always will be. I think it's perhaps the biggest scientific challenge since we tried to go to the moon. But it's worth doing, and I have ideas on how to make it work.