Punk-Rock Collective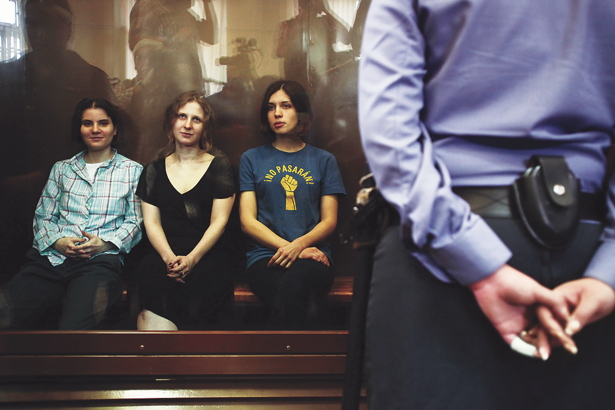 Maria Pleshkova/Demotix/Corbis
Russians mangle the group's name; English-speaking diplomats have trouble uttering it, too. But Pussy Riot, the Russian punk collective, is the new gold standard against which all political performance art will be measured. Four women playing air guitar and dancing for a total of 40 seconds managed to divide a country, forcing millions of people to examine their assumptions, and showed the world just who rules Russia, and how.
Technically, nobody knows how many women affiliate with Pussy Riot—anyone is welcome, and the group's members try to maintain anonymity, using nicknames like Squirrel. Five women apparently took part in the now-infamous action at Moscow's Cathedral of Christ the Savior on February 21, protesting Russian President Vladimir Putin; four actually made it to the front of the church to dance as their boom box blared what they called a "punk prayer"; three were arrested (including one who was detained before the performance) and sentenced to two years' imprisonment.
The "prayer" appealed to the Virgin Mary to "drive Putin out" and included a list of what ails Russia: "The phantom of liberty is in heaven / Gay pride sent to Siberia in chains … The Church's praise of rotten dictators / The crossbearer procession of black limousines."
The women—with their neon-colored stockings and mismatched balaclavas and their haphazard dance moves against the cathedral's gilded backdrop—initially struck observers, including would-be allies in the political opposition, as impudent, frivolous, and eminently dismissible. But in August, at the mockery of a trial that turned them into martyrs, the group's informal leader explained that their punk-rock expression was chosen because it provided "genuine sincerity."
Indeed, the three arrested women—then 22, 23, and 29 years old—turned out to be more articulate than their lawyers, better educated than their critics, and more dignified than anyone who has spoken up in Russia since the dissident Nobel Laureate Andrei Sakharov. All that, and a well-designed peaceful protest, and where did they end up? In jail, where conditions could constitute torture. As their punk prayer went, "Shit, shit, holy shit / Shit, shit, holy shit."
See all our 2012 Brave Thinkers.
We want to hear what you think about this article. Submit a letter to the editor or write to letters@theatlantic.com.
Masha Gessen
is a staff writer at
The New Yorker
and the author of several books, including
The Future Is History: How Totalitarianism Reclaimed Russia
and
The Man Without a Face: The Unlikely Rise of Vladimir Putin
.