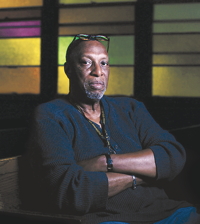 Reverend, Grace Community United Church of Christ
When White, for 22 years the head of a small, predominately black church in St. Paul, Minnesota, stood up for gay marriage, most of his congregants left. With his financially ruined church lost to foreclosure and only a few believers by his side, White remains undeterred. Here is his story (as told to Jennie Rothenberg Gritz).
I've always been a supporter of gay marriage. There are all different kinds of people—left-handed and right-handed, gay and straight. And I don't believe God made a mistake in creating them that way.
But it became an issue when I went to a meeting of the United Church of Christ and voted in favor of same-sex marriages. I thought my congregation was with me, but I immediately lost two-thirds of my members. They dubbed me a homosexual, even though I'm married to a woman. Sometimes I'd be outside, changing the church sign, and I'd see kids crossing over to the other side of the street. I'd ask, "Why did you do that?" They'd say, "Because my momma said you were gay."
Now, I love the black church. The black church nurtured me. However, the majority of black churches have the policy of don't ask, don't tell. They say "We love gays, but we hate the sin they're committing." If you're black and gay, you'll keep going to that church anyway, because it's part of your culture. But the church keeps pushing you into the closet.