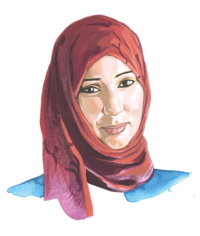 Unlicensed Driver
One day last year, al-Sharif, a 32-year-old IT consultant, got into her car and went for a spin—a provocative act in Saudi Arabia, where women are forbidden to drive.
As al-Sharif cruised the coastal city of Khobar, a friend riding along taped her ranting about the absurdities, both practical and philosophical, of the driving ban, and then produced a video they later posted online. By the time she was arrested a few days later, al-Sharif had taken a second spin and helped attract 12,000 fans to a Facebook page she'd created with a group of other activists called Teach Me How to Drive So I Can Protect Myself. She had also been instrumental in a campaign encouraging Saudi women to get behind the wheel en masse for a day of protest. Dozens did, and some posted proof online.
Al-Sharif was released from jail after several days, but the ban is still in effect. Women who've shown the temerity to operate a car have been restricted from foreign travel, fired from government jobs, and in one notable case, even sentenced to lashings (though that sentence was reversed in April). Al-Sharif's efforts endure, though driving is only a small part of the system of legalized discrimination that Saudi women face. Since the mass protest, women have won the right to join the country's local Shura councils, to run for the boards of influential "literary clubs," and to vote in municipal elections, the next of which is in 2015. But in a country where girls need a male guardian's permission to attend school, a woman who demands car keys can be revolutionary.