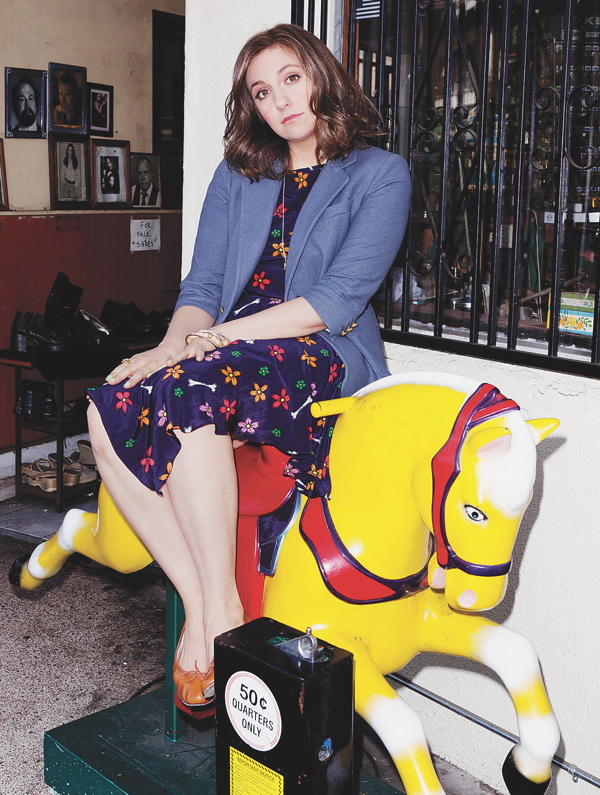 Writer/Director/Actress
You could say a lot about a college girl who posts a YouTube video of herself in a bikini taking a bath in a public fountain: that she's dumb, cute, narcissistic, asking for it, amateurish, a confused product of our pornified age. But you would also need to call her ballsy. Dunham—who created said video while at Oberlin College—has developed a signature career move that involves trying out many things in public, at the expense of her own dignity, to see how people react. Hannah, the character she wrote for herself in this year's HBO comedy Girls, is similarly defined by her talent for making colossal mistakes.
These are not cute, rom-com-heroine kinds of mistakes, either. They involve taking the wrong drugs and collapsing in her parents' hotel room, acting like an underage street hooker to turn her boyfriend on, and propositioning her boss. But with her calculated bumbling, Dunham has taken the soft glow off the "chick flick" and turned romantic comedy into something brutal and honest and sometimes highly uncomfortable to watch. Unquestionably, we will be subjected to Dunham-esque knockoffs in the years to come—the recent movie Bachelorette heralds a new age of female raunch, with a cast of trash-talking, coke-snorting disaster cases. We will not love all these new heroines, or even like them. But that's Dunham's radical message: women do not necessarily exist to be liked.
See all our 2012 Brave Thinkers.
Image credit: Jessica Haye and Clark Hsiao /Corbis Outline