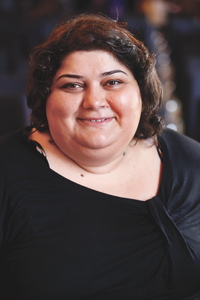 Journalist
Ismayilova is one of the only investigative reporters in the oil-rich former Soviet republic of Azerbaijan. For years she's reported on corruption within the country's autocratic ruling family, but this past March her investigation got personal.
Ismayilova had received a letter with threatening instructions: "Whore, behave. Or you will be defamed." Included were intimate photos, taken inside her home by a hidden camera. A week later, a sex tape of her was released online. In Azerbaijan, where reporters are routinely beaten and harassed, and some are even killed, blackmail is a powerful weapon against dissent. In 2010, the sex tape of an opposition newspaper editor effectively ended his career. The ramifications for a woman in this conservative country could be even more severe.
But Ismayilova did not hide. Instead, she tracked the letter to a Moscow post office. She discovered curious wires inside her apartment and then found the phone-company worker hired to install them. Government officials dismissed these leads and instead released the names and addresses of Ismayilova's friends whom they had questioned. Undeterred, Ismayilova has vowed to continue reporting for her nightly radio show. "If they meant to stop me by this, I can assure you they have been wrong," Ismayilova has said. "They failed to do so."
See all our 2012 Brave Thinkers.
Image credit: Georg Wendt/DPA/Corbis