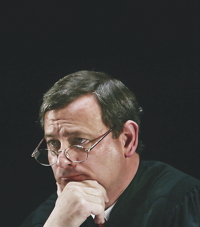 Chief Justice, United States Supreme Court
In 2006, at the end of his first term on the Supreme Court, Roberts told me in an interview that the most-successful chief justices were able to persuade their colleagues to put the interests of the Court as an institution above their own ideological agenda.
Acknowledging that most of his predecessors had failed in this goal, Roberts embraced John Marshall as his model. Like Marshall, he said, he would try to persuade his colleagues to avoid 5–4 decisions along party lines by stressing that "coherence in the Court's jurisprudence is more important than coherence in each individual justice's jurisprudence." And in an especially prescient comment, Roberts said, "I would like to think, looking back, that my opinions show [that] a concern about the legitimacy of what we're doing is an important part of the inquiry in each case."
As it happened, like Barack Obama—another Harvard-educated prodigy who came to Washington pledging to be a uniter, not a divider—Roberts had a harder time overcoming the partisan divisions than he had initially hoped: he presided over a series of split decisions pitting the five Republican justices against the four Democratic justices in cases involving partial-birth abortion, gender discrimination in the workplace, gun rights, and, most explosively of all, campaign-finance reform. But this year, when it came to handing down the most important decision of his young tenure, Roberts did precisely what he had promised: he put the institutional legitimacy of the Court above his own ideological agenda and cast a tie-breaking vote with the liberal justices to uphold the Affordable Care Act.