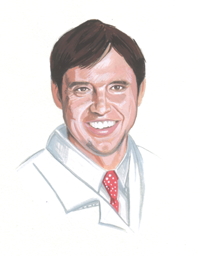 Research Scientist, Harvard Medical School
Two years ago, after Jay Bradner made a remarkable breakthrough—the discovery of a molecule that, in mice, appeared to trick certain cancer cells into becoming normal cells—he did something unusual. Instead of huddling with lawyers to file for a patent on the molecule, Bradner simply gave his work away. Hoping to get the discovery into the hands of any scientist who could advance it, he published the structure of the compound (called JQ1) and mailed samples to labs around the world. The move, he says, felt like "the more efficient way to do science—and maybe the more honorable way."
The open-source approach Bradner adopted is revolutionary in a culture where discoveries are kept secret, often until they can be tested, manufactured, and sold as treatments—a cruelly long process in the face of the cancers he studies.
The monopoly on developing the molecule that Bradner walked away from would likely have been worth a fortune (last year, the median value for U.S.-based biotech companies was $370 million). Now four companies are building on his discovery—which delights Bradner, who this year released four new molecules. "For years, drug discovery has been a dark art performed behind closed doors with the shades pulled," he says. "I would be greatly satisfied if the example of this research contributed to a change in the culture of drug discovery."
See all our 2012 Brave Thinkers.
We want to hear what you think about this article. Submit a letter to the editor or write to letters@theatlantic.com.