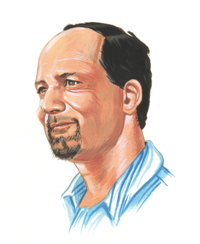 Astronomer
Celebrated as the "planet hunter" for his role in discovering more than 400 of them, Marcy raised eyebrows recently when he announced he was shifting focus, taking over as the head of Berkeley's Search for Extraterrestrial Intelligence program and becoming an alien hunter. The long odds he faces notwithstanding, Marcy has a plan.
I've been intrigued by the question of extraterrestrial life for a long time; the whole idea of other civilizations that have been around for thousands or even millions of years longer than humans just seemed like an amazing reality. But the interest is logical as well. Now that we're finding Earth-like planets out there, you have to wonder: Is there intelligent life on them? The search for life is simply the next best question.
The mechanics of answering, of course, are unique. While we now have a precise method for detecting planets in other solar systems, detecting life requires guesswork. It requires us to put ourselves in the place of advanced species that have technology beyond what we humans do—communications technology, in particular, because the best chance we have of detecting intelligent life is eavesdropping on their communications. For me, the question is not "Is anybody out there?" It's "Is anybody out there, close enough to communicate with?" And the odds of answering that question, given our current resources, are slim—maybe one in 1,000. So if we, at Berkeley or anywhere else, don't end up finding life, I won't think of that as a failure; I'll think of it as information. We humans may realize that we are carrying the ball for intelligent life in this sector of the Milky Way.
And the small odds of success, ultimately, can be liberating. I feel like I have the lucky opportunity to fail in all this, simply because I've been so fortunate up to now. When I began searching for exoplanets, everybody said I was crazy. But it worked, and planet hunting has moved from science fiction to, simply, science. So while finding life out there is a long shot, there's also this: I got lucky once. I might get lucky again.