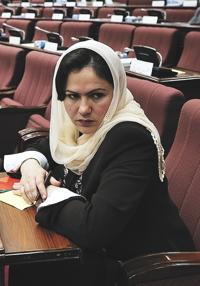 Member of Parliament, Afghanistan
In Afghanistan, it is sometimes tough to tell the difference between bravery, optimism, and folly. In the past few months, Koofi—parliamentarian, widowed mother of two daughters, and 2014 presidential candidate—has exemplified all three.
On a platform that opposes corruption and supports women's rights, the 37-year-old Koofi—whose politician father was assassinated in 1978, just before the Soviet invasion—has launched a rather quixotic run for President Hamid Karzai's job. Assassins have stalked her, and even if she survives to election day, her lack of power and supporters will doom Koofi's chance at the polls.
War has shredded the rights of Afghans of both genders, and to be seen primarily as an advocate of just one group—and one as conspicuously oppressed as Afghan women—does not bode well for electoral success. Moral success is another matter. In Afghanistan, the only noble causes left are the lost ones.
See all our 2012 Brave Thinkers.
Image credit: Lynsey Addario/VII