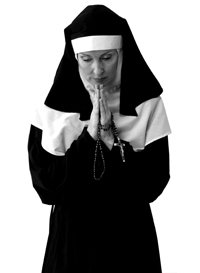 Catholic nuns in the U.S. have been heading toward a collision with Church leaders in Rome for decades. This year, doctrinal disputes over issues such as abortion and gay marriage finally came to a head. And the nuns haven't exactly been timid.
April
The Vatican issues a stern report rebuking the nation's largest group of nuns, the Leadership Conference of Women Religious (LCWR), for questioning Church positions on contraception, homosexuality, and male-only priesthood while also advancing "radical feminist themes." An American bishop is tasked with bringing the activist nuns in line.
June
After rallying support by appearing on The Colbert Report, Sister Simone Campbell leads a group of nuns on a two-week bus tour across the country. Ostensibly designed to protest Paul Ryan's budget plan and its cuts to services used by the poor, the attention-grabbing campaign galvanizes support for American nuns in the face of the Vatican's critique.
August
Amid speculation that the LCWR might choose to sever its ties with the Vatican, more than 900 nuns gather in St. Louis for the group's annual assembly and vote instead to continue dialogue with Rome—but threaten to reconsider if they are "forced to compromise the integrity of [their] mission."
September
Campbell gives a much-lauded speech at the Democratic National Convention, where she blasts Republican policies as immoral.
See all our 2012 Brave Thinkers.
Image credit: Corbis