The Homeschool Diaries
In New York City, teaching your own kids can make the most practical sense.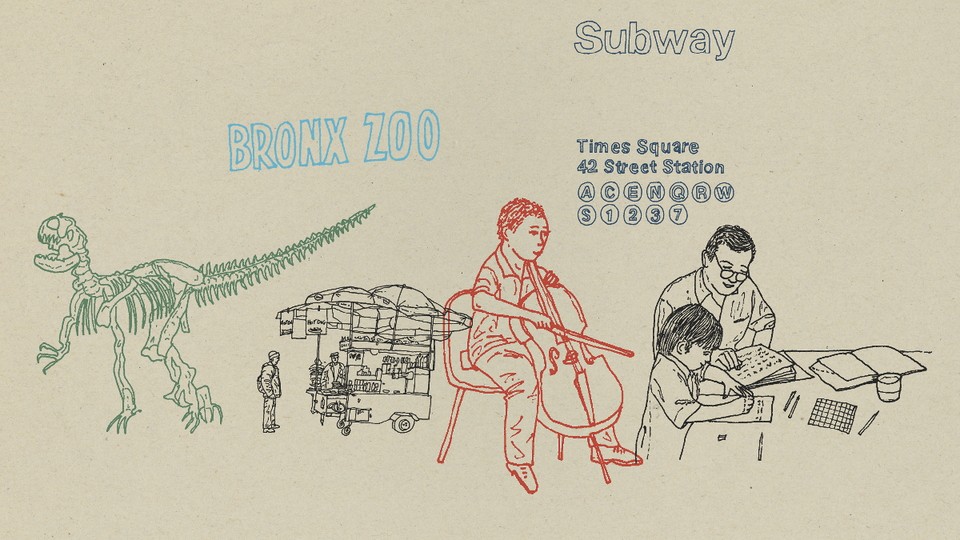 Homeschooling happened to me this way: The same winter I started teaching a graduate class one night a week, my family was compelled to move to a new apartment, 100 yards away from our old one and identical except for a 25 percent rent hike we couldn't afford, so that our 5-year-old twin sons could enroll in a "gifted" program in the Manhattan school district where we'd lived since they were born—until the city decided to redraw the lines. As I wrote yet another e-mail to a city Department of Education supervisor, asking her again if she could please arrange for the department's computer system to recognize our change of address, my wife's interest in homeschooling began to make a lot of sense. After all, I was teaching graduate students at Columbia. Why shouldn't I teach my own children, too? What if I took the time and energy I was putting into arranging our sons' education and devoted it to actually educating them?
Our sons enrolled in the gifted program, and Lenora and I volunteered for the usual parent activities. But when another substantial rent increase prompted a move to Brooklyn (to a lovely, affordable neighborhood whose public-school principal had recently been arrested for assaulting a teacher), and a first-grade teacher in our boys' program went on maternity leave and was replaced by a 23-year-old teaching assistant, and we faced the prospects of transporting them to Manhattan and back for five more years and begging for permission to enroll our youngest son despite our Brooklyn address, and the discounted tuition for three at a nearby Waldorf school came to $27,000—that's when I became a homeschooler.
MORE ON EDUCATION
We had considered our options: Lenora could go back to work in the shrinking field of newspapering, with her salary enabling us to move to a neighborhood with better schools; or she could work full-time on our children's education, teaching them and organizing classes with other families, while we relied on my income as a book editor and part-time professor. She was eager for us to school our children ourselves, and persuasive about why we should do so. I had been raised on the cult, creed, and dogma of public school, and this felt like leaving the fold. But given our other choices, it was worth a try.
That first year, chatting with other homeschooling parents at soccer games, picnics, and after-church coffee hours, I found that our decision was far from unusual. Homeschooling has long been a philosophical choice for religious traditionalists and off-the-grid homesteaders, but for the parents we met—among them several actors, a jazz composer, a restaurateur, a TV chef, a Columbia University physical-plant supervisor, and a handful of college professors—it was a practical alternative to New York's notoriously inadequate education system.
The city's public schools are underfunded, overcrowded, and perpetually in turnaround. District boundaries governing enrollment change from one year to the next, as do standards for admission to gifted programs and "citywide" schools, accept­ance to which is determined by children's scores on tests whose educational relevance is questionable. Meanwhile, middle-­class parents are priced out of districts midway through their children's education, as people a few rungs higher up the ladder move to neighborhoods with acclaimed public schools (the West Village, Park Slope) and put the half-million they would have spent on private schools toward the mortgage.
As for those private schools, if you're qualified to teach in them, you probably can't afford them. Collegiate School costs $39,400 a year; Saint Ann's, long a school where Brooklyn writers and professors sent their kids, now sports a morning lineup of town cars delivering the offspring of Manhattan hedge-fund managers. Parochial schools have become the poor relations in Catholic dioceses, in many cases the limb a church must cut off to avoid being shut down altogether.
So we are making a different choice. Sure, we have philo­sophical reasons. Some of the parents in our circle are "unschoolers," convinced that early education should follow a child's interests and initiatives rather than shape them. Some of us aspire to offer something like a classical education: logic and rhetoric, mythology, Latin. Most of us are put off by the public schools' emphasis on standardized tests and their scant attention to the visual arts, music, religion, and foreign languages.
But the practical reasons for homeschooling are paramount. When you set the city's gorgeous mosaic of intellectual and cultural offerings against its crazy quilt of formal education, you can't help but want to supplement your children's schooling with outings to museums, zoos, historic sites and neighborhoods, and the like. Even in a tight economy, just about every city cultural institution still has an educational division. Why "save" them for weekends or field trips?
On a normal day in our Brooklyn apartment, I teach math first thing, then go to an office space in a different neighborhood. Lenora picks up from there, teaching American and world history, language arts, geography, and penmanship, depending on the day. She and the boys then set out into the city for science at the Museum of Natural History, the Bronx Zoo, or the Brooklyn Botanic Garden; history at the Queens County Farm Museum or the Wyckoff Farmhouse, in Brooklyn; or art at the Metropolitan Museum.
Some of these programs are free. Some are organized cooperatively, with different parents leading sessions on subjects of special interest to them. Others involve weekly classes for a fee. A class at the Center for Architecture Foundation, in Greenwich Village, teaches children the history of a place—­medieval Europe, Federal-era New York—through its architecture. An eight-week course costs about $140, depending on the number of students: not cheap, but not a $100-a-day, five-day-a-week private-school bill (and participating parents sometimes pool their resources to cover tuition for a child whose family can't quite afford it). One homeschool soccer program is led, on a Hudson River pier, by an ace coach whose schedule is light in the hours before "regular" schools let out. Cost: $5 a week.
Such an approach to education is more traditional than it may appear. All parents teach their children at home, one way or another; countless New York parents make sure their children see Ellis Island and The Starry Night. Our friends Jo, a novelist, and Brad, an NYU professor, see the schooling of their son in terms of cultural literacy. "One reason we were tempted by homeschooling," Brad says, "is that it seemed to us that we could easily build our home life around learning in a way that would be fun for the whole family." My own morning math sessions with our sons have a 1970s-public-school feel to them: textbooks and workbooks, graph paper and pink erasers strewn across the living-room table. Our afternoon outings, once every couple of weeks, are akin to the ones that thousands of New York parents embark on with their kids over weekends or school holidays: a museum, a hot dog from a cart, a stroll through the park, and a subway ride home, with books open on our laps all the way to Brooklyn.
One question we're always asked: What about the future? Middle school? High school? The simple answer, for us and plenty of other New York homeschoolers, is that we just don't know; the practicalities change from year to year. Our older boys are now in the fifth grade. They know their way around the Museum of Natural History and Yankee Stadium; they are versed in the exploits of Huck Finn and Jack Sparrow. This spring, they'll take the required state Regents exams—the tests that determine New York City students' options for middle school. But they, and we, hope to continue homeschooling. Meanwhile, when they sit down at the table with protractors or head to a museum, it is college I am thinking about. Not just because a university education is our unquestioned aspiration for our children, but also because it seems to be the closest model for the education we are now trying to provide. Tightly focused class sessions; expert presentations complemented by individual instruction; hands-on learning in areas that vary from day to day and year to year; education undertaken in the wider world—these aspects of our so-called homeschooling are basic to postsecondary learning. Higher education in America may be very different by 2022, when our twin sons would enroll, but I like to think that they will have had a taste of the university already.