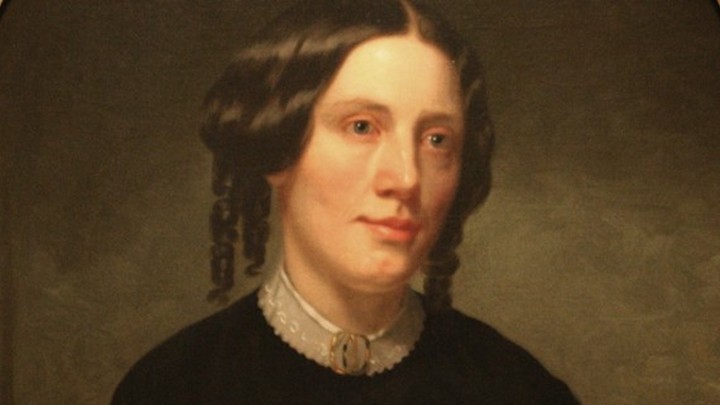 ---
In the winter of 1851, Harriet Beecher Stowe agreed to produce a serialized anti-slavery story for the abolitionist publication The National Era. The following year, the story was issued as the book Uncle Tom's Cabin, and Stowe became an instant celebrity. The book proved popular in England, and a handful of British nobles were inspired by its message to write a petition, signed by hundreds of thousands of British women, addressed to "the Women of the United States of America," urging them to do more to protest slavery. (Slavery had been abolished in Britain in the 1830s.)

Nearly a decade later, when President Lincoln announced that the slaves would be freed, Stowe replied to the women of Britain in the pages of The Atlantic. America had now largely achieved the goal set out for it by Britain's petitioners, she noted, and yet, since the start of the war, anti-slavery Britain had not come forward in support of the North (a fact that many attributed to Britain's dependence on Southern cotton). Stowe now turned the petitioners' exhortation back upon them: "Sisters, what have you done, and what do you mean to do?"

—Sage Stossel
A REPLY TO "The Affectionate and Christian Address of Many Thousands of Women of Great Britain and Ireland to Their Sisters the Women of the United States of America" …
Sisters,—More than eight years ago you sent to us in America a document with the above heading. It is as follows: …
"We cannot be silent on those laws of your country which, in direct contravention of God's own law, 'instituted in the time of man's innocency,' deny in effect to the slave the sanctity of marriage, with all its joys, rights, and obligations; which separate, at the will of the master, the wife from the husband and the children from the parents … We appeal to you, then, as sisters, as wives, and as mothers, to raise your voices to your fellow-citizens and your prayers to God for the removal of this affliction and disgrace from the Christian world" …
This address, splendidly illuminated on vellum, was sent to our shores at the head of twenty-six folio volumes, containing considerably more than half a million of signatures of British women. It was forwarded to me with a letter from a British nobleman now occupying one of the highest official positions in England, with a request on behalf of these ladies that it should be in any possible way presented to the attention of my countrywomen …
The signatures to this appeal … represent all that Great Britain possesses, not only of highest and wisest, but of plain, homely common sense and good feeling. Names of wives of cabinet-ministers appear on the same page with the names of wives of humble laborers,—names of duchesses and countesses, of wives of generals, ambassadors, savans, and men of letters, mingled with names traced in trembling characters by hands evidently unused to hold the pen and stiffened by lowly toil …
The time has come … when such an astonishing page has been turned in the anti-slavery history of America, that the women of our country, feeling that the great anti-slavery work to which their English sisters exhorted them is almost done, may properly and naturally feel moved to reply to their appeal …
Now, Sisters of England, in this solemn, expectant hour, let us speak to you of one thing which fills our hearts with pain and solicitude.
It is an unaccountable fact, and one which we entreat you seriously to ponder, that the party which has brought the cause of Freedom thus far on its way, during the past eventful year, has found little or no support in England. Sadder than this, the party which makes Slavery the chief corner-stone of its edifice finds in England its strongest defenders …
Sisters of England, think it not strange, if we bring back the words of your letter, not in bitterness, but in deepest sadness, and lay them down at your door … Sisters, what have you done, and what do you mean to do?
In view of the decline of the noble anti-slavery fire in England, in view of all the facts and admissions recited from your own papers, we beg leave in solemn sadness to return to you your own words …
"We appeal to you, as sisters, as wives, and as mothers, to raise your voices to your fellow-citizens, and your prayers to God for the removal of this affliction and disgrace from the Christian world."
In behalf of many thousands of American women,
Harriet Beecher Stowe
---
Read the full text of this article here.
We want to hear what you think about this article. Submit a letter to the editor or write to letters@theatlantic.com.
Harriet Beecher Stowe
was an author and social activist, best known for her abolitionist novel
Uncle Tom's Cabin
. She was a founder of
The Atlantic
.