Perfecting Our Union
The president of the United States reflects on what Abraham Lincoln means to him, and to America.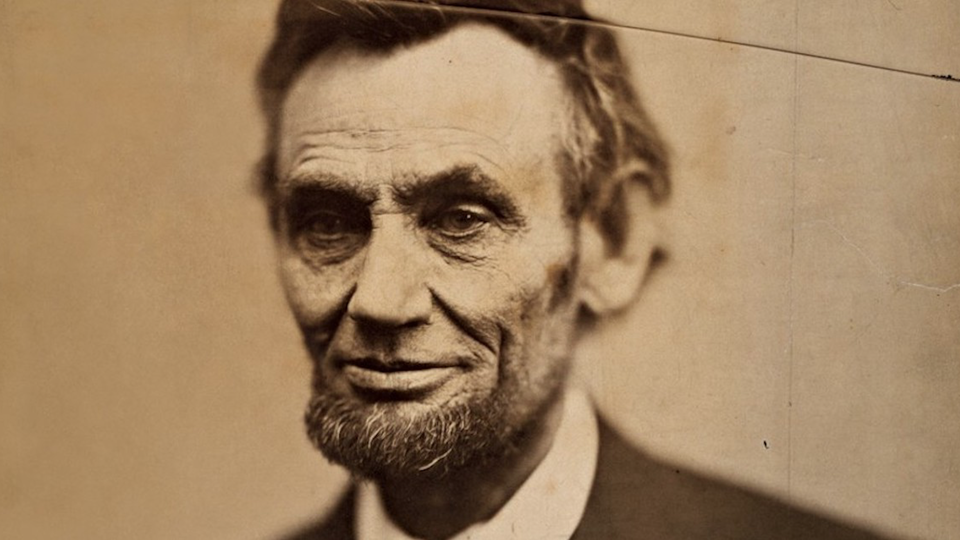 Abraham Lincoln, photographed by Alexander Gardner on February 5, 1865, in Washington, D.C. While Gardner was processing the image, the photographic plate broke. Before destroying the negative, he produced only one print, which today resides in the National Portrait Gallery. Historians have assigned various symbolic meanings to the crack in the image—for instance, that it foretold Lincoln's assassination weeks later (the bullet traced a similar line through his head), or that it represented his preservation of a divided nation.
---
Lincoln is a president I turn to often. From time to time, I'll walk over to the Lincoln Bedroom and reread the handwritten Gettysburg Address encased in glass, or reflect on the Emancipation Proclamation, which hangs in the Oval Office, or pull a volume of his writings from the library in search of lessons to draw.
Always thoughtful, always eloquent, Lincoln's writings speak to me as they speak to so many Americans, reminding us what is best about ourselves and the Union he saved: that though we may have our differences, we are one people, and we are one nation, united by a common creed.
What makes Alexander Gardner's print so resonant, then, is its humanity. Here is Lincoln as he was, his eyes weary, his forehead wrinkled, wearing an expression, wrote a poet, of "deep latent sadness." But Gardner also captures something else. An eyebrow, arched. An upturned lip. The faintest hint of a smile. There is, in the photographer's print, something of his subject's spirit.That, I believe, is why, a century and a half after he took office, Lincoln is revered by the American people. Such reverence is richly deserved, but it comes at a cost. The Lincoln who holds a place in our national memory is less a man than an icon—a face carved in black hills, a marble giant towering over us on a mall.
Three years before he entered Gardner's studio, Lincoln termed the United States, in one of his early messages to Congress, "the last best hope of earth." Considering that our fragile Union was not 100 years old and stood a good chance of dissolving, it was an improbable thing to say. But Lincoln saw beyond the bloodshed and division. He saw us not only as we were, but as we might be. And he calls on us through the ages to commit ourselves to the unfinished work he so nobly advanced—the work of perfecting our Union.
---
Also see The Atlantic's Civil War Commemorative Issue with writings by Mark Twain, Harriet Beecher Stowe, Frederick Douglass, Nathaniel Hawthorne, Louisa May Alcott, and others; contemporary essays by Ta-Nehisi Coates and Jeffrey Goldberg; and images from the National Portrait Gallery.