Nat Turner's Insurrection
An account of America's bloodiest slave revolt and its repercussions.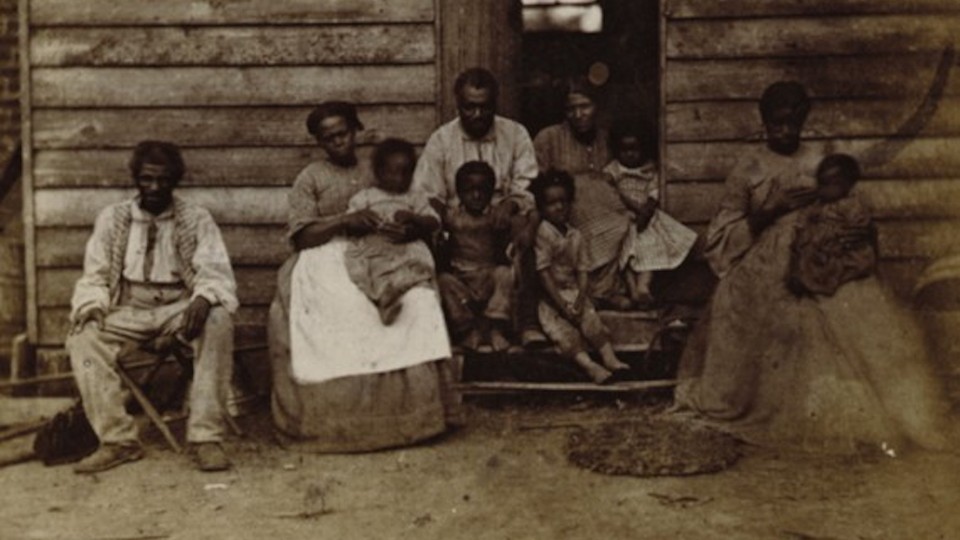 In the early years of the 19th century, some Southern planters took pains to treat their slaves well, as healthy slaves were more likely to work efficiently and reproduce. Slaveholders contended that the master-slave relationship was a mutually beneficial one.

But periodic slave uprisings gave the lie to such a notion. The most notorious uprising took place in the summer of 1831, when a Virginia slave named Nat Turner led a rampage that left more than 50 whites dead. Whites retaliated by murdering more than 100 blacks, slave and free alike; imposing new restrictions throughout the South; and seizing and destroying Northern abolitionist literature.

In 1861, Thomas Wentworth Higginson, an abolitionist, minister, and frequent Atlantic contributor (and sometime assistant editor), drew on newspaper reports, Turner's published confession, and accounts by witnesses to chronicle Turner's insurrection. The following year, Higginson would become colonel of the Union's first black regiment, the First South Carolina Volunteers (an experience he also wrote about; see "Leaves From an Officer's Journal").
A pair of former slaves, photographed after their escape. Across the South, in the years leading up to the war, the thought of slave uprisings struck fear in the hearts of slave-owners. (Corbis)
Near the southeastern border of Virginia, in Southampton County, there is a neighborhood known as "The Cross Keys." It lies fifteen miles from Jerusalem, the county-town or "court-house," seventy miles from Norfolk, and about as far from Richmond … Up to Sunday, the twenty-first of August, 1831, there was nothing to distinguish it from any other rural, lethargic, slipshod Virginia neighborhood, with the due allotment of mansion-houses and log-huts, tobacco-fields and "old-fields," horses, dogs, negroes, "poor white folks," so called, and other white folks, poor without being called so. One of these last was Joseph Travis, who had recently married the widow of one Putnam Moore, and had unfortunately wedded to himself her negroes also.
In the woods on the plantation of Joseph Travis, upon the Sunday just named, six slaves met at noon for what is called in the Northern States a picnic and in the Southern a barbecue. The bill of fare was to be simple: one brought a pig, and another some brandy, giving to the meeting an aspect so cheaply convivial that no one would have imagined it to be the final consummation of a conspiracy which had been for six months in preparation … The party had remained together from twelve to three o'clock, when a seventh man joined them,—a short, stout, powerfully built person, of dark mulatto complexion and strongly-marked African features, but with a face full of expression and resolution. This was Nat Turner.
He was at this time nearly thirty-one years old, having been born on the second of October, 1800. He had belonged originally to Benjamin Turner,—whence his last name, slaves having usually no patronymic,—had then been transferred to Putnam Moore, and then to his present owner. He had, by his own account, felt himself singled out from childhood for some great work … His moral faculties were very strong, so that white witnesses admitted that he had never been known to swear an oath, to drink a drop of spirits, or to commit a theft …
Eleven hours [this group] remained [at the barbecue], in anxious consultation: one can imagine those terrible dusky faces, beneath the funereal woods, and amid the flickering of pine-knot torches, preparing that stern revenge whose shuddering echoes should ring through the land so long. Two things were at last decided: to begin their work that night, and to begin it with a massacre so swift and irresistible as to create in a few days more terror than many battles, and so spare the need of future bloodshed …
Swift and stealthy as Indians, the black men passed from house to house,—not pausing, not hesitating, as their terrible work went on. In one thing they were humaner than Indians or than white men fighting against Indians,—there was no gratuitous outrage beyond the death-blow itself, no insult, no mutilation; but in every house they entered, that blow fell on man, woman, and child,—nothing that had a white skin was spared. From every house they took arms and ammunition, and from a few, money; on every plantation they found recruits: those dusky slaves, so obsequious to their master the day before, so prompt to sing and dance before his Northern visitors, were all swift to transform themselves into fiends of retribution now; show them sword or musket and they grasped it, though it were an heirloom from Washington himself. The troop increased from house to house,—first to fifteen, then to forty, then to sixty. Some were armed with muskets, some with axes, some with scythes; some came on their masters' horses. As the numbers increased, they could be divided, and the awful work was carried on more rapidly still. The plan then was for an advanced guard of horsemen to approach each house at a gallop, and surround it till the others came up. Meanwhile what agonies of terror must have taken place within, shared alike by innocent and by guilty! what memories of wrongs inflicted on those dusky creatures, by some,—what innocent participation, by others, in the penance! The outbreak lasted for but forty-eight hours; but during that period fifty-five whites were slain, without the loss of a single slave.
One fear was needless, which to many a husband and father must have intensified the last struggle. These negroes had been systematically brutalized from childhood; they had been allowed no legalized or permanent marriage; they had beheld around them an habitual licentiousness, such as can scarcely exist except in a Slave State; some of them had seen their wives and sisters habitually polluted by the husbands and the brothers of these fair white women who were now absolutely in their power. Yet I have looked through the Virginia newspapers of that time in vain for one charge of an indecent outrage on a woman against these triumphant and terrible slaves. Wherever they went, there went death, and that was all …
When the number of adherents had increased to fifty or sixty, Nat Turner judged it time to strike at the county-seat, Jerusalem. Thither a few white fugitives had already fled, and couriers might thence be dispatched for aid to Richmond and Petersburg, unless promptly intercepted. Besides, he could there find arms, ammunition, and money; though they had already obtained, it is dubiously reported, from eight hundred to one thousand dollars. On the way it was necessary to pass the plantation of Mr. Parker, three miles from Jerusalem. Some of the men wished to stop here and enlist some of their friends. Nat Turner objected, as the delay might prove dangerous; he yielded at last, and it proved fatal.
He remained at the gate with six or eight men; thirty or forty went to the house, half a mile distant. They remained too long, and he went alone to hasten them. During his absence a party of eighteen white men came up suddenly, dispersing the small guard left at the gate; and when the main body of slaves emerged from the house, they encountered, for the first time, their armed masters. The blacks halted, the whites advanced cautiously within a hundred yards and fired a volley; on its being returned, they broke into disorder, and hurriedly retreated, leaving some wounded on the ground. The retreating whites were pursued, and were saved only by falling in with another band of fresh men from Jerusalem, with whose aid they turned upon the slaves, who in their turn fell into confusion …
Sadly came Nat Turner at nightfall into those gloomy woods where forty-eight hours before he had revealed the details of his terrible plot to his companions. At the outset all his plans had succeeded; everything was as he predicted: the slaves had come readily at his call, the masters had proved perfectly defenceless. Had he not been persuaded to pause at Parker's plantation, he would have been master before now of the arms and ammunition at Jerusalem; and with these to aid, and the Dismal Swamp for a refuge, he might have sustained himself indefinitely against his pursuers …
He found a spot which he judged safe, dug a hole under a pile of fence-rails in a field, and lay there for six weeks, only leaving it for a few moments at midnight to obtain water from a neighboring spring. Food he had previously provided, without discovery, from a house near by.
Meanwhile an unbounded variety of rumors went flying through the State …
Indeed, the most formidable weapon in the hands of slave-insurgents is always this blind panic they create, and the wild exaggerations which follow. The worst being possible, every one takes the worst for granted …
Now the work of vengeance was to begin. In the frank phrase of a North Carolina correspondent,—"The massacre of the whites was over, and the white people had commenced the destruction of the negroes, which was continued after our men got there, from time to time, as they could fall in with them, all day yesterday." A postscript adds, that "passengers by the Fayetteville stage say, that, by the latest accounts, one hundred and twenty negroes had been killed,"—this being little more than one day's work.
These murders were defended as Nat Turner defended his: a fearful blow must be struck. In shuddering at the horrors of the insurrection, we have forgotten the far greater horrors of its suppression …
The truth is, it was a Reign of Terror. Volunteer patrols rode in all directions, visiting plantations. "It was with the greatest difficulty," said General Brodnax before the House of Delegates, "and at the hazard of personal popularity and esteem, that the coolest and most judicious among us could exert an influence sufficient to restrain an indiscriminate slaughter of the blacks who were suspected." A letter from the Rev. G. W. Powell declares, "There are thousands of troops searching in every direction, and many negroes are killed every day: the exact number will never be ascertained." Petition after petition was subsequently presented to the legislature, asking compensation for slaves thus assassinated without trial.
Men were tortured to death, burned, maimed, and subjected to nameless atrocities. The overseers were called on to point out any slaves whom they distrusted, and if any tried to escape, they were shot down. Nay, worse than this. "A party of horsemen started from Richmond with the intention of killing every colored person they saw in Southampton County. They stopped opposite the cabin of a free colored man, who was hoeing in his little field. They called out, 'Is this Southampton County?' He replied, 'Yes, Sir, you have just crossed the line, by yonder tree.' They shot him dead and rode on." This is from the narrative of the editor of the "Richmond Whig," who was then on duty in the militia, and protested manfully against these outrages. "Some of these scenes," he adds, "are hardly inferior in barbarity to the atrocities of the insurgents."
These were the masters' stories. If even these conceded so much, it would be interesting to hear what the slaves had to report …
Meanwhile the panic of the whites continued; for, though all others might be disposed of, Nat Turner was still at large …
On Sunday, October 30th, a man named Benjamin Phipps, going out for the first time on patrol duty, was passing at noon a clearing in the woods where a number of pine-trees had long since been felled. There was a motion among their boughs; he stopped to watch it; and through a gap in the branches he saw, emerging from a hole in the earth beneath, the face of Nat Turner. Aiming his gun instantly, Phipps called on him to surrender. The fugitive, exhausted with watching and privation, entangled in the branches, armed only with a sword, had nothing to do but to yield; sagaciously reflecting, also, as he afterwards explained, that the woods were full of armed men, and that he had better trust fortune for some later chance of escape, instead of desperately attempting it then …
Torn, emaciated, ragged, "a mere scarecrow," still wearing the hat perforated with buckshot, with his arms bound to his sides, he was driven before the levelled gun to the nearest house …
When Nat Turner was asked by Mr. T. R. Gray, the counsel assigned him, whether, although defeated, he still believed in his own Providential mission, he answered, as simply as one who came thirty years after him, "Was not Christ crucified?" In the same spirit, when arraigned before the court, "he answered, 'Not guilty,' saying to his counsel that he did not feel so." But apparently no argument was made in his favor by his counsel, nor were any witnesses called … He was therefore placed in the paradoxical position of conviction by his own confession, under a plea of "Not guilty." The arrest took place on the thirtieth of October, 1831, the confession on the first of November, the trial and conviction on the fifth, and the execution on the following Friday, the eleventh of November, precisely at noon.
---
Read the full text of this article here.
True Story
---