My Ramona
Beverly Cleary's body of work shows why topicality derails great literature.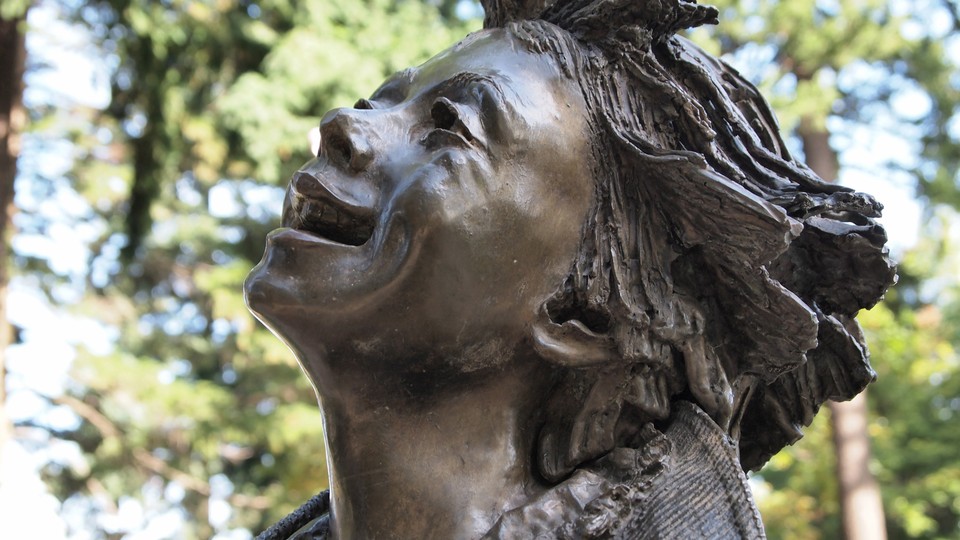 On a shimmering day in the Berkeley Hills in 1949—a day hopeful as only those in post-war California could be—a young author of a children's book walked down the winding street from her house to deposit her first check from her publisher. Although her career had just begun, she was sure it would be fruitful, because she knew she could spend her writing life deploying, as she later recalled, "all the bits of knowledge about children, reading, and writing that had clung to me like burrs or dandelion fluff." For decades, beginning with her first book, Henry Huggins, Beverly Cleary would develop those memories and observations to create one of the most enduring and influential bodies of work in American fiction.
Cleary, who turned 95 in April and whose books have so far sold more than 91 million copies, has won it all: obviously, if belatedly, the Newbery and the Laura Ingalls Wilder medals, but also the National Medal of Arts and the Library of Congress's Living Legend award. Her college (UC Berkeley) named a dorm for her; her graduate school (the University of Washington library school) named a professorship. This spring, the Los Angeles Times bestowed on Cleary the Robert Kirsch Award, an honor given to "a living author with a substantial connection to the American West, whose contribution to American letters deserves special recognition." She is the first children's author to have won it. Although she has written 41 books, her 14 novels devoted to Henry, his dog, Ribsy, his friend Beezus, and her little sister Ramona are of course her most celebrated and adored, so it's unsurprising that Cleary's publisher has joined the beatification process with a 15-volume boxed set, The World of Beverly Cleary Collection—an assemblage that, in addition to Ellen Tebbits and the three Ralph S. Mouse books, includes all the Beezus and Ramona novels, save one, and all the Henry Huggins novels, with the dismaying exceptions of Henry and the Clubhouse and Henry and the Paper Route.
The greatness of Cleary's achievement highlights the unevenness of her body of work—an inconsistency that this collection, intended to crystallize her fictional world, underscores. On that walk in 1949, Cleary made two resolutions: to "ignore all trends," and to "not let money influence any decisions" she would make about her books. She adhered heroically to the second, but not wholly to the first. Cleary's imperishable triumph is her Henry Huggins books (published between 1950 and 1964) and her classic Beezus and Ramona books (from the first, Beezus and Ramona, 1955, through Ramona the Pest, 1968). These depict a childhood world now outwardly vanished: not only are the Klickitat kids just fascinated by Buck Rogers–style robots, they have the run of their humble middle-class neighborhood, unsupervised by adults; kindergartners walk themselves to school, followed by dogs unencumbered by leash laws. (It's a world, of course, made possible only by the unobtrusive, in fact usually un-noted, presence of the neighborhood's stay-at-home mothers.) This world was true to Cleary's childhood experience in the 1920s and '30s in Portland, where she moved after her family lost their farm in Yamhill—and for that matter to my childhood, in the 1960s and early '70s, in Upper Arlington, Ohio, and Eugene, Oregon.
Cleary was inspired to write her novels while working as a young librarian in Yakima, Washington, when a neighborhood scamp asked her: "Where are the books about kids like us?" And Cleary's appeal—even in this age, when fantasy dominates children's fiction—is largely rooted in her intense absorption in the quotidian emotions and non-events of kid life (in this way she resembles that great, underappreciated chronicler of childhood, Jean Shepherd). Cleary lived and remembered her own childhood with a preternatural intensity, as attested by her memoirs, A Girl From Yamhill and My Own Two Feet—books of extraordinary elegance and candor that deserve far greater acclaim than the blandly warm accolades they've received. Her magic partly consists of her ability to transfer episodes from her own childhood with photographic and psychological exactitude. She had her characters simply inhabit the Portland, Oregon, neighborhood around Klickitat Street (a name she had always liked because it reminded her of "the sound of knitting needles"), where she spent part of her childhood—her friend's house, for instance, became Henry Huggins's house.
It's certainly an innocent world, but not without its sadness and difficulties. In the long afternoon escapades of Henry, her greatest protagonist, Cleary—herself an only child—poignantly captures the leisurely loneliness of a singlet who must always make his own fun. And although Cleary refrained in these early books from any mention of the state of the economy (the kind of social background that wormed its way into some of her later books), even a bicycle is beyond the means of a modestly middle-­class family. While the kids around Klickitat Street aren't deprived as were Cleary and her friends (her memoirs are a moving chronicle of lives derailed and ambitions thwarted by the Depression), the small treats on offer (two weeks' summer vacation at a borrowed cabin, a low-key 11th-birthday party consisting of an at-home tamale lunch and a trip to the neighborhood cinema for a cartoon matinee) remind adult readers that Baby Boom families, headed by Depression-scarred parents, led lives we would define as mean.
The upshot: any kid who has read these early Cleary books since, say, the late 1970s recognizes in countless ways that the world they portray is foreign, regardless of the timelessness of the emotions and psychology at play. And indeed, the distinguished, offhandedly charming illustrations in the original editions of these books (by Louis Darling, who also illustrated Silent Spring) depict plainly dressed, crew-cut, unmistakably mid-20th-century children, and a Ramona who, true to Cleary's stroppy character, somewhat resembles a wild child. But the books' illustrations have been modernized—the children now sport bicycle helmets and backpacks. These wholly anachronistic drawings condescend to and confuse kid readers, who know that the characters they're encountering in these books aren't in the contemporary world—and who in fact have little difficulty finding the stories resonant, though the protagonists, situations, and even values fail to conform to current standards. For instance, Henry feeds his dog horse meat, as kids did in 1950—a fact that my son, raised an animal welfarist and a vege­tar­ian, has had to reconcile with Henry's likable and admirable qualities.
Cleary says that she has been guided in her writing by the observation of her college professor that "the proper subject of the novel is universal human experience." At its best—in her Klickitat novels through Ramona the Pest—Cleary's fiction brilliantly bears out that statement. But as the distance grew between her own childhood and that of her characters, Cleary's efforts to keep up-to-date and relevant rendered her novels less particular, less sharp, and, paradoxically, less universal.
The genius and charm of the early books lies in the way Cleary fully and leisurely entered and articulated the workings of a child's mind. The turning of those wheels is evident in a passage from Henry Huggins (to pluck one at random from hundreds of such scenes) in which Henry is tempted to buy some guppies. He's impressed by the bargain: 79 cents a pair, and that includes the fishbowl, one snail, one aquatic plant, and a package of food. (Cleary never neglects an ounce of the crucial minutiae that she knows will impress her characters.) She devotes a whole simple sentence to the boy's feeling for the silver dollar in his pocket, as he stands in front of the pet-store aquarium. She uses another sentence to confirm his money is "still there"—a child would know not to count on that. He watches the attractive fish for a while longer before he decides, yes, he'll buy a pair. It takes three more sentences to build a firm case against hypothetical objections from his mother, and finally satisfy himself that he's got all her reservations covered. In doing so he reveals a neat picture of the kind of requirements sons inevitably have to put up with from their moms: the fish are "quiet" and "little" and they don't "bark or track in mud or anything."
The later books explore, although less deeply, much wider stretches of more-serious emotional ground—the kinds of realistic and meaningful situations and themes that experts and educators deem enriching in children's and young-adult fiction, an attitude no less didactic and deadening than that which informed the treacly, uplifting children's books that Cleary in her early work was rebelling against. In Ramona Forever (1984), Ramona suffers the death of her cat and worries about being supplanted by a new baby, her father being out of work, and her beloved aunt marrying and moving to Alaska, all in about the same number of pages it took Henry and his pals to build a clubhouse, and for him to have a falling-out and (sadly but realistically) only partial reconciliation with his neighbor Beezus. Many characters in the late novels are flat; most are observed with intelligence, but they're not inhabited. Cleary gets through the vast territory of her plots by relying on longer, more complex sentences, but while these scoop up the gist, they let the particularity escape.
The stylistic and substantive gap between Cleary's early and later novels is so apparent that I long thought different authors had written the two groups of books. And in fact that divide can be quite precisely dated—as can so many divides in American culture—to the late 1960s and early '70s: Ramona the Pest (1968) is on one side of the line, whereas Cleary's next Klickitat novel, Ramona the Brave (1975), has most definitely crossed it. I wouldn't attribute the divide to Cleary's deliberately eschewing her first resolution; still, as her talent became increasingly recognized, and as she took on the mantle of National Institution, the pressure to deliver a relevant and uplifting message must have been great.
Luckily, kids and their parents need not be confined to Cleary's publisher's definition of her canon. Instead they should read all of Cleary's Klickitat books through Ramona the Pest, as well as her memoirs (kids should wait until their teen years to read the memoirs, which matter-of-factly explore Cleary's fraught relationship with her depressive mother, an adult relative's sexual advances toward the young Cleary, and Cleary's entanglement at Berkeley with a roué). That's a compilation that will work its way indelibly into a child's memory and imagination—not unlike Cleary's own burrs and dandelion fluff.