Good Ol' Girl
Dubbed the "Daddy Party" 20 years ago, the GOP suddenly finds itself challenged from within by a wave of conservative women, from Sarah Palin and her "mama grizzlies" to Michele Bachmann and the Tea Party leadership. As an Indian American woman, Nikki Haley broke two barriers to become the governor of South Carolina. Was her hard-won victory over the state's good-ol'-boy establishment a fluke, or a sign of fundamental change in the Republican Party?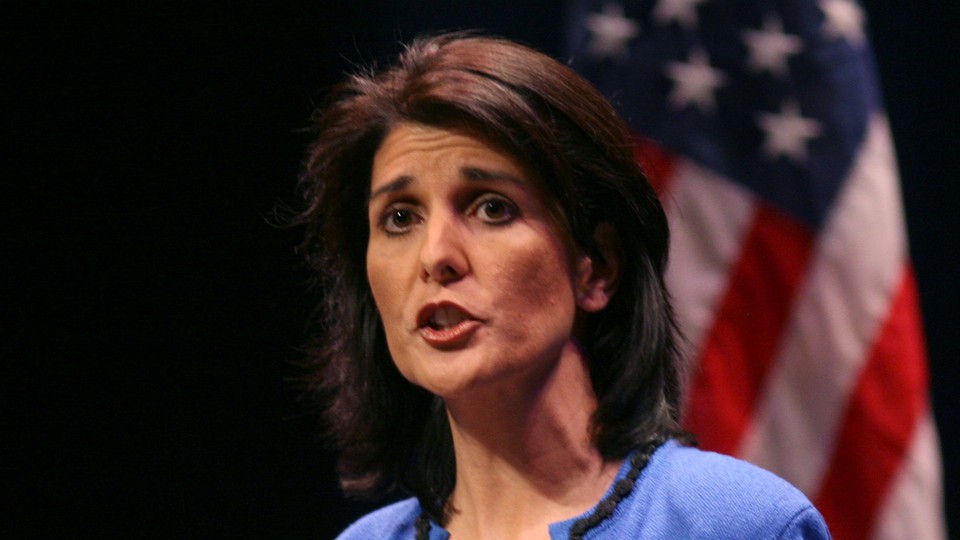 South Carolina State Senator Jake Knotts is a Vietnam vet and an ex-cop with a wife named Betty Lee. A local Tea Party leader described Knotts, who has held office as a Republican for 16 years, as a "good ol' boy to a T." Last June, Knotts became nationally infamous when he told a local reporter that the GOP's then-candidate for governor, Nikki Haley, an Indian American, was a "fucking raghead." Speaking on an Internet talk show a few minutes earlier, he had said, "We already got one raghead in the White House, we don't need a raghead in the governor's mansion." Knotts also complained that Haley's father, who is a Sikh, walked around Lexington wearing a turban and that Haley presented herself as a Methodist "for political reasons."
Stephen Voss
Knotts later claimed that his comments had been "intended in jest." But when I caught up with him just before the November election—which Haley won, becoming the state's first Indian American governor and first female governor—his complaints, though less coarse, had if anything grown broader in scope. "Let me say this: people going into politics these days are different than the people I always served with. Strom Thurmond, Fritz Hollings—one Democrat, one Republican, but they had mutual respect for one another," he told me. "You had to be one of us to get elected. Now we've gone so far down the ladder and backwards. We don't know who it is, or what it is. As long as it's got an R in front of its name, we vote for it."
---

VIDEO: Hanna Rosin and Joshua Green discuss McConnell, Haley, and the tensions within the new Republican Party.
---
As we talked, Knotts showed me his collection of old boxing gloves, his first handcuffs—engraved with his name, JM KNOTTS—and pictures of himself with Strom Thurmond and with former South Carolina Governor Carroll Campbell Jr. He introduced me to all the "girls" in his office, and proudly displayed his most prized possession: a police badge from his great-great-uncle, who was shot in the back while walking his beat in 1925. "The good ol' boys are not going away," he said, with more pride than conviction, like a cowboy watching bulldozers rip up his beloved prairie. "I'm a good ol' boy because I look after the good ol' people of South Carolina, and it's us who will keep this great state running."
Time will tell. But for now, at least, Nikki Haley's victory has put Knotts's vision on hold. In part, this is because she is "not of European ancestry," as they say in South Carolina. In part, it's because she's a woman. And in part, it's because she is a self-styled reformer who explicitly took on, and defeated, the good ol' boys who run the Statehouse. Those last two factors—woman, reformer—seemed somehow linked during an election season that saw a series of female insurgents make national headlines: Haley, Kelly Ayotte in New Hampshire, Susana Martinez in New Mexico, Christine O'Donnell in Delaware, Sharron Angle in Nevada. And while the last two may have lost their races, it was not before unsettling the Republican establishment in their states. A similar dynamic took place below the radar as well, where nine new conservative women won House seats, from Missouri to Florida. And they all prospered in the wake of Rebel in Chief Sarah Palin, who traveled the country to boost her sorority of "mama grizzlies" to power.
These candidates ran against Barack Obama and Nancy Pelosi, against bailouts, Big Government, and "socialism." But easily missed beneath the partisan talking points was the challenge that these women—and the Tea Party, of which they have proved such an unexpectedly crucial component—pose to the Republican establishment. Minnesota Representative Michele Bachmann, a Tea Party favorite, made this challenge explicit in her brief bid for House leadership: "It's important that leadership represents the choice of the people coming into our caucus," she said, segueing into the kind of appeal one might expect to hear among college feminists: "Whether it's gender or ethnicity, it'll be up to members to make that decision."
Never before have women played so conspicuous—and so disruptive—a role in Republican politics. When female candidates and legislators broke from the party line in the past, they tended to break to the center (for example, Maine Senators Olympia Snowe and Susan Collins), confirming the stereotype of women as kinder, gentler, and more inclined toward consensus-building. And while there has long been a role for women agitators (from Phyllis Schlafly and Anita Bryant in the 1970s to the Independent Women's Forum, which helped launch Ann Coulter and Laura Ingraham), they remained outside the elected party establishment. There was a ripple of gender insurrection during the 1994 Republican revolution, when a handful of female bomb throwers were elected to the House—Idaho's Helen Chenoweth, California's Andrea Seastrand, and Washington's Linda Smith—but none remained in office beyond 2001.
This wave, by contrast, could prove more transformative. In 2008, women voted for Democrats over Republicans by a margin of 14 percentage points—56 percent to 42 percent, according to CNN. In 2010, network exit polls showed a one-point split, in some cases in the GOP's favor—the party's best result in modern history. Haley, for her part, won a whopping 69 percent of white women voters in South Carolina. And while it is still early, Sarah Palin is seen as a co-front-runner with Mitt Romney—and by far the more conservative choice—for the 2012 GOP presidential nomination.
In a 1991 article in The New Republic, Chris Matthews, then of the San Francisco Examiner, memorably dubbed the Republicans and Democrats, respectively, the "Daddy Party" (focused on "national defense" and "business affairs") and the "Mommy Party" (responsible for the nation's "health, nutrition, and welfare"). It was a frame that seemed only to harden over the years, as the GOP became a refuge for alienated working-class white men. In his 2007 book, The Neglected Voter: White Men and the Democratic Dilemma, David Paul Kuhn explains that gradually, "Republicans seemed to own masculinity itself." Which begs the question: what happens to the Daddy Party when its Mommies start asserting themselves?
In some ways, Nikki Haley defies the "mama grizzly" stereotype. She never seemed—unlike, say, Christine O'Donnell—better suited to reality TV than to the rigors of a political race. Despite her good looks, the former three-term state representative doesn't smile all that easily, and she often looks as if she's puzzling through an important problem in her head. Throughout her campaign, she presented herself less as a rebel outsider than as a corporate accountant with a competitive streak. In her debates against her Democratic opponent, Vincent Sheheen, one of the most heated subjects of dispute was whether the state department of education had 880 or 1,179 employees. (Haley pushed the latter figure as proof of government excess and waste.)
On the stump, Haley shied away from emphasizing her personal identity and potentially historic role. In the debates, it was Sheheen who remembered to thank his spouse or tell personal anecdotes, while Haley stuck to the facts. She rarely mentioned her husband, Michael, a technician in the National Guard, or her children, Rena, 12, and Nalin, 8. Haley told me that she tried to take the kids to school in the mornings and kiss them goodnight, and to call and text them throughout the day. But she did not want to disrupt their lives by dragging them on the campaign trail.
Yet, as Winthrop University political-science professor Scott Huffmon notes, Haley's identity was always the "background music to the motion picture," leading to strong support and opposition alike. Early in the primary, Haley had trailed both in the polls and in fund-raising. But in mid-May, ReformSC, a state group with a Tea Party–ish agenda, announced a $400,000 ad buy on Haley's behalf, and Sarah Palin visited Columbia to endorse her, calling her a "scrappy under­dog in a tough, competitive primary" and "most proudly, the loving mother of two beautiful kids." A May 17 Rasmussen poll showed her leaping 18­ points, from fourth place to first, where she remained until winning the nomination in a primary runoff in June.
Not everyone in the state GOP was enthusiastic about her victory. The week before the general election, an unscientific survey of lawmakers conducted by South Carolina's largest newspaper, TheState, found that nearly half of the Republicans who responded said they intended to vote for the Democrat, Sheheen, a state senator with long family ties in South Carolina government. And while most of the legislators with whom I spoke did not express their concerns as bluntly as Jake Knotts did, several offered variations on the attitude voiced by Republican State Senator John Courson: "I don't know her."
Haley even had the rare honor of being dogged by a party splinter faction throughout the general-election campaign. A group called Conservatives for Truth in Politics aggressively trumpeted stories about Haley's alleged character issues: a failure to pay taxes on time, a potential conflict of interest involving her work with a local hospital, and most of all, two rumored extramarital affairs, one with a blogger (and former spokesman for ex-Governor Mark Sanford), Will Folks, and another with a lobbyist, Larry Marchant. Shortly before the election, the group persuaded Folks to sign an affidavit regarding the alleged infidelity, which included such details as "We slid back the seats of her Cadillac SUV so that Rep. Haley could climb on top of me." (If anything, the affair allegations ultimately seemed to backfire, creating voter sympathy for Haley.)
After one of the debates, I met with the co-chair of Conservatives for Truth in Politics, a former GOP state vice-chairwoman named Cyndi Mosteller. Tall and striking herself, Mosteller is a trained Christian counselor who listed, with consistent venom, a litany of complaints regarding Haley, from the affair allegations to the candidate's shifting position on a state grocery tax. I had the impression Mosteller was searching for any tidbit that would confirm her general sense of unease, as if Haley were the designated outlier on a season of Real Housewives, who didn't quite fit into the local society scene. "What exactly are her values?" Mosteller asked suggestively. "We have values, but what are hers?"
Haley was born in the one-stoplight, working-class town of Bamberg, South Carolina, as Nimrata Nikki Randhawa, the third child of a Sikh family who came over from India to Canada with $8 in their pockets, according to her elder sister, Simran Singh. When they arrived in Bamberg a few years later, Singh said, a local physician found the family a "wonderful small home" to live in. The next day, however, they had to return the key: the owners did not want people with "brown skin" living there. This happened once more until, on the third try, they found someone willing to sell them a house, as long as they agreed to sell it back when they moved out, not drink alcohol, and not invite over other "people of color."
Like Palin, Nikki Haley had a beauty-pageant moment, but one with a more discouraging outcome. When her sister was 8 and she was 4, the two of them entered the Little Miss Bamberg pageant, Singh told me. In previous years, the judges had crowned one white and one African American winner, but they were baffled over what to do with the two Indian American girls. At intermission, they called all the contestants on the stage: white girls on one side, black girls on the other, with the Haley sisters standing alone in the middle. The judges then announced that they had to disqualify the sisters, and handed each of them crayons and a coloring book. Before ushering them off the stage, they let Nikki sing the song she had prepared, "This Land Is Your Land."
"I went further into my shell, really feeling my difference within society," Singh told me. "Nikki anchored more strongly in her right to be a part of this country. She believed the song she was singing, despite the appearances." The kids built themselves a typical American childhood: playing Monopoly and the Game of Life, watching Gilligan's Island and The Brady Bunch, and later, The Love Boat and Fantasy Island. In grade school, Nikki, always the more outgoing of the sisters, announced that one day she wanted to be mayor of Bamberg.
Haley once described her childhood as "survival mode," but these days she spins it more cheerfully. She does not like her sister's beauty-pageant anecdote, for example. "It doesn't show all the great things about Bamberg," she told me. "I like to tell a more positive story. Bamberg is a great town of 2,500 people with a strong work ethic. And it's there that I learned that neighbors need to take care of each other."
Throughout the campaign, Haley played down her ethnicity and gender. In an appearance with a fellow Republican, Tim Scott, who subsequently won election as the state's first African-­American Republican representative in more than a century, Haley made a point of saying, "We are going to make history on Tuesday, but it's not history because there's the first female governor … It's history because South Carolina will show what a good government looks like." Gilda Cobb-Hunter, a Democrat and one of the few African American women in the state legislature, told me, "There are many people in the state who don't think of her as Indian at all. They think she is just a nice conservative woman with a tan."
But being a nice conservative woman in the South brings its own challenges. For the past eight years, South Carolina has had the lowest percentage of women serving in a state legislature. (Oklahoma has the second-lowest.) The state's Republican Party chairwoman, Karen Floyd, told me she was one of only a handful of women in her neighborhood who held a job outside the house, and that she felt it was still a "nontraditional" choice. "We are in the Bible Belt," she said. "Change comes slowly." Winthrop University's Scott Huffmon adds that a woman running for office has the special burden of proving "she is also a great wife and mother. It's part of the southern ethos."
Singh believes that, such cultural challenges notwithstanding, her sister's femininity has been one of her main strengths. Now 42, Singh runs a holistic spiritual center in downtown Lexington—the window promises "choices for conscious living," including "yoga, life coaching, holistic health, and breathwork"—and, somewhat improbably, she argues that she and her little sister are doing similar work. "She's cleaning up the outer landscape, and I am cleaning up the inner landscape," she told me. "The old ways are changing, and now is the time for the feminine essence to come forward. There are more female politicians, more feminine power and energy rising up. It's not about the specific policies, it's about the feminine essence, with all it has to offer."
Haley, for her part, brushes aside such talk. When I asked her whether being a woman mattered to her candidacy, she dismissed it as "something the national media makes a big deal about."
Increasingly, though, the GOP is taking Singh's side—though in rather less consciousness-raising terms—on the question of whether being a woman is an electoral asset. Following the Republicans' poor showing among women in 2008, there was a sense, says the GOP pollster Linda DiVall, that the party still resonated as "older, John McCain generation, male, and out of touch." So DiVall and Republican National Committee Co-Chairwoman Jan Larimer assembled focus groups to gauge voter feelings about female candidates. What they discovered surprised them, and made their task easier than they had imagined. Voters had always associated female candidates with phrases such as in touch with my daily concerns and sympathizes with my problems, says DiVall. But this time, women did just as well as men on the phrase effective at managing a crisis. And they actually performed better on won't be in the back room dealing with special interests—an obsession of the current anti-incumbent electorate. Republican women, it turned out, could be packaged as having the perfect combination of qualities that voters were seeking: strong, but sympathetic to struggling families; and more loyal to their ideals than to the entrenched establishment. In part thanks to these findings, the RNC launched a nationwide campaign to recruit female candidates, led by Representative Cathy McMorris Rodgers of Washington state.
McMorris Rodgers is a near-perfect prototype of the conservative female insurgent. I first saw her speak last September at the Smart Girl Summit, a gathering of Tea Party women in Washington, D.C. McMorris Rodgers is adamantly pro-life. Her first child has Down syndrome, and at the time of the election, she was seven months pregnant with her second. She lists two of her top values as defending the Second Amendment and promoting the "traditional family." Yet elements of her speech at the Smart Girl Summit could have appeared in a keynote address for the National Organization for Women. She quoted Alexis de Tocqueville on the splendor of the American woman's "confidence" and "independence." She listed the kind of upbeat statistics—for instance, that women manage 83 percent of the nation's household income—you might hear from an overeager feminist. And she invoked the famous Margaret Thatcher maxim, "If you want something said, ask a man. If you want something done, ask a woman."
In the 2010 election cycle, McMorris Rodgers and the RNC recruited 112 new female candidates to run for the House and Senate. More than 30 took their primaries, and 10, including New Hampshire's Kelly Ayotte, won their seats. Most of the new arrivals are 50 or younger and many have children at home. "It's amazing to see the transformation," says the RNC's Larimer. "We have a place at the table, and who knows? Someday we might even own that table."
A crucial element of McMorris Rodgers's role in recruiting female candidates was convincing them that they could handle the job even if they had young children. There are "different models" for sharing household responsibilities within a marriage, McMorris Rodgers told me. In her case, her husband, who is retired from the Navy, "carries the load at home." The conservative vision she advocates and her own means of achieving it are still somewhat in tension: the "traditional family" model has never included a pregnant woman running for Congress—and traveling the country to recruit other women—while her husband stays home to take care of the kid. Such contradictions used to be a real stumbling block for conservative women: back in 1995, when I met with Representative Linda Smith, one of the female insurgents of the Gingrich revolution, her husband, Vern, expressed mixed feelings about "sacrificing some of that traditional family life" for the greater conservative good. But over time, this is a bargain that has grown more acceptable both within individual marriages—Palin's, Haley's, McMorris Rodgers's—and in the conservative movement generally.
It is no accident that the rise of the Tea Party has coincided with the rise of conservative women. According to a Quinnipiac poll from last March, 55 percent of voters who identify with the Tea Party movement are women. The movement's scattered national leadership is largely female as well: four of the seven board members of the Tea Party Patriots group are women, for example, as is the chairwoman of another group, the Tea Party Express. One of the three main sponsors of the seminal 2009 Tax Day Tea Party event was Smart Girl Politics, a group founded by mothers blogging about politics. "For a long time, people have seen the parties as good-ol'-boy, male-run institutions," Smart Girl Politics spokeswoman Rebecca Wales told me. "In the Tea Party, women have finally found their voice."
One way the Tea Party has benefited female candidates—and the conservative movement generally—is by consciously steering clear of social issues. When I asked one activist at the Smart Girl Summit about the role of abortion in the movement, she replied, "No one cares about that." A more accurate response would be that plenty of Tea Party women—and men—care, but the issue is no longer a central part of their self-­presentation. When Tennessee's Diane Black, one of the freshly minted mama grizzlies in the House, ran for state senate in 2004, she did so on a pro-life, traditional-marriage platform. But in her 2010 congressional race, she stuck to the Tea Party talking points: taxes, job creation, and repealing Obamacare. Throughout the Smart Girl Summit, I felt that the word Bible, which would have been invoked constantly at such an event 10 years ago, had been replaced by the word Constitution. By decoupling conservative values from explicit appeals to traditional Christianity—and its teachings about the proper role of women—the Tea Party has helped open up space for an unfettered kind of conservative feminism. This, in part, could help explain why Christine O'Donnell and Sharron Angle fared worse than many of their mama-grizzly sisters on Election Day: neither quite made the pivot from social-values Christian radical to economic-values Tea Party reformer.
By contrast, Haley has presented herself less as a moral crusader than as a whistle-blower—another frequently female role. In 2002, for instance, Time magazine named as its Persons of the Year three female whistle-­blowers: Sherron Watkins of Enron, Cynthia Cooper of WorldCom, and Coleen Rowley of the FBI, who disclosed mishandling in the Zacarias Moussaoui case. The financial crisis brought a fresh round: FDIC Chair Sheila Bair, former Commodities Futures Trading Commission Chair Brooksley Born, and the Bernie Madoff investigator Genevievette Walker-Lightfoot. Indeed, some researchers have speculated that women tend to be more willing to take social risks—such as blowing the whistle on their superiors—while men tend to take financial risks.
Given Sarah Palin's astronomic trajectory, it's easy to forget that she initially earned her name in Alaska as a whistle-blower, when she resigned her post on the Alaska Oil & Gas Conservation Commission citing ethics allegations against a fellow Republican member, and later joined in filing a bipartisan complaint against the state's Republican attorney general. Haley's career followed a similar path: in her second term in the Statehouse, she embarrassed her fellow state legislators by introducing a bill that would require elected officials to vote on the record, ruling out the practice of voting with hand gestures (touch your eye for aye, touch your nose for nay) that enabled legislators to discreetly approve pork projects, hefty retirement packages, and other perks. As if that weren't enough, Haley traveled the state making the case for term limits and tighter financial-disclosure rules. In 2008, her colleagues responded by removing her from a committee whose chairmanship she desired. So she decided to go over the heads of the GOP establishment and run for governor. "I was disgusted," Haley said of that period. "That was an arrogance that I just wasn't going to stand for. It was an embarrassing moment for the Republican Party. And I knew I had to fix it."
What exactly that fixing will entail—on Haley's part, and on the part of her fellow female insurgents—remains to be seen. It may be that this gender insurrection within the GOP proves, like its Gingrich-era precursor, to be temporary. Or this may be the tip of the iceberg, with the congressional mama grizzlies recruited by McMorris Rodgers and powered by the Tea Party gradually assuming more-prominent roles in the GOP. At the moment, it's certainly easy to imagine that the first female major-party nominee for president will be—in Thatcherian, Nixon-goes-to-China fashion—a Republican, whether it's Palin, Haley, or a player yet to be named.
After her victory, Haley abandoned terms like arrogance and disgusted, and offered an olive branch to the good-ol'-boy network she had defeated. "This is a new page we're turning," she told a gathering of state lawmakers. "Historically, it's been the House and Senate against the governor … Starting today, that all stops."
The rapprochement seemed mutual. Jake Knotts told me he was "proud that we elected a woman," and he sent e-mails to supporters and fellow legislators saying he is "looking forward to working with Governor Haley," and acknowledging the "need for change in our state." For now, at least, the Daddy Party has accepted its ascendant Mommies, and vice versa. But it's an uneasy marriage. If the conservative women become too dominant, working-class men may once again find themselves without a comfortable home.