Houses of the Future
Four years after the levee failures, New Orleans is seeing an unexpected boom in architectural experimentation. Small, independent developers are succeeding in getting houses built where the government has failed. And the city's unique challenges—among them environmental impediments, an entrenched culture of leisure, and a casual acquaintance with regulation—are spurring design innovations that may redefine American architecture for a generation.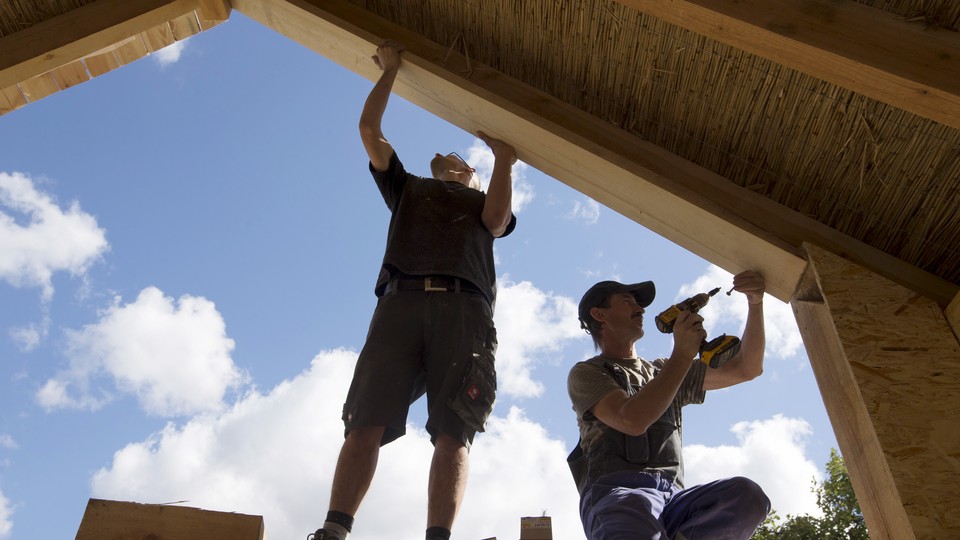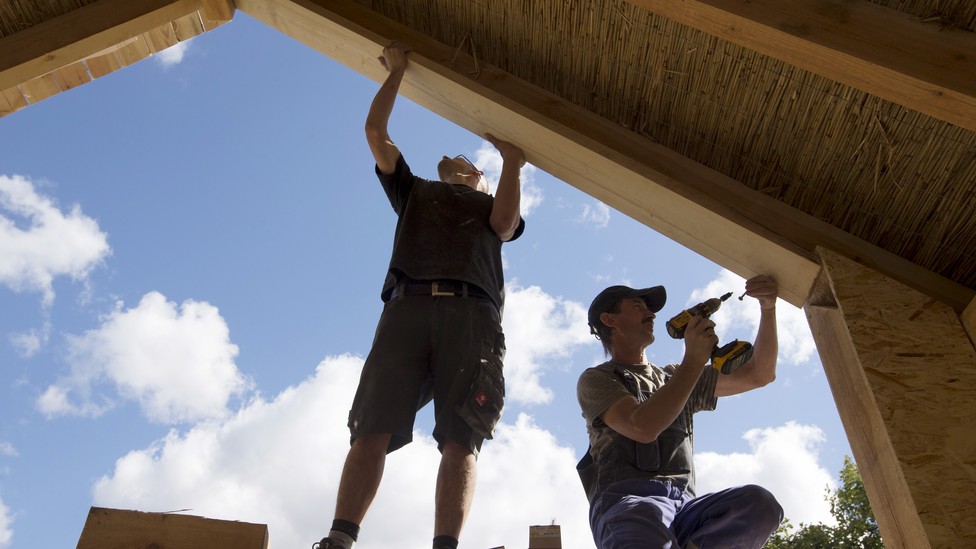 A sturdy bike is a good way to get around the Lower Ninth Ward in New Orleans. The roads are still pretty rough, the distances between places tend to be too long to walk and too short to drive, and on a bike you can easily stop and chat with the residents who have returned. I moved to New Orleans about a year after Hurricane Katrina, and I've ridden my bike out here every month or two to see how the rebuilding has been faring. Also, I've heard that Brad Pitt likes to bike around when he's in town. Folks tell me he's a pretty regular guy. "Brad was here yesterday," a woman sitting on the front steps of her new and very modern house told me one day last fall. "He was talking to everyone, just checking things out."
He has a lot to check out, as it happens. Next to the levee along the Mississippi River sits the experimental "project house" of Global Green, a nonprofit Pitt has been working with that's trying to replace homes lost in the flood with energy-efficient ones. From there, it takes about 10 minutes to bike to the northern edge of the Ninth Ward, where the Industrial Canal flood wall collapsed in August 2005. Along the way you pass shotgun houses in various stages of repair and disrepair; Fats Domino's home, from which he was rescued; and a large sculpture of empty chairs commemorating the hundreds who died in the storm. As you get closer to the failed flood wall, the land becomes more open and rural-looking, and the blackbirds grow louder. Only concrete steps standing in front of concrete slabs suggest the community that existed before the rushing waters erased it.
And then, suddenly, amid heroically overgrown lawns, you see a cluster of modern, colorful, and modestly sized homes, looking like a farm where they grow houses for Dwell magazine. These are the fruits to date of Pitt's other project, Make It Right New Orleans. New Orleanians refer to these homes collectively as "the Brad Pitt Houses," which gives them the pleasing ring of an ambitious public-housing project from the post–World War II years. But Pitt's ambitions are not merely utilitarian. He hopes to offer displaced residents affordable, cutting-edge, radically green homes designed by name-brand architects like Thom Mayne and Frank Gehry. And he seems to be succeeding.
Four years after Katrina, the rebuilding of New Orleans is not proceeding the way anyone envisioned, nor with the expected cast of characters. (If I may emphasize: Brad Pitt is the city's most innovative and ambitious housing developer.) But it's hard to say what people were expecting, given the magnitude of the disaster and the hopes raised in the weeks immediately following. Seventeen days after the storm, President George W. Bush stood in Jackson Square and promised: "We will stay as long as it takes to help citizens rebuild their communities and their lives."
The terms we, as long as it takes, and help turned out to be fairly elastic. The Federal Emergency Management Agency shuttered its long-term recovery office about six months later, after a squabble with the city over who would pay for the planning process. Since then, depending on whom you talk to, government at all levels has been passive and slow-moving at best, or belligerent and actively harmful at worst. Mayor Ray Nagin occasionally surfaces to advertise a big new scheme (a jazz park, a theater district), about which no one ever hears again. A new 20-year master plan and comprehensive zoning ordinance was being ironed out early this summer, but it remains subject to city-council approval. A post-Katrina master plan has been under discussion since before the floodwaters were pumped out.
In the absence of strong central leadership, the rebuilding has atomized into a series of independent neighborhood projects. And this has turned New Orleans—moist, hot, with a fecund substrate that seems to allow almost anything to propagate—into something of a petri dish for ideas about housing and urban life. An assortment of foundations, church groups, academics, corporate titans, Hollywood celebrities, young people with big ideas, and architects on a mission have been working independently to rebuild the city's neighborhoods, all wholly unconcerned about the missing master plan. It's at once exhilarating and frightening to behold.
"If you look at the way ants behave when they're gathering food, it looks like the stupidest, most irrational thing you've ever seen—they're zigzagging all over the place, they're bumping into other ants. You think, 'What a mess! This is never going to amount to anything,'" says Michael Mehaffy, the head of the Sustasis Foundation, which studies urban life and sustainability and has worked with neighborhood organizations here. "So it's easy to look at New Orleans at the grassroots level and wonder, What's going on here?' But if you step back and look at the big picture, in fact it's the most efficient pattern possible, because all those random activities actually create a very efficient sort of discovery process."
This process is unfolding in a city where the effects of environmental disregard—from disappearing wetlands to rising temperatures to encroaching seas—seem more palpable by the day, and where sustainability seems less like an annoying buzzword and more like a moral imperative. Add to this the sudden collapse of the credit and real-estate markets last year, and the fleeting yet unnerving flirtation with $5-a-gallon gasoline the year before, and one could be forgiven for seeing a cosmic convergence taking shape.
The architectural historian James Marston Fitch wrote more than a half century ago that great leaps forward in architecture occur when three factors—theory, material, and technique—come into alignment under the pressure of social change. Such "golden moments of equilibrium," as he called them, are "brief in time, special in character, delicate in balance." He noted that such moments produced the Crystal Palace, the Brooklyn Bridge, and the Eiffel Tower.
We may be in one of those moments now, with notions of modern design, advances in green materials, and the technical imperatives of sustainability all converging toward a great leap in urban architecture. The architecture writer Andrew Blum has asked whether the Brad Pitt Houses could "become for the single-family green house what Seaside was for New Urbanism or Pacific Palisades was for California Modernism"—that is, a project that recasts the possible for the next generation of architects and developers. As seems fitting for such a moment, most of the construction projects under way in New Orleans are informed by seemingly conflicting strands of utopianism. But their designers are coming to some common, and edifying, conclusions.
This summer, I visited five of the new houses. I sat on their porches—New Orleans's original green technology, offering shade in summer and shelter during deluges, connecting the home with the street—and I considered a city in flux.
The front porch of the Global Green project house has an agreeable geometric purity—it's supported by two chopstick-thin columns angled outward on one side, and a shading screen of horizontal wood slats on the other. The porch roof slices at a slight downward angle into a narrow, two-story, pea-green shoebox, which looks as if its solar-paneled lid is being lifted by an unseen hand. Save for two nearly identical houses under construction next door, it resembles nothing else in the neighborhood, which consists of older shotguns and ranch houses.
Mike Lopez was sitting on the porch when I stopped by. He's the construction manager for Global Green, and he's been living in the house since it was completed more than a year ago. Today, it's mostly used as an eco-housing laboratory and visitor center, but eventually a displaced Lower Ninth Ward resident will move in. Until then, Lopez is figuring out what works and what doesn't. (Humidity-triggered bathroom fans, good; a grass roof in subtropical sun, not so good.) This knowledge has already come in handy for the houses next door, and will also inform some of the design when the group breaks ground on an 18-unit green apartment building later this year.
Shortly after Katrina, Matt Petersen, Global Green's president and CEO, met Pitt at a Clinton Global Initiative meeting in New York City. They got to talking about New Orleans. Pitt, as readers of celebrity profiles know, is nutty for architecture. He has tinkered with models in Frank Gehry's studio, bought and restored Craftsman-style bungalows in Southern California, co-authored a book on a historic home, and been asked to help design an eco-hotel in Dubai. Regarding architecture, Pitt once told Oprah, "I'm really gay about the whole thing." When he filmed Interview With the Vampire in New Orleans years ago, he developed an abiding fondness for the place. Peterson and Pitt came up with an idea to stage an architectural competition for a model green house. Pitt put up some money and agreed to serve as the jury chairman, and Global Green acquired a 1.2-acre tract in the Holy Cross neighborhood of the Lower Ninth Ward. The competition attracted 125 entries from around the world. A young architectural team from New York called Workshop/apd won, and Global Green set about building its design.
The resulting house is a fine example of what you might call the Better Living Through Modern Green Design strain of utopianism, whose adherents argue that contemporary design and technology will conspire to free us from our grim, polluted past and usher in an era of efficiency and cleanliness. And I have to say, it's an appealing future. Several days a week, the Global Green house opens for tours, and it's hard not to marvel at all the applied ingenuity, from the dual-flush toilets—number one gets a spritz, number two more hydraulic vigor—to the "green screen" of Carolina jasmine being trained to shade the south wall, to the thousand-gallon cistern intended to supply captured rainwater for toilet-flushing and plant care . The house is designed to be "net zero" energy-wise—that is, it produces as much electricity as it consumes each year. The utility closets are filled with the synapses that control the house's hi-tech appendages, and downstairs near the door is a touch-screen panel—the "Lucid Building Dashboard"—that monitors its brain waves like an EKG. It seemed to me every bit as marvelous as Disney's old House of the Future, but with reclaimed wood rather than white plastic.
Rosemary and Lloyd Griffin's front porch is low and broad, wrapping around two sides of their house and giving it a contemporary Creole-Caribbean feel. Their roof, a shiny steel pyramid lined with solar panels, looks slightly askew, like the Tin Man's hat. Rental cars roll slowly down the street, car windows descend, cameras emerge. A sign reading Private Residence has been hammered into the front lawn to keep the curious at bay—visitors occasionally mistake the house for a pavilion at some sort of world's fair and walk right in. Mrs. Griffin tells me she doesn't mind all the gawkers and the picture-taking. "I thank God for this," she said, nodding at her new house. "This is something to be excited about."
The Global Green project, it turned out, was just the beginning for Pitt. After Katrina he moved his family to New Orleans to film The Curious Case of Benjamin Button (and bought an 1830s mansion in the French Quarter). He saw the slow progress of the city's rebuilding firsthand and, looking to do more, picked up the phone.
"I got a call one day out of the blue from Brad Pitt," says architect Bill McDonough. McDonough is the co-author, with the chemist Michael Braungart, of Cradle to Cradle, an influential manifesto calling for manufactured products and building materials that can be fully reused when they no longer serve their initial purpose. Pitt liked his thinking. "He'd read Cradle to Cradle and asked me if I wanted to do something together in New Orleans."
McDonough said yes. So did others who got the call, including Graft, an architecture firm based in Los Angeles, and Cherokee Gives Back, a North Carolina–based foundation. Together, they established Make It Right, with the goal of constructing 150 new houses in the hard-hit area near the ruptured Industrial Canal flood wall—enough housing to feel like a neighborhood, they figured, as well as to entice additional investment along nearby streets. Pitt put up $5million, as did the philanthropist and movie producer Steve Bing. They've since raised enough to build about a hundred houses. Pitt contacted a group of noted architectural firms and asked them to contribute designs. Thirteen did, including Kieran Timberlake, Pugh + Scarpa, Adjaye Associates, MVRDV, and Morphosis. (Seven more firms have since signed on.)
The architects were given conditions hammered out in part during community meetings, some of which Pitt attended, where displaced residents described their vision of a new neighborhood. Among the criteria that emerged: use the city's existing narrow lots (that is, no aggregating lots and building large complexes—rumors had circulated after Katrina that Donald Trump wanted to buy the whole Lower Ninth); elevate houses out of the way of future flooding and include rooftop access to simplify rescue; feature prominent porches or front stoops for socializing; and use materials that are tough enough to survive hurricanes but that also approach "cradle to cradle" reusability. The standard house was to be 1,200 square feet, have three bedrooms and two baths, and cost no more than $150,000. Homeowners would pay what they could, and the foundation would help with the rest. In the meantime, Make It Right started working with Lower Ninth families to clear up property-title issues (historically, many New Orleanians have acquired houses without paperwork showing a clean line of ownership), and to help with insurance settlements, payments from the federally funded Road Home program, and new financing.
The firms presented their preliminary designs for feedback. The people of the Lower Ninth voiced some displeasure—in particular, they didn't care for the flat roofs favored by modern designers. "A lot of residents said they looked like FEMA trailers," said Steven Bingler, the founder of Concordia, a New Orleans architecture-and-planning firm, which designed the house selected by the Griffins. "Don't get me wrong—they were really hip. But the residents said: 'A house has a sloped roof.'"
As the process unfolded—with designers bouncing their ideas off the people who would actually have to live in their creations—Bingler sensed a welcome shift in his style-obsessed profession. "Community has to be the new titanium," he said.
Two houses drew extra attention. Thom Mayne's house was designed to float out of harm's way in a flood. (Mayne's prototype was built by architecture students at UCLA, then trucked to New Orleans and reassembled.) And the Dutch firm MVRDV proposed a high-concept V-shaped house that looked not unlike the houses that had collapsed after Katrina. It's the only design not yet selected by a homebuyer.
Green high-design utopianism is virulent at Make It Right, as at Global Green, and all the houses feature sophisticated systems to achieve net-zero energy use. At an open house last year, a Make It Right organizer insisted that I go down and watch the electric meter running backward as solar energy coursed back into the grid. I stood around with a few others, murmuring appreciatively, as if witnessing a high-tech voodoo ceremony.
New residents undergo training on the operation of their homes, and receive a thick technical notebook and a smaller user's manual. They also get a dedicated phone number to call with problems; at the other end, a staffer will troubleshoot or send out a technician. I suggested to Tom Darden, the project's executive director, that this didn't seem to have much in the way of real-world application. But he shrugged and said it was part of the plan. Make It Right's mission includes testing new approaches and discarding those that fail, a luxury few for-profit developers can afford.
Biking through the neighborhood recently, I was heartened to hear all the hammering and sawing along Tennessee Street—the raspy calls of blackbirds in the overgrown lots of the Lower Ninth are woeful and melancholy. With nearly 20 Make It Right houses occupied or under construction, a certain critical mass was forming. But I had to wonder: Why the need to cluster so many boisterous structures side by side? Any one of these homes would make for a striking neighborhood landmark, but together they just make noise, like an orchestra of timpani. But I suppose it's churlish to raise aesthetic concerns. Brad Pitt for Mayor T-shirts are not uncommon around town. And people marvel at what Pitt has accomplished where so many others have failed, even if they admit, in a footnote, that the houses aren't their style.
"What we call historic design arose out of necessity," said Darden, "and that's happening again."
Not everybody is so circumspect. "Oh, it's all bullshit," Andres Duany said to me last fall, when I brought up Make It Right. "The high design? That has nothing to do with reality. That's just architectural self-indulgence."
Duany, it may come as no surprise, subscribes to another utopian worldview. He is a co-founder of the Congress for New Urbanism, and a persistent advocate for traditional small-town design. A generation ago, Duany and his wife, Elizabeth Plater-Zyberk, designed the landmark village at Seaside, Florida, and made a seemingly historic beach town suddenly materialize on an empty stretch of seacoast. (It was the setting for the movie The Truman Show.) He built his reputation in part on his porches; at Seaside, all houses were required to have them, to encourage community interaction.
The porch at 3428 Dauphine Street—in the historic Bywater neighborhood, just across the Industrial Canal from the Lower Ninth—is not very Duany-esque. It's more like a small deck, accessible only from the living room and enclosed by a tall wood-plank fence. This is a bit odd, since Duany designed it, but in a historically blue-collar neighborhood of stoops rather than porches, it makes contextual sense.
Duany has been involved with the rebuilding since just days after Katrina, most recently as part of Cypress Cottage Partners, a group that was awarded $74.5million by the state to come up with alternatives to the much-loathed FEMA trailer. The idea was to build prototype villages in communities along the Gulf Coast and see how they work. But the search for sufficiently large building lots has been fraught with headaches, so in the meantime Duany went ahead and built the Bywater houses on an empty corner lot with the help of an investor, in part to learn about how to build quickly and efficiently in New Orleans.
What resulted was a pair of duplexes, variations of what are locally called shotgun doubles. The houses, painted champagne yellow and olive khaki, have gables facing the street and, across the facade, an overhang that shields doors and windows against rain and sun. Duany's overhangs, compared with the ones on older houses in the neighborhood, are placed a bit too high, like someone wearing pants cinched near his chest. But they add a touch of grace to the streetscape, and without them the houses would look as if they were wearing no pants at all.
These homes illuminate the Your Elders Knew Best strain of utopianism, whose adherents argue that historic neighborhoods are sacred texts from which one can learn, provided the language in which they were written is accurately translated. The future and its fancy technology distract from what's really important: building human-scale environments with houses that quietly add to the conversation of the street, rather than yodeling and preening. Duany has largely succeeded in weaving his new homes into the block. One can bike past without noticing them, as I first did. As he explained in a neighborhood-association newsletter, "It is our hope that at least some parts of New Orleans can be rebuilt in the style to which its residents are accustomed—and not as a version of an Alabama trailer park or a suburb of Venice Beach, California."
Duany is sometimes (and unfairly) likened to a monk laboriously transcribing the texts of the ancients without contributing new ideas for a new time. But style wasn't what irked him when I brought up the Make It Right project. It was the whole way New Orleans was approaching rebuilding.
"When I originally thought of New Orleans, I was conditioned by the press to think of it as an extremely ill-governed city, full of ill-educated people, with a great deal of crime, a great deal of dirt, a great deal of poverty," said Duany, who grew up in Cuba. "And when I arrived, I did indeed find it to be all those things. Then one day I was walking down the street and I had this kind of brain thing, and I thought I was in Cuba. Weird! And then I realized at that moment that New Orleans was not an American city, it was a Caribbean city. Once you recalibrate, it becomes the best-governed, cleanest, most efficient, and best-educated city in the Caribbean. New Orleans is actually the Geneva of the Caribbean."
Duany said that many of the shotgun houses in New Orleans were built by the fathers and grandfathers of people living in them today, and few of them meet building codes. But no one worries about paying mortgages or insurance. "The situation is that the housing is essentially paid off, and it allows people to accumulate leisure," he said. "What's special about New Orleans is that it's the only place in the United States where you can have a first-rate urban life for very little money." What happened after Katrina, Duany said, was that FEMA and others came to town with detailed requirements for record-keeping and property titles, then insisted on stringent building codes that would make all the houses hurricane-proof. This might seem like common sense, he said, but it's "essentially unworkable for a Caribbean city."
So the central problem, according to Duany: "All the do-goody people attempting to preserve the culture are the same do-gooders who are raising the standards for the building of houses, and are the same do-gooders who are giving people partial mortgages and putting them in debt," he said. "They have such a profound misunderstanding of the culture of the Caribbean that they're destroying it. The heart of the tragedy is that New Orleans is not being measured by Caribbean standards. It's being measured by Minnesota standards."
As an alternative, Duany argues for "opt-out zones" for some of the hardest-hit areas, including the Lower Ninth. Within these zones, residents could rebuild their homes the way the city was originally constructed: by hand, incrementally, and unencumbered by what Duany calls "gold-plated" building regulations or bank requirements. Such zones exist in rural areas, he says, but haven't been tested in an urban context. He suggested that the money spent on the Better Living Through Modern Green Design homes would be far better spent on a widespread, low-cost self-building program. "The deal is, you can hammer something together any old way, but you won't have debt. That should be an option. Carrying debt requires a great deal of employment, which undermines a culture of leisure. The key is self-building," he told me, and added that it might arise somewhere else in the city, perhaps among the Latino construction workers who arrived on the heels of the storm. "It always emerges."
From his front porch, Mingko Aba can look across the street to the house where he was born 59 years ago. Actually, he's looking slightly downward at it, because his new house is built about five feet up, on piers. He also has a pretty good vantage point for seeing the progress in his Upper Ninth Ward neighborhood, which flooded but was spared the tsunami that swept homes off their foundations across the canal in the Lower Ninth after the levee broke.
Aba rode out Katrina at home, clambering up to his roof when the water reached his ceiling. The next day, a neighbor came with a boat that had drifted by, and the pair helped ferry other stranded people to the top floor of a church, and then went looking for groceries. They picked pink grapefruit and blood oranges from the upper branches of Aba's citrus trees, and at a flooded corner store, they discovered that packaged food has an unadvertised advantage: it's airtight and bobs to the surface.
After spending three years in Alabama, Aba came back for his brother's funeral and decided it was time to rebuild. On a neighbor's suggestion, he contacted Build Now, a nonprofit founded in 2007 that helps homeowners navigate the whole process, from arranging to demolish your old house, to finding financing for the new one, to the actual construction.
Aba's new home, which he moved into earlier this year, is just 14 feet wide, but it has a restrained grandeur, like a miniature Greek temple on a mount. On the outside, with its rectangular columns and tall triangular pediment, it's all but indistinguishable from the Greek Revival shotgun houses found on narrow lots throughout the city's older neighborhoods.
The historic design is not by accident. William Monaghan, the architect and developer who founded Build Now, is another representative of the utopianism that sees salvation in the architectural grammar of a historic city. "There's a place for everything, and it's great that people are doing all kinds of design, but I wanted to fit in with the neighborhood character," he said. "I didn't want to try to get somebody to move back to New Orleans and make all those decisions and sink all that money into something, and then say, 'Oh yes, and you also have to be challenged by unfamiliar architecture.'"
Monaghan, who grew up in New Orleans and is now based in New York, had been appalled at the city's anemic rebuilding efforts during his visits home after Katrina. So he founded a nonprofit with the slogan "Build new. Build high. Build now." The idea was to provide one-stop shopping for traditional, reasonably priced homes for the displaced. Complete houses, including appliances, begin at about $100,000, without land or foundation work.
Monaghan set out to create eight prototype homes based on classic New Orleans styles. "Having lived there so long, I thought I knew everything," he said. "I'm an architect, I've done a lot of historic preservation work. I thought I'd just design some houses that look like New Orleans houses."
That proved trickier than he'd thought. He explored the city with tape measure in hand, conducting a sort of architectural phrenology to figure out the proportions and details that make New Orleans houses so New Orleans—the depths of the porches, the sizes of the pediments, the angles of the hip roofs, the ratios of height to width. It turned out that while these measurements tended to be quirky and irregular, they made a lot of sense for the culture and climate of New Orleans. For instance, almost every old house has tall ceilings that allow residents to live below the worst of the summer heat. Single shotgun cottages lack hallways, allowing for efficient cross-ventilation in every room. And many center-hall cottages use transoms to make the walls porous and keep the air moving. "You sort of take this stuff for granted," Monaghan said, "but it's a tremendous environmental response."
Monaghan built a model house and started staging community events, like crawfish boils, to get the word out. People found him; they've contracted for 16 homes to date, and Monaghan has since designed six new models based on requests from buyers.
The great appeal of Build Now is its utter simplicity. Recreating a home from the past seems a needed balm for this wounded city. Where Duany seems to want to harness his projects to a broader crusade, Monaghan's mission is more straightforward: build houses that New Orleanians have shown, through a process of architectural natural selection spanning more than a century, that they love.
"What we're learning is that these traditions are not just fashions," said Michael Mehaffy of Sustasis. "They're rooted in the real adaptive evolution of a place."
URBANbuild Prototype 04 in New Orleans's Central City neighborhood was completed last spring. You might pass Duany's or Monaghan's homes without noticing them. Not this one. It's a gleaming white box sitting flush against two streets on a corner lot, hung with large sliding panels of polycarbonate plastic. It looks like the package in which one of the Victorian shotguns nearby was delivered, and the sheer incongruity of the thing made me laugh when I first saw it. But loitering on the back porch—basically a deep rectangular cut taken out of one corner of the box—I found it impossible not to feel part of the neighborhood, perhaps more so than at any of the other new houses I'd visited.
This is one of four homes developed since Katrina by the URBANbuild studio at the Tulane School of Architecture. (The third house was featured in a reality-TV series on the Sundance Channel last year.) Some 25 students worked to design and build it; electrical, plumbing, HVAC, and drywall work were contracted out. Standing on a crime-racked block of the city, it has the feel of guerrilla architecture, built in defiance of its surroundings.
The students started with the concept of sliding plastic panels, which, in theory, will withstand the pummeling of a hurricane. They then took some of the common architectural vocabulary of New Orleans—shutters, porch, front stoop—and distilled them to their essential elements, adding exaggerations of scale and splashes of color (the segments of the box cut away for the stoop and porches are painted lime green). Even so, the house is practical, like a cabinet from Ikea—when not locked into position for hurricanes, the panels can be moved around for privacy, or to shade the porches from sun.
"We're trying to get the students to be inventive, creating ideas that maybe other people can mimic," says Byron Mouton, the Tulane professor who directs the studio. All of the houses are aggressively contemporary in style. Reaction has been divided among residents: in general, the older generation hates them, and younger folks think they're fly.
Scott Bernhard, director of the Tulane City Center, which has worked with URBANbuild and other community projects at Tulane, defended the style. "To me, it's respectful of the old buildings to be attentive to scale or urban pattern, but it's not respectful of those old buildings to imitate," he said. "In some ways, imitation and mockery are too close together. To us, having a gabled roof at the front of the building is far less important than engaging the street."
Two years ago, at a conference on traditional building held at the New Orleans convention center, the architect and New Urbanist Steve Mouzon asked a crowd of contractors and architects to think about a basic point. "The very core of sustainability," he said, "can be found in a simple question: 'Can it be loved?'"
All those solar panels from the first eco-boom in the 1970s, and those clunky, angular houses they sat atop? Most are demolished and gone. "The carbon footprint of a building is meaningless once its parts are carted off to a landfill in a generation or two," Mouzon told the crowd. The rebuilding of New Orleans by the people who love it, he suggested, may provide the most lasting green lesson of all.
New Orleans remains a traumatized city: 65,000 homes still sit unoccupied, the population is still down by about a quarter, rents are up by 40 percent, and violent crime is endemic. But the strong and enduring interest in rebuilding here—and the steady trickle of residents moving back, along with the unabated flow of volunteers coming to help out—shows that it is a place people care deeply about. That fact should not be overlooked.
Consider that Habitat for Humanity has nearly completed its high-profile Musicians' Village in the Upper Ninth Ward, including a cluster of 72 attractive, small, traditional-style homes conceived by the New Orleans natives Branford Marsalis and Harry Connick Jr. And that another New Orleanian, the actor Wendell Pierce, has established a nonprofit with plans to build hundreds of environmentally friendly homes in badly flooded Pontchartrain Park, where he grew up. In nearby Gentilly, Project Home Again, founded by Barnes& Noble Chairman Leonard Riggio, has put up $20million to build elevated bungalows for former residents, and the Episcopal Diocese of Louisiana has funded the construction of 21 low-cost modern shotguns in Central City.
Meanwhile, the city's 270 or so neighborhood associations, once little more than social clubs dabbling in the occasional crime-watch program, have become increasingly sophisticated in the language of rebuilding and partnering with outside experts—whether from charities, the business world, or even Hollywood. This isn't exactly the bottom-up self-building that Andres Duany envisions. But neither is it Robert Moses–style planning from on high. A community-driven, middle-out planning style has emerged, and the kind of housing it seems to favor fuses smart modern design with the city's traditional notions of space, leisure, and community. As with jazz, gumbo, and some remarkable cocktails, this style illustrates the city's talent for crafting extraordinary things from the ordinary stuff it has at hand.
New Orleans can offer plenty of lessons in green living—and it could have before the storm, had anyone asked. How to build beautiful small houses on narrow lots. How to build compact, walkable neighborhoods. How to adapt buildings to the environment, with deep porches and high ceilings and small, leafy yards. These are the things that people loved about New Orleans—and they're the things that architects interested in sustainable design most want to build right now. The past here has much to inform the future, not just for New Orleans, but for an entire country that needs to rethink the way it designs its cities and homes. New Orleans won't be rushed—it never is—but the chances are good that whatever results here will be loved.