American Girl
When Michelle Obama told a Milwaukee campaign rally last February, "For the first time in my adult life, I am proud of my country," critics derided her as another Angry Black Woman. But the only truly radical proposition put forth by Obama, born and raised in Chicago's storied South Side, is the idea of a black community fully vested in the country at large, and proud of the American dream.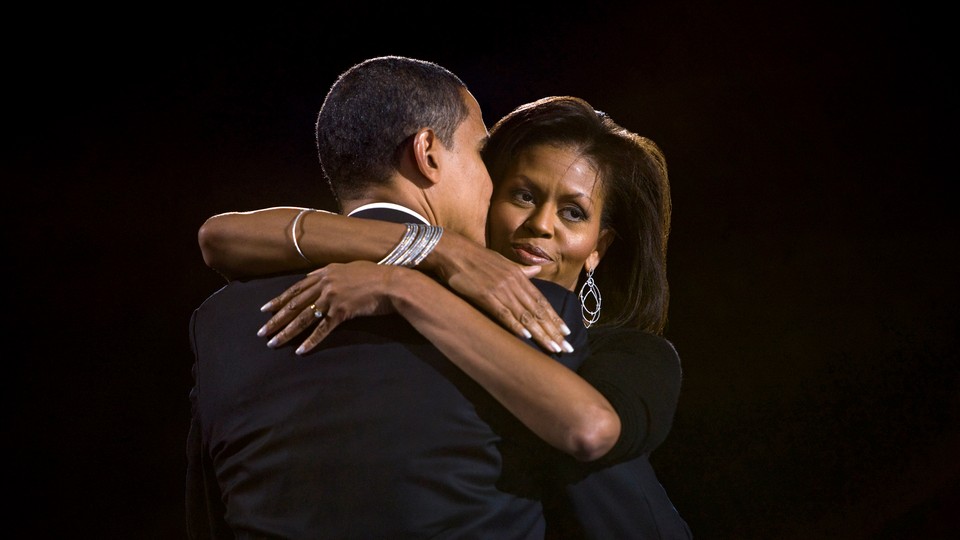 The first time I saw Michelle Obama in the flesh, I almost took her for white. It was late July. Pundits were taking whispered bets on the fate of Hillary Clinton's female supporters. In part to heal the intraparty rift, and in part to raise some cash, Obama was presiding over a Chicago luncheon for Democratic women. They were an opulent, multiracial, mostly middle-aged bunch, in pantsuits and conservative dresses. Clinton-turned-Obama staffer Patti Solis Doyle waved from the floor when she was introduced. One of Clinton's longtime backers appealed for unity. Only a few weeks earlier, Obama had appeared on The View in a striking black-and-white floral dress. Now, throughout the room, some of the women were decked out in their best version of that number. Obama flashed her trademark sense of humor, her long arms cutting the air, as she made her points.
I'd flown into Midway that morning and driven down Lake Shore Drive, with William DeVaughn crooning "Be Thankful for What You Got" in the background. But even as I took in the stately beauty of Michigan Avenue, notions of Michelle Obama were spinning around in my head. I thought of an ecstatic phone call from my sister Kelley: "You have to ask her how she holds it down!" I thought of my Atlanta aunts, partisans of the Alpha Kappa Alpha pink and green, crowing over Obama's acceptance of an honorary membership that same month: "Tell her she made the right choice." I thought of a Chicago homeboy who'd summed her up for me: "Michelle is a six-foot black woman who says what she means."
And then I thought of an image from last February, when Michelle Obama, in a gray sweater and a non-smile, slipped into a box marked Angry Black Woman. "For the first time in my adult life," she had told a Milwaukee rally, "I am proud of my country, because it feels like hope is finally making a comeback." When I first saw that clip, I could almost hear the trapdoor opening. In that instant, Michelle Obama became a symbol of her husband's otherness. And for much of the rest of the campaign season, the opinion media obsessed over her love—or lack of love—of country.
Now, waiting in that cavernous downtown Hilton ballroom, I did not think I'd find Ida Wells or Stokely Carmichael. I did not expect to see Michelle Obama with her fist in the air, slinging bean pies, or hawking The Final Call. But still, I was unprepared for what I did encounter: Michelle Obama recounting her life as if she were an old stevedore hungering for the long-lost neighborhood of yore.
"I am always amazed at how different things are now for working women and families than when I was growing up," Obama told the crowd. "Things have changed just in that short period of time. See, when I was growing up, my father—as you know, a blue-collar worker—was able to go to work and earn enough money to support a family of four, while my mom stayed home with me and my brother. But today, living with one income, like we did, just doesn't cut it. People can't do it—particularly if it's a shift worker's salary like my father's."
In all my years of watching black public figures, I'd never heard one recall such an idyllic youth. Bill Cosby once said, "African Americans are the only people who do not have any good ol' days," and for years the rule was that all our bios must play on a dream deferred, must offer a nod to dilapidated public housing and mothers scrubbing white women's floors. But Obama waved off Richard Wright. Instead, the blues she sang was the ballad for the modern woman.
"I'm a working woman. I'm a daughter. I'm a sister. I'm a best friend. But the one role that I cherish the most that you've come to know is that role of mom," she told the audience. "On the campaign trail, in a fund-raiser, sitting in the back of a van somewhere, I am worried about how my girls are doing, about their well-being, about their stability."
Here was a black woman who minored in African American studies, whose home turf had been marked by the Blackstone Rangers and Gangster Disciples, casting her story not as an essay on the illusory nature of the American dream but as a rumination about our collective fall from motherhood, Chevrolet, and a chicken in every pot. I was waiting on slave narratives and oppression. I was looking for justice and the plight of the poor. Instead, I got homilies on the sainted place of women in American society. I got Michelle saluting and then ribbing her mother, who was seated in the audience. I left that ballroom thinking—as always—of the DuBoisian veil, the dark filter through which African Americans view their countrymen, and mulling the split perceptions of Michelle Obama. For all her spinning-out of a quintessential Horatio Alger tale, remixing black America into another ethnic group on the come-up, many Americans saw her largely through the prism of her belated, and wanting, expression of American pride.
There has been much chatter about Barack Obama as the answer to America's racial gap, as a biracial black man whose roots stretch from Hawaii to Kenya, with an Ivy League pedigree and the seal of the South Side. But he is not the only one entering the White House who has seen both sides, who intuitively grasps the heroic American narrative of work ethic and family, and how that narrative historically failed black people. He is not the only one who walks in both worlds. Indeed, if you're looking for a bridge, if you're looking for someone to connect the heart of black America with the heart of all of America, to allow us all to look at the American dream in the same way, if you're looking for common ground, then it's true, we should be talking about Obama. But we should make sure we're talking about the right one.
The essential Americanness of Michelle Obama is rooted in her home, the South Side of Chicago. What I originally knew of the South Side I had gleaned from my college years at Howard University. It was the mid-'90s, and all of us sported some measure of black pride—be it Afrocentric or ghettocentric. Often it was a mix of the two. But the South Side kids didn't boast about rep or whose 'hood was harder. They did not make a scene like the dudes from New York. Instead, they played the South Side rapper Common's Resurrection until the CD skipped, and walked around campus with their chins in the air, as if they knew something we didn't. The girls from Chicago were intoxicating—maybe it was the cadences of the South that still clung to their words, or their appreciation for Sam Cooke and Al Green. Ten years ago, I chose my partner from among that lot. Though she spurned her hometown, and the South Side particularly, as a cradle of bougie Negroes, her ties to that magical city still pulled me in.
A few weeks after I saw Obama in Chicago, I came back to town, pushing a white rental through the byways of the South Side. My guide was Timuel Black, 90 years old, who'd fought in World War II, helped bring Martin Luther KingJr. to the city, and, in his later years, turned to compiling an oral history of the Great Migration. A slight, energetic man with a gray mustache, he stepped into the car wearing a blue Obama/Biden hat, and we were off. For three hours, we followed the map of his memories across the South Side, down Cottage Grove, across Hyde Park Boulevard, down through Michelle's old neighborhood of South Shore. Black was 7 when he saw Charles Lindbergh parading down Grand Boulevard, later rechristened Martin Luther KingJr. Drive. He pointed out Joe Louis's home, and black Chicago's old commercial district, the Stroll, where he'd seen all the jazz acts.
The South Side's sheer mass and its shifting character astonished me. Bungalows would give way to mansions, mansions to burned-out lots, and at every gas station, panhandlers waited in search of change. I asked Black if he, or his brethren, thought of the South Side as a ghetto, and he shook his head, noting that it had always been filled with people like him and his parents, people who worked.
Like its New York counterparts—Harlem in Manhattan, Jamaica in Queens, and Bedford-Stuyvesant in Brooklyn—the South Side is a black island in a mostly white city. But if the South Side were an island, it would be huge. Unlike Harlem, the South Side isn't one neighborhood, but a collection of smaller neighborhoods covering 60 percent of the city. All told, the sprawling South Side is arguably the country's largest black enclave.
We stopped for lunch at Pearl's Place, a homey southern restaurant on South Michigan Avenue. We ate chicken, and Black broke down the South Side's place in black American lore with unabashed pride. "We were always entrepreneurial types," he explained. "We couldn't yell for taxis. They wouldn't come into the black community. So we created taxi companies. The concept of the jitney was created in Chicago. You couldn't afford to die, because white mortuaries wouldn't bury you. So we did it ourselves. We made places like this—places to eat. A single man could come up from the South and get good home cooking and companionship."
Black's memories of Chicago strivers draw from a deep well of myth and fact. The black power struggle in Chicago literally dates back to the city's founding by the 18th-century trader Jean Baptist Point Du Sable, who, like the president-elect, was a biracial black man. The South Side has been home to the largest black insurance companies in the North, such as Supreme Liberty Life and Chicago Metropolitan Assurance. Ditto for black banks like Seaway National and Independence. Half of the first 14 black CPAs came out of Chicago. The publications that defined black Americans—the Chicago Defender, Ebony, and Jet—were also products of Chicago.
The first black congressmen elected in the 20th century were South Siders Oscar De Priest and his successor Arthur Mitchell. For years, they were the only black congressmen. The only two serious African American presidential campaigns—those of Jesse Jackson and Barack Obama—came out of the South Side. Indeed, Barack Obama, Louis Farrakhan, and Jesse Jackson all lived or worked within a 10-minute drive of each other.
Chicago in the early 20th century was racist and segregated, but whereas in the South black voters were violently suppressed, in the North they were encouraged—the better to feed Chicago's infamous machine. Moreover, Chicago's industry was booming, and the Defender painted the city to southerners in typical immigrant fashion—streets paved with gold, and jobs for all who wanted them. For years, the saying among Timuel Black's peers was a reverse of the old Frank Sinatra riff—"If you can't make it in Chicago," they'd say, "you can't make it anywhere."
That promise of a better life drew Michelle Obama's grandparents out of the South and into Chicago. Within Chicago's Black Belt—a network of neighborhoods kept segregated by Chicago's restrictive housing covenants—was the sort of oppressive poverty that spawned terms like the underclass. And yet, alongside this privation was a proto-middle-class group of blacks who held the community together. Obama's mother, Marian Robinson, came up among them.
"Most of the people were working government jobs, like the post office. My father was a decorator. There was a gentleman in our neighborhood who owned a grocery store," Robinson recalled. He "had to go to his farm to pick up his groceries. It was rough. There were plenty of reasons why people could not do. People who couldn't afford rent for a whole apartment, they would share."
But the hardship forged values in Robinson that she passed on to her kids. "That's where we got our understanding that it was going to be hard, but you just had to do whatever it takes," she said. "We all went to church. I was a Brownie. I was a Girl Scout. We all took piano lessons. We had drama classes. They took you to the museum, the Art Institute. They did all those things, but I don't know how. I grew up with a grandmother and an aunt. My aunt would do things my mother would not or could not."
In 1948, Chicago's method of segregating housing—restrictive covenants—was struck down in court, triggering white flight. The South Side suffered, but unlike in other neighborhoods in other cities, the black middle class in Chicago did not follow whites to the suburbs. The result is that while the South Side bears a disproportionate share of the city's poverty, it also has several steady working- to middle-class neighborhoods.
Michelle Obama's South Shore, for example, held on to its basic economic makeup. "When we moved over, [the neighborhood] was changing," Robinson said. "There were good schools, that's why people moved, and it was the reason we moved. I enjoyed living there. It was fine with me that it was changing. Some people felt the schools were too geared to whites. People were very conscious and wanted black artists in the schools. My point was just to go to school and learn what you have to learn."
Robinson and her husband also had the advantage of a few overlooked attributes of Chicago. The South Side was almost a black world unto itself, replete with the economic and cultural complexity of the greater city. There were debutantes and cotillions as well as gangs and drug addicts. Mostly, there were men like Fraser Robinson, black people working a job, trying to get by. The diversity and the demographics allowed the Robinsons to protect their kids from the street life, and also from direct, personal racism. And then there was family life. The Robinsons played board games on the weekends. Michelle loved The Brady Bunch.
"We had a very fortunate upbringing," says Obama's brother, Craig Robinson. "It was filled with good times. We were like every other family. We had love and discipline. We had caring parents … It wasn't unusual at all. It wasn't that everyone had both parents in the house, but it certainly wasn't like it is now, where you find single-parent families everywhere. Folks went to work, people were excited to get good grades … People would laugh about folks finding out you were getting in trouble. People had mothers at home. So if someone broke a window, you always found out about it. You had a secondary line of defense."
This cocoon that surrounded Michelle Obama in her formative years helps explain some of the statements and actions that fanned controversy during the campaign. Obama's Princeton thesis on "Princeton-Educated Blacks and the Black Community," for example, has been interpreted as a budding Garveyite's call to arms. Exhibit A seems to be her banal citation of Stokely Carmichael to explain black separatism, and her observation that Princeton made her "more aware of [her] 'Blackness' than ever before."
A hostile reading of those words hinges on a misunderstanding of the complexities of segregation. In fact, for the legions of black people who grew up like Michelle Obama—in a functioning, self-contained African American world—racial identity recedes in the consciousness. You know you're black, but in much the same way that white people know they are white. Since everyone else around you looks like you, you just take it as the norm, the standard, the unremarkable. Objectively, you know you're in the minority, but that status hits home only when you walk out into the wider world and realize that, out there, you really are different.
I came up in segregated West Baltimore. I understood black as a culture—as Etta James, jumping the broom, the Electric Slide. I understood the history and the politics, the debilitating effects of racism. But I did not understand blackness as a minority until I was an "only," until I was a young man walking into rooms filled with people who did not look like me. In many ways, segregation protected me—to this day, I've never been called a nigger by a white person, and although I know that racism is part of why I define myself as black, I don't feel that way, any more than I feel that the two oceans define me as American. But in other ways, segregation left me unprepared for the discovery that my world was not the world. In her book Michelle: A Biography, Liza Mundy quotes another South Sider explaining the predicament:
"When you grow up in a black community with a warm black family, you are aware of the fact that you are black, but you don't feel it … After a certain point you do just kind of think you're in your own world, and you become very comfortable in that world, and to this day there are African Americans who feel very uncomfortable when they step out of it … This is a society that never lets you forget that you are black."
In her thesis, Michelle Obama grapples with her dawning sense of race as a divider, and with the idea that the world she knew as a child was very different from the one she was entering as a college student. In that light, her words in Wisconsin deserve another look. It's easy to be proud of America as a young black kid with a mother and a father, a solid community, and no direct exposure to racism. But Obama's statement was about her adult life. Post-1960s segregation shielded many of us from feeling different, but it could not save us from the weirdness of having white people touching our hair, from the awkwardness of not knowing whether Led Zeppelin was a man or a group, or, more viscerally, from the pain of witnessing the episodes involving Willie Horton, Sister Souljah, and Rodney King.
Standing behind that podium in Milwaukee, Obama was waxing nostalgic. That doesn't mean she was wrong. She was merely expressing the hope that the world could be as it was in South Shore, filled with people who get up, raise kids, and go to work, and never have to think about being "the other."
In most black people, there is a South Side, a sense of home, that never leaves, and yet to compete in the world, we have to go forth. So we learn to code-switch and become bilingual. We save our Timberlands for the weekend, and our jokes for the cats in the mail room. Some of us give ourselves up completely and become the mask, while others overcompensate and turn every dustup into the Montgomery bus boycott.
But increasingly, as we move into the mainstream, black folks are taking a third road—being ourselves. Implicit in the notion of code-switching is a belief in the illegitimacy of blacks as Americans, as well as a disbelief in the ability of our white peers to understand us. But if you see black identity as you see southern identity, or Irish identity, or Italian identity—not as a separate trunk, but as a branch of the American tree, with roots in the broader experience—then you understand that the particulars of black culture are inseparable from the particulars of the country.
Pop culture has laid the groundwork for that recognition. Barack Obama's coalition—the young, the black, the urban, the hip—was originally assembled by hip-hop. Jay-Z and Nas may be problematic ambassadors, but their ilk are why those who thought Barack and Michelle were giving each other a "terrorist fist jab" were laughed off the stage. We are as physically segregated as ever, yet the changes in media have drawn black idiom into the broader American narrative.
In 2002, the rapper Ice Cube produced and starred in Barbershop. The movie was a surprise hit, spawning a sequel, a spin-off, and a short-lived TV series. Its success shocked industry-watchers, because it took place exclusively in a black community and seemingly focused on "black issues." But you could find the same characters in any other ethnic community. Think of Michelle Obama's sharp sense of humor and her insistence on viewing her husband as mortal, and how both traits were derided during the campaign as un-first-ladylike and fed the caricature of her as an Angry Black Woman. In reality, her summation of her husband as "a gifted man, but in the end … just a man" could have come out of the mouth of any sitcom wife on TV.
When I saw Obama in Chicago and took her for white, it was not because of her cadences, mannerisms, or dress, but because of the radical proposition she put forth—a black community fully vested, no DuBoisian veil, in the country at large. A buddy of mine once remarked that Michelle "makes Barack black." But that understates things. She doesn't simply make Barack black—she makes him American.
"I keep saying this: Michelle, Barack, and my son are not abnormal," Marian Robinson said. "All my relatives, all my friends, all their friends, all their parents, almost all of them have the same story. It's just that their families aren't running for president. It bothers me that people see [Michelle and Barack] as so phenomenal, because there's so much of that in the black neighborhood. They went to the same schools we all did. They went through the same struggles."
The last time I saw Michelle Obama in person, in a small room at the Westin Tabor Center hotel in Denver, I was convinced that she could be taken for nothing but black. I had spent the past few weeks following her from set piece to set piece—Obama talks to military spouses in Virginia, Obama and her family make care packages for soldiers, Obama addresses the Hispanic caucus at the Democratic National Convention. But nothing I'd seen at those events outweighed the impressions of her character that I was forming from my encounters with the wide streets of the South Side, one of the few places in the country where African Americans could utter the mantra "Black and proud" without a hint of irony.
Her day was almost finished, and she was tired. I was the last in a battery of interviews. Still, she smiled, shook my hand, and said, reaching for a vase of plastic flowers, "We got these for you. What, you don't believe we bought these for you?" I laughed, sat down, and asked her about her childhood.
"My mom and maybe a couple others were some of the few who were able to stay at home," she explained. "A lot of my friends, they weren't called latchkey kids, they were just kids whose parents worked … We went to the public school right around the corner and we had lunch, and you could go home for lunch, and we had recess and there weren't closed campuses then … They'd bring their bag lunch, they'd sit on the kitchen floor and talk to my mom. There was one other mother who we'd do that with."
There it was, that old neighborhood nostalgia and pride, woven into the larger American quilt. Obama's recollections offer no nods to the disproportionate poverty that has always haunted black Chicago. But that was not her world, and it isn't her story. Since the days of Frederick Douglass—another biracial black man—black leaders have styled themselves as the social conscience of the country. As laudable—if at times opportunistic—as that approach may be, it has also marginalized the very people they were trying to help. The typical black political narrative of using one's humble beginnings to make the country true to itself flies against the dominant image of America as the "good guy." It's also a narrative that holds more truth for the activist, the professional scold, than for the rank and file. If Barack and Michelle Obama are to truly transcend the racial divide, it won't be through the narrative of justice, but through the mythology of the Great—and common—Cause.
On the night of his victory, Barack Obama talked about Ann Nixon Cooper, a black woman who, at the age of 106, had voted for him. But when Obama told her story, he presented her not just as someone who'd been born a generation after slavery and had seen segregation, but as a woman who'd seen the women's-suffrage movement, the dawn of aviation and the automobile, the Depression and the Dust Bowl, and Pearl Harbor. He presented Nixon Cooper as an African American who was not doubly conscious, just conscious. That is the third road that black America is walking. It's not coincidental that two black people from the South Side are leading us on that road. If you're looking for the heralds of a "post-racial" America, if that adjective is ever to be more than a stupid, unlettered flourish, then look to those, like Michelle Obama, with a sense of security in who they are—those, black or white, who hold blackness as more than the losing end of racism.
These heralds offer a deeper understanding of African American life, a greater appreciation of the bourgeois ordinariness of our experience. "People have never met a Michelle Obama," the soon-to-be first lady said toward the end of our interview. "But what they'll come to learn is that there are thousands and thousands of Michelle and Barack Obamas across America. You just don't live next door to them, or there isn't a TV show about them."
There is now.