Wise Constraints
"What is specially American ... is the surprising fact that the democratic institutions established by a written Constitution have actually worked (with many ups and downs) over the course of more than 200 years."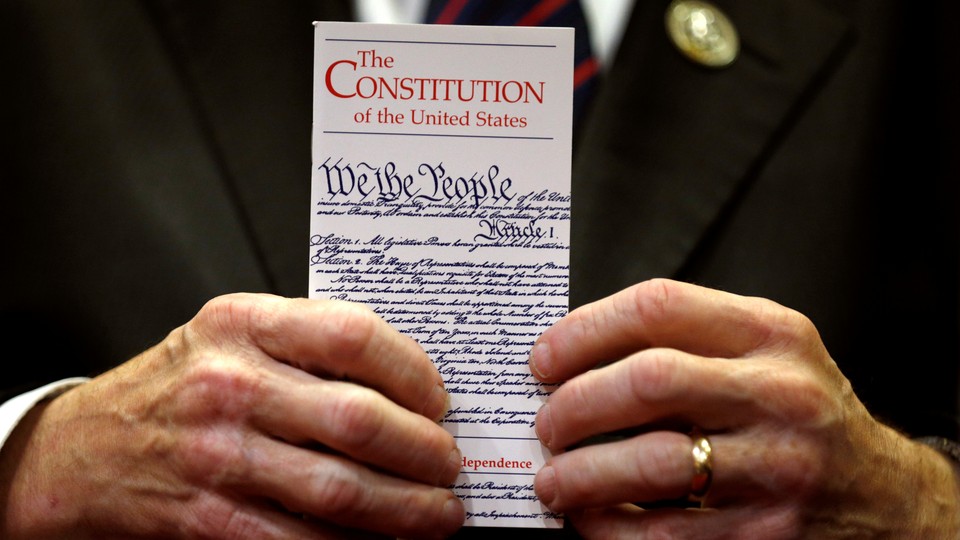 The Constitution of the United States permits Americans to govern themselves. At its heart lies a certain concept of democracy, a form of self-government that protects basic human rights from invasion by the majority, assures a degree of equality, and insists upon the rule of law. It avoids concentrating power in too few hands by dividing power, vertically between states and a federal government and horizontally among three federal branches. It translates its ideals into institutions designed to work in practice.
Return to:
The American Idea
Scholars, novelists, politicians, artists, and others look ahead to the future of the American idea.
The ideas at the heart of the Constitution are not uniquely American. Our Founders understood French Enlightenment thought, they respected British legal traditions from the Magna Carta onward, and they sought to create institutions that would embody the democratic ideals and republican values of ancient Greece and Rome. What is specially American, however, is the surprising fact that the democratic institutions established by a written Constitution have actually worked (with many ups and downs) over the course of more than 200 years, as the nation has grown by a factor of 75 and now encompasses every race, religion, ethnic background, and conceivable point of view.
This simple fact—that such a large, diverse nation has been able to govern itself democratically for so long—helps to explain why since the end of World War II, many other nations, seeking similar ends, have sought to learn from our experience. They have tried to create their own governmental institutions embodying similar ideals. And many have succeeded. The upshot is that we are not unique; our ideals are not exceptional; and, to everyone's good fortune, our ability to put those ideals into practice, however special it once may have been, has not remained so.
The future of the American constitutional idea, then, is the future of a shared set of ideals. This implies a shared commitment to practices necessary to make any democracy work: conversation, participation, flexibility, and compromise. Such a commitment cannot guarantee success in overcoming serious problems: terrorism, environmental degradation, population growth, energy security, and the like. But it does imply a certain attitude toward finding solutions—a willingness to explore options, to search for consensus, and not to be "too sure" of oneself, a habit of mind that Judge Learned Hand once defined as the very "spirit of liberty."
I believe that America, through choice, and not necessity, will follow this basic approach. I know of none more likely to work.