The Secret of the Irish Scone
At Camp Bread, in San Francisco, a baker rehabilitates one of the most frequently abused members of the pastry family.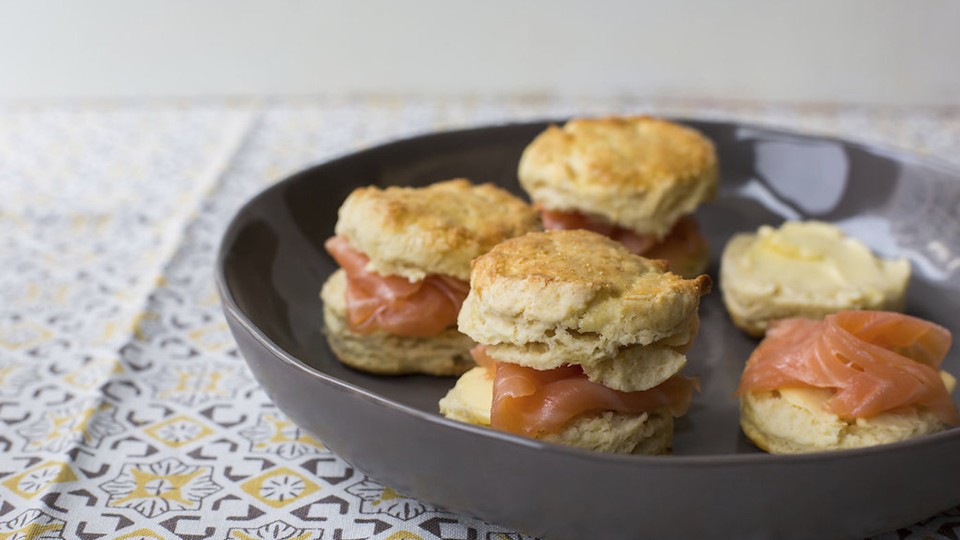 At summer's start the Bread Bakers Guild, a society of American artisan bakers, staged Camp Bread, a three-day jamboree of classes and visits to bakeries, restaurants, and flour mills in the Bay Area. The event, only in its second year, sold out the day it was posted on the group's Web site. This year, I was able to wangle a visitor's pass for a day and a half. I wanted to be everywhere at once, with so many concurrent classes taking place at the San Francisco Baking Institute, which served as base camp.
Bakers are the most generous of people. Like cooks these days, many have come to their craft as a second career and approach it with special passion. And they happily share their secrets. My neighborhood bakery, Clear Flour, in Brookline, Massachusetts, whose co-owner, Abe Faber, is the director of Camp Bread, sells little hatted rolls that look like Le Corbusier's church at Ronchamps. I saw French bakers teaching the technique at Camp Bread. Faber's wife, Christy, helped teach a class on buttery "enriched" doughs (she is a master of brioche) and came home with a recipe for something I'd like to see in every artisan bakery in the land: fresh German pretzels.
I sat in on an all-day seminar on "Irish Ethnic Baking"—an under­appreciated discipline, according to one of the instructors, Derek O'Brien, head of Dublin's National Bakery School, who led us through the postwar demise and encouraging current revival of the High Street baker.
Jimmy Griffin, a jovial young fourth-generation baker from Galway, kept surprising us with breads well outside the standard repertoire even of Boston's Irish bakeries. Most dramatic was "batch bread," the rough equivalent of the French pain de mie—a tight-textured white bread enriched with butter and often milk. The balls of dough are placed side by side in an oversize rectangular pan at least 6 inches deep (Griffin lugged a wooden frame he'd built to bake them in; amazingly, it didn't catch fire in the oven). Each one becomes a pull-apart square loaf a full 8 inches high, with a dark and shiny domed top and no crust on the sides. It was disconcerting to think that this beautiful sandwich bread, soft and pliant but strong, gave rise to Wonder Bread and the English equivalent, the yet-more-Orwellian Mothers Pride, and to the big commercial bakeries that nearly drove Irish artisan bakers out of business.
There was soda bread, of course, that soft, sweetly nutty excuse for endless amounts of butter and the best possible accompaniment for cheddar or smoked salmon. I can eat soda bread in virtually unlimited quantities, but it's a terrific challenge to make here, where the available whole-wheat flour produces harsh, tough results. Irish "brown" flour is much "weaker" (lower in gluten) than American whole-wheat flour—good for the delicate texture of Irish brown bread and for pastry, but not so good for yeast breads. Nothing in America is quite like it.
Determined to learn how to make Griffin's soda bread, a family recipe and a signature of his bakery, I took technical notes on the protein and bran levels of the flour he had brought from Ireland. Maggie Glezer, the author of several books on artisanal baking, who was taking a break from preparations for her own class, was equally focused. But every time we asked just which flours Griffin recommended and in what proportions, we seemed to end up with slightly different protein and bran ratios. I gave up and resolved to order another shipment of Odlums soda-bread mix from Ireland.
At the end of the afternoon, Griffin threw in a bonus recipe he hadn't put in his handouts: raspberry-and-raisin tea scones. They sounded dainty and dull after the gorgeous trays of hot cross buns and the Celtic whiskey brack, a buttery yeasted cake crammed with whiskey- macerated fruit whose mixing was halted for a spontaneous round of shots of Jameson's. Instead they were a revelation.
Scones are among the pastry family's most frequently abused members. Even in England, which you might think would be the home of the tenderest and best, the average scone is a dense and powdery affair, with only a few sad raisins to relieve the monotony—unless, of course, you slather it with clotted cream and Tiptree's Little Scarlet Strawberry Preserves, which would make anything taste good. Scone is a Scottish word derived from the Dutch schoonbrot, which in turn comes from the German schönbrot. A startling number of the ones I tried on a recent trip to London were hardly schön—they resembled fatty fieldstones. What you usually find masquerading as scones in this country might better be called by the name of another British treat: rock cakes.
Griffin's scones are so light and moist that they fall between cake and a well-made muffin. They are easy to mix and bake very, very quickly. And they neatly avoid many scone pitfalls.
The trick to making scones—or pie crust, or shortbread, or any other dough that is supposed to be flaky—is to work the fat (butter for scones, lard for the best biscuits and pie crust) into the flour with your fingers, or a pair of table knives, until it forms cornmeal-like crumbs and then to knead the dough practically by stealth. The best bakers have cold, nimble fingers and what Shirley Corriher, an Atlanta cooking teacher and writer, calls a "touch of grace." Inspired by her grandmother's legendary biscuits, Corriher embarked on a career of scientific inquiry that led to CookWise, an essential manual for technical-minded cooks. She uses shortening (easier to work than butter) and makes her dough very wet, which always results in lighter breads.
Griffin eliminates the mixing challenge altogether by using liquid fat, in this case olive oil. What could be more healthful? If you pick a light olive oil (I used Olave, from Chile, well made and neutral), no one will guess it's there. He also adds an egg, which few other scone makers do; this makes the wet dough easy to pat into shape.
There are no tricks to making Griffin's scones, in fact, except for buying frozen raspberries and finding buttermilk. (Nothing is better for baking than true buttermilk, which is left over from making cultured butter, but no artisan dairy I know of sells it.) You can eliminate the raspberries if you like, but they add a nice lightening touch and are easier to use than fresh berries, which would fall apart and stain the scones.
The Recipe
For 12 to 15 scones, heat the oven to 500 degrees (yes, that high) and place the rack in the middle. Combine 2 3/4 cups of all-purpose white flour with 2 teaspoons of baking powder and half a teaspoon of salt. If you can find White Lily brand flour, low in protein and thus in gluten, which toughens delicate pastry, use it (White Lily is the secret to Corriher's biscuits). Otherwise, choose the white flour with the lowest percentage of protein on the nutritional information chart—but don't use cake flour, which is cut with glutenless cornstarch. Griffin blends 1 1/4 cups white flour to 1 cup of pastry flour, but few supermarkets carry pastry flour. (Arrowhead Mills' "pastry flour," which you can find at Whole Foods, is whole-grain flour from soft wheat; it is a nice and nutty alternative, but makes a drier scone.) To help achieve that very light texture, sift the flour mixture five times—this doesn't take as long as it sounds—and set it aside in a large mixing bowl.
In another bowl, whisk together 1 cup of buttermilk, 1/2 cup of olive oil, 1/2 cup of sugar, and 1 egg. It's important to have everything ready to go before you mix the liquid into the flour, as this starts activating the baking powder. In separate containers, measure 1/2 cup of raisins and 1/2 cup of frozen raspberries without syrup. (If you prefer to buy fresh berries, freeze them on a baking sheet and then store them in a bag.)
Oil or butter a cookie sheet, or cut a piece of parchment paper to fit it. I managed to make all the scones fit onto a standard 13-by-15 sheet, but a bigger one would be better. Uncushioned baking sheets will make browner bottoms. Have ready a biscuit cutter or jar 3 inches in diameter (for a dozen scones) or 2 1/2 inches in diameter (for 15), and about 1/2 cup of flour in a bowl. Whisk two eggs with a pinch of salt in another bowl, to glaze the cut biscuits, and dig out a pastry brush if you have one.
Make a well in the middle of the sifted flour, pour in the milk-oil mixture, and sprinkle the raisins on top. Blend the flour into the liquid-raisin mixture with a wooden spoon, working from the inside out and mixing as lightly as you can. The dough will come together easily and quickly. Turn it out onto a large sheet of waxed paper and cover it with another, so that you can pat it into a rough rectangle an inch high; it should measure roughly 8 by 10 inches.
Remove the top sheet, scatter the frozen raspberries over half of the rectangle (try to break them into individual berries as you work), and fold over the other half. Cover with waxed paper again and roll or pat the rectangle until it is an even 1 1/2 inches high. Remove the top sheet and cut the dough into rounds with clean strokes, dipping the cutter into flour between cuts. Transfer the biscuits onto the baking sheet with a table knife or offset spatula dipped in flour, spacing them 1 1/2 to 2 inches apart. You can pat the scraps together into messy rounds and even them out with the cutter. Glaze the tops with the beaten egg mixture, and slide the finished tray into the refrigerator for 15 minutes or the freezer for 10 minutes; glaze the scones again.
Put the tray in the oven and turn the temperature down to 425 degrees. Bake for 15 minutes for 2 1/2-inch biscuits or 18 minutes for 3-inch biscuits. Resist the urge to cook them longer, even though the tops only start to get shiny and brown in the last few minutes of baking. (Griffin recommended 10 minutes, but he had in mind commercial ovens, which hold heat more evenly; I put the light-bottomed scones back into the oven for five minutes, and it was a mistake.) Cool them on the baking sheet for 10 minutes, which will allow the bottoms to finish browning, and then transfer to a cooling rack.
The scones will stay moist for about two days, and can be toasted without toughening. They freeze well, too. As always with light breads (and English muffins, which are really crumpets), it's better to split them with a fork; this preserves their lovely texture and readies them to absorb soft butter and jam. Even if you've never made pastry, your friends will marvel at your dab hand and beg you to make clotted cream. I've heard that it's easy. Me, I'm waiting for Camp Cream.