Reading, Writing, Resurrection
Hurricane Katrina destroyed one of America's worst school systems and made New Orleans the nation's laboratory for educational reform. But can determined educators and entrepreneurs transcend the damage of the flood—and of history?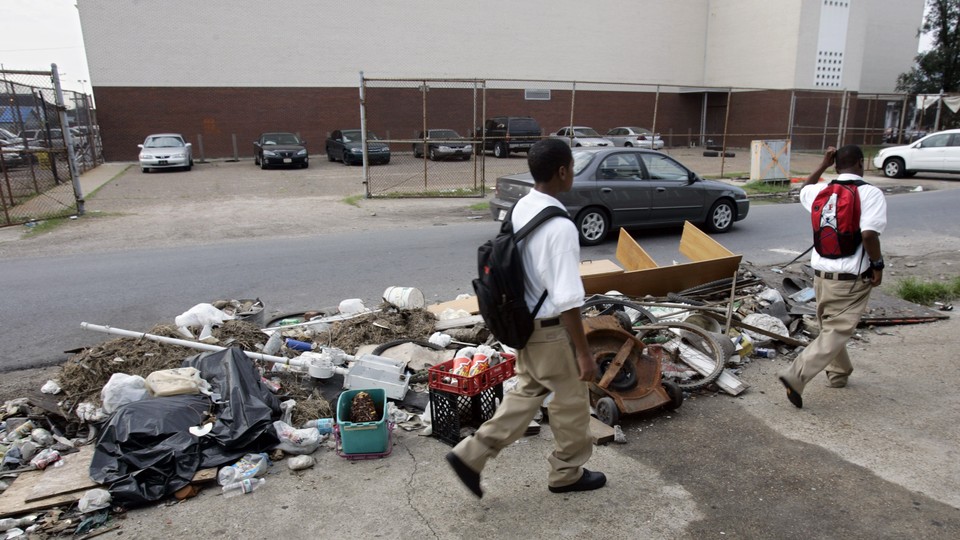 In the summer of 2006, the New Orleans landscape came to include, along with blue tarps and white trailers, moldering ruins and overgrown lawns, and We're Home and For Sale signs (sometimes on the same house), a series of placards promoting new schools. The signs, planted along the grassy medians of boulevards like St. Charles and St. Claude, bore a less obvious connection to Hurricane Katrina than those offering mold removal or "hurricane attorneys." But they were every bit as much Katrina's doing.
The storm ravaged the city's architecture and infrastructure, took hundreds of lives, exiled hundreds of thousands of residents. But it also destroyed, or enabled the destruction of, the city's public-school system—an outcome many New Orleanians saw as deliverance. That system had begun with great promise, in 1841, as one of the first in the Deep South. It had effectively ended, in 2005, in disaster—and not just the natural kind. Its defining characteristics were financial high jinks and low academic performance. On the last state achievement test before Katrina hit, 74 percent of eighth-graders had failed to demonstrate "basic" skills in English/Language Arts, and 70 percent scored below "basic" in math. The Orleans Parish School Board, which ran the city's schools, was $450 million in debt. Yet these numbers did not begin to capture the day-to-day texture of the schools: when students held a press conference to express their post-Katrina wishes, they asked for textbooks, toilet paper, and teachers who liked them.
The floodwaters, so the talk went, had washed this befouled slate clean—had offered, in a state official's words, a "once-in-a-lifetime opportunity to reinvent public education." In due course, that opportunity was taken: three months after Katrina, the state legislature deemed 107 of the 128 city-run public schools "failing" and seized control of them for five years. (Before the storm the state had already placed five failing schools in what it called the Recovery School District, then converted them to charter schools.) Stripped of most of its domain and financing, the Orleans Parish School Board fired all 7,500 of its teachers and support staff, effectively breaking the teachers' union. And the Bush administration stepped in with millions of dollars for the expansion of charter schools—publicly financed but independently run schools that answer to their own boards. The result was the fastest makeover of an urban school system in American history—and a patchwork nonsystem of bewildering complexity and bewitching promise.
In the fall of 2006, estimates placed the city's population at less than half its pre-Katrina number of about 455,000, and fifty-three public schools were slated to open. Of those, the Orleans Parish School Board would be running just five—schools that had not been taken over because they weren't failing. The Louisiana Department of Education, which had never before run schools, would reconstitute and run seventeen under the Recovery School District. The rest—thirty-one in total—would be charter schools, either started from scratch or converted from existing public schools, and authorized by either the state or the city. New Orleans, barely a presence in the charter-school movement before the storm, now had a higher proportion of charter schools than any other American city—and unlike most of the country's 4,000 such schools, these had the backing of the establishment. Most radical of all, the neighborhood school had been banished—parents would have total freedom to choose which school their children would attend, no matter where they lived. Introducing school choice and weakening teachers' unions had both long been goals of many educational reformers. Circumstance had made New Orleans the laboratory for these ideas. Ben Kleban, a charter-school proponent drawn to New Orleans by this flourishing, called it "the biggest experiment in a system of schools of choice we've ever seen." Leslie Jacobs, a member of the state school board, called it "the most market-driven system in the United States."
Climatic torpor drapes New Orleans in August, and nearly a year after Katrina, the city's stalled recovery seemed to add a spiritual malaise. Amid the stagnation, a singular energy gripped education. Charter-school boards raced to learn the nuts and bolts of operation, since they, not a centralized district headquarters, would have to shoulder everything from budgeting to food service. Contractors worked to repair school buildings, if not always at the desired pace. The Sheraton Hotel on Canal Street became a pedagogical bazaar, with professional- development workshops on floor after floor. Members of the "movement," as charter-school proponents call themselves, flooded into New Orleans to help its nascent schools, as did idealistic young teachers. Educational publishers came to peddle reading and math programs for urban students. There was an openness, a sense of possibility, heightened by the abstraction of still-absent children.
The schools that were taking shape would bear, far more than those in a traditional system, the imprimaturs of their creators: each school's driving force sought to apply his or her own beliefs, experiences, and ideas of how to make public education work. Some were outsiders who thought they could save New Orleans not just from Katrina but from itself. Others were locals, with personal or ideological investments in the city's education system. Their success or failure would not be known for several years, but the decisions being made in the summer and fall of 2006 would long reverberate. So would a still-unanswered question: Can you rebuild a school system when you haven't decided whether to rebuild a city?
THE BUSINESSMAN:
MARKETING A "GREAT PRODUCT"
James M. Huger
On a rainy August night, James M. Huger, a thirty-eight-year-old scion of Uptown New Orleans gentry, stood before a group of parents to pitch his new charter school, Lafayette Academy of New Orleans. Among the new schools, Lafayette had been one of the most prolific advertisers—on radio and television as well as in the streets. This was because Huger, whose business interests ranged from real estate to construction to parking lots, understood the marketplace better than most. Under the New Orleans schools' new governance, the money—state and federal—would follow the students, and so every charter school needed a critical number of students just to break even. Recognizing that the power to choose lay with the parents, Huger had scheduled a series of open houses to woo them. "I'm a real-estate developer; I don't know the first thing about running a school," he told them, but he promised that his Choice Foundation would create an excellent one—a "great product," as he put it.
Huger's avocation, he says, is free enterprise—capitalism, and the principles that make it work. By his reckoning, competition and choice made America great, and they could transform New Orleans's schools too. Give parents the right to leave bad schools, he believed, and good ones would emerge. Less than a year before Katrina, he had founded the nonprofit Choice Foundation to promote this idea, but he hadn't progressed far. Little did he know, he would say later, that he should have been praying for a major hurricane.
That hurricane had placed Huger before these parents and brought about what he described to them as a "total revolution in education." Lafayette Academy's building was still under repair, so for the open house, Huger had commandeered the auditorium of his own alma mater, the Isidore Newman School, a private educational redoubt of the city's elite. Newman's student body had never been more than one-fifth nonwhite (even as the city itself became two-thirds black). This stint in the auditorium was as close as many of these parents were likely to come to a Newman education. But Huger was promising something almost as good: "a private-school education at no cost to you," as one of his staff put it.
Huger had partnered with Mosaica Education Inc., a for-profit educational management firm that administers ninety charter schools in the United States and abroad and has developed an innovative, interdisciplinary curriculum. He had hired both a chief administrative officer—with thirty-seven years of experience in Department of Defense schools—and a seasoned Orleans Parish principal. They regaled the parents with talk of the Socratic method and critical thinking, of one computer for every three students, and of individualized learning plans—in short, a "gold standard." And if gold were not incentive enough, there were goodies: donated backpacks and school supplies for everyone at the open house. Huger—white, well-educated, well-off—came across as someone who had never wanted for much, but he wanted the endorsement, or more accurately the enrollment, of the mostly black, less advantaged parents arrayed before him.
He had it. At the evening's end, parents scurried to register, and by school's start, Huger was king of the marketplace: Lafayette had nearly 800 students, more than any other elementary school in New Orleans. Its conditions, though, were not entirely his to set. Huger would have preferred that his school have selective admissions, by which students are screened on criteria like test scores and grade-point averages. He also would have preferred more of what he delicately called "diversity"—as in white children. But under the guidelines, choice ran only one way: Huger would have to educate any child who chose him.
THE OUTSIDERS:
'MISSIONARY WORK'
In August of 2006, Robin Jarvis had an impressive title—acting superintendent of the Recovery School District—but no office to match: she was working out of a few classrooms and, on occasion, her car. Her portfolio was large: she was to reconstitute the seventeen schools the state would run in the fall, and oversee the charter schools authorized by the state (there were separate city-authorized charter schools) and the real estate (102 buildings) the state had acquired through the takeover. Mindful of the legendarily corrupt, bloated school bureaucracy of Orleans Parish before the storm, state officials wanted a lean operation, so Jarvis's staff numbered about a dozen. That meant, to a great degree, that the success or failure of this experiment rested on her business-attired shoulders.
The state had not planned on running the seventeen schools itself; it had thought more charter operators would fill the vacuum. But only ten of forty-four applications for new schools had passed the state screening process (and three of those ten schools would later have their charters withdrawn). So it was left to Jarvis, a forty-three-year-old redhead, to start a new school district from scratch and fulfill the legislative mandate to operate its schools in the manner "most likely to improve the academic performance of each student." Given how far behind the children were, and given their post-Katrina trauma, someone had described her job to her as "missionary work." To a Baptist minister's daughter, that sounded about right.
Jarvis's graduate thesis had been on educational leadership, and she had been a teacher, then a principal, then an assistant superintendent in the state Department of Education. She thought she knew, as a result, what the schools needed, and she conveyed her plans with composed assurance. She wanted a culture of high expectations. Class size would be restricted to twenty or twenty-five, depending on the grade, and the school day for teachers extended to eight and a half hours. Experts from the University of Toronto and elsewhere would provide professional development. Jarvis would handpick principals, who would handpick teachers from a pool that had been selected through a screening process decided on by Jarvis and her staff. In a sense, although the schools she was running were not charters, Jarvis had the freedom of a charter-school operator—but also the burdens. Most charter schools take a year to prepare before opening, but each of the various New Orleans charter operators was struggling to launch one or two schools in only three to five months; in that same period, Jarvis was trying to launch seventeen. And she was an outsider: her home, Baton Rouge, was about eighty miles away, but an immeasurable distance in "culture" (to invoke a word she and others used with more regularity than specificity).
For a bureaucrat, Jarvis displayed unusual political skills. Her humor was disarming, her forthrightness refreshing. She needed that politesse, not least because she was a white woman leading the state takeover of a largely black school system. New Orleans had always been, and remained, a profoundly racialized place, attuned to gradations of color and their implications for status, power, and resources. Schools were a place to both enforce and challenge the racial order. The progressivism of the northern reformers who founded New Orleans's public schools extended to admitting immigrants—but not blacks. Reconstruction had brought a brief period of enforced integration, but then, with the restoration of local power, came segregation. It persisted until 1960, when four African American girls integrated the New Orleans elementary schools. But again integration was short-lived. White flight began in earnest in the 1970s, and by 2004, the students in the city's public schools were 93 percent black, as were most of the system's teachers and employees. Jarvis's every step, or misstep, would be analyzed through the prism of race.
Racial politics had always contributed to the system's poor performance, but that was not the only factor. The schools had long been underfunded by the city's tax- resistant planter and merchant classes. An insistence on maintaining not only racial but also gender segregation into the 1950s had further stretched the system's resources. A 1909 study of urban schools placed New Orleans's white schools at the bottom of nearly every national ranking; another survey thirty years later found little change. Middle-class blacks had followed whites out of the system long before Katrina. By 2004, 75 percent of public-school students were receiving free or reduced-price lunch, and fewer than half the students who started kindergarten graduated from high school. (The only exception to this uniform failure had been the city's magnet schools, which used admission criteria—grades and test scores—to cream off the best students. These students were far more likely to be middle class—both black and white—than those in the regular public schools, and parental involvement followed apace. The magnet schools also drew many of the best administrators and teachers, and consistently produced the best results.)
But if Jarvis faced a daunting legacy, she also had an unusually free hand to erase it. She had no huge bureaucracy to contend with, and New Orleans, perhaps alone among American cities, no longer had a teachers' union to reckon with. For much of the city's educational history, the teachers had been the heroes, stalwarts who soldiered on, underpaid, amid racial tugs-of-war. But as they grew in strength, thanks in large part to the United Teachers of New Orleans, critics came to see them as villains: protected by tenure, shuffled from school to school, they were blamed for many of the schools' ills. In a stroke, Katrina had defanged the union. In the Recovery School District both principals and teachers were now being hired on one-year contracts, promising new accountability. And all teacher and principal applicants, including those who had worked in Orleans Parish schools, would be hired only after passing both a skills-assessment test and an interview. "I have to ensure I have the very best-quality teachers," Jarvis explained on the witness stand in civil court, fending off a lawsuit that teachers had brought against the test. "It is what we are doing for the children."
But through the summer and into the fall, high standards kept colliding with limited resources, human and otherwise. The pool of teachers was too small, a reflection, in part, of trying to revive a school system in a city that remained half-dead. Rents had risen as much as 70 percent since Katrina, to levels prohibitive for old and new teachers alike. Eighty percent of the city's licensed child-care centers were gone after Katrina, impeding parents' return to work. Government grants for home repair moved at a trickle. The continuing lack of a rebuilding plan—or rather, a surfeit of rebuilding plans, but a lack of actual rebuilding—had exiles in Houston, Atlanta, and elsewhere holding off on return. And the Recovery School District had not helped itself by waiting until the summer of 2006 to begin hiring teachers.
Many teachers had lost their homes and were living in trailers. They were fighting for insurance payments, caring for elderly parents traumatized by the storm, gutting their homes. The same people expected to shoulder the burden of reinventing the public schools, in short, were reinventing their lives. Being fired had been humiliating, and having to submit to a skills test was degrading, and some simply stayed away.
Because the state was not releasing the skills test to journalists, I signed up to take it myself. Along with English skills at the eighth-grade level and math at the fourth-grade, the test included multiple-choice questions about "best practices" and educational theory, and an essay. I wasn't convinced that it was a reliable indicator of whether someone would make a good teacher (I became even less convinced when I passed), but I supposed it could weed out those who couldn't handle basic math or English—which turned out to be one-fourth of those who took it. This further depleted the pool: there simply were not enough qualified teachers—at least as defined by the test—to go around. In post-Katrina New Orleans, Jarvis's desires for both small classes and excellent teaching were proving incompatible.
Daniel J. Hudson
In a way, the gap between demand and supply gave teachers more power than ever. They had their pick of schools; at training sessions, principals circled like suitors at a Jane Austen ball. One morning, as the Recovery School District's principals gathered for training, one of them, Daniel J. Hudson, studied a candidate's résumé. "You can stop looking at that résumé," another principal said with a friendly smirk. "She's on my staff." Hudson crushed the paper.
A burly onetime football player who had last worked as a principal in Washington, D.C., Hudson was part of an infusion of new blood into the city, whether Hispanic laborers sweating to repair a school or educators like him who came to run one. New Orleans had always had unusual generational depth—families whose residence in the city extended back centuries. Katrina had broken this lattice of relationships, dispersed its pieces, and begun assembling a new one in its place. Hudson, in the midst of a year off when Katrina hit, decided to come help New Orleans reach into the ashes to "pull out the phoenix." At fifty-nine, he figured he had ten working years left. With Jarvis's endorsement, he would spend as many of them as he could as principal of Sarah T. Reed High School in New Orleans East.
Hudson's task was to execute Jarvis's ideas about how to make a good school. In theory, Hudson had full freedom to choose his teachers; he just had to find them. "One thing that's going on is that folks can't pass a simple test—children's level," Hudson told me. He thought the state should hold firm in upholding qualification requirements, despite the holes in his staff (he still needed four science teachers, to start).
On September 8, I saw Hudson in the Recovery School District's newly opened headquarters. After stumbling across a crowd of applicants waiting to take the skills test, he began working the room. "Any science and math teachers?" A man nodded. "Certified? Certified science and math?" The man nodded again. Hudson looked ready to dance a jig. He gave the man his number and told him to call "any time, day or night," when (not if) he passed the skills assessment. Hudson pressed on: "Any male PE teachers?"
His school was just hours from opening.
THE LOCAL:
UP FROM THE LOWER NINE
Doris Roché-Hicks
n the pre-Katrina landscape, Dr. Martin Luther King Jr. Elementary for Science and Technology was a standout—a pride of the Lower Ninth Ward, one of New Orleans's poorest neighborhoods. King's modern building, completed in 1995, towered over a neighborhood of mostly shotgun houses. It had a piano studio, a science lab, a large playground, and a public library attached to it. "We never failed to remind the kids of what they had," Doris Roché-Hicks, the principal, said. "We taught them to take care of it."
With a performance score of 85.9, just below the state average, King was still considered a failing school—but it was the best-performing of the 107 so designated. Almost all of the city's better-performing public schools either screened students based on past performance or served higher-income neighborhoods. Ninety-six percent of King's 715 students were receiving free or reduced-price lunch, and King had the highest performance score of any school with that profile and number of students.
The secret to its relative success was a dedicated staff led by a charismatic principal. Roché-Hicks, sixty, had been running the school since 1995. A tall woman with rounded features and an aureole of beige curls, she has the timing and deadpan delivery of a stand-up comic, as well as a knack for both leading from above and encouraging ideas from below. She was raised in the Ninth Ward herself and had been educating its children for more than twenty-five years, as a teacher and then as a principal. When she called—and she was not above making wake-up calls to the homes of tardy students—parents listened.
Katrina and the subsequent flooding had walloped the Lower Nine, as the neighborhood was known, leaving twenty-two adults and children connected to King among the dead. A year later, the only sign of life amid the ruined houses and bent trees was the occasional trailer. Although the first floor of Roché-Hicks's own house had flooded, she put her recovery on hold to focus on the school's. She knew neither the city nor the state would move quickly to reopen a school in an empty neighborhood, even as she knew the neighborhood would not come back without the school. King's fate was thus intimately tied to the larger questions about race and rebuilding that were stalking New Orleans.
Roché-Hicks had opposed charter schools because she thought they would kill off public schools. But after Katrina, a charter was her only hope for King's resurrection. She gathered a board, and in the spring of 2006, King's charter application was one of the first approved. There was no time to celebrate, though, because Roché-Hicks and her staff had too much to do. They scrambled to buy insurance, arrange transportation, hire custodians, register students—all without knowing where their school would be housed. Only King's first floor had completely flooded, but the state had deemed the building uninhabitable. King's leaders were pushing hard for the renovation of their original site, but the school needed an interim building for the fall. The state's offer: a decayed seventy-seven-year-old school.
That school had been well built—because, Roché-Hicks loved to point out, it had been built for whites—but it had not been well maintained. It needed major rehabilitation, and as opening day neared and repair work had not progressed very far, Roché-Hicks began to agitate about the state's lack of urgency when it came to "children of color." Her sentiments were genuine, but also strategic: she was situating her school's struggle in a long history of educational racism. In part because of the King name, the local and national civil-rights establishment rallied to the school's cause. When the state informed the school's leaders that their temporary site would not be ready for opening day, the school told its parents and students to show up anyway. After a prayer, an old-time civil-rights rally got under way. Like props, little girls in braids and bows and little boys in shorts below their knees arrayed themselves on the steps in front of the locked doors.
Charles Steele, the president of the Southern Christian Leadership Conference, raced in, fresh from Atlanta, to liken officials like Jarvis to the Ku Klux Klan. He then led protesters on a march to sit in at the Recovery School District headquarters. After a lengthy meeting, the white Jarvis sat at a press conference encircled by black activists. She had been outflanked, and she had the grace to recognize it: Roché-Hicks agreed to accept a further delay in King's opening in return for a better interim building—and the state's promise to try to repair the Lower Nine site by early 2007.
"They got a great classroom experience today!" Steele said brightly. "How many kids can say they marched with Dr. Martin Luther King's organization?"
THE OUTSIDERS:
FIGHTING DESPAIR
Exile had changed the parents and students of New Orleans. In Texas, or Indiana, or Mississippi, they had found schools that were both better and harder. They came home wanting more, and the city, with its new educational setup and promise of total choice, seemed poised to deliver it. So it did not sit well when some of the choice turned out to be illusory.
The selective-admissions schools, which had opened their doors to all comers in the flood's wake, had put the gates back up. All four of the public day schools being run by the Orleans Parish School Board practiced selective admissions, and the city, unlike the state, was allowing the charter schools it authorized to practice selective admissions too. In Katrina's immediate aftermath, the Orleans Parish School Board had agreed to turn the building of a failing, black high school in the heart of Uptown over to a new selective-admissions charter high school that had been backed by Tulane University and that reserved spaces for the qualified children of Tulane affiliates. By the fall, that high school, Lusher, was almost half white—and for some black New Orleanians, its very existence seemed to confirm the system's continuing racial stratification. Many of the state-run schools, meanwhile, appeared to be full, so students were being shunted into whatever schools had room.
As opening day—September 8—finally limped into view, the Recovery School District staff gathered in their new, thinly populated headquarters to evaluate the landscape. This was truly a rump district: there were fewer than two dozen people in the room. The assembled officials seemed to have brought with them an implicit disdain for the culture that had permeated the New Orleans school system, and a belief that they knew how to right it. Almost none of the Recovery School District staff were from the Orleans Parish school bureaucracy. This showed an understandable desire to jettison the past, but it also meant reinventing every aspect of the wheel. Only as schools opened did the Recovery School District staff realize that they had no system to track attendance. And for all the talk about culture, there was a cultural deafness. New Orleans has always been riven geographically: Uptown, Downtown; East Bank, West Bank; Eighth Ward, Ninth Ward. Total school choice had mixed their children together, and city residents shook their heads, predicting fights that soon came.
The struggle for teachers was continuing—the Recovery School District opened its schools 106 teachers short. At the meeting, a state official said that only fourteen of twenty-four applicants had passed the skills test that day. Forty calls to teachers who had narrowly failed, to ask if they would be interested in substituting, yielded only two yeses. And teachers were exercising their power: "When we try to move teachers [from school to school], they're quitting on us," one official told the meeting. "Our quitting ratio is higher than our hiring ratio."
Much of the Recovery School District's work involved trying to manage the web of mostly out-of-state contractors that had replaced the school-board bureaucracy. Providing security: Day and Zimmermann, a Philadelphia- based corporation, and the Guidry Group, a Texas-based security consultancy. Food and custodial services: Sodexho, the food and facilities management megafirm. Real estate and finance: Alvarez and Marsal, a New York–based corporate turnaround firm that had contracts of about $50 million to handle finances for the Orleans Parish School Board and real estate for the state. In preparation for its returning students, the city was on a war footing: National Guard units, called in to deal with high crime rates, had been ordered to be "very visible" in their Humvees outside schools, according to the Guidry Group's Michael Guidry. He promised that his beefy guys would do "really aggressive patrolling" in the schools: "Believe me," he said, "by the time we get through walking up and down the halls, they'll know who we are." The students, it seemed, had to be menaced, intimidated, tamed. Whether this was a fact or a self-fulfilling prophecy would prove hard to disentangle.
Amid all of this, students seemed of more concern for the needs they generated—books, buses, nurses—than for the minds they carried. Because there was no centralized record keeping, a child could easily fall out of the system. The presumption was that if children left a Recovery School District school, they had gone to a charter, or an Orleans Parish school; but couldn't they just as easily have dropped out?
Jarvis deserved great credit for her openness and genuine desire to improve the schools. But even giving weight to all the post-Katrina challenges—and they were many—the planning by her and the state officials she answered to had fallen short. I feel compelled to put this on the record, only because it would be too easy to blame all of the looming chaos on Katrina, or on the problems of the past, or on the character of the children themselves.
It was easy to despair observing all this, and the schools' tumultuous first weeks wouldn't help. But these early days offered a snapshot, not a verdict. Some of the initial problems would recede. And the biggest change in New Orleans education was invisible. The system could now correct its course, whether by replacing principals or teachers (assuming, of course, replacements could be found) or closing underperforming charter schools, which face review every three years. The interim was painful to watch; after Katrina's lost year, many children would lose months more to trial and error. But the long view, at least, allowed for hope.
THE BUSINESSMAN:
"I DON'T LIKE LOOKING LIKE A JERK"
The 790 children Jim Huger had recruited for Lafayette Academy of New Orleans included Avion Williams, a twelve-year-old girl with a sweet face and long braids. She had a history with the vast brick building that housed the new charter school. It previously had been the site of plain old Lafayette Elementary School, where she, like her mother before her, had been a student. Sixty-nine percent of the school's fourth-graders had scored below "basic" in English/Language Arts on the 2005 state achievement test, and 67 percent in math—scores reflected in Avion's own sense of her educational limits. She struggled with reading, and she had never learned long division.
So from where she sat, the academy, which ran from kindergarten to seventh grade, was already an improvement in more than name. The halls had been painted, a new playground had been built, and Avion had art and music for the first time. She also had a science and math teacher, Ronald Finley, who both pushed and taught her. "He wants us to get our education and do something," she said when we met in October. I had found Avion sweeping Mr. Finley's classroom with a friend—his effort to teach them "consequences and repercussions" for talking during class. They seemed to relish the discipline. Their beef, in fact, was with other teachers at the school who did not impose it.
That Avion was so impressed by Lafayette Academy reflected a low baseline more than the new school's high achievement, a truth Huger was the first to acknowledge. At the August open house, he had warned parents that the start would be chaotic, and he had been right. As in many of the reopened schools, books had arrived late or not at all. As of mid-October, the school had no copy machine, a crippling impediment for teachers. "Quite honestly, you have an administration that has got so many balls in the air that education really isn't [at the] forefront right now," Huger conceded. He felt the school was 30 percent of what it needed to be, and his board—composed largely of like-minded businesspeople and lawyers—was growing impatient. As he saw it, his school administrators were passive: they had been bred in large systems where they had neither full responsibility nor accountability. He wanted them to operate with the aggressiveness of entrepreneurs starting a new business. Their mentality, he asserted, was "'It'll show up.' My mentality is 'I want it to show up tomorrow.'"
But human capital, on many levels, was complicating Huger's experiment. Brand-new, and filled with children from across the city, Lafayette Academy had neither history nor community to draw on. The principal seemed unhappy, the chief administrative officer tentative, and the lines of authority between them unclear. Two teachers had already quit by mid-October. And on the third floor, home to the unruly sixth and seventh grades, staff morale was sagging. The older children had come up through a school system that combined social promotion with an absence of socialization. Some of their teachers, in turn, had little or no urban teaching experience. The result was an endless clash of wills between students and staff, and what teachers described as a profound lack of respect. Nothing worked—not lectures, not phone calls to parents (themselves often indifferent), not detention.
The students "don't care if they fail," said one teacher, who didn't want to be named for fear of alienating parents. "You put in a twelve-hour day, every day, and feel like you just wasted twelve hours. They're great kids and they're smart—they just can't close their mouths."
With three years of teaching overseas, Trent Browne, thirty-two, considered himself an experienced teacher. In the school's opening weeks, he had been moved from one subject to another, and from one grade to another, finally landing in seventh-grade science. The day I visited, his class was muddling through safety instructions for lab work. A voice over the intercom kept interrupting to request a custodian for the third-floor girls' bathroom, where crude graffiti scaled the wall. In subsequent classes, the noise level in Browne's room was even higher: he was ordering students to write essays for being disrespectful. That afternoon, he quit, reaching his breaking point as he and another teacher struggled to get forty defiant students out of the cafeteria. "I'm here to teach, not be a babysitter," he told me. (When I returned to Lafayette the next day, his class didn't need one: the students were raptly watching Akeelah and the Bee.)
Across the hall, meanwhile, another teacher was near tears. A twenty-two-year-old novice trained by Teach for America, she was struggling to control her seventh- graders. She tried a level classroom tone. They talked over her. She raised her voice: "This needs to stop! It stops now! You are in a classroom, children. You are not on the street; you are not even in your mother's house. You are in a classroom. THIS. STOPS. NOW."
In the way the newer teachers spoke about the students, their jobs, the school, there was a sourness—as if in just six weeks their spirits had curdled. They thought the school had not been ready to open, and they felt the students sensed that. They did not have aides in their classrooms or help for children with special needs—or even records of which children had special needs, since so many records had been lost in Katrina. The school had no counselor or social worker. The teachers felt the administration had no strategies to help them, other than to imply their incompetence. And Huger, they said, had called them whiners.
Huger was open about his intolerance for whining. At a meeting, a teacher had stood up and spoken with a "very bad attitude," he recalled. He said he had conveyed this message to the teachers: Just to remind you: I'm not getting paid for this. You need to have a better attitude. We are doing everything we can to make a good school. It's not going to happen overnight. All this entitlement and whining about things we can't control is just not going to get us there. We are committed to a cause and we are going to give you the tools to do your job. If you believe that, stick with us. If you don't believe that, you shouldn't be here." That quieted people down quite a bit, he said.
He was unabashed about riding his employees hard. "The word I'm getting is that we probably have 60 percent great teachers, and some deadwood," he said. He believed "force of personality" made first-class organizations, and he meant to apply it: "We are going to push and push and push until we run a first-class school," he said.
"There's a big consequence to the failure of this school," he added: "I will look like a jerk. And I don't like looking like a jerk."
Although Huger had been convinced that choice would produce great schools, a quick scan of educational literature suggested choice would not be enough. National surveys on charter-school performance were all over the map—reflecting both the ideologies of the surveyors and the actual wide range in performance. In Detroit, the public schools had lost 40 percent of their students since the late 1990s, in significant part to charter schools, showing that parents would indeed vote with their feet. But the school board there had responded to the pressure with a $500,000 marketing campaign to lure students back to public schools—hardly the sort of educational improvement that competition from charters is supposed to foster. In Washington, D.C., meanwhile, another charter hub, the latest numbers showed that only four of thirty-four charter schools had met academic benchmarks. And in Philadelphia, the most recent data showed schools run by educational management companies—which Huger saw as the best bet when run in partnership with local nonprofits like his—lagging behind public schools in improving performance. It was possible, in short, to leave one failure for another.
Huger agreed, but argued that his school, with its own board members walking the halls and demanding accountability, had a better chance of succeeding than a school in a centralized system. He planned to scrutinize test scores, interview parents, teachers, and students—whatever it took to produce satisfied customers. This model—of a businessman driving for higher returns—was not the one used by most of the country's more successful charter schools; they had been created by educators with a vision of how to achieve greatness, not just demand it. Time would tell whether Huger's way could work too. As he put it, the real test was not this year's seventh-graders, but what kind of seventh-graders the students now in kindergarten would turn out to be.
But the inevitable churning in between would not be cost-free. The upheaval of this fresh start denied hurricane-buffeted children the stability that they needed. Trent Browne, the teacher who quit while I was visiting the school, had tried to teach his students about the scientific method: doing X would result in Y. Now, with their behavior prompting his departure, they had a living example. "That was perhaps one of the best lessons I taught," Browne told me. "I said goodbye."
But his goodbye had imparted another lesson to the children he left behind: that they shouldn't hold anything too dear. Mr. Browne's departure had created a hole in seventh-grade science, and Avion Williams's beloved Mr. Finley was moved from her sixth-grade class to fill it.
THE OUTSIDERS:
"BIG EASY BEHAVIOR"
For the students of Sarah T. Reed High School in New Orleans East, the first day back on their own campus in mid-October began with a security protocol more thorough than any American airport's. Uniformed security guards barked orders for students to remove earrings and belts before passing through metal detectors. The guards poked through bags and patted students down. They confiscated belt buckles over a certain size (they could be used to hit someone in a fight), sending boys down the halls clutching their pants. And they took chips and chocolate: Daniel Hudson, the principal, had ordered the guards to seize junk food, in part because African American teenagers were so at risk for obesity and diabetes.
Few schools so clearly revealed the early shortfalls of the Recovery School District and the difficulty of reviving and remaking a school system in a broken city. Six weeks into the school year, Reed, which was not a charter school but rather was being run directly by the state, was just returning to its campus in New Orleans East; it had spent the interim sharing the campus of another school across the city. Neither the auditorium nor the gymnasium could be used because of continuing repairs. The school had no computers and no telephones, meaning Hudson had to do all school business through his cell phone. He had no assistant principal. And there were no extracurricular activities.
With dozens of security guards—some of them barely out of high school themselves—and two police officers patrolling Reed's halls, the guard-to-student ratio was as high as the teacher-to-student ratio. The city's public-school culture, as articulated to me by Kenneth Jackson, the school's stately "in-school suspension officer," was that students needed something, or someone, to fear, "because they have gotten away with a whole lot."
When I first met Hudson, he said he had been taking a year off, but had not mentioned why. A Google search soon explained: After stints in Virginia and Pennsylvania, he had been hired, in 2004, as the principal of Ballou High, the second-largest high school in Washington, D.C., and among the worst-performing. There, according to generally sympathetic press accounts, he had clashed with administrators, teachers, and students who resented his attempts to enforce rules and decorum. In June of 2005—three months before Katrina hit New Orleans—the superintendent, who had refused for the entire year to meet with Hudson, fired him.
Related graphic:
Making It Up in Volume?
Percentage of various countries' populations that have at least a high-school diploma.
Now here he was, once again facing a resistant culture—and to my surprise, given the accounts of Ballou, he called New Orleans "very unorganized" in comparison. Unruliness ruled the halls, despite Hudson's bellowing efforts to police them. Several students he confronted for lingering in the halls could not remember the name of their teachers for that period, or even the subject. Hudson had idealized New Orleans since a visit fifteen years earlier, but as a principal, he had run headlong into a culture that was the city's curse as well as its charm. He called it "Big Easy behavior," as in "We always are all late." He was determined to challenge that attitude, but one mother warned that "laissez faire" would not yield easily: "It's part of our culture, just as sure as there are red beans and rice on Monday and seafood every Friday," she told him. She was one of about thirty-five parents—out of a student body that ought to have yielded ten times that—who had shown up for Reed's parents' night.
Hudson was determined to break down students who defied authority. He got on the intercom to remind them that Reed was a school, "not a mall." He told one sixteen-year-old who had threatened a teacher, "No teacher in this building is going to punk out for any student here. I am not going to punk out for any student here. I have too many kids like you who think they can say and do anything they want." He tried telling the same sixteen-year-old about his own upbringing as one of eight children of a single mother who swept floors for doctors and lawyers, how he had been pulled up by football. But it seemed to make no impression on the young man. I couldn't tell whether it was because the student was already too far gone, or because Hudson was so busy talking, and yelling, that he had forgotten how to listen.
Students watched Hudson and shook their heads, as if sure he would run aground on his own determination. "He tries, but it ain't really working, what he's trying to do," said a student named Laura Hurst, who was sitting glumly in the cafeteria, boycotting lunch, like most of her classmates, because the food was frozen. "They're still going to do what they want to do."
As Hudson himself knew well, the time he spent in the halls, the endless meetings with parents, meant he knew little of what was happening in the classroom. What was clear, in the time I spent in classes, was how little of the training Jarvis had mandated for teachers seemed to have taken. In algebra, I watched students spend the whole class copying problems out of the textbook, as if graphic endeavor alone could transmit mathematical understanding. In another math class, a first-year teacher, straight out of college, ignored a girl standing and braiding a boy's hair. In "Freshman Orientation," a new course that had been created with no curriculum, the teacher had received no training at all, since she'd had only about eight hours' notice that she had a job. She was a legal secretary whose only real teaching experience had come years before when she received her certification. Her ninth-graders mocked, disobeyed, and mostly just disregarded her.
Walking Reed's halls with Jackson, the suspension officer, I had heard him say of two different students that they weren't going to "make it." Some kids, he explained when I asked about this, were "doomed." "They don't have right in them," he said. Jackson said he always offered second chances. But if students didn't take them, he believed in just waiting for them to mess up enough times to get themselves expelled—and out of the way of the kids who wanted to learn.
I admired Jackson's efforts to shield those students who did want to learn, who tried to avoid the chaos by sitting at the front of their classes or walking away from fights. But as for the other students, I wasn't so sure about predestination as an educational philosophy. Had God truly happened to concentrate so many bad seeds in poor, black New Orleans—or had there been a moment, earlier in their lives, when the right school could have provided salvation?
THE LOCAL:
"EVERYBODY WAS SO HAPPY TO SEE ME"
"Peace" had been the first unit, for every grade, at Dr. Martin Luther King Jr. Elementary in the Lower Ninth Ward, initiating new students into the school culture, and reinforcing it for older ones. That culture was one of respect and civic comportment. To create it, the school taught anger management and conflict resolution—key skills for children from families and neighborhoods where volatility was often the norm.
When King finally opened as a charter, on September 18, it faced, like other schools, the challenges of operating in a building not quite ready, and of having to manage everything on its own. But the school, now with students from prekindergarten through eighth grade, was functioning reasonably well and starting to appreciate the benefits of being a charter. Principal Roché-Hicks could deploy teachers as she wanted, and the school hired and monitored its own custodians.
Sheila Seals
The greatest challenge, instead, came from an unexpected direction: about 180 of the 430 students were new to King and its culture. Compared with other schools I had seen, there was remarkable order. But as Sheila Seals, the school's longtime social worker, visited classrooms, she noticed that when classes were disrupted, it was by students who were new to King, and the few major incidents had also been caused by new students. The school was having to indoctrinate a whole new group of children into its ways—to knit a new community. Seals saw the King kids applying positive peer pressure to behave. That, she thought, along with the ambience of their aspirations, was slowly working on the new students.
The culture I observed at King was the opposite of Reed's, in that King believed public-school children should be inspired and taught to be their best, rather than cowed into not doing their worst. This difference arose partly from the students' ages—by high school, a hardness had set in on both sides; in childhood, change and redemption came easier—but even more from philosophy. Perhaps Roché-Hicks had more to teach many of the new and reconstituted schools than all of the outside experts who had poured into New Orleans. More was at stake in this educational experiment than a chance for reformers nationwide to see what worked. Without a better-educated populace, New Orleans would sink further into the metaphorical swamp, as it had been doing slowly before Katrina, and dramatically thereafter. New Orleans could no longer afford to write off its children—and King, in particular, and the story of one of its students, suggested it didn't need to.
Trinesha Torregano
ot long after beginning sixth grade at King this fall, Trinesha Torregano stepped off the school bus and into a fight with her cousin. Neither the feud—the two girls had barely spoken in two years—nor the behavior was new. The twelve-year-old had a slicked-back ponytail, a love of double Dutch, and a short fuse—Trinesha guessed she had been suspended five times at her pre-Katrina school, a place where the teachers yelled, the students behaved "like animals," and everyone fought. Such behavior was not acceptable at King, and Trinesha faced a choice. Roché-Hicks had suspended her for three days, and put it to her plainly: relinquish the feud or leave the school. Trinesha was just stubborn enough to contemplate giving up one of the few good things to come out of Katrina.
Trinesha's post-hurricane odyssey had been typically epic. She had swum, then, with her mother and little brother, boated through the floodwaters, spent four days on the St. Bernard bridge, eating military rations, then been bused to the Astrodome, in Houston. Eventually her grandmother had collected them, and they had stayed in Houston for the year. Katrina had ruined the family's Eighth Ward home, and when Trinesha returned from Houston last summer she moved—along with six family members—into a trailer nearby. The loss of a hard-won house, the experience of begging FEMA for a trailer, stung. "After Katrina, I felt like I was poor," she said, obsidian eyes burning.
Her school in Houston—where she could talk to the teachers and made some academic progress—had been her first glimpse of a different kind of education. King was her second glimpse. The post-Katrina decision to eliminate zoned schools had opened King up to her, and she had told her grandmother that was the school she wanted. But having made that choice, Trinesha now confronted another in Roché-Hicks's ultimatum.
In her few weeks at King, Trinesha had made certain observations. The teachers did not yell. The children were well-behaved. She could talk to Ms. Roché-Hicks and Ms. Seals. And then there was her return from suspension: "I came back, and everybody was so happy to see me. And they was talking to me. And the teachers keep on saying, 'Oh you're back, oh you're back.' And that's what I liked—that they gave me support. And they showed me attention."
She decided to stay. Support and attention—it had not taken much to turn Trinesha Torregano around. "After I pass to the seventh grade, I'm gonna know things that I didn't never knew before," she explained.
From the moment Trinesha made her decision, Seals, the social worker, had noticed a change: Trinesha smiled more, she behaved better. And even as the families insisted that the cousins would never get along, the school had placed them in the same classroom to force a rapprochement. The girls were speaking again; teachers spotted them sharing food at lunch. "It's kind of fun talking to her," Trinesha admitted.
Trinesha's hold on King was still tentative. When she and I spoke in mid-October, her aunt and grandfather were talking of returning to Houston. And like many post-Katrina children in New Orleans, she was living without her parents: she had never met her father, and at that time her mother was still in Houston, for reasons the girl could not explain. This subject sent tears streaming down her cheeks. On the phone, her mother had warned her that if she got in trouble again, she would have to get on a bus for Houston. As much as Trinesha loved King, this threat held a certain attraction. Even as she retained a child's wonderment, her hold on childhood was tenuous. She was being raised among women, her own mother among them, who had given birth as teenagers. King channeled her away from such likelihoods, and toward new possibilities. By turning her away from fights and suspensions, the school was also shielding her from a judgment, down the road, that she was not going to "make it." "There's just a lot of stuff I want to do!" she told me. "I want to be a pediatrician, and then I want to be a teacher. I want to go to Florida. Have you been to Florida? Disney World out there? I want to go to Washington, D.C., for Christmas so I could see how it would really snow."
Trinesha's trailer in the Eighth Ward sits just a stone's throw from the train tracks. When the trains rush by, horns bleating, the trailer shakes, as if to remind her how fragile her world is. Each day, she steps out of her straitened home into desolation: abandoned houses, piles of debris, a wind with more urgency than her city's resurrection. School is her haven, where the world holds steady, and this is as it should be. When I last saw her, at 7:10 on a frigid Friday morning, she was climbing out of the cold and onto her school bus, wearing her school uniform, a pink princess backpack, and a smile.