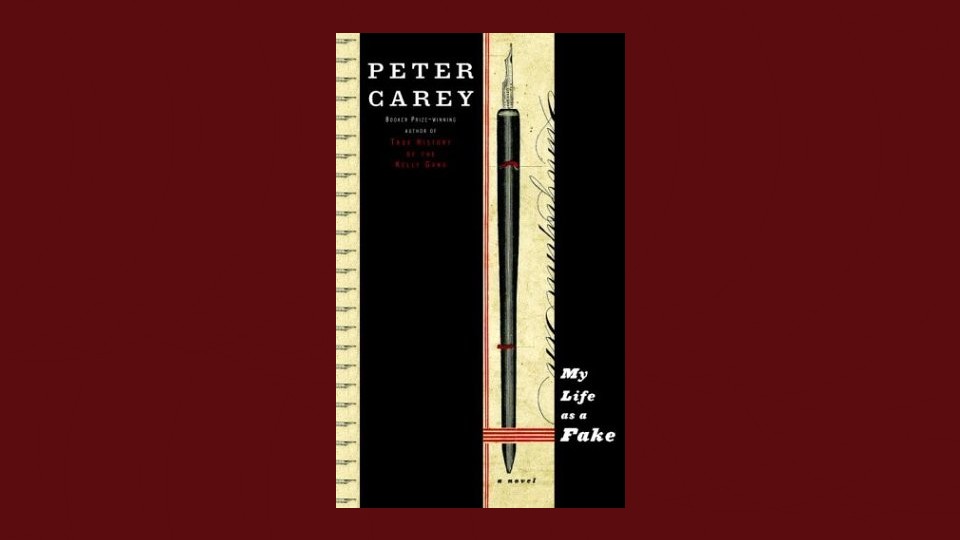 The title of Peter Carey's new novel invites a question. My Life as a Fake—but whose? The phrase could apply to almost any character here, starting with his principal narrator: Sarah Wode-Douglass, alias Micks, the unobtrusively cagey editor of an English poetry magazine. On a British Council junket in Kuala Lumpur, she finds a "white man with ulcers on his legs" sitting up over a volume of Rilke in a bicycle-repair shop. His name is Christopher Chubb, and Micks soon learns the public part of his history. At the end of World War II he perpetrated a great literary hoax, creating an imaginary poet named Bob McCorkle out of the tag ends of modernist obscurity and persuading an Australian literary magazine that it had found a new wonder. That hoax is the one part of this buoyant black comedy that's not a fake: Carey has stolen it, lifting its details and even a few actual poems from the Ern Malley affair of 1944, in which a couple of literary conservatives ran up some gobbledygook and got an avant-garde journal to take it.
There's lots in My Life as a Fake for scholars to have fun with—questions about identity and authenticity and the cultural anxieties of a colonial society. But Carey's hand is as light as a pickpocket's, and unless you're looking for such things, you won't see them at all; certainly there's less here of obvious weight than in this Australian writer's last novel, the Booker Prize-winning True History of the Kelly Gang. Carey's own forgeries really take off with the story Chubb tells about what happened after the hoax. A seven-foot giant claiming to be Bob McCorkle himself begins to invade his life, and eventually kidnaps his daughter; it's the only way, this putative fraud says, to give himself the childhood that Chubb's act of fakery has denied him. Somebody here must be mad—but who? Carey writes without quotation marks, so Micks's voice melts into Chubb's, and then Chubb's dissolves into those of the novel's other speakers, whose tales are framed by his own. This hall of mirrors reads like the impossible offspring of a fictional ménage à trois involving Pale Fire, Lord Jim, and Our Man in Havana.
At some point Micks, or Chubb, or maybe the narrative itself, seems to step off the edge, like a cartoon character who then treads air. But Carey never lets anything fall, and he pitches us into an entirely implausible and yet compelling tale in which Chubb follows the giant to Malaysia and on into a world of pirates, snakes, Japanese atrocities, poisoned melons, feudal rivalries, boarding schools, demons, bugs, and a carefully preserved manuscript seemingly left by the imaginary McCorkle himself—the work of a man determined to name the world, a poet who looks to have "ripped up history and nailed it back together with its viscera on the outside." Will Micks get to publish it? The answer hardly matters. This is a fabulous book in the original sense of the term—and in the other one, too.
---
​When you buy a book using a link on this page, we receive a commission. Thank you for supporting The Atlantic.