Hustler With a Lyric Voice
Edna St. Vincent Millay combined a modern sensibility with traditional forms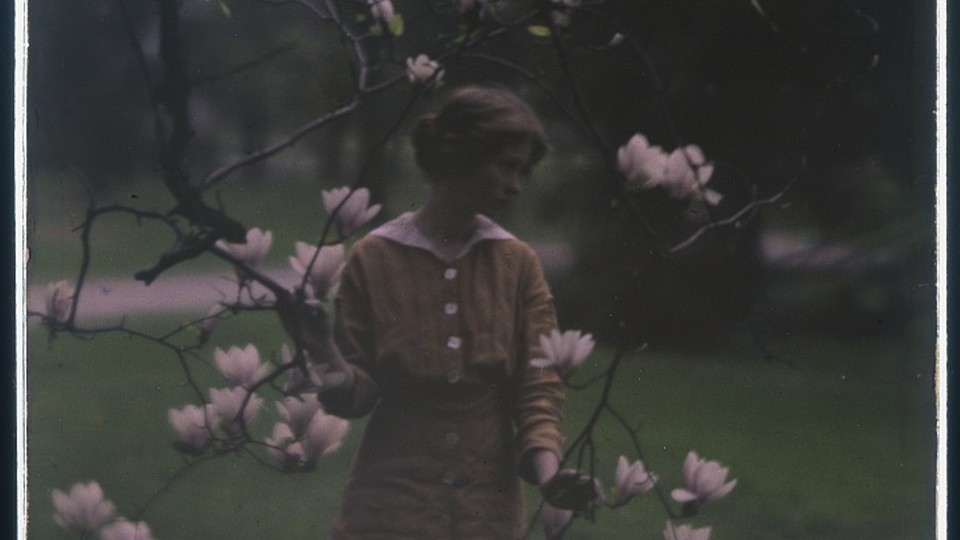 My candle burns at both ends;
It will not last the night;
But ah, my foes, and oh, my friends—
It gives a lovely light!
Fifty-one years after her death a two-alarm biographical fire has Edna St. Vincent Millay once more ablaze, and intermittently illuminated. She was always good copy in life: one of The New Yorker's first profiles featured her, and objection to its tales and innuendoes ("Edna Millay likes almost anybody's parties") helped lead to the establishment of the magazine's fact-checking department. Like Dylan Thomas and Sylvia Plath, Millay lived the kind of life now more associated with E!'s True Hollywood Story than with The New Oxford Book of American Verse, from which she was omitted in 1976. As the television program might say, she "came from nothing," and then she "had it all," and then she "threw it all away."
Edmund Wilson, who lost his virginity to Millay, once wrote,
Her poetry is not the work of a being for whom life could ever have been easy or gone along at a comfortable level. It will always give the lie to any too respectful biography ... but it will also always be there to make the casualties of her life seem unimportant.
The notion of a "too respectful biography" is now decidedly quaint. Even when these new lives, by Nancy Milford and Daniel Mark Epstein, verge on the worshipful, they're serving up grainy Polaroids from inside the temple. And even with a new Modern Library edition of the verse itself, one can forget about poetry trumping the casualties of Millay's life. The first rule of modern literary biography is that the life renders the work incidental; Milford and Epstein rarely break that rule.
Millay's hardscrabble turn-of-the-century beginnings were like a fairy tale. Three sisters—one blonde, one dark-haired, and one, the future poet, a redhead—were raised on the Maine coast by their careworn but dreaming mother, after she had banished their father, Henry. Cora Millay supported the girls by itinerant practical nursing and wigmaking, an activity one sees in Millay's tribute to her mother, "The Ballad of the Harp-Weaver."
Many bright threads,
From where I couldn't see,
Were running through the harp-strings
Rapidly ...
Cora managed to provide the girls with music and books. Prone to self-dramatization, she prepared her daughters for their own star turns. The life of their uncle Charlie had been saved at St. Vincent's Hospital in New York, so Cora's eldest girl wound up with the odd, beautifully dactylic name Ed'-na St.-Vin'-cent Mil-lay'. It would be no small contribution to her public success.
Cora had tried writing poetry herself. The youngest sister, Kathleen, would publish verse and fiction, and the middle one, Norma, would end up tending the flame (and papers) of "Vincent." Poorer than the real-life Mitfords, more difficult than the fictional Marches, the Millay women composed a remote, bracing female world in which Edna—before all the success and all the men and all the trouble—came to vivid life.
Throughout her girlhood she published poems in the children's magazine St. Nicholas, and by the age of sixteen, Milford claims convincingly, Millay had a genuine "sense of vocation" as a poet. Four years after that, in 1912, just when her life might have smothered itself in drudgery, her mother noticed the announcement of a lucrative poetry contest whose best entries would be published in a volume to be called The Lyric Year. The long poem Millay entered, "Renascence," would become for a time almost as often recited in some American schoolrooms as "The Highwayman" and "Hiawatha."
Millay actually lost the prize, probably by conducting what Epstein calls an "epistolary striptease" with one of the contest's judges, Ferdinand Earle, who began by assuming the author of "Renascence" ("E. Vincent Millay") to be a young man and then nearly lost his wife over his correspondence with a pretty girl up in Maine. Millay was learning to work both her talent and her ticket. Losing the prize brought her more fame than winning it would have, because established poets complained that her poem was obviously superior to all the others in the volume. Proceeding from a fantasy of suffocation ("awful weight! Infinity"), "Renascence" turns into a lyric cry of rebirth:
Ah! Up then from the ground sprang I
And hailed the earth with such a cry
As is not heard save from a man
Who has been dead, and lives again.
The poem had something—and it still does. Epstein sees the young Millay as holding a "vision of herself as both human and divine." She would remain a sort of ecstatic commuter between those two states in the best of the love poetry she went on to compose.
Shelley was an important influence, as was American advertising. Millay began mailing her picture to all the editors and poets who wrote to her after publication of The Lyric Year. A somewhat later image of her, caught by the photographer Arnold Genthe, in which she looks like a beautiful insect amid a tracery of magnolia branches, would perform the sort of retail seduction that has been achieved by photos of authors from Rupert Brooke to the young Joan Didion.
Millay knew how to interest older women as well as older men. Caroline B. Dow, who had heard her recite "Renascence" at the Whitehall Inn, in Camden, Maine, probably sublimated eros into patronage when she propelled the twenty-one-year-old poet toward a late arrival at the gates of Vassar College. Once there, already and forever the most famous girl in her class, she went to work on the younger students, becoming, Epstein says, "the queen of a cult of personality." She conducted, always on her own terms, lesbian affairs both crushy and carnal, meanwhile traveling down to New York for occasional trysts with the editor Arthur Hooley, whose taste for Swinburne seems evident in some of what Millay wrote during this period. She carried on a love-hate relationship with her "pink-and-gray college," whose rules she always broke in the hope of being first punished and then forgiven. (Epstein believes that she put Vassar on the map, but today she occupies no mythic place there. It is unlikely that more than a handful of the students listening to this past spring's commencement speaker, Stephen King, would have recognized her picture or her name, let alone a line she wrote.)
Once graduated, in June of 1917, she moved to the bohemian Greenwich Village of Max Eastman and John Reed, where she began her serious work in literature (the anti-war verse drama Aria da Capo) and romance. Millay lived with her sisters, performed with the Provincetown Players, and became involved with the dramatist Floyd Dell. At first she set up a neurotic tease: "We would now and then sit up in bed," Dell later remembered, "she with her lamp-lit torso and small firm breasts confronting me with impudent audacity while she defended platonic love against Freud." In giving in to Dell she appears to have crossed some sort of threshold, issuing the calm postcoital declaration "I shall have many lovers."
But even after she went seriously to town (she would ask the journalist Dorothy Thompson, "Dotty, do you think I am a nymphomaniac?"), Millay practiced some of the insecure cruelty that one finds in Thomas Hardy's Sue Bridehead, coaxing the fealty of suitors she had already rejected. Milford and Epstein both reconstruct the stiff little threesome that Millay designed one night for herself, Edmund Wilson, and his Vanity Fair colleague John Peale Bishop. "Sitting on her day bed," Wilson wrote in his notebook, "John and I held Edna in our arms—according to an arrangement [she] insisted upon herself—I her lower half and John her upper—with a polite exchange of pleasantries as to which had the better share." Millay was annoyed that their both being in love with her hadn't destroyed the young men's friendship. She devised an even more complicated geometry, lengthy and long-distance, for herself and Arthur Ficke (the poet for whom she wrote the sonnet "And you as well must die, beloved dust") and Ficke's friend the gay poet Witter Bynner.
Epstein calls her an actress in the bedroom, and Milford reports that she was one of those rare people who literally like the sound of their own voices. The two biographers seem to be in essential agreement on Millay's desire to control her lovers, often in the manner of a petulant, adored child—which is why Eugen Boissevain made such good husband material. A prosperous Dutch businessman, the widower of the Vassar suffragette Inez Milholland (famous for riding down Pennsylvania Avenue on a white horse), he was a natural soother and nurse; he rescued Millay during her first period of severe illness, as she was turning thirty-one and coming home from two years in Europe.
They married on July 18, 1923, two months after Millay had won the Pulitzer and hours before she was operated on for Crohn's disease and appendicitis. The combination of nuptials and the knife made for publicity of a very 1920s sort. (The unglamorous intestinal business was left out of the story.) The Boissevains settled into a handsomely renovated farmhouse (Steepletop) in the Berkshires at Austerlitz, New York. According to Epstein, who tends to hero-worship Millay's cultivated husband ("Master chef and connoisseur of wines ... sportsman, gardener, breeder of dogs and horses"), Boissevain's "mission at Steepletop was simply to make way for Millay's poetry." The couple's fidelity lasted about five years—but, as Milford points out, they went eleven without so much as a quarrel.
During this period Millay's work remained taut and successful, particularly a libretto for Deems Taylor's opera The King's Henchman; sales of the printed version proved as robust as the reviews. Her specialty, however, continued to be what Epstein calls the "erotic sonnet," and one such, "What lips my lips have kissed," makes for a terrible book title (Epstein's) but remains a very good poem, in which Millay fretfully mourned the "unremembered lads that not again/ Will turn to me at midnight with a cry."
While the great modernists were refracting themselves ever more obliquely into ever more elusive personae, Millay was a frail but flamboyant actual presence on hundreds of stages across the country. Milford brings her tiny frame back out in front of the lights, "dressed in a long gown of heavy creamy silk, her hair a flame of red." She packed them in, reciting without a microphone "in Masonic temples, at women's clubs, in university lecture halls, and at small colleges." Millay complained at one point to Boissevain that she felt "like a prostitute"—a sensation some thrill-seeking part of her no doubt relished.
The domestic contentments of an overcivilized marriage were in some ways more suited to prose, but an affair with the young poet George Dillon, begun when she was thirty-six and he twenty-one, left Millay, according to Epstein, "in perfect ecstatic condition to write love sonnets of longing, despair, and grandiose aspirations." Opposition from Boissevain might have provided even more stimulation, but he preferred to remain, to say the least, understanding. As the affair stretched on with the two lovers in Paris, he instructed his wife, "Settle down quietly, Edna, take a place for a year or come back here with him, do what you like ..." Any scolding he issued was more feminist than husbandly: "Is there any danger, Edna, that you are reverting to type, and becoming a regular woman, and losing interest in your work and yourself as a poet, and are just only interested in helping Him to be a poet ... [?]"
Actually, no. Before the affair had even reached its climax, Millay produced the sonnet sequence Fatal Interview (1931), with herself playing Selene to Dillon's Endymion. In a sonnet addressed to Boissevain, Millay turned his horns into laurels.
When failing powers or good opinion lost
Have bowed your neck, should you recall to mind
How of all men I honoured you the most,
Holding you noblest among mortal-kind;
Might not my love—although the curving blade
From whose wide mowing none may hope to hide,
Me long ago below the frosts had laid—
Restore you somewhat to your former pride?
As for the callow shepherd, after winning his own Pulitzer in 1932, for The Flowering Stone, Dillon never produced another book of poetry.
Thirty years have passed since Nancy Milford published her best-selling biography of Zelda Fitzgerald, a subject with obvious links to a poet she now says "gave the Jazz Age its lyric voice." Both Millay and Fitzgerald made an endless stream of daredevil, look-at-me gestures; both had a childish need for adoration. But the latter, a woman of little talent and monotonous instability, was more than anything a bore. (So, finally, was Zelda.) Millay, with her genuinely complex talent, is a much richer subject—if one resists the impulse to overrate her. She may have given the Jazz Age its lyric voice, but she also had the big-top touch of Carl Sandburg and some other literary hustlers of the time. (Epstein did his warm-up for a Millay book with a 1993 biography of Aimee Semple McPherson.)
I'm not sure that Millay is worth thirty years of anyone's writing life, but after making numerous references to her 1970s visits with Norma Millay at Steepletop (now a National Historic Landmark), Milford offers no explanation for the long delay of Savage Beauty. There's a nice Aspern Papers feel to these encounters between the biographer and the surviving sister, who was by turns protective and jealous. In a wonderful scene Milford watches Norma slip Millay's Vassar class ring onto her own finger. "Vincent was free now," Norma says, "while I was the one at home, you see ... I was keeping house, that's all." But Milford's slowness in finishing the book dulls the contrast she's seeking between these "contemporary" scenes and her subject's remote past. When we see Norma watching Mary Hartman, Mary Hartman on TV, the supposed present day doesn't seem much nearer than the Jazz Age.
Three decades should have been enough time to pare away sentences like "One can almost feel the heat from the sparks flying from her pen" and to realize that readers requiring a definition of "appeasement"—Milford gives one—are unlikely to know who Edna Ferber was without some identification. For all its pleasures and general thoroughness, there is a disjointed quality to Milford's entire production. A number of incidents and figures, Boissevain included, take to the page only half explained or introduced; subsequent references assume a reader's acquaintance with facts that Milford provides only later still.
Epstein is a more prolific and versatile writer (seven volumes of poetry, a biography of Nat King Cole), and his tone is sometimes buoyant to the point of flippancy. He, too, breezes in and out of the book, a bit less successfully than Milford, as if he sees no difference between a preface and a text: "It is my opinion that Hooley had something to hide," he says with sudden first-personality several chapters into the body of his book; "but I can educe no evidence to prove this—it's only a biographer's hunch." He too often lapses into the style of a press release ("one of the finest sonnets in the language," "These rival the greatest love letters of all time"), but there's no denying he's the better-organized biographer when it comes to any number of matters, from Millay's finances to her friends.
It's rather ridiculous that these two volumes should collide at Barnes & Noble and in the Amazonian ether in the very same month. Epstein must be annoyed by the star machinery that's been revved for the long-awaited Milford book, already excerpted in Vanity Fair—a magazine for which Millay wrote pieces under the name Nancy Boyd. And one can bet that Milford is galled by seeing the latecomer Epstein piggyback onto her subject and her reviews. But that's what she gets for taking so long. Epstein got to the Millay papers after Norma died and they were transferred to the Library of Congress. He mentions Milford only as a "biographer whom [Norma] engaged to write a book in the 1970s," and Milford doesn't mention him at all. Epstein comes up with an early Nicaraguan lover (the poet Salomón de la Selva) whom Milford seems to have overlooked, and devotes a chapter to what he insists was Millay's financially draining interest in thoroughbred racing, an activity she kept quiet for reasons of image. But the reader of both books will come away with no appreciably different estimations of Edna St. Vincent Millay's life and work—both of which ended badly.
During the 1930s and 1940s Millay became more and more depressed and alcoholic, and then, after a painful auto accident, ferociously addicted to morphine. The dope-taking logs, kept mostly in Boissevain's handwriting and described by Milford, are harrowing.
The first notebook begins on Tuesday, September 28, 1943, and continues to Thursday, November 30. On the first day of their record keeping, "Vince," as Eugen called her, was taking what appears to be a total of 3 grains of morphine, starting at 7 A.M., then at 8:10, 9:20, 9:40, 10:30, 10:45, 12:45, 1, 2:15, 2:30, 3, 4, 5, 6, 7:15, 8:15, 9:30, 10:30, 12, 1, 1:30 A.M., when she finally sleeps.
In an act of uxorious folly Boissevain started using the drug too—in order to know Millay's suffering, Milford suggests; to show her how to withdraw, Epstein argues. Millay eventually did kick the habit, but booze undid her remaining health and confidence. She struggled to keep her humor and wit ("It may be said of me by Harper & Brothers, that although I reject their proposals, I welcome their advances"), but the fifty-six-year-old woman that Edmund Wilson saw in 1948, for the first time in two decades, shocked him as much as the bloated latter-day Maria Beadnell had appalled Dickens upon their reunion. Wilson wrote,
She had so changed in the nineteen years that, if I had met her unexpectedly somewhere, I am sure I should not have known her. She had become somewhat heavy and dumpy, and her cheeks were a little florid. Her eyes had a bird-lidded look that I recognized as typically Irish, and I noticed for the first time a certain resemblance to her mother. She was terribly nervous; her hands shook; there was a look of fright in her bright green eyes.
Her poetry had gone downhill too. Except for a de rigueur sympathy for Sacco and Vanzetti in the 1920s—marked by her wonderful appeal to the hanging governor Alvan T. Fuller: "There is need in Massachusetts of a great man tonight"—Millay was not terribly political. ("Economically," Epstein declares, "she was a proto-conservative, a natural capitalist.") Before and during World War II, however, she allowed herself to publish a lot of heartfelt, slack verse, often in newspapers, in behalf of American intervention and then the Allied war effort. Epstein does a good job with the motivating forces at work on her.
The poet for whom World War I had been little more than a disruption of her love life was truly wracked by the insane cruelty of World War II—because of her husband's relatives' suffering in Holland, and because the war rushed into a vacuum left in her by the flight of Eros. Her pain matched the world's; she was dying, and it appeared the world was dying, too.
Boissevain died in 1949, and Millay followed him a year later. She was fifty-eight. In a sort of poignant reversal of the Frost poem she was found, after a fall to the bottom of the stairs at Steepletop, by the hired man.
Millay retains a small, anomalous place in modern letters. Her sensibility was always more modern than her forms; reading her libertine sonnets today is a bit like reading Wilfred Owen's Tennysonian evocations of machine-gunned flesh. It makes sense that she excited the admiration of both Hardy and Housman, two rigorous poets outliving themselves into the prime time of modernism. As Epstein points out, that very ism, as practiced on this side of the ocean, could never be hospitable to Millay's subject (love) or stance (emotional): "The modernist temperament of Eliot, Moore, Frost, and Stevens shrank from such outpourings."
One gets a brief, amusing sense of how Millay estimated her literary contemporaries from copies of recommendation letters she wrote to the Guggenheim Foundation, some of which Milford quotes to great effect. Millay's evaluation of E. E. Cummings, for example, was blunt, mixed, and hilarious. It concluded,
What I propose, then, is this: that you give Mr. Cummings enough rope. He may hang himself; or he may lasso a unicorn. In any case it is high time we found out about this man Cummings. Let us give him every opportunity to show us at once whether he is a genius, a charlatan, or a congenital defective,—and get him off our minds.
Still, neither Milford's book nor Epstein's is fundamentally about Millay's work, and it could hardly be otherwise. Epstein says, "It is never wholly safe to deduce biography from poetry," but the days are long past when we even pretended to be operating in reverse, using the former to explain the latter. The old New Criticism has achieved its goal of divorcing the writer's life and work by a means, and to an extent, that it never imagined. Celebrity culture has done the job. Literature, like the movies and politics, is chiefly a means of producing life stories. In Millay's case there was probably never much chance of a sound critical estimation. Reviewing her Collected Sonnets in 1941, Rolfe Humphries declared that "her progress ... from legend to success somewhat confuses discussion of her merit as an artist." Don't count on the future to bring additional clarity. The next little Millay revival will take place in 2010, when some nude photographs of the poet, now embargoed in the Library of Congress, become available for publication.
---
​When you buy a book using a link on this page, we receive a commission. Thank you for supporting The Atlantic.