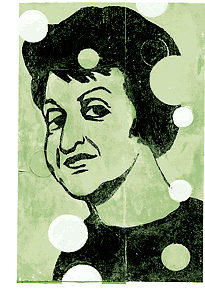 WRITING social criticism is uncomfortably similar to selling life insurance. Your potential readers may not even want to think about your subject, and, to make things more difficult, you have to persuade them to sit still for disquieting information about it. If you can manage that, you then have to reassure them that you have the right answers. And it's a brutally competitive business. An awful lot of critics are out there making a pitch. Yet only a few break through and change the world.
One who did was Betty Friedan. The Feminine Mystique, first published in 1963, remains one of the most powerful works of popular nonfiction written in America. Not only did the book sell in the millions but it has long been credited with launching the contemporary feminist movement. How did Friedan do it? For one thing, she told a compelling personal story about her own career choices -- one that resonated with the experiences of her readers.
But Friedan also translated the ideas of academics -- many of them European refugees from Nazism -- into the language of popular culture. An outstanding student at Smith College, who for a time pursued a graduate degree in psychology at the University of California at Berkeley, Friedan introduced her readers to the nature-versus-nurture debate and functionalist sociology. Americans, for all their cynical anti-intellectualism, crave the authority of experts. And Friedan cited experts aplenty, as her copious and very academic footnotes attest. Freud came in for sustained criticism in her pages; Abraham Maslow came in for extended praise. Friedan also paid close attention to the writings of other scholars, including Margaret Mead, Alfred Kinsey, and Bruno Bettelheim.