'To Work is to Live Without Dying'
Rilke was one of the most gifted and conscientious artists who ever lived. And beyond all that, he was fascinating.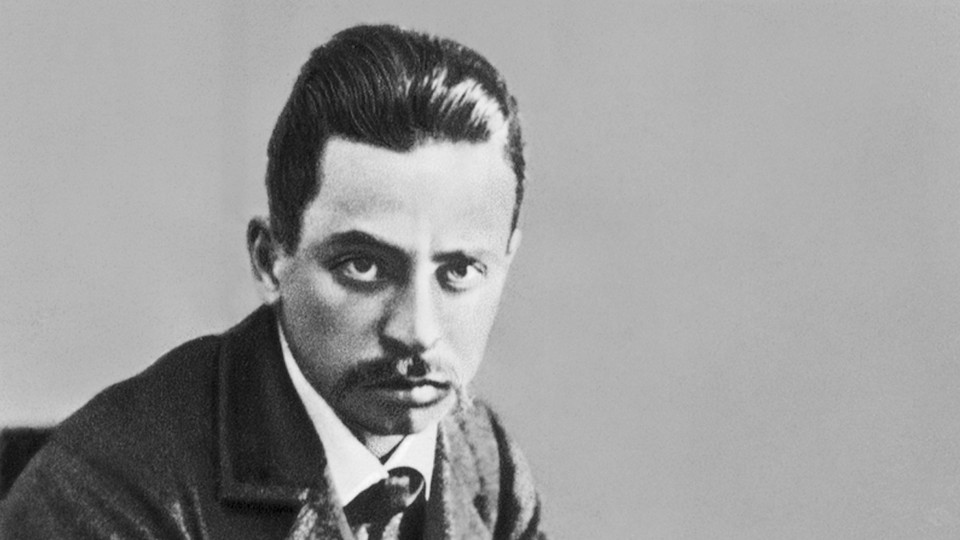 At a time when numbing public discourse portrays the two sexes as though they were wearing numbered jerseys of different colors, Rainer Maria Rilke might be balm for exasperated souls. Or maybe not. More than any other modernist poet, Rilke gave ironic, tender, and sometimes despairing expression to the tumult between modern men and women.
Lovers. . . . when you raise yourselves and press
your mouths together--drink upon drink:
strange how each of you drinks your way past the other.

But whenever we mean one thing, wholeheartedly,
another is right there, tugging on ourfeelings. Strife
is our closest companion. Don't lovers
constantly tread over each other's boundaries,
after mumbled vows about space,sustenance, and home?

Isn't it time to free ourselves, with love,
--from the one we love, and,
trembling, endure . . . ?
For to stay is to be nowhere at all.
These verses are from his late masterpiece, the Duino Elegies, which Rilke completed in 1922, the literary annus mirabilis that saw the publication of Joyce's Ulysses and Eliot's The Waste Land. My stab at translation yields up, I hope, a little of Rilke's muscular delicacy, his quality of being at the same time supple and ethereal, of molding abstract ideas palpably, like clay. But his poetry is troubling (that last verse is a good example), and it's troubling to us in ways that a literary modernist like Rilke would not have counted on. Behind that lies a complicated tale.
Seventy years after Rilke's death, from leukemia in Switzerland, hastened when he pricked his finger on one of his beloved roses, we live in modernism's plastic aftermath. Once, the modernists deployed dark energies of nihilism and unreason against the hated bourgeoisie; now those same energies galvanize a commercial civilization that is voraciously accommodating to nihilism and unreason. We hear modernist leitmotifs casually whistled down all the highways and byways of everyday life: the defiant exaltation of violence (a theme of Gide and Malraux); salvation through sex (D. H. Lawrence); private aesthetic pleasure as the highest value (Woolf); an ironic nihilism (Mann). We go back and try to relish modernism's extremist nose-thumbing at a depersonalizing modernity, and soon we feel as though we were celebrating the most disturbing qualities of contemporary life.
So we can't really blame Ralph Freedman, Rilke's latest biographer, for writing about his subject as if Rilke were just another infuriating narcissist who kept turning up at parties. But this account, despite Freedman's heroic attempt to weave a narrative out of the voluminous material on Rilke, is pretty dismaying.
Rilke was one of the most gifted and conscientious artists who ever lived--his motto was "To work is to live without dying." His poetry, fiction, and prose embody a search for a way to be good without God, for transcendence in a hyper-rationalized world where even death--Rilke hated hospitals and the way dying had been stripped of its terrible intimacy--was dead. And beyond all that, he was fascinating.
Born in 1875 in Prague, Rilke was until he was six or seven got up in skirts by his mother, who named him René and tried to console herself for the death of an infant daughter. By the time Rilke was ten, his disappointed romantic of a mother had left his father, a kindly but ineffectual minor railway official, who had spent some years in the Austrian army unsuccessfully seeking commission as an officer. Rilke's parents decided to send the young boy to military school, a prospect that stirred the father's hopes of turning his son into a soldier. Though he later claimed to have loathed military school, the young bohemian warmly absorbed the values of discipline, valor, and self-sacrifice into his ideal of the defiant artist-hero. He skillfully foiled his father's martial expectations, and lack of funds freed the aspiring poet from his family's next plans for him: law school. In fact, though he attended several universities, soaking up lectures on diverse subjects throughout his life, he never graduated from any of them. About such a practical matter as a sheepskin, the finest German lyricist since Goethe wrote as an adolescent, "And even if I never reach my Arts degree / I'm still a scholar, as I wished to be."
W. H. Auden once remarked that would-be poets had better learn a manual trade. But Rilke was cast more in the haughty Yeatsian mold that Auden, not exactly a day laborer himself, haughtily disdained. And unlike Rilke's contemporary Franz Kafka, who performed his tasks as an insurance executive with initiative and even enthusiasm, Rilke was too frail psychologically to balance his art with the demands of full-time employment. Even a desk job in the Austrian army during the First World War, when the forty-year-old literary celebrity was conscripted, proved too much for him. After three weeks of parade-ground training and living in barracks, which nearly killed him, Rilke was assigned to the propaganda section. There his literary powers deserted him, and his frustrated superiors transferred the stunned poet to the card-filing department, where he remained for six months, until his friends interceded and got him discharged. André Malraux he was not.
Rilke's diaries and letters, lively with tales of self-dislike and depression, seem to out-Kafka Kafka himself. Still, biographers should beware of making too much of these highly polished introspections. Rilke conceived of writing as a form of prayer, as Kafka did, and he made astringent self-examination a ritualistic prelude to work. Both writers magnified their inadequacies, sometimes to the point of a vaunting self-regard; it was an efficient way to wrest from their doubts a diligent beauty of creation.
Rilke lived on the brink of poverty for much of his life, dependent on the good graces of aristocratic and haute-bourgeois patrons in the twilight of the Hapsburg Empire. His shaky situation, much as he complained of it, suited his temperament as well as did the black clothes he liked to parade in during his dandyish younger days in Prague. Like the great German mystics, Rilke was a confirmed solitary. Thus he sought to form emotional bonds with people more ardently than do those who take their desire to be with others for granted. Wandering from person to person and from place to place like a pilgrim, he found that patrons offered him, among more practical things, a potential shrine of emotional fulfillment.
Rilke spent his life wandering. From an art colony in Germany he migrated to a position as Rodin's secretary in Paris; the sculptor eventually claimed that the poet was answering letters without his permission and summarily dismissed him, as much to Rilke's relief as to his chagrin. From Berlin he made two pilgrimages to Russia to meet Tolstoy, on one trip going nearly unacknowledged because of a titanic quarrel between the count and the countess. He traveled from Italy to Vienna to Spain to Tunisia to Cairo. His restless peregrinations had their origins in his epoch, and in a temperament forced painfully to choose perfection of the life or of the work. Rilke's academic sponsor and friend was Georg Simmel, the celebrated German sociologist and philosopher of modernity. In "The Adventurer," one of his most famous essays, Simmel argued that only the experience of art or adventure could invest time with the significance once lent it by religious ritual. The work of both art and adventure had a beginning and an end; they were each an "island in life" that briefly imparted a transcendent wholeness to experience. And of all possible modern adventures, Simmel concluded, the one that most completely combined the profoundest elements of life with a momentary apprehension of what lay beyond life was the love affair.
Augustine journeyed (unhurriedly) from the fleshpots of Carthage, from being in love with love, to the love of God. Rilke, along with other adventurers on the threshold of the twentieth century, traveled from God to a conviction that the only transcendent principle left was the love, erotic and spiritual, between men and women. Rilke's experience as a young boy with a feminine persona seems in this sense to have been a great boon.
First of all, it provided him with an uncanny empathy for women. His two most potent and obsessive literary images were the unrequited female lover and the woman artist struggling to find freedom and space for her work. But Rilke's liberated feminine side also gave him the gift of unabashed openness to his need and desire for the opposite sex. He recalls Kierkegaard's description of Mozart's Don Giovanni, who did not calculatedly seduce, according to Kierkegaard, but desired seductively. What women found irresistible about Rilke was not the effect he had on them but the effect they had on him.
Yet to put the burden of salvation solely on relations between men and women is to make a life between stumbling, imperfect men and women impossible. Rilke had no illusions about the nature of his erotic and romantic ideal. It flowed out from and quickly ebbed back into an unappeasable inward intensity. Rilke could not love or be loved for long, except in the absence of the beloved. After a passionate affair with the brilliant and beautiful Lou Andreas-Salomé, Rilke's muse and cicerone on his Russian trips, he suffered pangs of rejection and then happily settled into a lifelong correspondence with her. He married the sculptress Clara Westhoff when he was twenty-five, lived with her and their child for a year, and then by agreement left to take up his pilgrimage again. Through periodic reunions, but mostly through a voluminous and extraordinary correspondence, they maintained what Rilke called an "interior marriage," until emotional reality banged louder and louder on their youthful experiment and they eventually grew estranged.
Rilke seems to have passed with relief from the all-consuming rites of romance to the half communion, half self-examination of writing letters, an activity that also served as a calm precursor of his art. Not surprisingly, he was one of the greatest--and most self-conscious--letter writers who ever lived. He composed missives with a devotional purposiveness. He once wrote a poem about the Annunciation in which the angel forgets what he has come to announce because he is overwhelmed by Mary's beauty. The implication seems to be that communicating through the mail would have been a more fruitful procedure.
Rilke loved absolutely, not strenuously or patiently, and therefore his love always froze up into a mirror of itself. His condition might have been tormented and tormenting--it might appear wearily obnoxious. But for Rilke the poet, modern men and women as lovers--their exalted expectations and their comi-tragic desperation--came to symbolize complex human fate in a world where vertiginous possibilities have replaced God and nature. In Rilke's Elegies especially, lovers encounter animals, trees, flowers, works of art, puppets, and angels--all images, for Rilke, of the absolute fulfillment of desire, alongside which the poet placed the tender vaudeville of imperfect human wanting. Rilke the man might have presented a painful obstruction to himself. But true ardor often springs from an essential deprivation.
Ralph Freedman gives a remarkably purposeful account of Rilke's deprivation. But he describes none of Rilke's ardor--or his honest avowals, or all the discipline and strength and health he needed to draw his life's work out of depressions, blocks, and fears, out of his contemporary-sounding struggle between a Faustian ego and an endangered self. In this biography we don't get Rilke's poetic transformations. We get only the modern condition--his and his society's--that he poetically transformed and that we've inherited.
Freedman's Rilke, oddly enough, dwells on the dark underside of contemporary American life. Behind the mingled, multicolored yarn of his passions, obsessions, powerful yearnings, and self-interest--all wisely balanced in Donald Prater's majestic and definitive 1986 biography--Freedman sees only self-interest. Rilke is "hucksterish." His carefully cultivated literary success Freedman characterizes as a "relentless career." He refers to Rilke's "careerist standards." The places Rilke settles in for a time are not homes but Rilke's "bases."
At moments Rilke's awareness of his self-interest amid modern anxieties appears uncannily precocious: "The pressures even in the preschooler's life were often suffocating. He longed for change." How does Freedman know that? I presume he got it from one of the mature Rilke's self-dramatizing letters, letters that Freedman paraphrases tendentiously throughout the book. That approach has the effect of turning Rilke's harsh and vain self-explorations into evidence of the "traumas" that Rilke spent a life riddled with "failure" denying. Indeed, Freedman writes enigmatically about "Rilke's pattern of living through failure as part of a process that turns denial into poetic art." I'm not sure what that means, but it sounds like success to me.
But no--if, for Freedman, Rilke is a slick little engine of self-advancement, he is also "thin-skinned," "fragile," "depressed," "thwarted," "troubled," "distraught," "schizophrenic," and "almost suicidal," and he suffered from "hysteria," "anxiety," and "insecurity." This poet seems so tightly shackled to his inner condition that we wonder how he found the freedom to make his art. Freedman himself only occasionally glances at Rilke's art, and then with considerable lack of charm, not to say comprehension ("Still addressing the woman's genitals in confrontation with the man's, Rilke weighed in with his most devastating critique of death's dialectic").
Freedman's Rilke is an almost wholly psychologized being. He has little existence outside his leaden states of mind. We rarely hear about the rich medley of artistic and intellectual influences on him--amazingly, Simmel's "The Adventurer" never comes up. This is an extreme approach to the telling of a poet's life, but Freedman has a method to his extremism. As in a rash of recent despoiling biographies--John Fuegi's life of Brecht, Michael Shelden's of Graham Greene, Ronald Hayman's of Thomas Mann, to name just three--the author shortly puts his cards on the table: in this case we are going to meet Rilke the anti-Semite, Rilke the secret homosexual, Rilke the sexist.
The first strut of biographical art to buckle under such an avenging mission is language. "Death emasculates," Freedman reports dishearteningly. He describes one doubly unlucky fellow as being "fatally electrocuted." We find Rilke seeking the "panacea of a cure." Women almost never give birth--they just "birth." Clara, Rilke's wife, "was the messenger but also the transparent glass and reflecting mirror of Rilke's depression." And what a shame that a sentence like this should appear in a book about a poet's life: "Like garden flowers opening their petals early only to wither quickly, Italy's current art avoided the hard surface required for effective poetry." It's as if, somewhere in the deeper regions of his writing self, Freedman knows that Rilke wasn't any of the bad things his biographer says he was.
One ugly phrase in a personal letter, for instance (out of a vast personal correspondence), referring to Franz Werfel as a "Jew-boy," and some murky generalities about Werfel's "Jewish attitude toward his work," do not an anti-Semite make. Rilke cherished the many Jews he knew, including Simmel; he enjoyed reading the Hasidic philosopher Martin Buber and steeped himself in Jewish Scripture, claiming that Judaism was closer than Christianity to God. He also remained a lifelong champion of Werfel's work. And a reader discovers buried deep in Freedman's footnotes that Rilke wrote the offending letter to the poet Hugo von Hoffmannsthal, a good friend and an important patron. Hoffmannsthal was also Jewish, and he shared Rilke's negative views on the superambitious Werfel, who emigrated to America and, in 1941, published The Song of Bernadette, a novel about a miracle at Lourdes. Freedman doesn't mention that about five months after Rilke wrote the letter to Hoffmannsthal, along with a nearly identical letter to his patron Princess Marie von Thurn und Taxis, Rilke again wrote similar letters to the two of them praising Werfel's poetry so exuberantly that they almost sound like retractions of his first letters.
Why would an anti-Semite extol a Jewish poet to two of the most powerful and influential figures in Central European literary culture--to his own patrons? To paraphrase that great Jewish philosopher Thomas Aquinas, When you meet a contradiction, make a distinction. But Freedman builds from the surface contradiction. For Rilke, he writes, "a cultural and sometimes even a social anti-Semitism was part of daily existence." Yet aside from the letter to Hoffmannsthal, he offers no evidence for that litigable assumption, though he does inform us, with a smug and bizarre knowingness, that one of Rilke's Jewish lovers later died at Auschwitz.
With similarly blind zeal Freedman bases his insinuation that Rilke was secretly gay on two pieces of evidence: the poet's idealistic adolescent pact with another boy at military school, "sealed by a handshake and a kiss," as Rilke put it in a letter; and a fictional letter meant for publication, which brought Rilke, in Freedman's weasel words, "close to a disguised rendering of homosexuality with personal overtones." That's all the proof Freedman has.
Well, so what if Rilke happened to be homosexual? I don't see what Freedman thinks he is gaining by making a near-assertion and then failing to prove it. If there are readers who might be obscurely benefited by the revelation of Rilke's homosexuality, they'll be disappointed. If there are readers whose identity rests on the affirmation of Rilke's heterosexuality, they will be shaken and then cheered. If there are readers who couldn't care less about the whole matter, they'll be bored. Meanwhile, Rilke's ghost drums its fingers on some eternal windowsill, waiting patiently to be evoked.
This is formidable revisionism. The cumulative effect of such a distortion of truth to an admirable, if sadly misplaced, idea of redemption and redress is to make Freedman's biography read like a forced confession. But the beating heart of Freedman's interminable deconstruction is Rilke the sexist. Rilke's extraordinary sensitivity to women, his admiration and need for strong and intelligent women, women's love for Rilke--these facts Freedman brusquely mentions only to knock down. What he wants is to prove that Rilke was a spirited accomplice in European society's subjugation of women. He writes,
The women Rainer chose . . . were themselves practicing artists whose work he respected, from Clara to Loulou and now to Baladine-Merline. But they were given no choice to remove themselves for the sake of their art. . . . Rilke's love imposed a nonreciprocal discipline: in the end, it worked only for him and his poetry.
Throughout 600 pages Freedman gives us encounter after encounter between Rilke and the women in his life, in which the women are flawless angels and Rilke a consummate villain. If Rilke's dear friend the great German painter Paula Modersohn-Becker found herself trapped in a stifling marriage, Rilke was a traitor for not extricating her. If Lou Andreas-Salomé told the young Rilke to go off somewhere because one of her other lovers was coming to visit, Rilke's anger was the symptom of an unbalanced psyche. If the adolescent Rilke broke up with his adolescent girlfriend, Valerie von David-Rhônfeld, he was a treacherous seducer. Freedman quotes copiously from David-Rhônfeld's embittered memoirs--published shortly after Rilke's death--to posit a pattern in Rilke's personality. "I came to love that poor unfortunate creature," David-Rhônfeld recalls about her teenage sweetheart, "whom everyone avoided like a mangy dog." For Freedman, this vindictive picture of Rilke provides the "clue" to Rilke's "isolation."
This is all ludicrously unfair. It's certainly unfair to say that Rilke didn't give the women he loved and who loved him the "choice to remove themselves for the sake of their art." He was in no position to give or deny freedom to his independent-minded wife, let alone to any woman of whom he was merely a lover. Only their passion, or admiration, or use for Rilke bound these women to the famous poet. Often ambitious artists themselves, Rilke's lovers expected him to introduce them into his heady artistic and intellectual circles and to help them with their careers. This he unfailingly did; in one case he helped the careers of a former lover's children by her husband. And he offered emotional succor long after the amorous flame had waned--not to mention demanding the same support for himself.
Rilke's most benevolent patron, Princess Marie von Thurn und Taxis, was wise enough both to nurture Rilke's gift and to keep her distance from her complicated protégé. An unblinking observer of Rilke's life, she was able to see his liaisons for what they were. And she knew how Rilke's acute sensitivity to his own condition, combined with his talent for self-pity, often landed him in the arms of the wrong people: "You must always be seeking out such weeping willows, who are by no means so weepy in reality, believe me--you find your own reflection in those eyes." But Freedman, doggedly indifferent to the available evidence, makes Rilke's lovers and women friends out to be helpless victims of a smooth seduction machine.
As for the centerpiece of Freedman's argument for Rilke's sexism--he "abandoned" Clara and their daughter, Ruth--here he portrays Clara, too, as if she were Tess of the D'Urbervilles. On the contrary. Clara enthusiastically seconded Rilke's definition of two artists wedded as each, in Rilke's cautiously ambiguous phrase, "the guardian of the other's solitude." After Rilke left for Paris, she placed Ruth with her wealthy and supportive parents and went on a pilgrimage to Egypt, among other places. Like Rilke, the adventurous Clara had a fascinating life--I don't know why Freedman didn't write her biography. Women artists suffered in Rilke's society, but not because of Rilke.
We must understand one another or die. And we will never understand one another if we cannot understand the famous dead, those fragments of the past who sit half buried and gesturing to us on memory's contested shores. But Rilke, as a poet, should have the last word (in Stephen Mitchell's beautiful translation):
Archaic Torso of Apollo

We cannot know his legendary head
with eyes like ripening fruit. And yet his torso
is still suffused with brilliance from inside,
like a lamp, in which his gaze, now turned to low,

gleams in all its power. Otherwise
the curved breast could not dazzle you so, nor could
a smile run through the placid hips and thighs
to that dark center where procreation flared.

Otherwise this stone would seem defaced
beneath the translucent cascade of the shoulders
and would not glisten like a wild beast's fur:

would not, from all the borders of itself,
burst like a star: for here there is no place
that does not see you. You must change your life.
---

The Atlantic Monthly; April 1996; "To Work Is to Live Without Dying"; Volume 277, No. 4; pages 112-118.