The Wild, Wild West
When is it a good idea to jump off a galloping horse?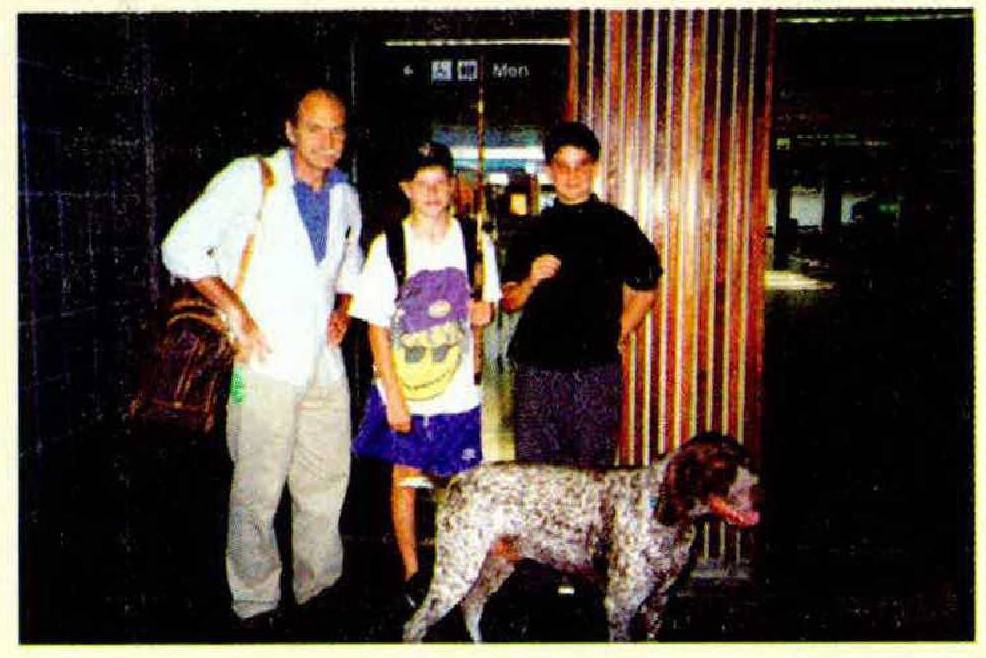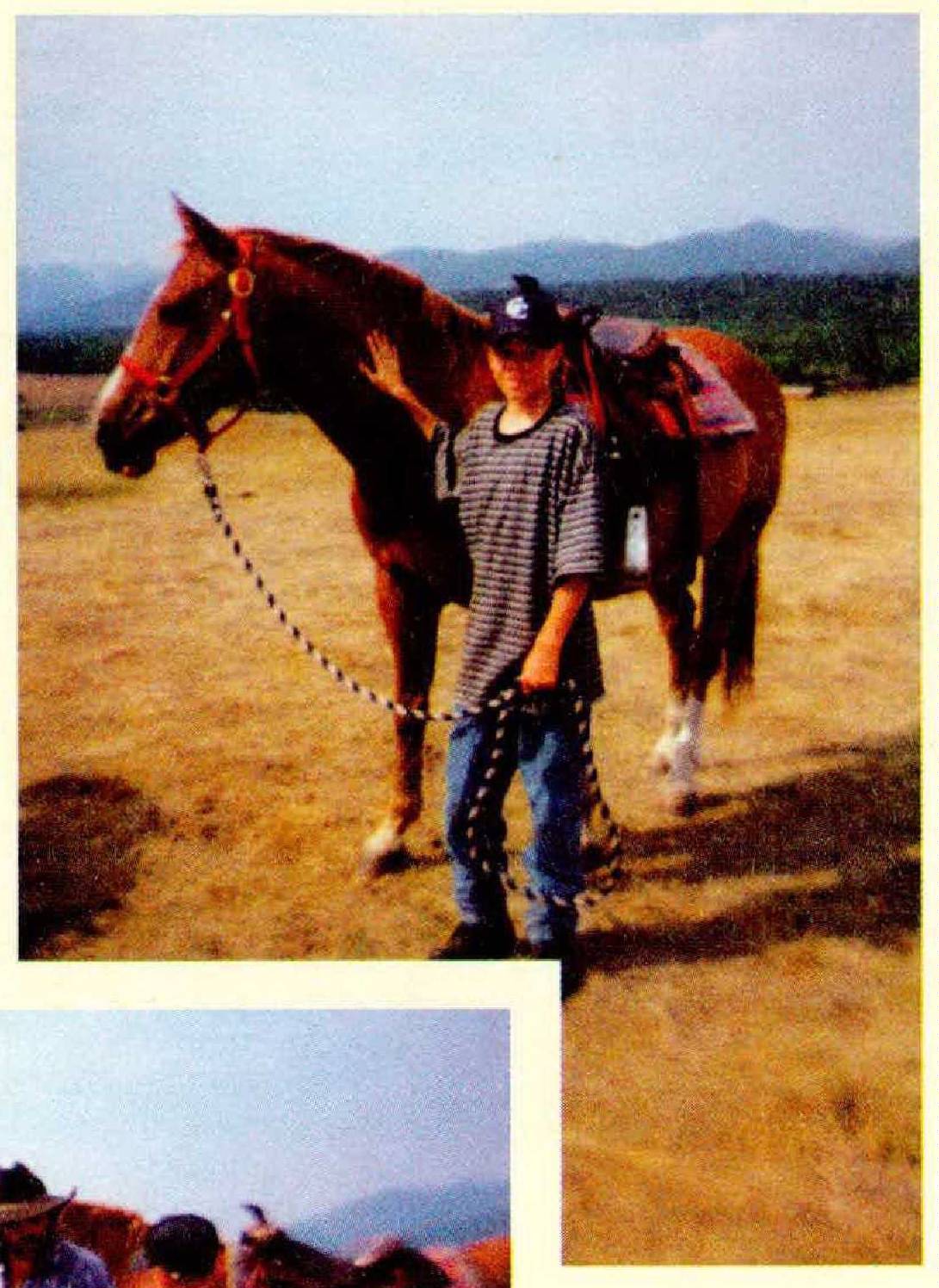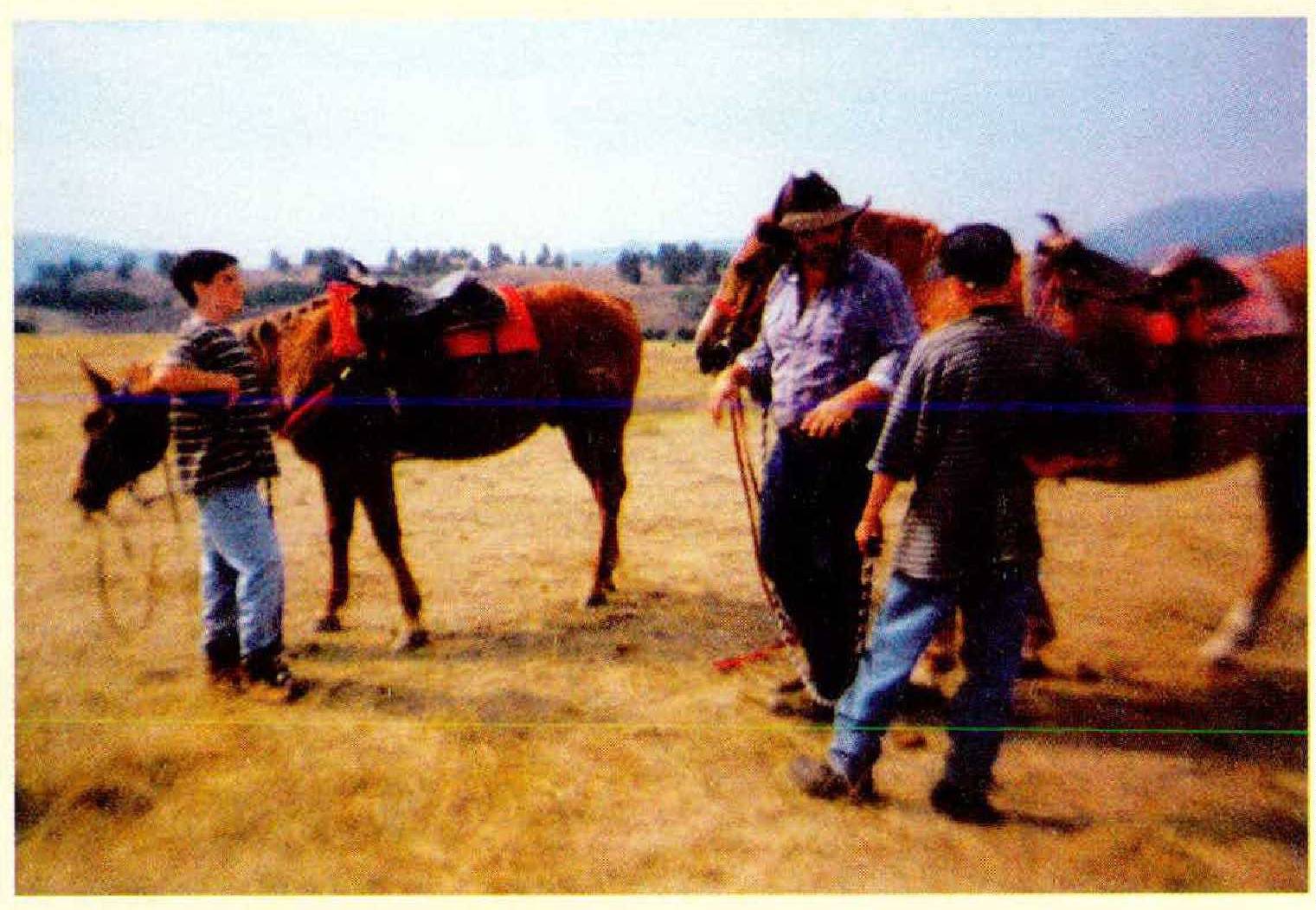 by Jack Beatty
EVERY profession, every job, has its sound bites. "Easy reading, hard writing" is a chestnut from the writing trade. So Bill Bryan was ready— had been for years—when I asked him how big Montana is. "Let's put it this way," the Rocky Mountain travel guide said, pride of geography showing in his smile. "When you are in Alzada, in the extreme southeastern corner of Montana, you are closer to Texas than you are to Yaak, in the extreme northwestern corner." For those who can't quite picture that span: Alzada is to Yaak as New York is to Chicago. What to do in all that territory? Answering that question is Bryan's business. With his wife, Pam, he runs Off the Beaten Path, a "personal-itinerary-planning" service based in Bozeman. I called him for help in planning a Montana vacation for me; my wife, Lois; my twelve-year-old son, Aaron; his friend Colin; and Duke, our ninety-pound German shorthaired pointer.
Though finding lodging open to pets was a complication, we were a breeze compared with some of Bryan's other clients. One party wanted to see a grizzly bear and—people can be so picky—live to tell about it; and Bryan has arranged "vision quests" with medicine men for spiritually mobile travelers. He makes it his business to know where to find the best fishing, hiking, climbing, camping, riding, skiing, hotels, guest ranches, bedand-breakfasts, bars, and restaurants in the Rocky Mountain West.
Since we had only two weeks, and since I had stipulated that I did not want to see a single rattlesnake, Bryan suggested that we coniine ourselves to the high country of western Montana. He sent us a lengthy itinerary explaining our routes, along with a list of things to see on the way to and from our destinations, and introductions to the people with whom we would be staying. (For more information about Off the Beaten Path call 800-445-2995.)
WE began our journey at the Lake Upsata Guest Ranch, on a miniature mountain-reflecting lake about fifty miles northeast of Missoula. Richard Howe, the proprietor, is pioneering a new concept in family vacations: "Edu-vacation," he calls it. In addition to the standard recreational programs, the ranch provides evening lectures by experts on environmental science, wolves, bears, beavers, and snakes. ("Too cold for rattlers here—right, Richard?" I asked. "Oh, yeah, we're way too high.") We took an informative nature hike with one of Howe's staffers, a graduate student in wildlife ecology. The boys got fishing lessons, and a cowboy showed us how to ride, imparting what, as it turned out, may have been lifesaving advice: always jump off a runaway horse, because if you wait for him to buck you off, you could break your neck or the horse could fall back on top of you, crushing you to death.
We had asked Bryan to put together a smorgasbord of Montana experiences; a two-day raft trip down the Flathead River was next.
Driving north to West Glacier, the village just outside Glacier National Park where we were to meet our guide, I was vouchsafed a perception about Montana scenery which I would have again. It is hard for me now to single out any vista or sight from that trip, because the surge of effects emanating from lakes, rivers, forests, hills, and plains—all set off by some of the grandest mountains in North America—creates a surplus of beauty, more than I could take in at a glance and much more than I can remember. The reader will just have to imagine drop-dead views almost everywhere—some, unfortunately, marred by what James Howard Kunstler, in his highly original book The Geography of Nowhere, calls "ubiquitous highway crud." "Zoning" is a dirty word in wideopen frontier Montana, and as a result the contrast between the sublime natural environment and the plastic roadside sprawl is sharp and painful. The sky above, the dreck below.
GLACIER National Park hardly qualifies as off the beaten path, but it would be an unendurably willful visitor to Paris who ignored the Eiffel Tower. Glacier Wilderness Guides and the Montana Raft Company (that's one company) is the leading expeditioner in Glacier, and from our experience I know why. Chris Ruffatto, a science teacher at a local middle school and a veteran wilderness guide, took us on a twenty-four-mile raft trip down the North Fork of the Flathead River, which borders Glacier. Radiating steadiness and good judgment, Chris steered us through the few white - water rapids ably and, I might say, theatrically, allowing for that buildup of anxiety followed instantly by its release which is the emotion of entertainment. The meals—lunch on a river sandbar, dinner and breakfast beneath a dark mountain—were so upscale that I feared my son would come off the river an insufferably premature gourmet. The boys trolled for and caught rainbow and cutthroat trout. As for Duke, he proved a good rafter, though it took all my strength to keep him aboard when we swept past a deer drinking in the shallows. After getting into a hilarious barking duel with his own echo, Duke slept between the boys, and the animal warmth—eau de boy mixed with eau de dog—released when we opened their tent flap the next morning should be bottled as a cure for loneliness.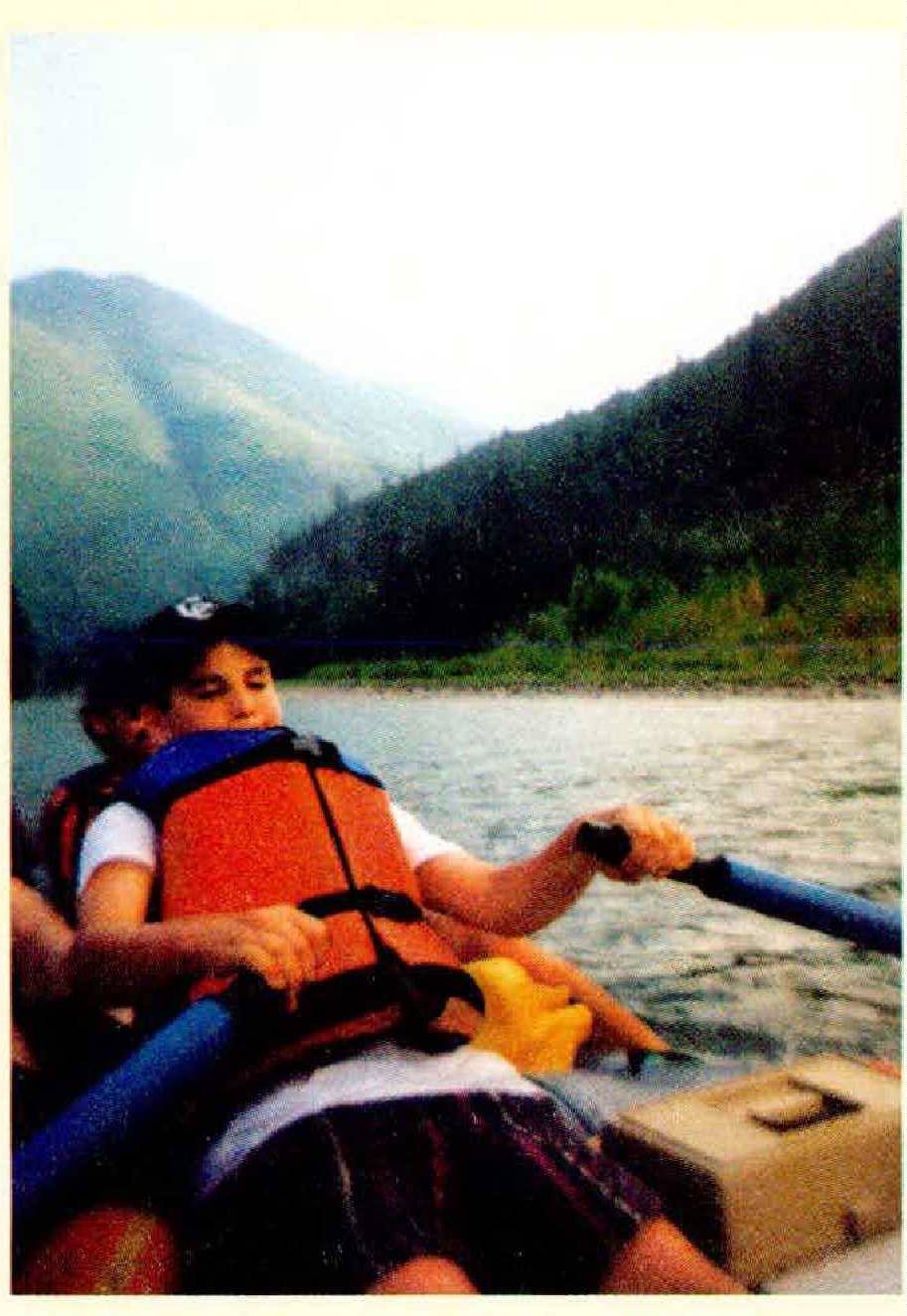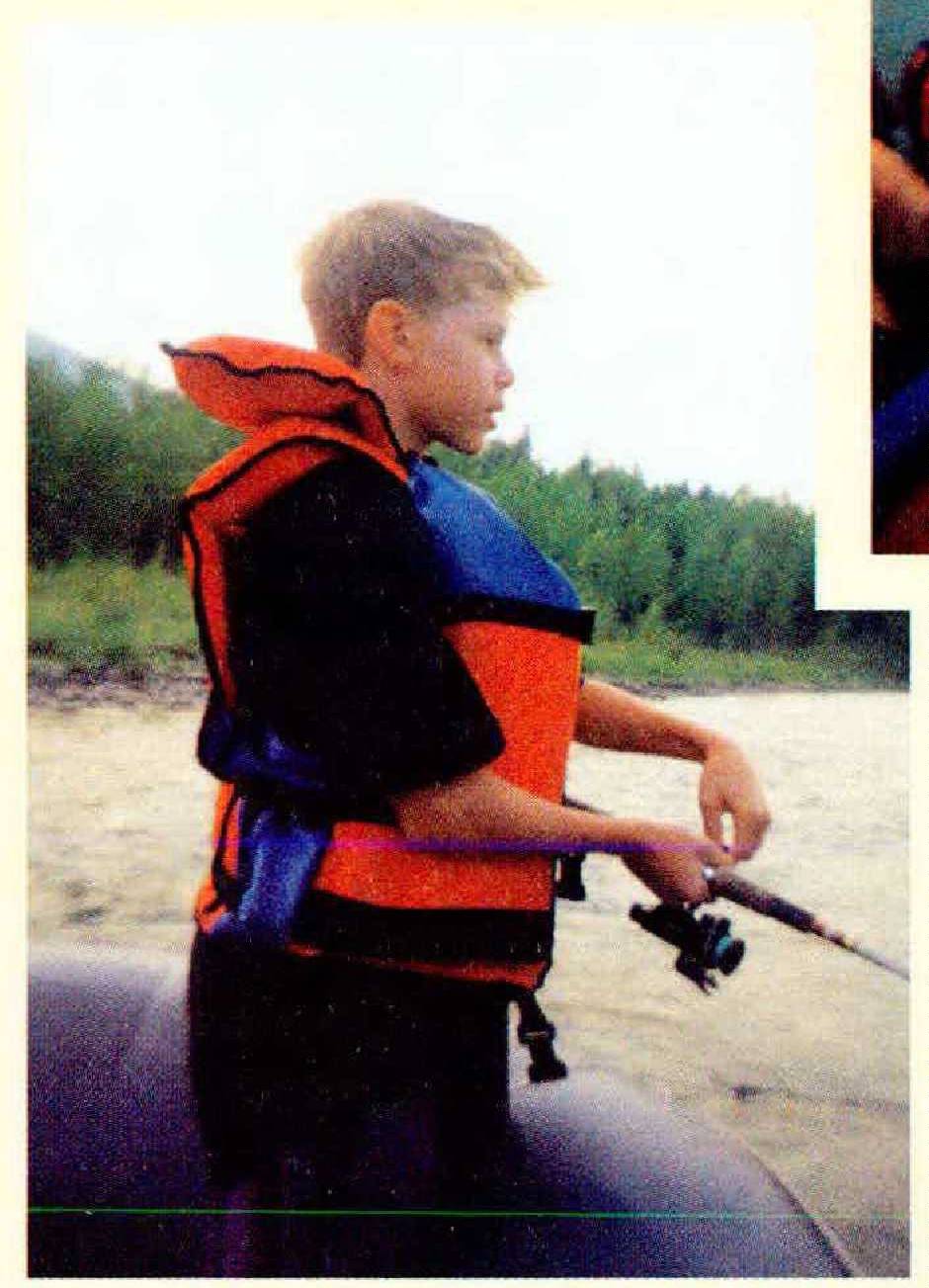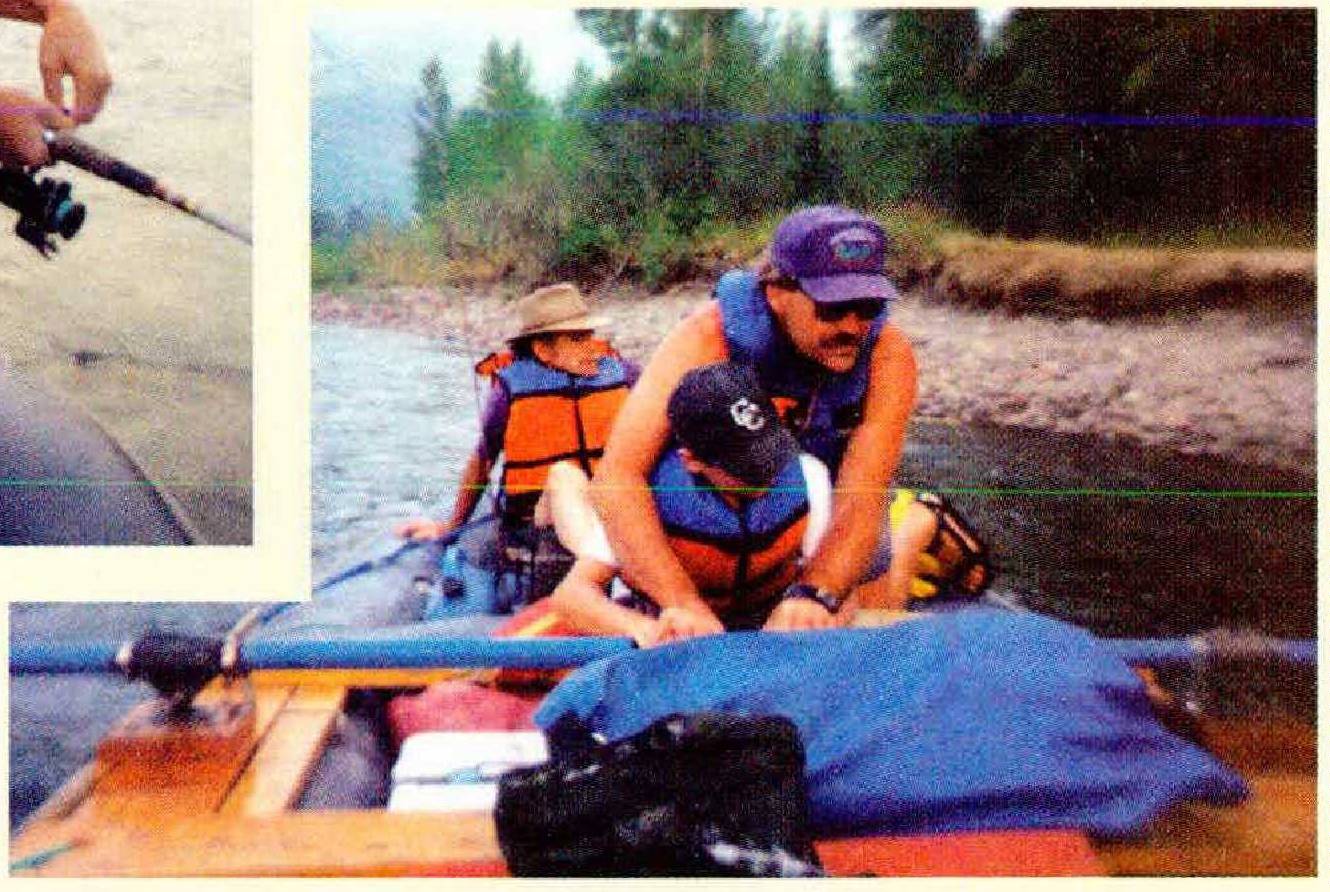 After our rafting trip we stayed in the truly wonderful Turn in the River Inn, run by Judy and Don Spivey, fine and friendly people who showed us every courtesy. The Spiveys constructed their impressive contemporary farm house, set on a bluff above a turn in the Whitefish River, according to a plan by their son, Tom, a talented architect. Father and son built the place with their own hands, while Judy put in the gardens—by far the lushest we saw anywhere in Montana.
Everything you've read about Glacier National Park is probably true. The thirty-mile "Going to the Sun" highway up to Logan Pass may be the most spectacular alpine drive in the country. Here as elsewhere in Montana were roadside signs saying NO SHOULDER—not SOFT but NO. Those signs are a good metaphor for life in Montana, where doctors and hospitals are scarce and a stumble on a mountain trail can cost you your life. Montanans like to call their state The Last Best Place—and it might well be, for the young and the physically adventurous. But this is no country for an old man.
WESTERN Montana is divided into river valleys; Bill Bryan had arranged for us to stay at the Teller Wildlife Refuge, in the Bitterroot Valley. At Teller we were accommodated in a comfortable house with a large organic garden and shade trees and a hammock. Superb cooks prepared all our meals, using vegetables from the garden and making fresh bread and desserts. We shopped not; neither did we cook.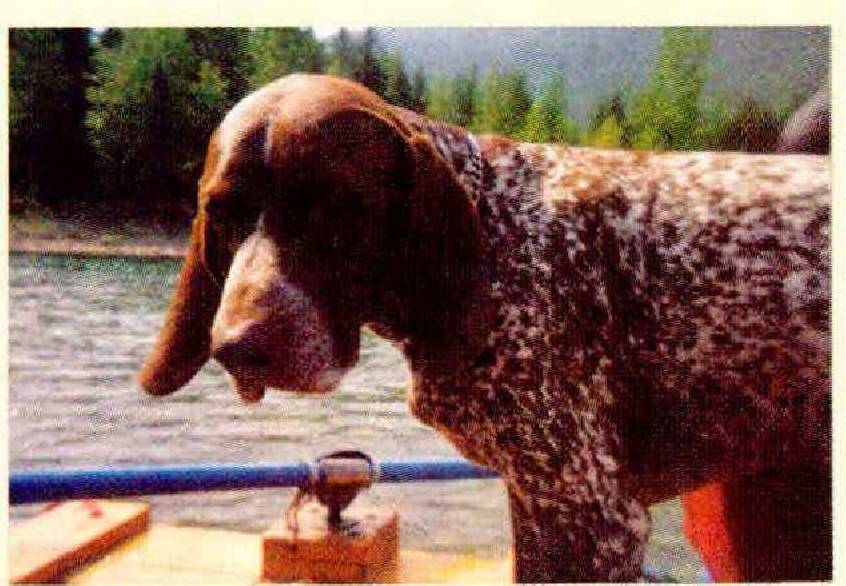 The boys wanted to take Duke into the reservation to chase deer. But, in keeping with the NO SHOULDER ethos, they were told that dogs who chase deer are fairly routinely shot in Montana. "Have you ever shot a dog?" they inquired of one man who worked at Teller. "I've had to put down a few," he replied in a steely voice. The boys were shocked.
At Teller we mostly read and ate, stirring only to hike in the imposing Bitterroot Mountains, which keep Idaho at bay. In addition we visited the studios of two gifted local craftspeople: Jay Heikkila, in Hamilton, who makes furniture of willow, driftwood, stone, antler, and lodgepole; and Patricia Don Diego, in Stevensville, who paints antique furniture. Both have both felt the economic stimulus given the valley by the arrival of such celebrities as Ted Turner and Jane Fonda, Michael Keaton, and Andie MacDowell, who have houses there and whose purchasing power is one of the engines of the local economy. "Minimum wage with a view" is how Montanans characterize the job base. People are uniformly friendly, but what they must privately think of tourists' freespending ways can easily be imagined. Tourist's guilt is the traveler's tummy of the spirit.
Driving through the incredibly scenic Upper Big Hole Valley, we stopped in a bleak townlet called Wisdom. "You know Wisdom's four seasons?" a local wag asked me. "This winter, last winter, next winter, and midwinter." In conversations with people around town the innocuous Albert Gore emerged as a radical, his book on the environment a green Communist Manifesto. Ranching, timbering, and mining, the main sources of jobs in western Montana, are environmentally sensitive occupations. "You know the difference between a developer and an environmentalist?" Jim Easley, a skillful guide from nearby Wise River, asked. (Jim, with his wife, Gloria, and on behalf of LaMarche Creek Outfitting Company, took us on a bracing horseborne wilderness expedition.) "A developer is someone who's building his cabin this year. An environmentalist is someone who built his last year."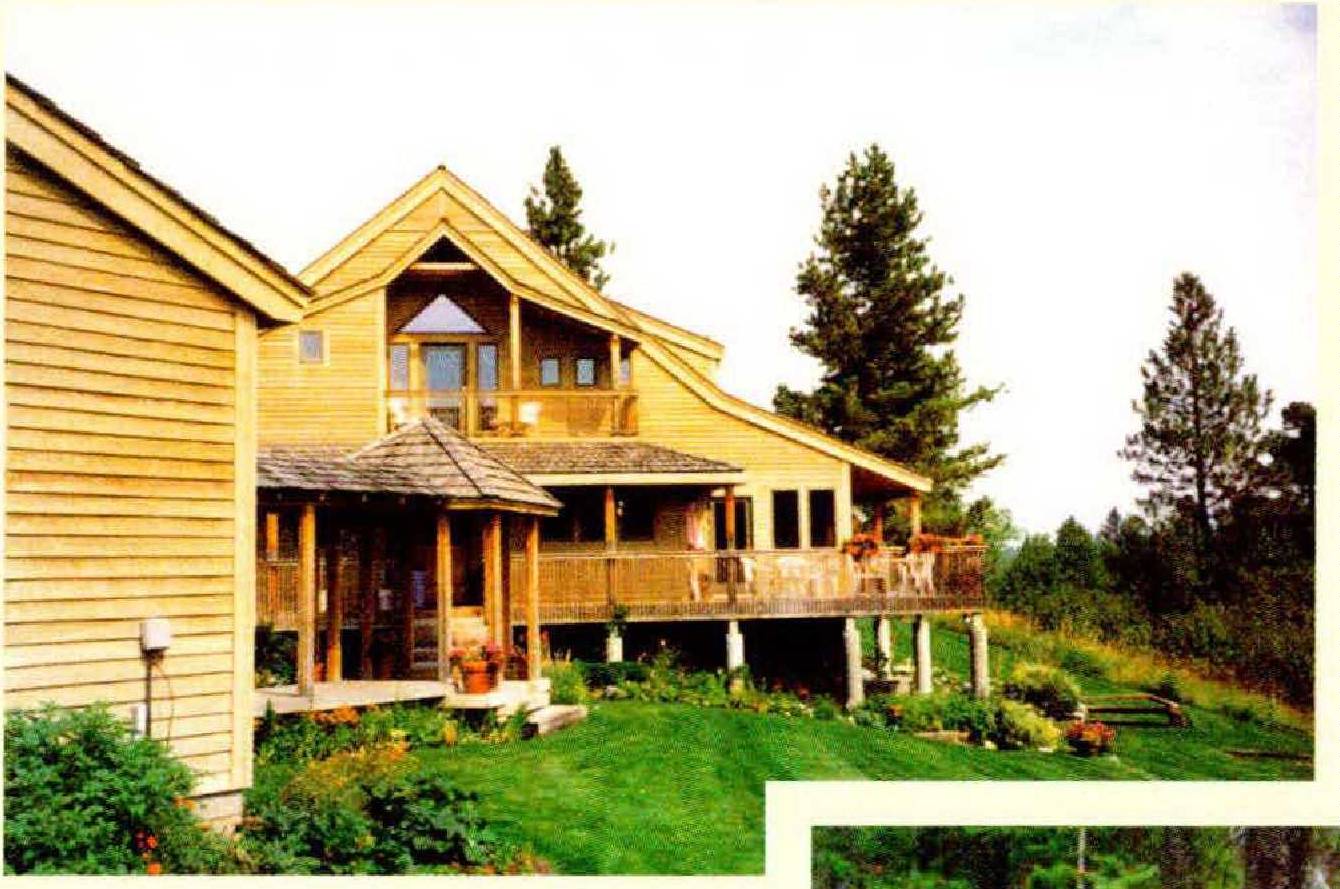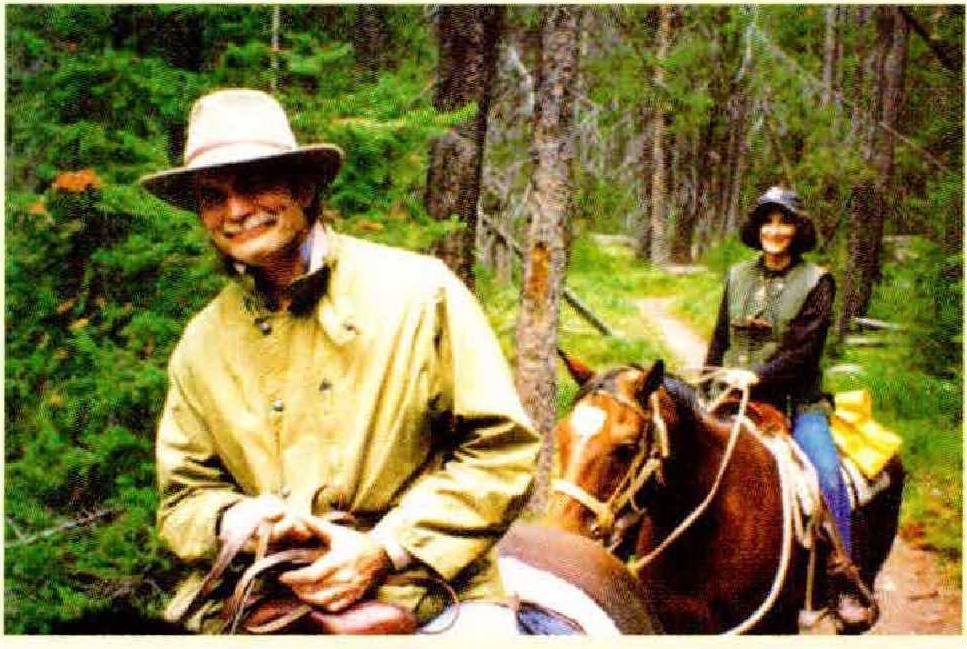 WE were to spend the end of our trip as would-be wranglers on the ZW Ranch, the working ranch of Calvin and Lorie Zimdars, in tiny Polaris. The Zimdarses have a new, tastefully designed cabin that looks out across a lovely narrow valley where herds of deer and elk and moose come to water. After a hearty early breakfast Calvin saddled up our horses, and we started down the dirt road to one of his pastures, where we were to herd cattle. Calvin's cow dogs quickly showed Duke the ropes, while his brawny son Charlie took the boys in hand. Lois was well mounted. But my horse kept trying to bite me. So Calvin took him and gave me his, saying, "Don't ride him. Just lead him." Then he and Lois rode off in a commotion of boys and dogs.
I was alone. After a while I could hear Duke barking at the steers in the steep valley below me. I could see the boys waving their hats and whooping. I could even detect my wife's discreet cowhandlike commands. Why had I come to Montana if not to be in the thick of precisely this! I would never get there walking. Calvin had spoken like a man used to being obeyed—tersely, without the adornment of explanation. So I was unconscious of hazard when I mounted his horse.
The horse walked a few paces and then walked faster. I pulled on the reins. He went faster. I pulled hard. He began to run. From far away Lois and Calvin saw a man on a galloping horse disappear beneath the brow of a hill. "He didn't get on that horse, did he?" Calvin called out in terror.
As the unbroken horse plunged down the hill, I gave one last pull on the reins, but that just made him go faster. Remembering what the cowboy at Lake Upsata had said about runaway horses, I swung my legs out of the stirrups, got them under me on the saddle—and jumped clear of the horse, hoping that I would not smash my head against a rock. I hit the ground with my shoulder, bounced, hit ground again, and then rolled over and over down the hill. The world spun. When it stopped, I cried out in pain and panic: I could not breathe.
Calvin came up, and I gasped out an apology for messing up his cattle drive. He said that was okay; he was worried about me, not his day. Lois held my hand and bore wifefully with my deathbed histrionics. Duke lovingly rubbed his manure-covered coat against me. It took an hour for the ambulance to come, but once I had an oxygen mask on, my panic ebbed. Though I wouldn't know it until weeks later. I had broken three ribs.
In truth—to end with my Montana sound bite—I was as lucky as I was dumb. Vacations are supposed to freshen your perspective on life, but they rarely do. This one did for me. Throughout our stay in Montana I felt lucky to be alive. I left the state feeling more than ever that way.